It's time for some lessons…
I wrote the following on April 12 in a piece titled "Three High Octane Exploration Stories: Prosper Gold, Labrador Gold & NuLegacy Gold"
(Labrador Gold was trading at $0.54/share at the time)
FWIW it looks like the share price has been forming a bull flag that we might have broken out of last week. Re-test or false break out? I have no idea but right now I think there is positive momentum. And if this is indeed a bull flag breakout then there could be some solid upside left in the short term: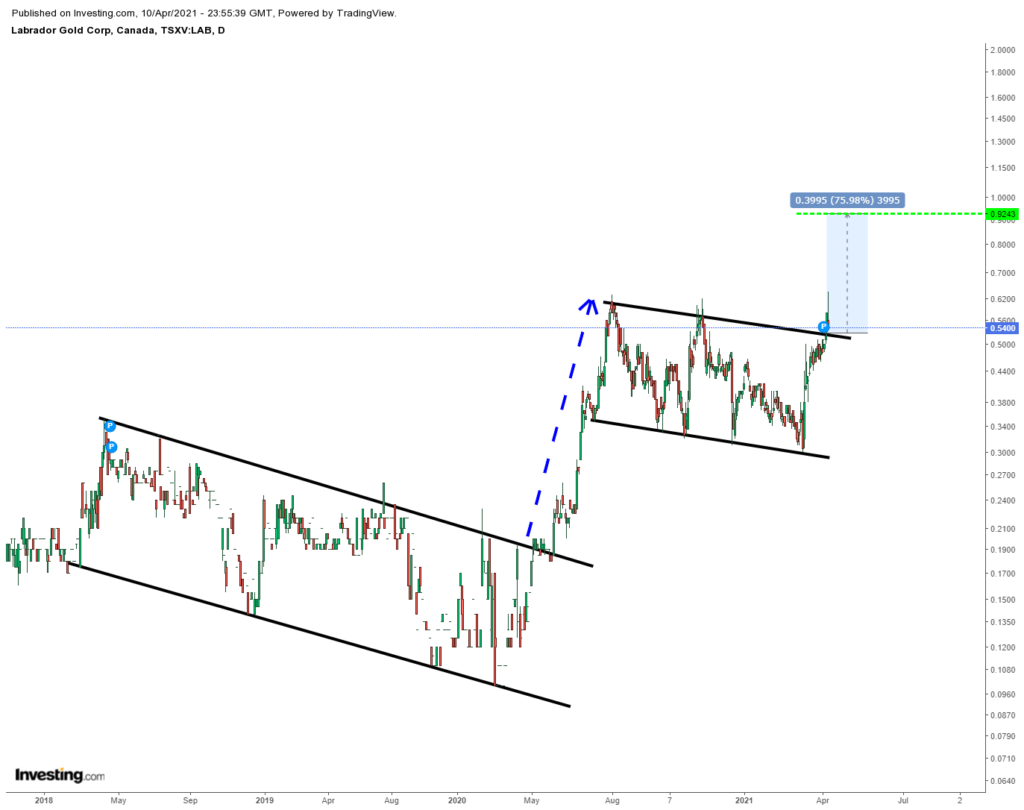 I also wrote:
Closing Thoughts

Labrador Gold currently has a higher excitement factor given that the company has actually begun drilling and said drilling is located around a bonanza sample found in an outcrop. Many are probably also aware of who the neighbor is a few kilometer to the south and what kind of results have come from their drilling. If one enjoys the excitement of potential discovery than I think Labrador is one of the better plays out there. However, assay results are always quite risky and I would certainly not bet the farm on any single maiden drill campaign. There is no shame in taking some profits if the share price (SP) gets way ahead of itself and re-entering after a discovery hole even though price might be significantly higher. Personally I am in the wait and see mood right now. If SP heads to 0.90 going into assay results then I will for sure shed some shares. If SP stays around these levels then I might hold on to most of my shares. Anyway, it's not a large position that can break my portfolio.
What happened following this?
Well the stock did INDEED head higher on drill hype and touched $0.945/share on the very day that assays came out: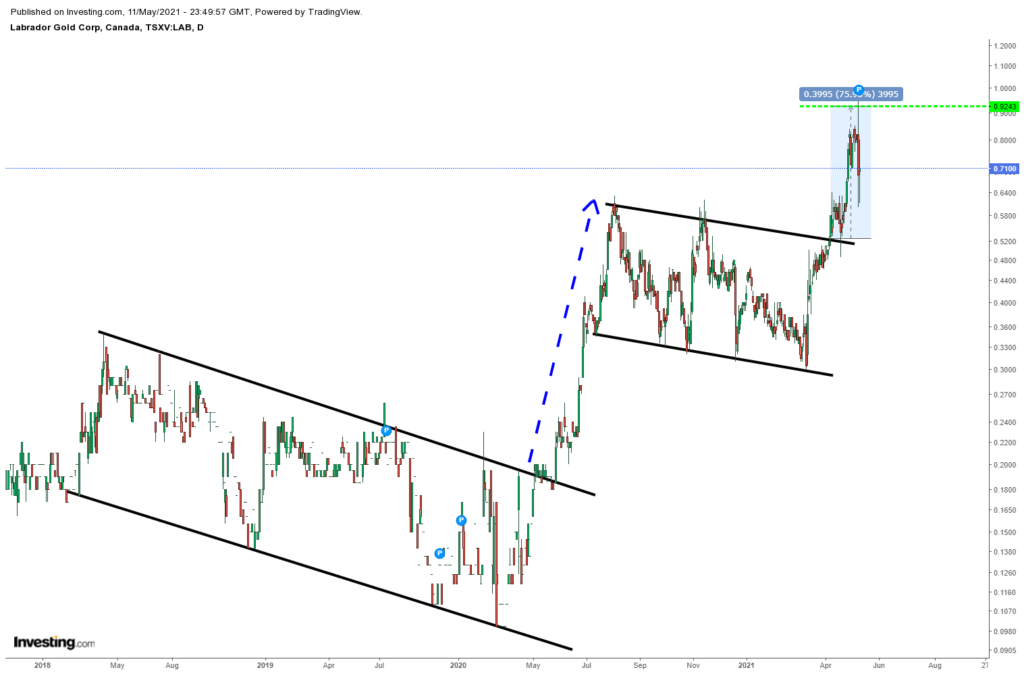 … TEXT BOOK!
Riding the drill hype allowed speculators to get up to a 50% return WITHOUT taking assay risks. This kind of "risk free" return is something I have been writing about  alot. Oh and if one got in at $0.54/share, and did not panic sell after the NR, one would still be sitting on a 31.5% profit right now.
Anyway, then we got the news release that said that the company had INDEED tagged a gold system at depth BUT there were no "barn burner" hits. Since most people have no idea how hard it can be to tag a bonanza zone in an Epizonal Gold system, if it is even there, chaos ensued in the forums. People were mad and even started blaming the company for halting the stock because there were no "barn burner" results included. I mean think about that for a minute… Why does it matter if the stock is halted or not? It doesn't change the content of the NR or the results. And here I thought that results are the important thing to focus on hehe…
Anyway, as is typical a bunch of traders, potential shorters, bitter people and folks indulging in schadenfreude started posting that the sky was falling and put out "SELL signal" after sell signal…
And I was just thinking "Here we go again"…
I mean it is obvious that a) The "ride the hype" (greed) still works well in light of all the strong emotions shown, b) That people seem to think it's easy to tag a potential bonanza zone on the first two holes…
To give some context just think about this picture from New Found Gold for a bit: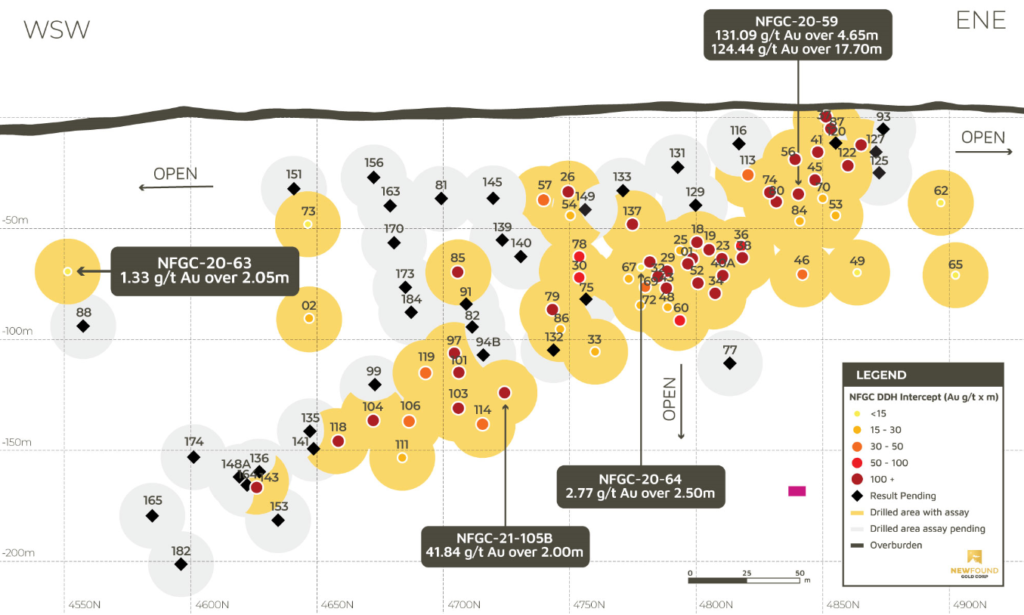 … What I take away from the slide above is that, just like Fosterville, the bonanza "channel" is relatively small. Yes it's so high grade that, just like at Fosterville, you do not need a lot of tonnage in order to drill up a lot of VALUE. Furthermore there are LOW GRADE hits right next to BONANZA hits. That's how fickle these systems can be…
Which leads to the inevitable conclusion that EXPECTING "barn burners" right off the bat is overly optimistic. I mean even though New Found Gold has already located the bonanza zone at Keats they still do very close spaced drilling and despite this they, again, do get LOW GRADE hits right next to BONANZA hits…
So What do we Know?
Labrador Gold hit low- and high grade gold:
What does that mean?
In the words of CEO Roger Moss:
(Bold text added by me)
"Initial results from the first two holes at the Big Vein target show broad intervals of gold mineralization including narrow intervals of moderately high gold values. We interpret this gold mineralization, along with significant levels of antimony and arsenic detected by pXRF, to be a halo to a potentially higher-grade zone," said Roger Moss, President and CEO of Labrador Gold. "Both holes were drilled on the same section giving us our first picture of the orientation of this vein system. Ongoing systematic close-spaced drilling continues to probe Big Vein for the source of high-grade visible gold mineralization seen at surface."
… So as things stand right now the company has confirmed a gold system at depth but has not hit a high grade/bonanza zone. That's ALL.
With over 19,000 m of drilling left it should be obvious that there very much is a chance that the company might indeed tag a high grade/bonanza zone before this drill campaign is over.
What did I do?
Well, I stayed calm and actually added some shares around an obvious support zone because I was not a) Emotional and b) Understood the results and that there is a lot more drilling to come: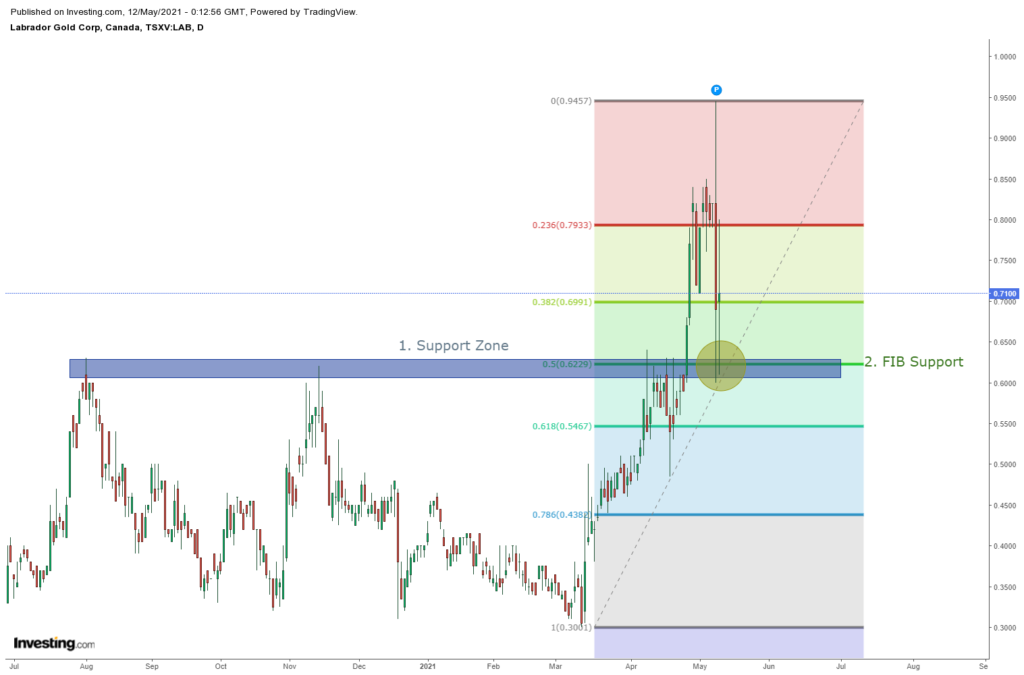 … When the realization that the hunt for a new Fosterville/Queensway is far from over I simply expected buyers to come back again. So far it has already bounced nicely from the lows.
What Happens Now?
Well, we are probably going back to the "drill hype" sentiment again since there is >19,000m of drilling left, and that means that there are a lot of shots at tagging a potential high grade/bonanza zone. Who knows, maybe there is a bonanza zone 10m away from the two first holes. Maybe there is no bonanza zone at all. We simply don't know. All we know is that there is indeed an Epizonal Gold system at depth at Kingsway and that Labrador Gold believes that the first two holes might have tagged the "low grade halo" of a higher grade zone.
Bottom Line
Labrador Gold is not "cheap". It's a high risk/high reward play that is pricing in lets say a 10% chance that it will be able to tag something similar to it's neighbour New Found Gold which currently enjoys a Market Cap of $1.44 B…
Is Labrador Gold overvalued from a Risk/Reward perspective in light of what success could be worth? I don't know and no one on earth can tell you that anyway because no one knows.
All we know is that there is a theoretical, future scenario where Labrador Gold finds a bonanza zone.
And…
There is a theoretical, future scenario where Labrador Gold finds nothing of value even after 20,000 m o drilling.
Closing Thoughts
The road map/strategy I outlined in a previous article and talked about on Kereport obviously worked perfectly. I was even able to re-buy some of the position around a support level which the stock has currently bounced higher from. This, in theory, is one way to continuously being able to make relatively low risk returns simply from being more disciplined, calm, rational and better educated on how exploration works than the average speculator.
Just reading the forum on the day of the release should tell one volumes about how the typical speculator acts:
Being too greedy going into the highest risk period (First assays from a maiden drill campaign).
Thinking that a rising price means lower risk and a higher chance of success.
Getting emotional, freaking out, whining and parting with your shares at the lows even though one SHOULD realize that

The results were actually not that bad given the context of how Epizonal Gold Systems are and…
That there is over 19,000m of drilling left and the company said they believed they hit the lower grade halo of a potential high grade zone.
… Even if you ARE and DID all of the above it does NOT mean you have to CONTINUE to do the above. I have made plenty mistakes in this sector but the important thing is that you LEARN and STOP DOING the same things that 95% of investors do. In the long run it might be a very good outcome to eat a loss if that loss resulted in a lesson or two being learned!
No one forces you to do anything. Whining simply signals that you do not take responsibility for your actions and if you don't do that you will never learn or get better. Even if I get a "hot tip" from someone and it doesn't pan out I never ever whine to said person because at the end of the day it was my decision to act and if there was a lesson to be learned then I might have added say 3% to my annual expected returns. And that will amount to a LOT of added wealth in the long run.
And as always it's worth remembering that around 95% do not beat the market in the long run which means that probably around 95% of opinions/advice you read will be detrimental to your long term results if followed.
There is only Risk/Reward – THH
Note: This is not investment or trading advice. I own shares of Labrador Gold and the company is a banner sponsor of The Hedgeless Horseman. Always do your own due diligence and assume I am biased. I may buy or sell shares at any time.
Best regards,
Erik Wetterling – The Hedgeless Horseman