With the field season kicking off in Pilbara, there should be a lot of news items coming from down under, throughout this year. 2018 was a very frustrating year for Novo investors and a lot of that had to do with sampling debacle which resulted in months of delays. There was however some important developments as well but it wasn't enough to kick start an upward revaluation of the company. I think the main reasons for this were 1) Some investors giving up hope and not believing that the future (soft) "deadlines" would be met either, 2) Some investors assuming that the misses on "deadlines" equated deteriorating fundamentals, and 3) The sector being in a bear market with little fresh capital being injected.
What were the major developments in the last 12 months and do they warrant a share price near 52-week lows?
Part 1: Egina
2018 was the year that the Egina prospect was revealed. This prospect is a very special type of prospect. Quinton's belief is that much of the area in west/central Pilbara, all the way from the limits of the Fortescue Basin to the coast, might host one immensely large lag gravel deposit. The theory is that much of this area was once (billions of years ago) covered with gold bearing conglomerates as well as scattered lode gold deposits. It is then believed that much of that potentially conglomerate covered land, got eroded by the sea some tens of millions of years ago, and left its treasures behind in lag gravels. The fact that large parts of this area is flat as a pancake today is a sign that the ocean did indeed creep in and "shaved" down the landscape to a flat and rather homogeneous surface. With the Novo team having found gold-bearing conglomeratic material within the lag gravels found at Egina it certainly does look like the theory is valid. Unlike 2018, when not much happened except one solid 100 tonne bulk sample, 2019 will be the year when Novo's Egina theory is put to the test.
Novo's model for Egina type lag-gravel deposits:
So, how did the market react when Quinton unveiled his theory of a potential near-surface gold bearing lag gravel horizon that might cover hundreds or even thousands of square kilometers?… It reacted with a big fat yawn. The bulls were already close to fully invested and nobody else cared more or less. Quinton summed up the market's lack of enthusiasm and also pointed out why he believes the market is wrong during his recent presentation at PDAC:
So, either the market is right and the Egina type lag gravels have pretty much no value or the market is wrong and there is some- to a lot of money on the table. Well, lets look at some hints why I believe that Quinton is more likely to be correct than the market…
First of all, the prior owners and operators of the relatively small Egina mining lease did a LOT of scraping within their lease as I showed in a prior video:
There are also areas, with mining leases, some tens of kilometers further to the south where small scale operators have also been doing a lot scraping activity as shown in this video:
If that isn't enough, here are some slides from New Frontier Exploration who is a relatively new but very competent player in the Pilbara (Note the location of prospect 3 and 4 as well as the scale):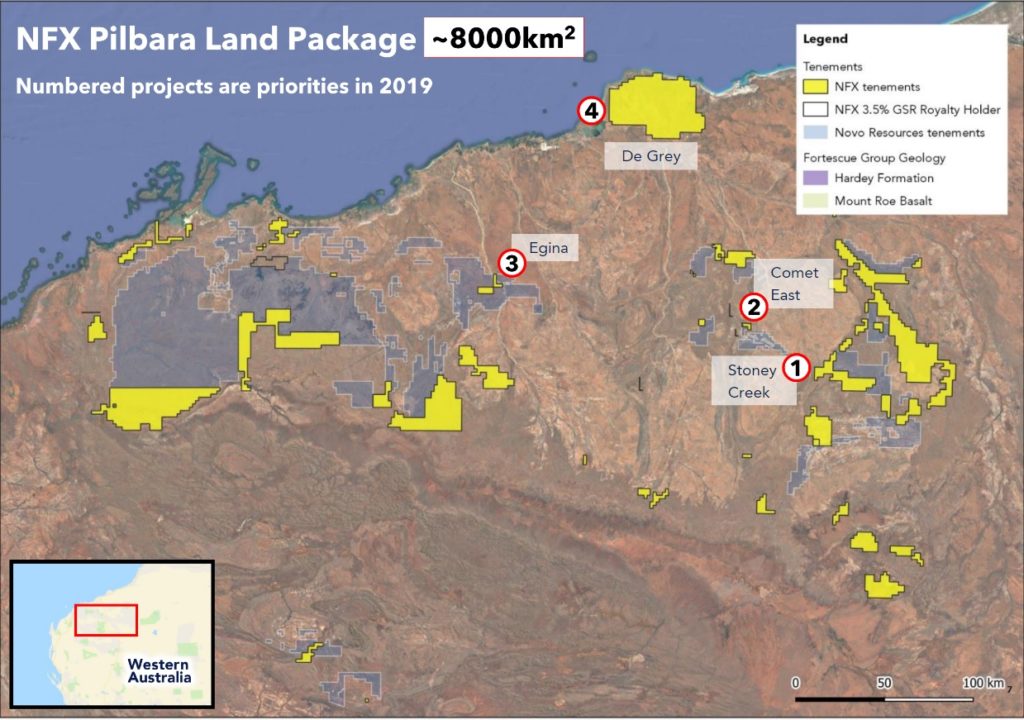 Now, lets look at what they found on the very first reconnaissance trip to the tenement that is located smack in the middle of Novo's Egina claims:
Note that they just did a quick visit in a rather "random" location that happens to be right in the middle between the confirmed Egina gold bearing gravels and the Womerina alluvial mine. So was that spot special? It doesn't look like it if you read what New Frontier says in their news section coupled with the included pictures that shows land flat as a pancake all the way from Egina to Womerina… It pretty much all looks the same:
Lastly, lets look at New Frontier Exploration's claims some 100 km to the north-east of Egina:
How bout that… a streak of low-grade gold values starting from surface on top of the statement that the "drillholes terminated in very hard conglomerate". Hmm, where have I heard of very hard conglomerates before? Oh, that's right… Comet Well. If these conglomerates are the classic Mt Roe conglomerates found at Comet Well or if they are even older conglomerates is something I do not know.
Pacton Gold, who also have claims in the Egina region has a very interesting slide in their presentation:
The idea seems to be that any area in brown and/or grey is a live target for possible lag gravel gold. If you then keep the scale in mind it shows just how unreal this near-surface, low-grade lag gravel gold deposit might be. Also note that this slide is just a postage stamp of the entire potentially prospective land mass.
In the slide below you can see the Fortescue Group cover rock in black (Probably not a target for lag gravel gold) and what is left is a vast area where there might have been gold-bearing conglomerates once upon a time but would have been eroded. My personal theory for some time has been that areas that show high quartz readings while using ASTER-tech might be the most prospective areas for economic lag gravel gold deposits and as you also can see there is a truly enormous land mass with high quartz readings between the black area and the coast of Pilbara:
(The rectangle in red is approximately the area shown in the previous slide from Pacton Gold)
I will cover the developments on their other projects in future articles. Stay tuned…
Disclaimer: I own shares of Novo Resources and Pacton Gold and thus I might be biased. I may buy and sell shares at any point in time. I am not a geologist and nor am I a registered financial adviser. Always do your own due diligence and do not view this article as investment advice. I have not received any compensation from any company to write this article.
Best regards,
The Hedgeless Horseman
Follow me on twitter: https://twitter.com/Comm_Invest
Follow me on CEO.ca: https://ceo.ca/@hhorseman
Don't forget to sign up for my Newsletter (top right on front page) in order to get notification when a new post is up!