Oct 20, 2021
Magna Mining (NICU.V) is currently the only nickel play that I own and in this article I will explain why I own it and was happy to have the company on as a banner sponsor. It is a relatively new company and given that I have not seen it mentioned anywhere really I would say it is a very unknown story as well (which I think explains the undervaluation as I see it and attractive risk/reward proposition).
My Case For Magna Mining
Some might be aware that Nickel has been performing quite well over the last few years and is expected to benefit a lot from the "EV-revolution". On that note some people might also be aware of the recent power struggle in the small Canadian nickel miner Noront between BHP and the billionaire Andrew Forrest. With that said I don't pick companies based on where I think the commodity of interest will trade at any point in time but like gold I think the demand/supply picture looks promising. And for what it's worth the price of Nickel has been doing well over the last few years:
Now I am mostly a gold/silver investor since I know those sectors the best but I can't say no to what I would considered a great opportunity in other metals. Nickel is very real and has finite supply just like gold and silver after all. At these levels the Risk/Reward in Magna Mining is so attractive in my eyes that I don't feel I need to be anywhere near an expert on nickel in order to be comfortable enough to invest my money.
The company's flagship project is the very advanced Shakespeare Project which is located in the world famous Sudbury Mining District in Ontario, Canada. The company already has a high-grade open pit resource and even has a lot of major permits in place for contraction of mine and mill (The Shakespeare Project is a past producer through toll milling and many permits are already in place!). Management and Directors own a whopping 33% of the company and there has been quite a bit of Insider Buying lately to boot. In other words management eat what it cooks and judging by the insider buying they really like what they are cooking together. And the management team, directors and strategic advisors are not a bunch of slouches. Far from it actually. Many were heavily involved with (also) Sudbury focused FNX Mining which became a billion dollar enterprise. In other words many in the team have done it before, and they are looking to do it again, with skin in the game to the tune of 33% (In 0ther words they really believe they can create another big success).
At C$0.38/share the Market Cap for Magna Mining is ~C$26.9 M, assuming full participation in current financing, and assuming my calculations are correct. When you subtract the post financing cash position of C$8 M (guesstimation) the resulting Enterprise Value is ~C$19 M or ~US$15 M.
For ~C$19 M or ~US$15 M I get:
A very advanced high-quality Nickel project in Sudbury, Ontario, Canada

NI 43-101 Open Pit Resource

Indicated: 14.4 Mt @ 0.34% Ni, 0.37% Cu, 0.9 g/t TPM
Inferred: 1.7 Mt @ 0.29% Ni, 0.31% Cu, 0.74 g/t TPM

Major permits in hand
Trucking distance to multiple mills and smelters
Lot of exploration potential

District scale land position
Tier #1 jurisdiction
Exceptionally high insider ownership at 33%
A team that created a billion dollar success in the past
Recent insider buying
Good, advanced, semi-permitted nickel deposits in tier #1 jurisdictions that are incredibly rare
Extremely cheap, especially in light of all of the above, in my opinion
Oh and to help us gold focused investors out the presentation includes a slide where the company has converted the Open Pit Indicated Resource Equivalent Grade to gold and the result is a stunning 2.06 g/t AuEq (Even adjusted for recoveries to boot!)…
The 14.4 Mt resource at Shakespeare translates into a gold equivalent Open Pit deposit of almost 1 Moz at 2.06 g/t.
I would be extremely surprised to see a gold company with close to 1 Moz of Open Pit resources, grading 2.06 g/t Au, semi-permitted, in a tier #1 jurisdiction, close two mills (and smelters) belonging to majors be valued at US$15 M even in this brain dead market. I am guessing here but I would guess such a deposit would be worth a few hundred millions of dollars at least. And to top it all off the company has a district scale land package and is actively exploring new targets (with success I might add).
Future Catalysts:
More assays from current drill campaign at Shakespeare which was just wrapped up
Follow up drilling on the P4-discovery (More on this target later)
Testing the historic Spanish River Copper Mine  (Which has a historic resource of 1.0 Mt at 1.6% Cu)
Continued drilling at Shakespeare in the spring/summer
Drilling regional targets including the Baldwin Patents target
… Big, aggressive plans backed by a good resource. I like it.
The Investment Highlights in the words of the company: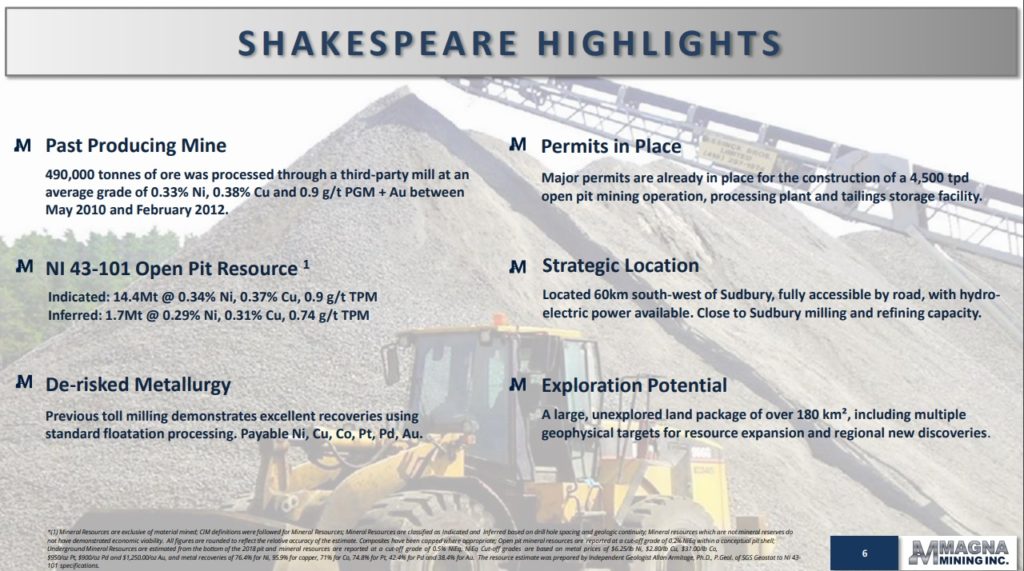 If there is anything that makes Magna Mining stick out it is the fact of just how de-risked it is. It's not often you find such a combination in any metals for an Enterprise Value less than US$15 M from what I have seen. I guess one can chalk it up to Magna being a pretty unknown story… So far. Again, the most important factor for me is Price, and I simply cannot see how Magna is not significantly undervalued in light of all of the above.
People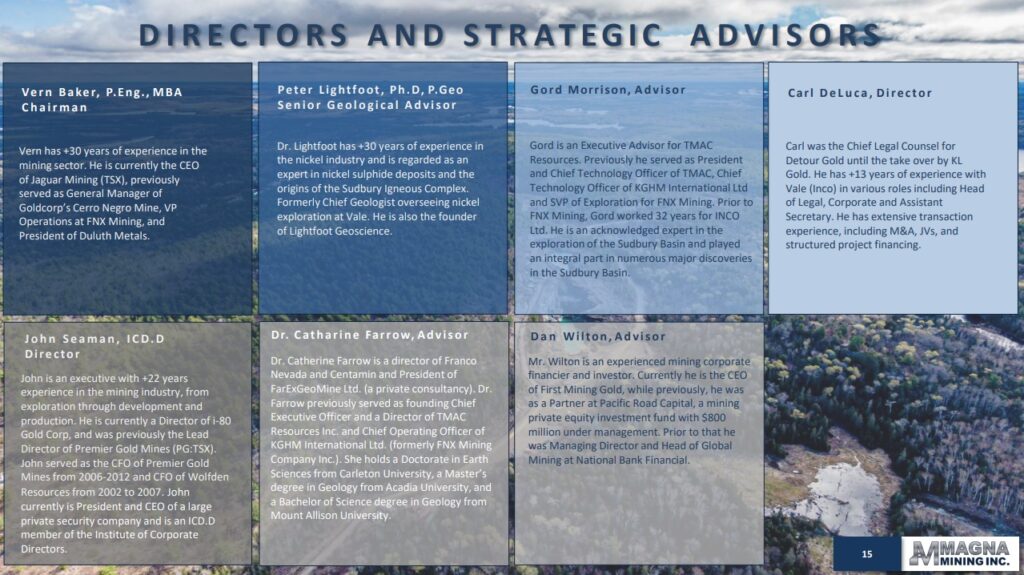 As mentioned earlier there are quite a few people involved with Magna Mining that were also involved with FNX Mining (who have "been there and done that" in Sudbury). Prior affiliations also include Goldcorp, INCO, Detour Gold, First Mining Gold, TMAC, Premier Gold Mines, Sandstorm Gold and Alamos Gold etc. It is also worth pointing out that Dr. Peter Lightfoot, who is a world renown nickel expert, is on board as Senior Geological Advisor. I can only conclude that these people know what they are doing all the way from geology to mining and everything in between. All in all I would call this a stacked team that is way above the quality of the average junior miner.
Capital Structure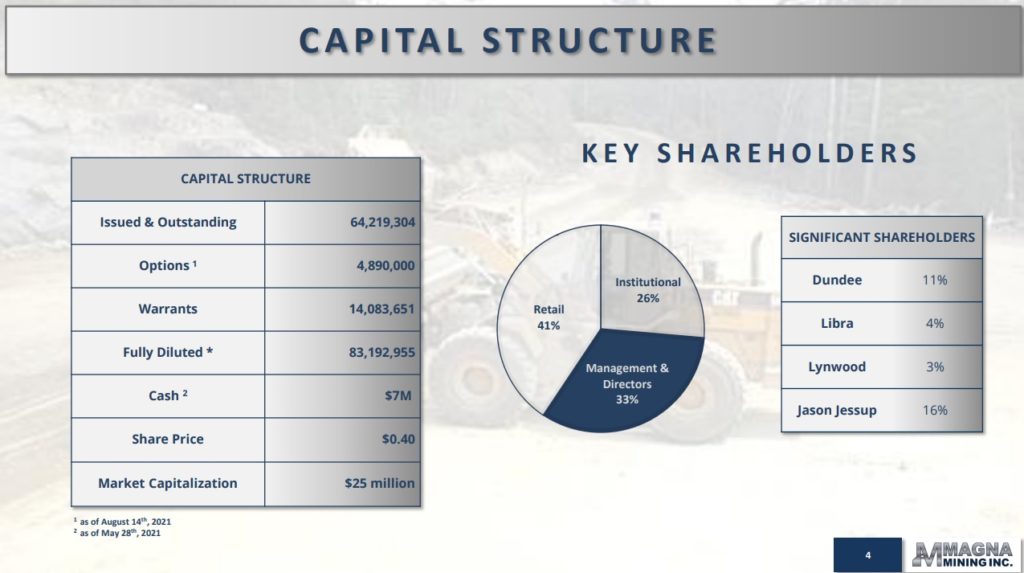 As discussed earlier Management and Directors own a whopping 33% of the company and the CEO Jason Jessup personally owns 16%. The second largest shareholder is Dundee Corporation. Furthermore both management and Dundee Corporation have been buying more shares in the open market over the last few months:
In other words the people who would know the value of Magna's assets, its future and who have had success before, have been upping their exposure which is a very good sign.
Location
Magna's Shakespare Project is located in the world renown Sudbury district where behemoths such as Vale, Glencore and KGHM are active:
As per the slide above the region has two active, under capacity mills, two smelters, a nickel refinery and over 300 mining supply and service firms. Furthermore the region currently has 10 mines in operation and other than Vale, Clencore and KGHM there are only 3 juniors with significant assets there. In other words it is harder to imagine a more valuable location for a nickel project based on multiple factors.
The Shakespeare Project
This is the current picture of the near surface Shakespeare Deposit:
What has me excited is that the company has been drilling the "Gap Zone" which is, as the name suggests, a zone between the ore bodies which is barren on paper. However, the company has already been successful in proving that there is indeed mineralization present there…
From the news release on June 24 titled "MAGNA MINING'S INITIAL 2021 DRILLING INTERSECTS 33.8 METRES OF NI-CU-PGM MINERALIZATION IN THE GAP ZONE AT THE SHAKESPEARE PROJECT, ONTARIO, CANADA":
Jason Jessup, Chief Executive Officer of Magna, stated "We are pleased to report the first assay results received from our ongoing exploration program on the Shakespeare Project. Results from hole MMC-21-15 demonstrate the near surface exploration potential of the project, as well as the potential to significantly increase Mineral Resources."
The best part is obviously that any added tonnage here should be incredibly valuable since it would pretty much be within the pit outline and be considered a "pure bonus" from an economic stand point. Furthermore it might result in a scenario where Magna decides to do one larger pit instead of two smaller and separate ones. I'm just totally guessing here but lets say there is a 50% chance that the company could add C$50 M in value from success at the Gap Zone. That would be a risk adjusted (but undiluted) value add amounting to the entire Market Cap. Scenarios like this is why I am always extremely aggressive in terms of buying juniors during corrections. The potential ROI can be incredible for a growth story with good management if one buys when Price is extremely low.
Blue Sky Potential
Magna Mining has generated a whole bunch of targets that are also within less than 200m from surface, but with potential for deep roots (good bang for the buck), and that also have good accessibility: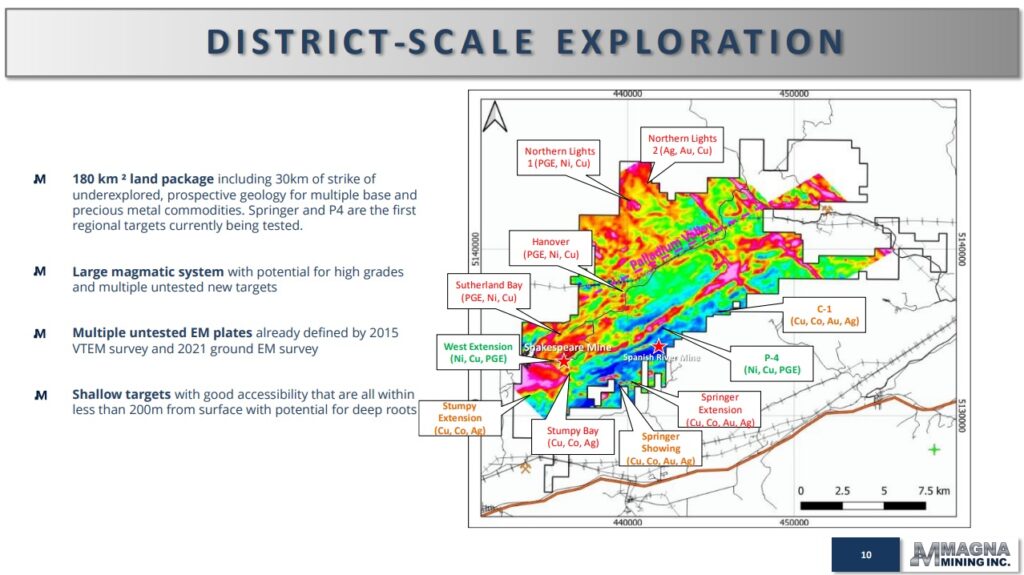 This kind of focus on exploration with a focus on the most "bang for the buck" is something that comes with high insider ownership and seriousness of the management team in my opinion. What I mean by this is that the exploration strategy is very pragmatic which signals a) That the management team is a good steward of money and b) That the management team has the business side of mining front and center. This makes me comfortable as a shareholder with a longer term investment horizon.
On September 20 the company announced a "New Nickel – Copper – PGM discovery at the Shakespeare Project".
The company had tested a portion of the "P4 target" and the results were as follows:
Two holes were drilled to intersect a previously untested geophysical anomaly, and both holes intersected significant nickel, copper, and Platinum Group Metals (PGM) near surface. A portion of hole MP4-21-01 returned a zone grading 0.58% Ni, 0.84% Cu, 0.04% Co and 2.64 g/t TPM (1.76% NiEq) over 0.42m within a 2.33m zone grading 0.77% NiEq. Hole MP4-21-02 intersected a zone of semi-massive sulphides grading 1.16% Ni, 0.10% Cu, 0.06% Co and 0.78 g/t TPM (1.53% NiEq) over 0.21m as well as a second zone grading 0.46% Ni, 1.32% Cu, 0.03% Co and 1.64 g/t TPM (1.60% NiEq) over 0.53m within a 3.66m intersection grading 1.05% NiEq (see Table 1 for complete assay results).
Mynyr Hoxha, Vice President of Exploration stated:
(bold added by me)
"The discovery of semi-massive sulphides within a gabbroic unit in a sedimentary rock environment almost 100m from the Nipissing gabbros is extremely encouraging. The first two holes testing this target provide strong support for our thesis that our 180km2 land package has potential to host multiple deposits of high-grade nickel, copper, and precious metal mineralization. What we find most encouraging about this discovery is that unlike our current Shakespeare deposit, which is comprised of relatively consistent concentrations of disseminated sulphides, the new discovery shows evidence of sulphide and metal segregation. Magna geologists interpret this mineralization as a magma injection into the sediments, possibly from a large magmatic source at depth. Follow-up work will involve borehole electro-magnetic (EM) surveying on the recently completed holes and additional drilling designed to further define the new mineralization and to follow this system to the potential source at depth. Additionally, a second known EM geophysical anomaly, located 400m further to the east of the new mineralization remains untested."
The hope is that the projected magnetic anomaly at depth is a mineralized gabbro intrusion and that the narrow zones of mineralization that were intersected at shallow levels will "blow out" at depth:
CEO Jason Jessup had this to say in the news release:
(bold added by me)
"This discovery is a first step in our regional exploration program and validates Magna's belief that the Shakespeare Project has the potential to host multiple nickel, copper, PGM deposits within our extensive land package. The newly discovered mineralization is open in all directions and the current intersections are within 140 meters of surface. Assay results demonstrate a more than 50% increase in base metal grade from the first hole to our deeper second hole. We find this quite encouraging and a comparison of the two drillhole intercepts suggests that the width of the mineralized zone is increasing with depth. Magna's property covers more than 10 km of strike length of the Shakespeare stratigraphy and associated magnetic anomalies that host the known Shakespeare deposit. This trend has seen very little exploration in the past and the recent results demonstrate the significant geological potential and re-affirms Magna's belief that there are additional economic deposits to be discovered on the Shakespeare Project. We are looking forward to further testing the down dip extent of this zone of mineralization, as well as drill testing the second electro-magnetic anomaly associated with this exploration target,"
The great thing about this target is of course that I am not paying a dime for it given the current valuation. If this turns out to be nothing then I have not overpaid for it since I didn't pay for it to begin with. If it turns out to be something really good then I'll get the full benefit while having taken no (theoretical valuation) risk.
Recent video interview where CEO Jason Jessup discusses the results:
On September 14 we got he following news release:
"MAGNA MINING REPORTS HIGH GRADE SURFACE SAMPLES ON THE BALDWIN PATENTS PORTION OF THE SHAKESPEARE NI-CU-PGM PROJECT, ONTARIO, CANADA
HIGHLIGHTS INCLUDE 13.19% CU, 0.07% CO, 16.20 G/T AG AND 1.81 G/T AU"
The news release contained assay results from surface sampling at the recently acquired "Baldwin Patents property":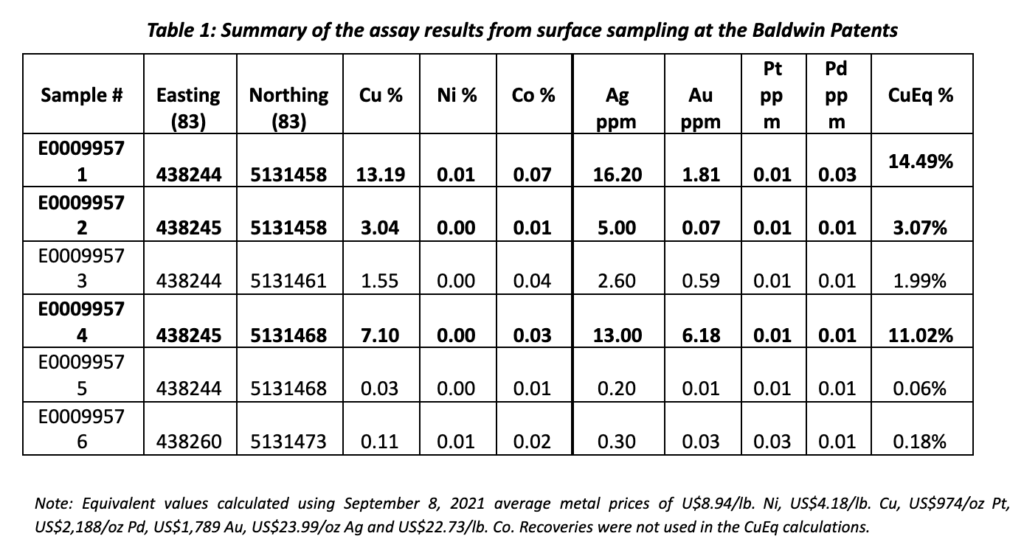 Mynyr Hoxha, Vice President of Exploration, stated:
(bold added by me)
"The results of our initial field work on the Baldwin Patents have exceeded our expectations. This property was held for a number of decades by a major gold producer and the last known campaign of exploration was in the 1950's. The Baldwin Patents, along with the P-4, Springer and Spanish River regional targets, are all part of our regional exploration program that we are conducting this year. We believe that we have multiple, highly prospective targets across much of the 180 km2 land package that surrounds the Shakespeare Mine, and these initial results support our thesis that there are numerous portions of our project area that have the potential to host high grade deposits."
This is obviously an early stage target but the results are very encouraging. More important, as with the P4 Target, I believe I am not paying a dime for any potential here either today. The company plans to follow up these results with additional surface mapping, stripping and sampling before drill testing which is anticipated to begin in 2022.
CEO Jason Jessup had the following to say on these results:
(Horseman: Note that the P4 results have been released already as was discussed earlier)
"We're delighted to find such high-grade grab samples on this portion of our property which we think serves to highlight the potential for significant new discoveries, and underlines the highly prospective nature of our land package which is adjacent to the Sudbury Basin. We're looking forward to reporting our first holes from the P-4 and Springer regional targets in the coming weeks".
As discussed earlier there are many more targets than P4 and the Baldwin Patents across Magna's >180 km2 of land in the legendary Sudbury district.
Closing Thoughts
I was already bullish Magna Mining before distilling my thoughts in this article but I must say that the more I think about the case for Magna Mining the more I like it. The company has so many things going for it that even though I am not that knowledgeable with the nickel industry I simply love the Risk/Reward at these levels. If Magna had an Enterprise Value of say US$60 M I would be more unsure about the Risk/Reward quality. But US$15 M for all of this just comes across as absurd to me. I assume insiders agree with me given their amount of skin in the game and recent insider buying. I simply have a very hard time seeing Magna's advanced and semi-permitted Shakespeare project, coupled with the district scale land package in Sudbury and close to majors with mills and smelters being worth less than the current valuation. So if I am right about that then the downside is covered and therefore the default risks are to the upside. This is the kind of Risk/Reward proposition that I ideally want in every stock and therefore I have an above average position in Magna Mining which I expect to see very good returns on in the future. With that said anything can happen and never invest money you cannot afford to lose or have tied up for an extended period of time.
Some Amateur TA
To me it looks like this unknown, and in my opinion significantly undervalued, Nickel story has put in a bottom. I expect a real uptrend to start once the trend line has been broken and the green RSI line has been broken. As I see it my recent buying is simply front running Magna heading towards fair value.
(Not trading advice!)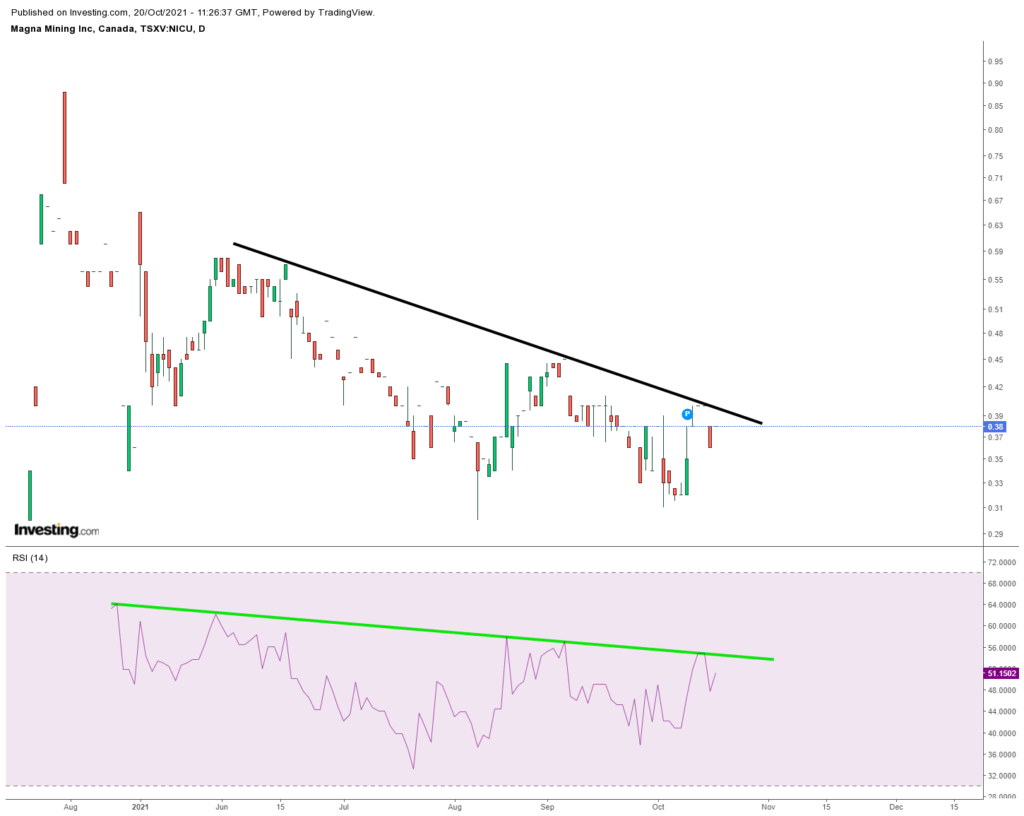 Note: I am a shareholder of Magna Mining and the company is a banner sponsor. Therefore you should assume I am biased, do your own due diligence and make up your own mind. Junior miners can be very risky and volatile. Never invest money you cannot afford to lose. Assume I may buy or sell shares at any time. This is not trading or investing advice.
Best regards,
The Hedgeless Horseman