I have been catching some knives in primarily three producers: Premier Gold Mines, Argonaut Gold and OceanaGold.
All three have had problems like missed guidance etc but at some point they get so low that the surprises tend to come to the upside. At these gold and oil prices I would assume their margins must actually be doing OK. Now, if we get a total shut down of everything, including miners, then the question is how many can easily survive if the shut down is longer than a few months.
OceanaGold: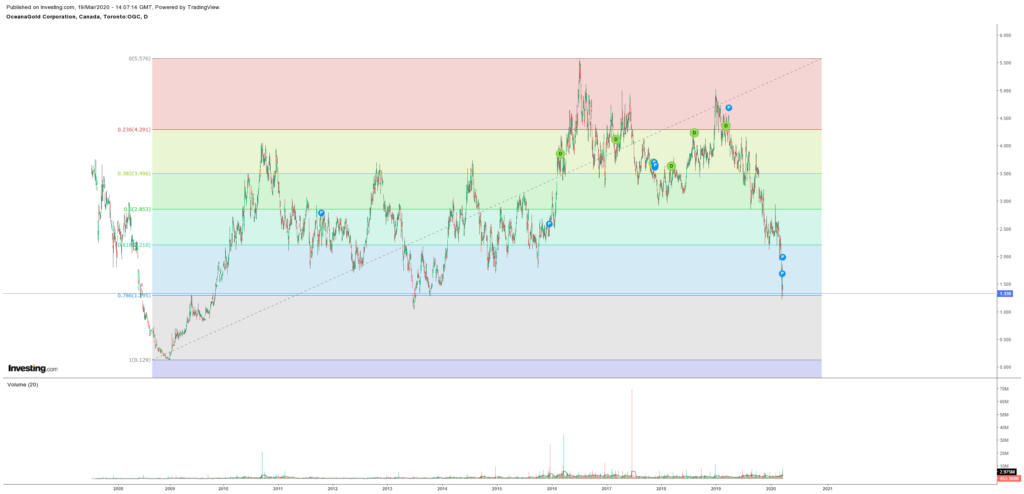 … Trading at the lowest levels since 2013 and currently has a forward PE ratio of around 4.73 for 2021 according to consensus. Insiders have been buying lately as well.
Argonaut Gold: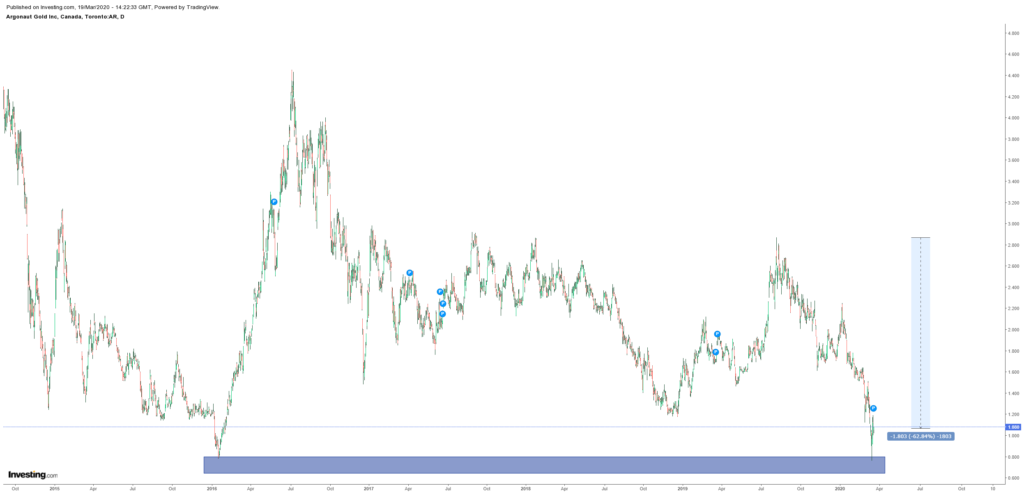 … Trading at the lowest level since the bear market bottom in early 2016.  The company has an Enterprise Value of around US$112 M and is expected to earn around C$41 M in 2021. Crazy cheap if they stay alive and it comes even close. Not the highest quality junior producer, far from it,  but at least I feel like I get more than compensated for the risk profile at this level.
Premier Gold Mines:
… Trading at the lowest level since 2006/2008 and has an Enterprise Value of around US$140 M if I am not mistaken. The consensus is for the company to earn C$23.1 M next year. Insiders have been buying quite a bit at higher levels recently and the company raised C$38M just a few weeks ago so they should be relatively set for potential turmoil. With two producing mines, two advanced projects (one with legal problems ATM) and 3 exploration assets, this valuation feels rather silly.
Based on the sum of their parts, these companies are very cheap. Premier Gold and Argonaut Gold have advanced assets worth much more than their current EVs (on paper!!). OceanaGold is larger but have some good prospects for the future IMHO.
Keep in mind that these are not "Best in class" miners. There are higher margin producers with better mines out there. It's just that those aren't nearly as cheap.
Note: This is not investment advice. This is a very risky sector and these are risky companies. I own shares of all three which makes me biased.