Tax Loss Silly Season and the "artificial" selling is coming to an end TODAY. This is the period when I typically ramp up my gathering of dry powder and am even more aggressively buying than what is typical of me.
The more something is down on no materially negative news the better in my book. In other words it typically means I am buying some of the worst looking charts out there. Charts that make most people run and hide because Mr Market is scaring them by saying the trend has been down (and people project a never ending trend down).
One of the best gems, I think, I have found this Silly Season is Universal Copper (UNV.V). It's a true micro cap with a Market Cap of only C$6.53 M that is actually sitting on a resource already to the tune of an impressive 2B lbs of copper and other metals (In BC, Canada no less). I actually participated in the last PP at $0.10/share simply because I thought it was so cheap I didn't have to do much DD (I didn't do any DD at all really except skim the presentation quickly). Well, since then Copper has been on a tear and re-visited the stock and noticed it had traded down all the way to $0.06/share while the 52w high was $0.21/share (when copper was actually trading lower than where it currently is). Again, I needed little DD in order to start adding shares in the open market since this was just getting too silly in my book… 2B lbs of copper in BC for sub $5 M?(!). Anyway I have been buying lately up to $0.105/share, which is the highest price seen during the silly season, and at least expect a relatively easy 100% return from here once at least a few buyers re-enter the junior space.
The company even has assays on the way and it feels nice knowing that the already impressive resource that is banked is not going anywhere. So even if it is valued like a pre-discovery exploration play it very much not so. I have yet to find a copper play with more leverage than this. Note that I do not bet the farm in any junior regardless of how cheap it is but I am currently sitting on a pretty decent position of Universal Copper in my smaller and hyper aggressive portfolio. Do your own due diligence!
Website: LINK
MCAP: C$6.53 M at $0.105/share
Catalysts: Assays pending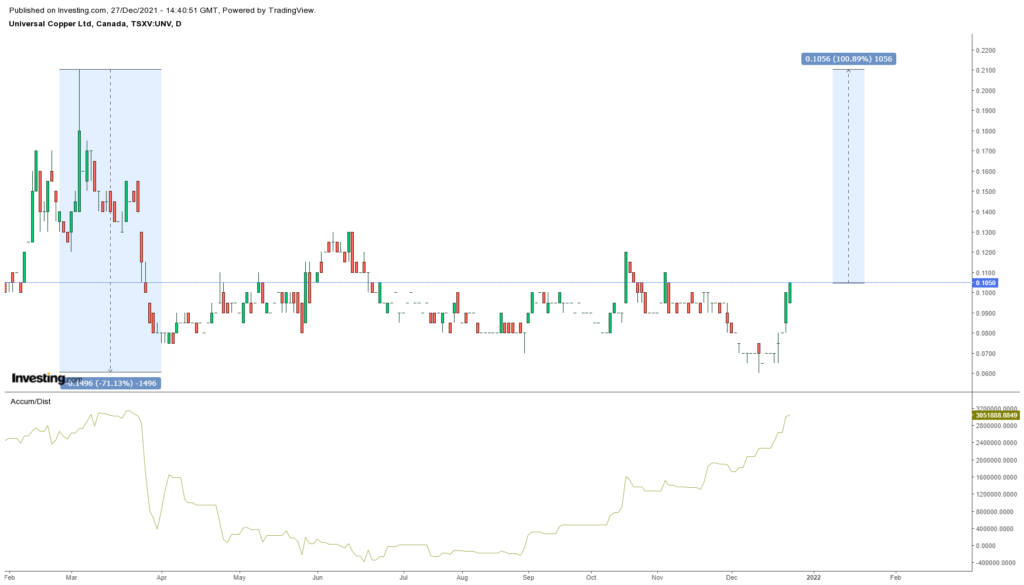 Mantaro Precioues Metals (MNTR.V)
Mantaro has seen a lot of tax loss selling and has been nose-bleed cheap for a while in my opinion. I summed up my case HERE and it's still around the same valuation so I have just kept on adding in my smaller, hyper aggressive portfolio. It is currently a very large position in that portfolio. I expect this one to be a relatively easy >100% returned once sentiment changes again. The company has a many good looking projects in Bolivia and Peru. Although these are not tier #1 jurisdictions I think the jurisdictional risks are already way over-discounted and the valuation is friggin ridiculous in my book. They have plenty of cash as well. Unlike Universal Copper, Mantaro does not have a resource, but it has a gold project which is permitted for mining and underground workings at Golden Hill.
Again, I am not betting the farm on any single junior regardless how cheap it is. It makes up a substantial portion of my smaller, hyper aggressive portfolio but does not make up more than say 3% of my total portfolio.
Website: LINK
MCAP: C$11.72 M at $0.195/share
Catalysts: Sampling and up coming drill programs at Golden Hill (Gold) and San Jose (Silver + Gold)
Cartier Iron (CFE.V)
I have been pounding the table on this one lately and Bob summed it up well in his recent piece. I love Eloro Resources and I love buying companies cheap… So when you get shares of Eloro worth C$9 M + C$2.5 M in cash + one district scale gold project in Newfoundland + 55% of an iron ore project for $C12.6 M during Silly Season I would be brain dead not to buy. If you subtract ONLY the shares of Eloro and the cash then the Enterprise Value is currently -C$1.7 M. In other words I get paid for the pleasure of also being exposed to a gold and and iron ore project… *Rolling my eyes*.
Website: LINK
MCAP: C$12.6 M
Assets:

Eloro shares: C$9 M
Cash: C$2.5 M
+ 1 Gold project (drilled currently)
+ 55% of an iron ore project
Note: This is not investing or trading advice. I own shares of all companies mentioned and Mantaro Precious Metals is a banner sponsor of mine. Therefore consider me biased and do your own due diligence.
Best regards,
The Hedgeless Horseman