This article will cover why I own shares of Mantaro Precious Metals (MNTR.V), why I have bought more recently, and why I was happy to have the company on as a banner sponsor. Mantaro is a relatively new story that has been flying under the radar. I bought shares in the company when they "only" had five silver projects in Peru but not long ago the company announced an option on a very good looking gold project in Bolivia as well. We are currently in the tax loss (silly) selling season which creates artificial selling pressure and thus artificially good bargain opportunities… But when that stops…
Mantaro's Valuation:
Market Cap (@$0.20/share): C$11.7 M
Cash: ~C$5.9 M
Enterprise Value: C$5.8M (US$4.7 M)… Yes US$4.7 M
Mantaro Precious Metals in Short:
25% of shares owned by Management (fully diluted)

Chairman and CEO spent 10 years with Ivanhoe Mines (Friedland)

100% option or ownership of FIVE primarily high-grade gold/silver projects in Peru

Santas Gloria looks really good and has seen historic mining (but has never been drilled)
San Jose has 12 km of Untested Veins and inferred strike extensions

Recent option agreement to acquire up to an 80% interest in a the Fully Permitted Golden Hill Property in Bolivia

Fully permitted for drilling
Fully permitted for mining
There is a small plant on site
Multiple vein swarms confirmed
Small scale mining across kilometers
8 historic holes returned assays up to 13.54 m @ 7.09 gpt
Most recent company webinar:
… I will be using a lot of slides and comments from this.
My Case For Mantaro Precious Metals:
To me Mantaro Precious Metals is currently a no brainer Risk/Reward proposition. The company is cashed up, has exposure to up to 6 projects and trades at a tiny Enterprise Value of US$ US$4.7 M. Personally I think both San Jose and Golden Hill are worth more than that alone (and one gets the other 5 projects for free).
Again, it's US$4.7 M in Enterprise Value (~C$5.9 M in cash) for two very good looking silver projects in Peru, one permitted for mining, small scale producing, wide open, visual gold bearing, 4,468 hectares gold project in Bolivia and exposure to three more early-stage silver projects in Peru.
Both Golden Hill and Santas Gloria have good 10-bagger potential in my book from these levels and these are not blind, grassroot targets. Both projects are either being mined (Golden Hill) or have been mined (Santas Gloria). We know the gold and gold/silver mineralization is there. It's a matter of finding out how big the systems might be. The jurisdictional diversification is welcome and either Peru or Bolivia could go down the toilet and Mantaro would still not be expensive in my book.
My Shorter Case For Mantaro Silver
6 Projects

One gold project permitted for mining in Bolivia
Two semi derisked silver/gold projects in Peru
Three additional projects because why not

25% insider ownership
Enterprise Value of $US4.7 M
… No brainer cheap.
Upcoming Catalysts
(Golden Hill) Commenced focused geological mapping with 4 geologists on site
(Golden Hill) Commenced bench-scale metallurgical testing of bulk sample taken from underground
(Golden Hill) Commenced high resolution satellite and radar imagery
(Golden Hill) Underground development planned for November 2021: Mine shaft extension to get better access to the five veins
(Golden Hill) Plan to drill 5,000 m as soon as targets are refined
(Santas Gloria) Drilling as soon as drill permits are in hand (expected soon)
The "Golden Hill" Gold Project, Bolivia
Straight from the website:
"Golden Hill comprises one fully permitted concession totaling 4,468 hectares within the Bolivian Pre-Cambrian shield. Mineralization is of greenstone hosted orogenic gold type, with over four kilometres of gold-bearing quartz veins associated with a regional structure mapped on the property. An additional six kilometers of structure to be explored. Limited drilling has been completed on the property, consisting of only 8 holes totaling 1,620 meters to a maximum depth of 154 meters. Three high-priority drill ready gold mineralized targets have been identified at the La Escarcha, Gaby and Brownfields along with additional targets that warrant further exploration."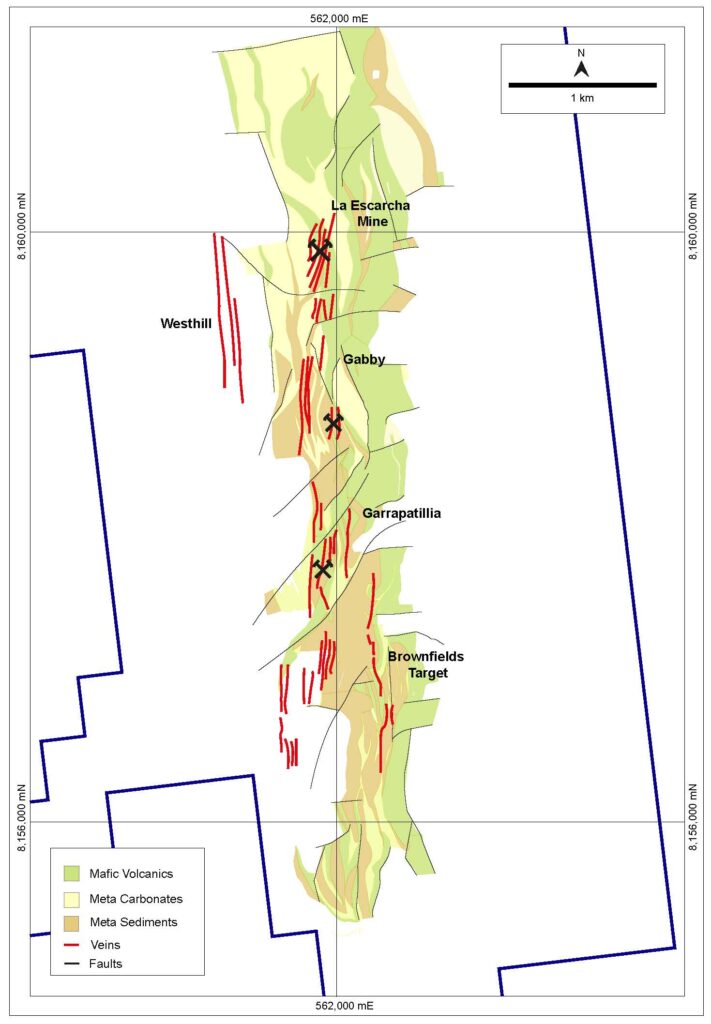 As you can see in the slide above there are many veins that have been mapped which is why it is a bit mind blowing that only 8 historic drill holes have ever been done on this property(!).
Not only are there many veins mapped within Golden Hill but there is a lot of artisinal "gold smoke" both within Golden Hill as well as on strike to the north across two structures:
As you can see there is alluvial, saprolite and hardrock workings stretching for many kilometers along both the north-south structure as well as the splay to the north-west. In other words there is either hardrock gold confirmed in the bedrock or gold that has been shed from hardrock sources in the bedrock all over the place…
I don't think there are many jurisdictions where there could be this much smoke without someone drilling a lot of holes here. To put into context of just how underexplored Bolivia is I present the following comments from the website:
"The Bolivian Pre-Cambrian shield is larger than the Abitibi greenstone belt in Canada, yet the Bolivian shield has produced <10 Moz Au compared to 170+ Moz Au in the Abitibi from over 100 mines since 1901. Similarly, the gold endowment of the West African shield, the greenstone belts of NE South America (Venezuela, Guyana, Suriname and Brazil) and the Yilgarn province of Western Australia much greater than equivalent areas of the Bolivian shield as the Bolivian shield remains largely under-explored."
The lack of exploration sounds even more bonkers in light of this:
"Mineralization between La Escarcha and Brownfields is characterized by a series of broadly parallel, north-south trending, very steeply dipping quartz veins that are between 1 to 5 meters wide. Mineralization is hosted in mafic metavolcanics, at the contact of metavolcanics and metasediments, and within metasediments.
Veins are well exposed in underground workings at La Escarcha where they comprise multiphase white quartz and slivers of wall rock (see Figure …) which are fracture oxidized. Veins are up to 5 meters wide and contain significant visible gold.
Mine staff have reported that gold grades increase downwards from surface to the -60 m level which is currently under limited development. Most gold appears to be free hosted in fractures within quartz and pyrite."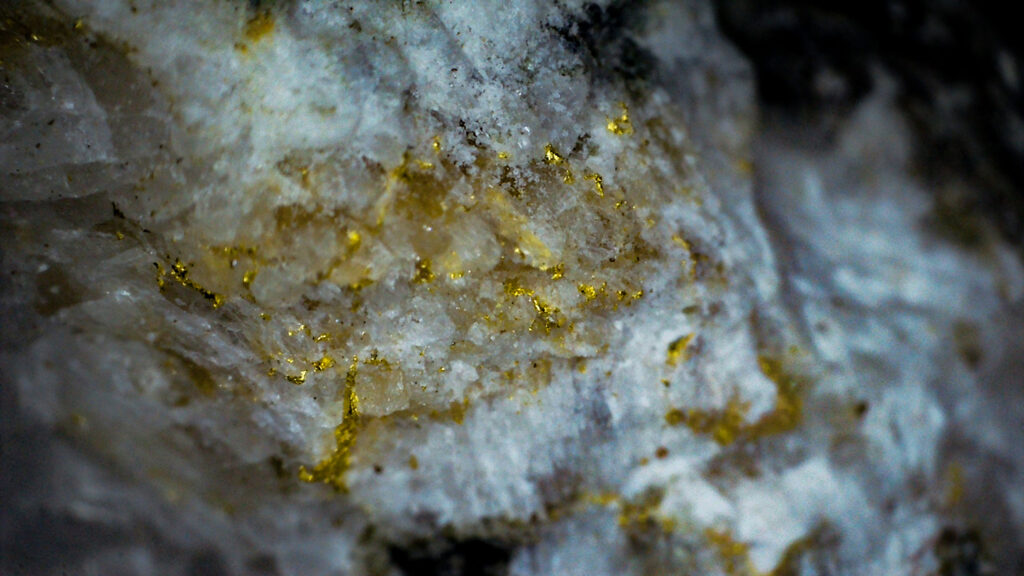 Lastly I would point out that the beautiful visual gold encountered at the property does raise the issue that it might be a nuggety orogenic gold system like some other well known systems (New Found Gold, Fosterville etc). This is why I consider it to be very fortunate that Mantaro has access to FIVE gold mineralized veins via underground workings and that the company plans to simply deepen the existing shaft. Then the company plans to simply drive along the veins which means the mineralization would be tested much more accurately since it would be almost like a mining scenario. This is an exceptional competitive advantage for any junior which might be dealing with a high-grade, but nuggety, gold system:
"We can go and drill these systems straight away… If we want to turn a drill rig on tomorrow, we can turn on a drill rig tomorrow… We are permitted… But we are blessed with a shaft here at La Escarcha… We believe we can target the mineralization at La Escarcha much more efficiently, and at very little more cost, by going underground."
… Imagine drilling only 8 holes into a presumed nuggety gold system that returned assays up to 13.54 m @ 7.09 gpt and there are several kilometers of vein strike along multiple veins. Then add the artisanal workings that stretch for multiple kilometers to the north and south of this (note that the holes are historic in nature and have not been verified). Then add that the property is fully permitted for mining. Then add that the company has an enterprise value of US$4.7 M for its total portfolio which includes 5 additional projects on top of this.
"There seems to be very little point in drilling La Escarcha, which sits in here, when we got… At very little cost, the ability to go in and drive on five veins, that have been previously mined"
"… So yes we want to drill, but our ability to drive on these veins, will give us such a larger data set… We can sample in a much tighter interval… There are multiple advantages to going underground if you can do it for almost the same cost and extend what is already there"
Chris also goes on to talk about the fact that there is a small plant already on site with a crushing circuit etc (the gravity circuit would need remediation)…
"It's not lost on us that as we are driving undergrounds on this to explore, for a potential resource,  that there is merit in taking this material… Again we are a fully permitted mine, with the owner and chief executive of the company that we are earning into, is on the board of Mantaro"
Golden Hill planned time-line:
To sum up Golden Hill
I think Golden Hill looks incredible and I see Bolivia overall as one of the few underexplored frontiers that are out there. Sure, Bolivia is not the best mining jurisdiction in the world but the Golden Hill project is already permitted for mining and the owner of the concession now sits on Mantaro's board. More importantly, at US$4.7 M in Enterprise Value for the the whole portfolio, the jurisdictional risk is beyond priced in already.
Peruvian Portfolio
#1 Santas Gloria
Santas Gloria is probably the main event out of the five Peruvian projects. The project has seen historic mining and the surface results seem unusually good given the fact that, as Chris explains in the presentation, a lot of the near surface gold & silver ought to have been "leeched" away by rain:
… Note the amount of gold  & silver bearing veins in that picture(!).
Here is a close up geological map:
What is perhaps even more impressive is that the San Jorge vein has been traced for 450 m on surface, with a thickness of 0.5-3 m, and has seen assays between 93-2,500 gpt: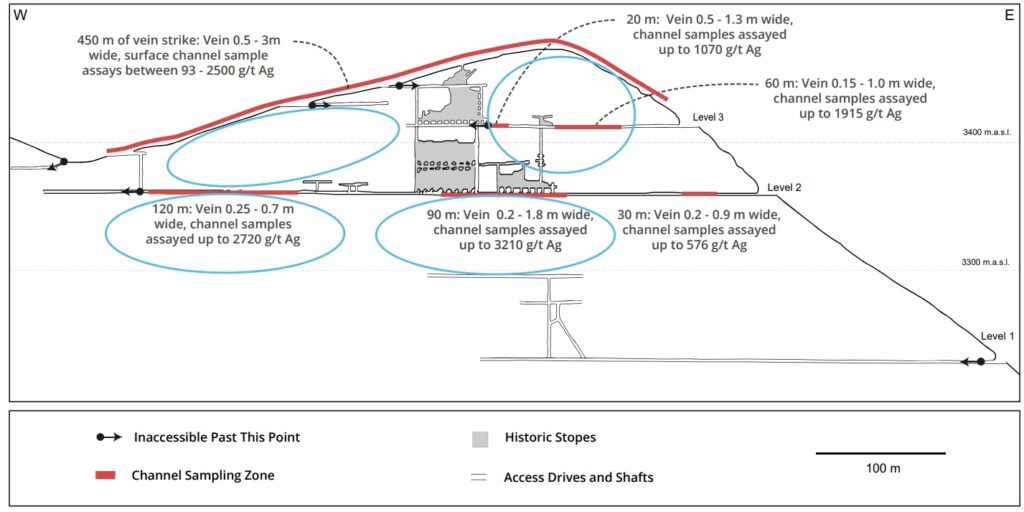 … That is certainly significant results. Especially given that the surface is expected to be leeched. Furthermore the company has not been able to do underground samples from what was being mined, but has been able to sample some of the "peripheral" wall rock, and those samples still returned grades up to 3,210 gpt.
Here is Chris describing it:
And what is very important to understand is that these Intermediate Sulfidation systems in Peru can have multi-kilometer depth potential. In other words the San Jorge vein with its >450 m strike can potentially go down for a kilometer or two at depth(!). And that is still only ONE out of multiple veins which are confirmed within the Santas Gloria project to boot.
To wrap up Santas Gloria here we have Chris talking about other obvious, major targets outside the San Jorge vein:
My Thoughts
Well I simply think that the Santas Gloria project is one of the best looking, early stage, silver (and gold) exploration targets that I am aware of. It is de-risked via historic mining, and judging by the amount of veins and the potential vertical profile of these veins, I think Mantaro is brain dead cheap based on this project alone (And yes, that includes a Peru discount).
#2 San Jose (Peru)
This article is already getting long so I will just touch on San Jose briefly:
… So 12 km of UNTESTED veins and inferred strike extensions. Same as with Santas Gloria there is appreciable silver mineralization on surface even though most of the near surface silver is expected to have been leeched out by now. Hopefully that is a sign of how robust the system might be. Yet another good looking silver project.
Rest of the Peruvian Portfolio
I'll just end the Peruvian segment with a map showing Mantaro's entire portfolio in this country: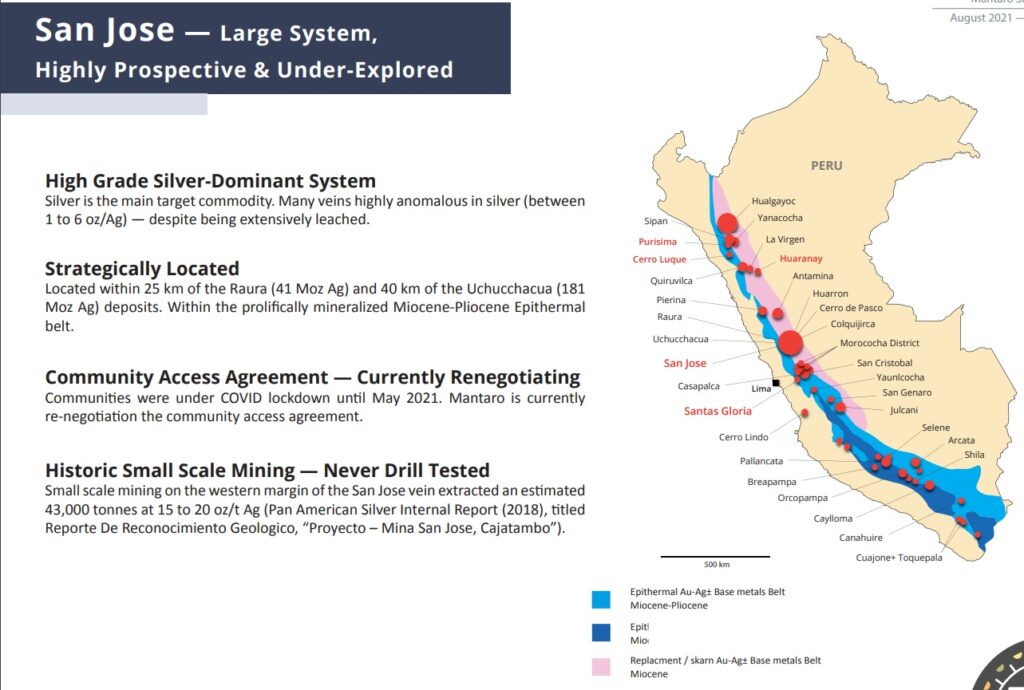 Closing Thoughts
US$4.7 M for all of this… Are you kidding me?
I like no brainer risk/reward cases where very little success is priced in and the risk/reward is so good that I don't need precision. There are never any guarantees but to me this is a ridiculously low valuation for 2 exceptional projects and 4 additional ones. If any of these work I expect to make quite a bit of money. There is nothing close to success being priced in for Golden Hill or Santas Gloria.
You also get a Management team with 25% skin in the game and you also get Dr. Chris Wilson, ex Exploration Manager for Ivanhoe Mines (Robert Friedland) for 10 years, as Executive Chairman and CEO. It's not some random guy who couldn't spot an economic deposit if they stood in one. Chris has worked in over 75 countries and was responsible for an exploration portfolio of over 11 million acres when he was with Ivanhoe.
Am I guaranteed to get a >10-bagger out of Mantaro? NopeDo I think Mr Market is rational in its current pricing in terms of the odds of any of these projects turning into a success? Not at all.Is there a chance I am OVERPAYING for all of this? I think that chance is slim to none and that is all I am looking for. I want to buy cheap.
As always this is not investing advice. I am simply sharing what I am doing with my money and what I think about companies.
Some TA
Well not really any TA. I just see a typical slide like most IPO'd junior have shown this year and we are in tax loss (silly) selling season. I have been loading up quite a bit in the last few weeks and on Friday we saw just how tight this stock is as it went up 40% on 26,500 shares traded… I think that is a sign that the IPO and tax loss sellers are pretty much out of shares and that the path of least resistance has turned to the upside: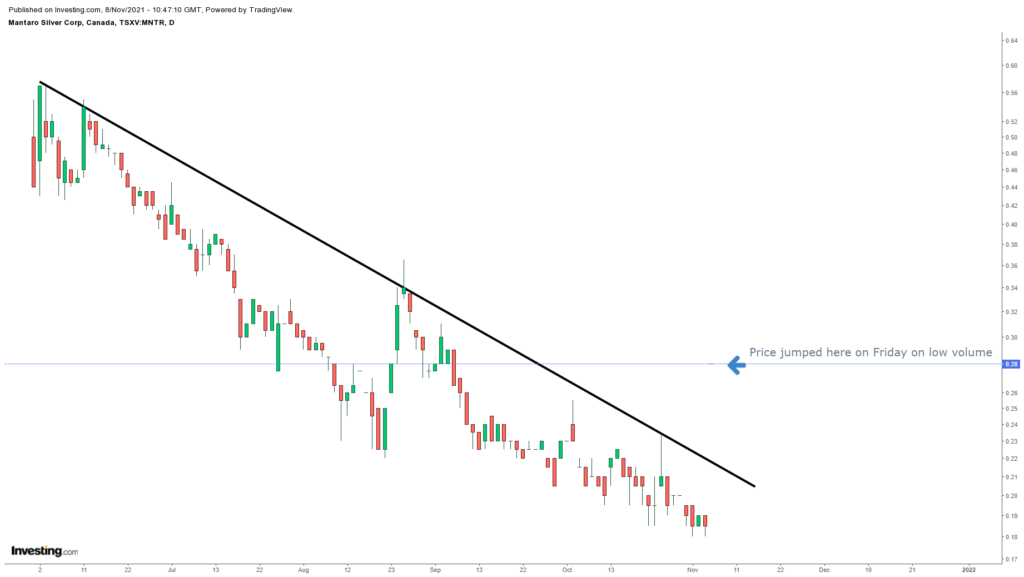 Could it go down again? Of course
Should it stay down? Heck no in my opinion. This is still a quite ridiculous valuation I think.