Dec 29, 2021
Since Tax Loss Silly Season is nearing an end I thought I have been ramping up my coverage of some juniors that have been severely punished by Mr Market. Silly Season ought to be the main "hunting period" for anyone who is looking to buy stuff low (cheap).
My previous article on Defense Metals: LINK
Defense Metals (DEFN.V) is an interesting case. It is the only Rare Earth Element ("REE") company I own and I think it makes a lot of sense. Now, I am not anywhere close to an expert on REEs or companies that explore/develop REE deposits, but I think I can spot when something is cheap.
Shares of Defense Metals have gone down some 70% in Price from their 52w highs and would need to go up 239% to get back there: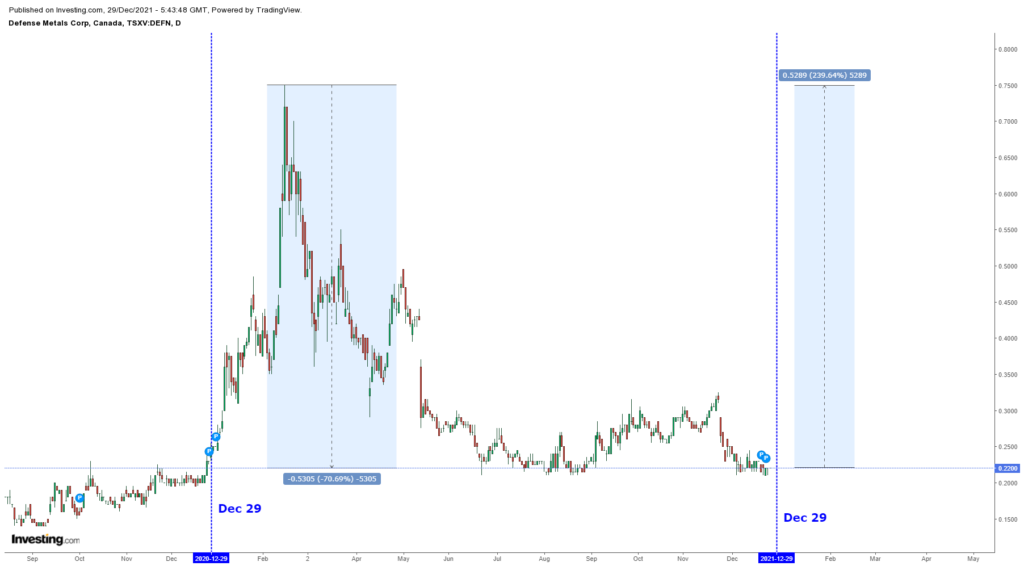 In other words I do believe that there probably has been a lot of selling pressure lately from people who wants to write off tax losses. This of course does not have anything to do with the company's fundamentals and it means that it might be artificially cheap. Perhaps even very cheap in light of the PEA for the Wicheeda REE project which was published on November 24:
PEA Highlights
Strong Financial Metrics
The project has a pre-tax net present value (NPV) of $765 million[1], and after-tax NPV of $512 million, at 8% discount rate.
The pre-tax internal rate of return (IRR) is 20%, and the after-tax IRR is 16%.
The capital payback is 5 years from start of production, and assumes partial self-funding of construction of hydrometallurgical plant from concentrate sales.
Revenues average $397 million per year from sale of REE mineral concentrate (years 1-4) and mixed REE hydrometallurgical precipitate (years 5-16).
Operating margin of 65.2%.
Production of a saleable high-grade flotation-concentrate, with average 43% total rare earth oxide (TREO) for the life of the mine. It will be sold to market directly for years 1-4 and will then feed a project hydrometallurgical plant starting in year 5.
Project near to key infrastructure.
Base case economics were calculated using rare earth oxide (REO) prices of US$5.76/kg TREO in flotation concentrate and US$14.04/kg TREO in mixed REE carbonate precipitates.
… It's obviously a big, strategic project and the mine life is an impressive 19-years. With that said there is still a lot of exploration potential to boot so this could probably end up being a mine with a much longer mine life than 19-years if one assumes the same throughout. On that note, Defense Metals reported that the company was set to mobilize two drill rigs on October 4 and on November 8 we learned that the company had completed the resource expansion drilling program.
Snippets from the November 8 news release:
(bold in blue added by me)
The Company's previous, and highly successful, 2019 drilling campaign resulted in a 49% increase in tonnage and a 30% increase in resource grade (see Defense Metals News Release Dated May 13, 2020). The now complete 2021 drilling program successfully accomplished the Company's goal of identifying the expansion of the REE mineralized dolomite-carbonatite zone to the north, in addition to further delineating existing resources mineralization zones within the central and northwestern areas of the deposit (Figure 1).

Drilling within the northern sector of the Deposit occurred over an area of approximately 200 x 100 metres where multiple drill holes intersected visually mineralized dolomite carbonatite beyond depths predicted in the geological model, both laterally and vertically (see Defense Metals news release dated September 21, 2021). Drilling within the southern area of the deposit, primarily designed to upgrade existing inferred and indicated resources, has also confirmed and in some cases expanded the mineralized dolomite carbonatite zone.

Craig Taylor, CEO of Defense Metals, stated: "We are pleased to have completed our 2021 drilling campaign. Our expectation is of expanding and upgrading the current Wicheeda REE Deposit mineral resource. We believe the 2021 drilling results, once released, will firmly place the Wicheeda REE Deposit among the most significant rare earth deposits in North America."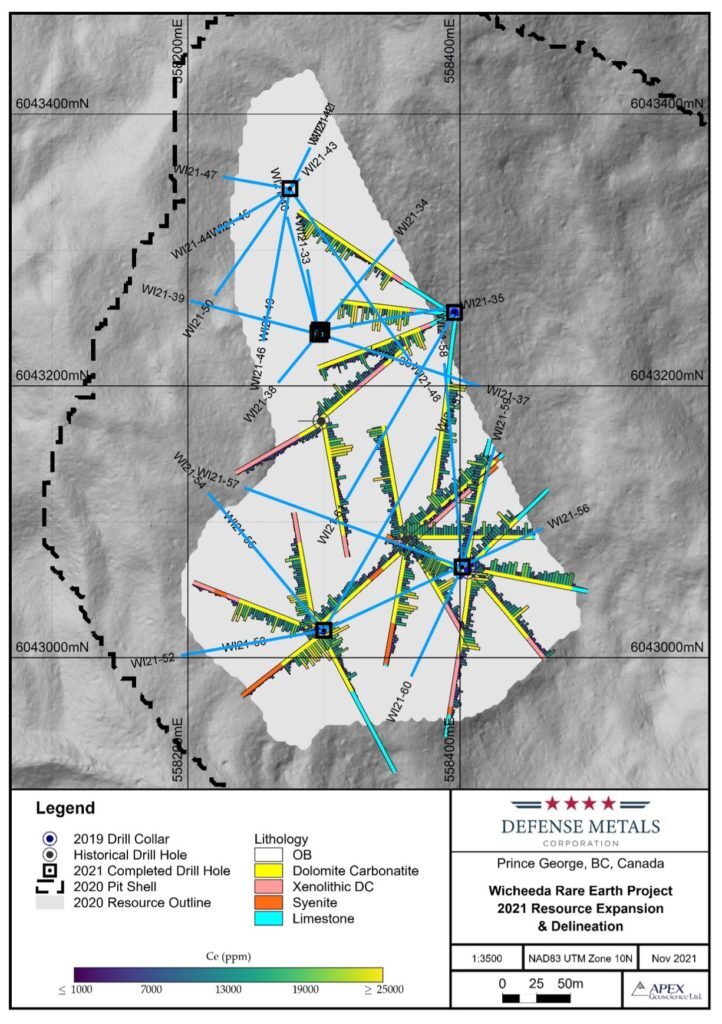 I don't need to be a rocket scientist to appreciate the fact that Wacheeda could very well end up being bigger and even more of a "strategic" asset in the future.
This "strategic" angle should obviously be seen in light of the fact that the West is currently very dependent on China for its Rare Earth Element needs:
Snippets from the article "America's Critical Strategic Vulnerability: Rare Earth Elements" – June 22, 2021
"Recognizing the long-term vulnerability of an over-reliance on Chinese REEs, then-President Donald Trump signed Executive Order 13817, identifying federal government priorities to increase domestic extraction of minerals, refinement processes, supply chain activity, and evaluating new material sources. Later in 2020, the Trump administration issued Executive Order 13953, declaring reliance on Chinese critical mineral export a national emergency. This also authorized the Defense Production Act to streamline the construction of domestic mines whilst prioritizing the expansion and protection of minerals in secured supply chains."

"On the whole, the mandate to identify unreliable critical mineral supply chains and accompanying actions to develop reliable long-term supplies demonstrates that the Biden administration is taking critical mineral source diversification seriously. However, the United States is years away from providing a steady domestic supply of critical minerals, and rivaling Chinese production will require a massive policy commitment, deregulation, and investment."
… I don't know about you but I have been getting the feeling that China-West relations, especially China-US relations, have steadily become worse and not better lately.
In Short:
Rare Earth Elements are dominated by China
The US and the West wants supply closer to home for strategic reasons
Defense Metals's Wacheeda project is a big, strategic project in Canada
The current Wacheeda deposit has an After-Tax NPV of $512 M according to the PEA
The Wacheeda deposit will probably get bigger and more strategic
During Tax Loss Silly Season the valuation of Defense Metals has come down to C$17.7 M
It looks a bit silly to me. Silly cheap. So am I missing something or is it really super cheap?
On that note I would then just add on this next section from my previous piece:
"So, Who Cares About All This?"
If the macro trend assumptions discussed earlier are correct, coupled with the apparent quality of the project, then one might expect to see some external parties taking an interest in Defense Metals, right(?). Well look no farther than some of the many headlines that the company has pumped out lately;
"DEFENSE METALS PREPARES HIGH-GRADE RARE EARTH ELEMENT CONCENTRATE SAMPLES FOR SHIPMENT TO MULTIPLE POTENTIAL OFFTAKE PARTNERS" –
The news release states;
(Bold added by me)
Defense Metals Corp. ("Defense Metals") (TSX-V:DEFN / OTCQB:DFMTF / FSE:35D) is pleased to announce that it has recently been notified by Welsbach Holdings Pte Ltd. ("Welsbach") that is has received requests from two interested third-part Rare Earth Element (REE) processors for samples of high-grade REE mineral concentrate for the purposes of evaluation prior to entering discussions with respect to the negotiation of an initial memorandum of understanding (MOU) and subsequent potential mineral concentrate offtake agreements.
Furthermore we got these comments from Defense Metals and Welsbach itself:
Craig Taylor, CEO of Defense Metals, stated: "We are extremely pleased that Welsbach has successfully identified two REE processors interested in receiving representative samples of our high-grade Wicheeda REE Deposit mineral concentrate. These requests represent a major step forward in our efforts to assess the market potential of long-term REE mineral concentrateofftake sale agreements."

Mr.BrendanJephcottof Weslbachsays: "Potential partners in Asia are seeking a secure, long-term supply of rare earth concentrate to cover projected shortages in NdFeB magnet supply as demand for electric motors used in new energy vehicles continues to grow."
Just FYI: Greg Nolan of EquityGuru wrote a good article on the recent corporate developments titled "The Plot Thickens – Defense Metals Draw Interest From Two International REE Processors".
… Highly encouraging for sure. But wait. It gets better. Not even a month later we got the following news release…
"DEFENSE METALS PREPARES ADDITIONAL HIGH-GRADE RARE EARTH ELEMENT CONCENTRATE SAMPLES FOR EVALUATION BY LEADING GLOBAL RARE EARTHS PRODUCERS" –
The news release states;
(Bold added by me)
Defense Metals Corp. ("Defense Metals") (TSX-V:DEFN / OTCQB:DFMTF / FSE:35D) is pleased to announce that it has recently been notified by its Asian based advisor Golden Dragon Capital Limited ("GDC") that is has received requests from two leading global Rare Earth Element (REE) smelting and separator enterprises to provide samples of Wicheeda REE mineral concentrate for the purposes of evaluation prior to entering discussions with respect to the negotiation of an initial memorandum of understanding (MOU) and subsequent potential mineral concentrate offtake agreements. These requests represent the third and fourth REE concentrate evaluation requests received by the Company to date, and discussions are currently ongoing with several other parties.
Furthermore we got these comments from Craig Taylor, CEO of Defense Metals:
We have now received four requests for evaluation samples of our high-grade Wicheeda REE mineral concentrate from Asian-based REE refiners. Defense Metals believes this underscores growing international market demand for readily accessible, high-quality, North American REE products. Discussions with potential offtake partners have the potential to yield benefits through opportunities for direct project funding, technical services agreements, and access to the full downstream rare earths value chain.
Closing Thoughts
So yes, somebody does indeed care and I would think there is a lot of stuff going on in the background.
I also think it is safe to say that even though there are no guarantees of getting a multi-bagger in any stocks I think I can pretty much guarantee that Defense Metals is cheap and the Risk/Reward is good if not great. Anything could happen and my only job is to try and buy undervalued companies where I think the risks are to the upside. Do I know I will make a lot of money on Defense Metals? No. Do I know I won't lose money on Defense Metals even from this seemingly very cheap level? No.
… Do I think Defense Metals is cheap with a Market Cap of  C$17.7 M at $0.22/share?
… Yes.
Therefore it is included in my well diversified junior portfolio and my Base Case is that I will make a good return from here sometime in the future.
Note: This is not investment or trading advice. I cannot guarantee 100% accuracy as to what has been stated in this article. I own shares of Defense Metals and the company is a banner sponsor of The Hedgeless Horseman. Therefore assume I am bias, do your own due diligence and make up your own mind(!). Junior mining stocks are very risky and can be very volatile.
Best regards,
The Hedgeless Horseman