Website: www.northernemp.com
Latest Video Presentation: LINK
Stock ticker: NM
Flagship project: Sterling Gold Property (95 km2 ), Walker Lane Trend, Nevada
Additional project: Richardson Gold Project (28,762 acres), Alaska 
Additional project: Hoodoo Canyon Property, Nevada (Currently leased to Newmont)
Royalties owned: 2
Location: Nevada, USA
Shares outstanding (basic): 45.8 M
Shares outstanding (fully diluted): 53.2 M
Market Cap (fully diluted @ CAD$0.82):  US$36 M
Cash (Sept 5): US$4.1 M
Enterprise Value: US$31.9 M
Management ownership: ~6.3%
Strategic investors: Coeur Mining @ 11.6%, Imperial Metals @ 3.7%
Let me start by showing the "Investment highlights" slide from the company presentation:
Setting The Scene
The more I researched Northern Empire (NM), the more I realized how much activity has been taking place around the town small town of Beatty this year.
NM is not the only company that is going on the offensive in this part of the Walker Lane Trend. In fact, there are currently three companies operating in the area; Corvus Gold (North), Bullfrog Gold Corp (West) and Northern Empire (East):
Recent Activity
February 15, 2017: Northern Empire to Acquire Sterling Gold Mine from Imperial Metals.
March 31, 2017: Northern Empire Strengthens Leadership Team:
" today announced changes to the Company's leadership team which includes the appointment of Mr. Douglas Hurst as Chairman of the Board, Robert Scott as Chief Financial Officer, and Raymond Threlkeld as Senior Advisor to the Board. Mr. John Robins, the Company's founder and former Chairman, will remain an active director to support the Company in the advancement of the Sterling gold project in Nevada."
May 24, 2017: Bullfrog Gold Raises $816,000 of Equity to Advance Its Nevada Gold Project:
"The lead purchaser in the amount of $540,000 was Eros Resources Corp., a TSXV company led by Ron Stewart, President and CEO and Ron Netolitzky, Chairman. A final closing of additional subscriptions is anticipated on May 31, 2017."
May 30, 2017: Northern Empire Acquires Sterling Gold project, and Completes $20 Million Financing. Coeur Mining to Become Strategic Investor:
"Coeur Mining, Inc. (NYSE:CDE) ("Coeur") acquired an aggregate of 16,000,000 subscription receipts. Assuming the automatic conversion of the subscription receipts into Shares at the Qualification Time (defined below), Coeur would hold 16,000,000 pre-Consolidation Shares or 5,333,333 post-Consolidation Shares, representing approximately 11.7 per cent of the then issued and outstanding shares of the Company."
June 6, 2017: Corvus Gold Acquires Mother Lode Property From Gold Corp. (Horseman: Mother Lode is the property adjacent to NM's claims)
July 7, 2017: Corvus Gold Adds Coeur Mining as Strategic Investor with Option for Increasing Ownership
"This second financing would provide Corvus Gold with funding for its second phase of project development work at its Mother Lode project and the analysis of the integration of the Mother Lode and North Bullfrog projects into a unified mining plan."
August 28, 2017: Northern Empire Begins Drilling on Sterling Gold Property.
September 6, 2017: Corvus Gold Begins Initial 13,000 Metre Mother Lode Drilling Program
To sum up the interesting developments in the area:
3 companies are currently working in the area around the town of Beatty, Nevada.
Bullfrog Gold gets funding from a company that includes legendary mine finder Ron Netolitzky

Bullfrog Gold's property is centered around the ex Barrick Gold mine called Bullfrog that produced ~2.5Moz.
The company has a 43-101 stating 525,000 ounces in the M&I category, plus 120,000 ounces in the inferred category.

Northern Empire acquires the Sterling Gold Property which is followed by:

Douglas Hurst gets on board and is currently Executive Chairman.
Coeur Mining acquires a 11.6% in the company.

Corvus Gold acquires the Mother Lode Property, which is located inside and adjacent to the Sterling Gold Property and is followed by:

Coeur Mining acquires an initial 6.2% stake in the company with an option to increase ownership.
Focus has now been directed towards the Mother Lode Property with an initial drill program of 13,000 meters.
Thus, it looks like Coeur Mining sees a lot of potential in the area due to the fact that they first acquired a 11.6% stake in Northern Empire AFTER the company had acquired the Sterling Gold property. This was then followed up by acquiring a 6.2% stake in Corvus Gold AFTER the company acquired the relatively small Mother Lode Property from Goldcorp, which touches the Sterling Gold Property. Following Coeur's investment, Corvus recently started a relatively big drilling program focused on the Mother Lode Property.
1. Place
The flagship Sterling Gold Property is located in the Walker Lane Trend, Nevada. In the "2016 Fraser Institute Investment Attractiveness Index" Nevada had a score of 87.48, which ranked it #1 in the US and #4 in the world.
The Walker Lane Trend includes prominent mines such as:
Comstock (35M AuEQ oz)
Round Mountain (20M Au oz)
Bullfrog (2.5M Au oz)
Satellite image covering the town of Beatty as well as the surrounding properties that are owned by the three companies:
2. People
One of the most important or perhaps THE most important factor for me when it comes to junior mining companies is the quality of the people involved. The reason for this is that there are so many unknown factors and hurdles to overcome for a mining company, especially for a junior exploration and/or developer. Therefore I want competent people involved that has a history of navigating projects all the way to production and/or a buy out from a larger company. Since I am no geologist or mining engineer myself, I want to rely on the fact that successful people in this sector tend to gravitate to projects with an above average chance of success.
With that said, Northern Empire certainly gets a check mark in the "high quality people box". Below is a a screenshot from their presentation, which tells us that there are a lot of people involved that has a successful history in the mining sector. We have the founder of Newmarket Gold as Executive Chairman along with a former chairman of the same company. We also have the founder and former chairman of Kaminak Gold, along with a former director.   Then we have three people with a background in Underworld Resources, including a co-founder of the company.
What does Newmarket Gold, Kaminak Gold and Underworld Resources have in common? They were all huge successes which all ended with a take over from a large gold producer (Kirkland Lake, Goldcorp and Kinross). This should tell us that the team behind Northern Empire has a firm grasp of what the majors want and need, and  more importantly, know how to deliver on that need.
The next thing I look for is if the people running the company has enough belief in their story to buy shares in the open market. Remember, the "alternative cost" of buying shares in the company is literally everything else that money can buy. Thus, insider buying is a lot more bullish than insider selling is bearish. Meaningful insider buying is also a huge positive signal since buying shares in a company that pays your bills is the "anti thesis" of diversification.
Below is the most recent insider action from SEDAR:
Below is the insider action right up until the stock was halted due the Sterling acquisition:
It is basically a sea of green up until the acquisition as well as after. This is something I consider very bullish. One should keep in mind that the company has a tight share structure and that some days, only about 5,000 shares were traded. That means it's not always so easy to buy a sizable amount.
To sum up
Northern Empire has a very experienced  and successful team behind it, who also have been continuously buying stock in the open market. Add the fact that Coeur took a large piece of the company soon after the Sterling acquisition.
A project that attracts the people who were behind the successes of Kaminak, Newmarket Gold and Underworld resources etc, as well as a 11.6% investment by Coeur Mining certainly gets my attention. One can be sure that the management, the directors and Coeur Mining has done their due diligence regarding Sterling, and judging by the checks that have been written, they obviously like what they see.
3. Projects
3.1 Sterling Gold Property (Flagship project)
3.1.1 Sterling Gold Property map:
An interesting fact is that the Mother Lode Property (drawn in the picture above) which Corvus Gold is now aggressively drilling on is not only adjacent, but also literally INSIDE Northern Empire's land holdings
3.1.2 Current Resource Summary:
Notice the high cutoff grade. As CEO Michael Allen mentions in the video presentation, the inferred ounces can jump quite a bit, percentage wise, by lowering the cutoff grade (but still be relatively high). These numbers can be found in the Sterling Technical Report.
3.1.3 Existing Infrastructure
The Sterling Gold Property has quite a bit of existing infrastructure already in place. Imperial Metals basically sold the project after they had prepared for the next phase of production.
The Sterling Mine is basically "shovel ready" to quote Michael Allen:
Sterling mine development and production facilities:
Satellite image of production facilities:
3.1.4 Metallurgy and Grade
To say that the Sterling Mine's metallurgy is excellent and has been thoroughly tested is an understatement to say the least:
That's 88% without milling, confirmed by a "bulk sample" of almost 1 million tons.  Now, how does Sterlings metallurgy and grade stack up against similar projects?
Now, a drop in the cutoff grade will of course drop the overall grade while the project will gain ounces.  You should watch the video presentation where Michael Allen talks about the curious approach Imperial Metals had in terms of mining Sterling.
3.1.5 Exploration Upside
First of all, I urge you yet again to watch the video presentation, where Michael explains a lot regarding how much potential the team sees at the property. Not only is it district scale, but there are already four different outlined deposits on the property. Namely Sterling, Daisy, SNA, and Secret Pass:
This is what Imperial Metals had to say about the Sterling Mine in 2010:
"The 144 zone is hosted in stratigraphically favorable units of lower Cambrian rocks and a crosscutting latite dike, which were subjected to decalcification, silicification and brecciation. The 144 zone fits into the broad spectrum of Carlin-type deposits, but more towards the compact and structure controlled systems like Meikle and Deep Star than the larger tonnage, generally lower grade, strata controlled deposits. To date the 144 zone has been explored with 45,920 feet of surface and underground drilling and 5,894 feet of underground development."

(Horseman: Deep Star is a bonanza grade mine that was owned by Newmont and Meikle is part of Barrick's giant Goldstrike Mine)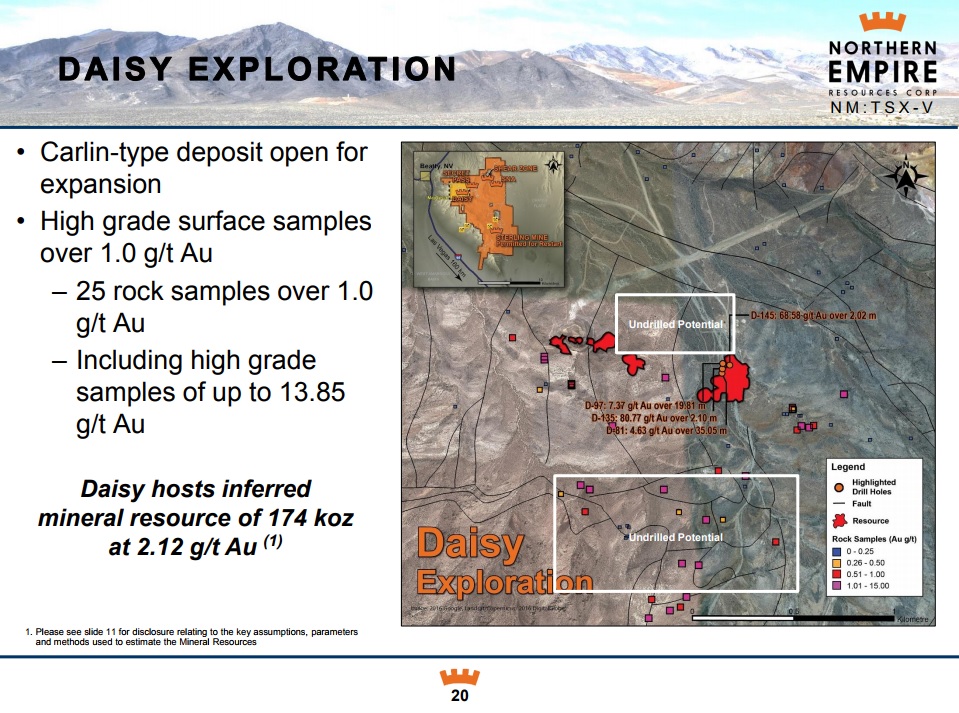 What's the deal with that high interest "Shear Zone" target in the last picture you ask? Well, that target happens to be adjacent to the central patch of Corvus Gold's Mother Lode Property (The property Corvus acquired just before Coeur Mining bought a stake in the company), that I showed earlier.
So what's the fuzz about? Well that tiny little patch of land that is encircled by Northern Empires concessions hosts about 433,000 ounces of gold, and as you will see in the pictures below, Corvus believes that the gold mineralization is open in all directions.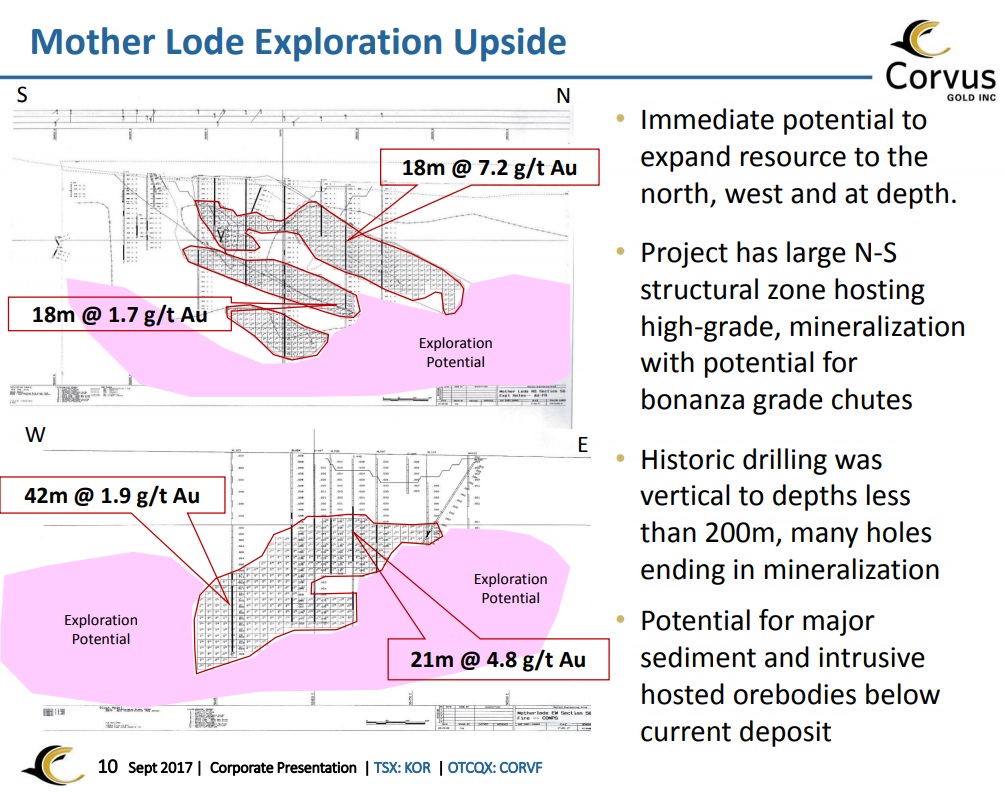 As one final pointer in terms of how deep the gold mineralization might run in at the Sterling Gold Property, I decided to add a slide taken from Bullfrog Gold's website. In the picture below, you can see that the former producing Bullfrog Mine (2.5Moz of historic production) that was previously operated by Barrick, seems to have some real potential at depth still. The Bullfrog mine is less than 10 kilometers away from the Sterling Gold Property (on the other side of the highway to the west). The big question is if  they can get good enough grades to make it feasible to mine at such depths.
3.2 Additional Properties
3.2.1 Hoodoo Canyon Property (4,318 acres), Nevada
Owner: Northern Empire
Status: Leased to Newmont Mining
The only information I can find mentioning anything about the Hoodoo Property was THIS report from Fronteer Development Group Inc.
3.2.2 Richardson Gold Project (28,762 acres), Alaska
Richardson Gold Project NI 43.101 Technical Report can be found HERE.
3.3 Royalties
Northern Empire acquired more than the Sterling Gold Property in the deal with Imperial Metals. The Company also became the owner of two royalties as well as 100% interest in "The Hoodoo Canyon Property" mentioned above:
 "A three percent (3%) Net Smelter Return Royalty up to a limit of US$1,250,000 on the Tenabo (Robertson) Property located on Lander County, Nevada. By agreement dated June 20, 2016, the subject property was purchased by Barrick Cortez Inc. from Coral Gold Resources Ltd."

"A ten percent (10%) Net Profits Royalty Interest ("NPR Interest") on the Blue Moon Property located in Mariposa County, California."
Robertson Property (3% NSR)
Owner: Barrick Gold
June 8, 2017: "Coral And Barrick Close Sale of Robertson Property in Nevada":
"Robertson is an advanced-stage exploration property located along the Cortez gold trend adjacent to Barrick's Cortez/Pipeline Gold Mine which produced over a million ounces of gold in 2016 and recently reported gold reserves of 10.2 million ounces proven and probable. Over the past 25 years, exploration at Robertson by Coral and its various senior partners identified at least six mineralized gold zones with an inferred mineral resource of 2.7 million ounces* (191,725, 418 tons grading 0.0143 oz Au/Ton). Coral completed a positive Preliminary Economic Assessment ("PEA") and Plan of Operation towards pre-feasibility in 2012. The property spans approximately 8,480 acres, comprised of 415 claims and 9 patented claims."
Blue Moon property (10% NPR)
Owner: Blue Moon Zinc Corp
"The Company is focused on the advanced stage 100% owned Blue Moon zinc project. The Blue Moon project is subject to a NI 43-101 resource assessment with approximately 2.62 million tons with a grade of 6.01% zinc in the Indicated category and 2.68 million tons with a grade of 5.98% zinc in the Inferred category plus significant bi-products of copper, silver and gold. The resource is open at depth and along strike and has favourable metallurgy." (Source)
Closing Thoughts
With enterprise value of US$ 31.9M you get a company that has:
Top notch management and directors (Ex Kaminak, Kirkland Lake, Barrick & Underworld Resources etc)
Continuous insider buying.
A recent direct investment from Coeur Mining (11.6% stake)
A flagship project located in Nevada with the following characteristics:

#1 jurisdiction in the US, #4 in the world.
District scale land package.
4 known gold deposits open from multiple directions.
700,000-1,000,000 ounces of gold depending on cutoff grade.
A mine permitted for production.
Existing infrastructure (pre-stripped pit, mine workings, production facilities)
Close to a town and near a highway.
Extensive database of drill data.
88% gold recovery without milling at Sterling.
Carlin and Epithermal style gold mineralization.
System similarities to Deep Star and Meikle.
Less than 10km from the 2.5Moz+ Bullfrog Mine (that is about to be re-opened).
Surrounds Corvus Gold's Mother Lode Property that:

That contains 433,000 ounces of gold.
Got Coeur Mining to make a direct investment in Corvus after they picked up the project from Goldcorp.

A drill campaign underway, and should see first results very soon.
2 large additional properties in Nevada and Alaska.
2 Royalties on projects belonging to Barrick and Blue Moon Zinc. 
How many juniors come even close to all that? How many juniors with an EV of US$32M can check all those boxes?
The fact that this is a relatively new and unknown story probably plays a big part as to why it hasn't been revalued higher yet. It actually reminds me of GFG Resources (A bunch of heavy hitters sees hidden value in a project that has been forgotten since the depths of the bear market)
Personally I don't think I can name a single junior company with a better Risk/Reward profile at the moment. The goal for every junior mining stock is to derisk a project and develop it into an economic deposit. Northern Empire already is well on its way in terms of ounces, already having permits, already having infrastructure in place and already proved up excellent recoveries etc etc. Compare that to most juniors and I would say that there is no sub $50 M market cap gold developer that is this advanced/derisked coupled with this amount of exploration upside left, and I think the players involved agrees judging by their recent actions.
The fact that the company is packed with people who were involved in some of the most successful take overs since the bull market started coupled with Coeur Mining investing in both Corvus Gold and Northern Empire makes it easy to picture the end game.
[Important note! This should not be considered investment advice. Everyone is responsible for their own money. I am biased since I own shares of the company. Junior miners are very risky and at times very volatile]
If you find this article helpful and would like to show your appreciation, there is a "donate" button located top right at the home page. It took me about 14 hours to write and that is excluding the time it took to research the company and the surrounding projects etc. I wrote and shared this articles for free and got no reimbursement from Northern Empire or any other party.
Best regards,
The Hedgeless Horseman
Follow me on twitter: https://twitter.com/Comm_Invest
Follow me on CEO.ca: https://ceo.ca/@hhorseman
Don't forget to sign up for my Newsletter (top right on front page) in order to get notification when a new post is up!