This is an introduction article on District Metals (DMX.V) which is a junior explorer with a flagship project in Sweden. After talking to both Doug Ramshaw and Garret Ainsworth I was very impressed with the story and I bought shares in the open market. I was also happy to get the company on as a passive banner sponsor at the same time for that win-win situation.
District Metals in Short
Website: LINK
Presentation: LINK
Market Cap @ C$0.44/share: C$26 M (US$20 M)
Cash: C$2.1 (US$1.6 M)
Enterprise Value:

C$23.9 M (US$18.4 M)
Share Structure: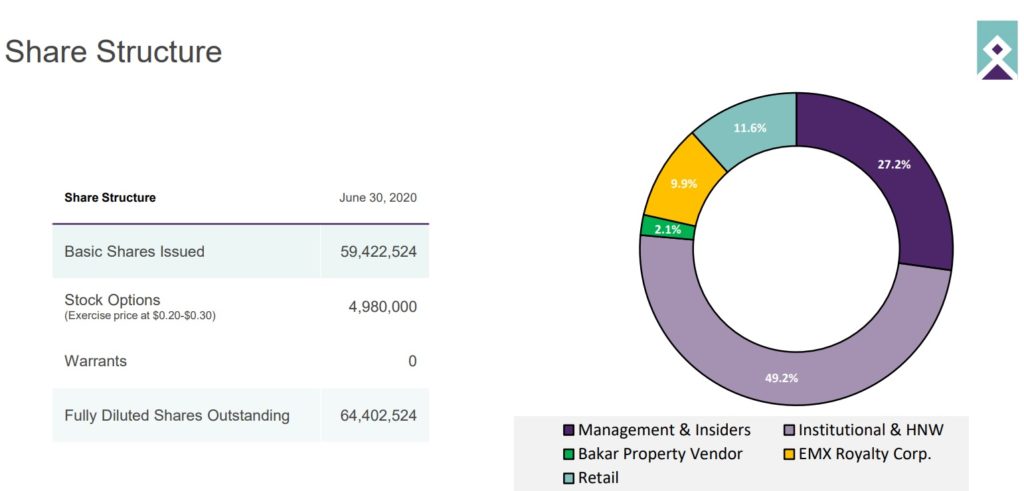 My Case For District Metals in Short:
Serially successful team

Garret Ainsworth; NexGen Energy, Alpha Minerals & multiple awards
Doug Ramshaw; Minera Alamos & Great Beat Resources
… People like this don't work for a salary if you know what I mean

Skin in The Game

27.2% of the company is owned by Management & Insiders
Latest insider buy on September 9th

Flagship project in the legendary Bergslagen district, surrounded by major mines

The proximity to the giant Garpenberg mine makes Boliden a natural (potential) acquirer

Tier 1 jurisdiction with an incredibly rich mining history

Superb infrastructure
Smelters in country
Birth place of Epiroc, Atlas Copco & Sandvik etc

Brownfield exploration around known mineralization

Tomtebo has seen historic mining and there is a small legacy resource within the property
Question is not if there are base- and precious metals at Tomtebo, the question is how much…

Maiden drill campaign planned for Q1, 2021
Cheap valuation for multi bagger potential
Lastly, CEO Garrett Ainsworth has responded to emails in short order, even during weekends, which signals that he is a passionate CEO

Small details like this speaks volumes in my opinion
Even Shorter Case:
Great people with a lot of skin in the game are hunting a world class prize, in a world class district, in a tier #1 jurisdiction and with significant mineralization already confirmed.
…I like simple cases. I like "no brainer" cases. The risk/reward should be obvious.
An additional thing to note is that Dr. Rodney Allen, who could be considered to be THE Bergslagen authority and helped "save" the Garpenberg mine back in the day, is currently a consultant to District Metals. By saving I mean that the mine was very close to being shut down in the 1990's until Dr. Rodney Allen and his team showed that Garpenberg had a lot of room left to grow and could be considered to be the main reason why Garpenberg is now a tier one asset in operation decades later.
Setting The Scene
Many people probably don't realize what a giant Sweden is when it comes to metal production. Why? I think because the big mines have been run by mostly Sweden focused companies and LKAB, the state owned mining company. But just because Sweden might not be well known among mining investors, again, does not mean that it is not a juggernaught: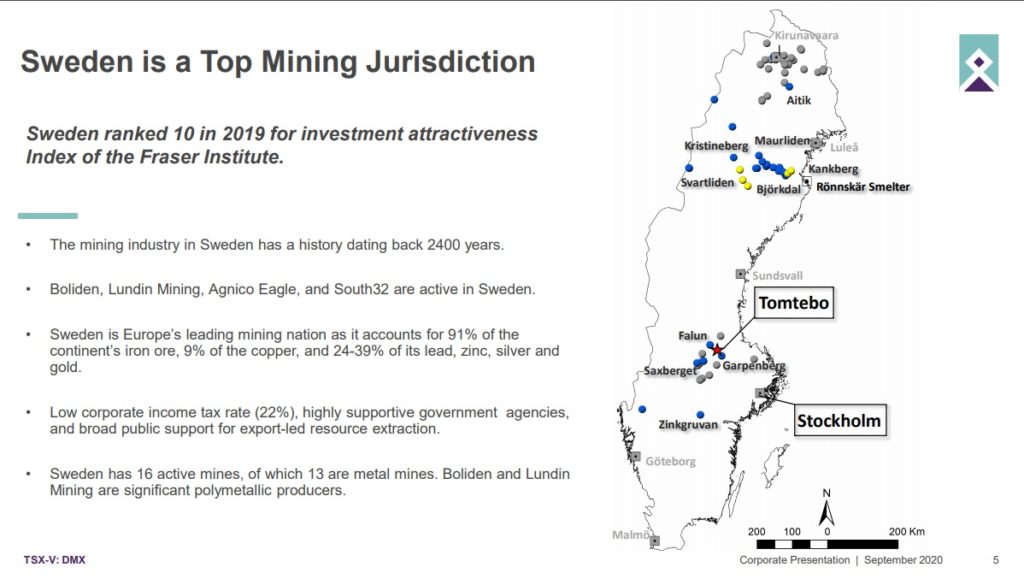 The Bergslagen District
To say that the Bergslagen district in Sweden has a rich mining history would be an understatement. Mining has taken place in this central part of Sweden since The Bronze Age and there are large mines up and running to this day. Examples would be The Garpenberg Mine (Boliden), Zinkgruvan Mine (Lundin Mining) and Lovisagruvan Mine (Lovisagruvan Mines):
The Bergslagen district mining activity is also the reason why so many houses are painted red in the swedish country side. The secret lies in the "Falu Rödfärg" or "Falu Red" paint which was created through the use of bi product from the copper rich Falun Mine. It is believed that mining activity first started there in around 800 A.D. During the 1,600s a red colored timber house was a sign of wealth and status but it wasn't until the 1,800s that production really kicked off…
In other words the Bergsalgen district has a very rich history of precious metal enriched base metal mining and it literally "colored" large parts of Sweden:
Lets take a closer look at the area around District Metal's flagship property called Tomtebo: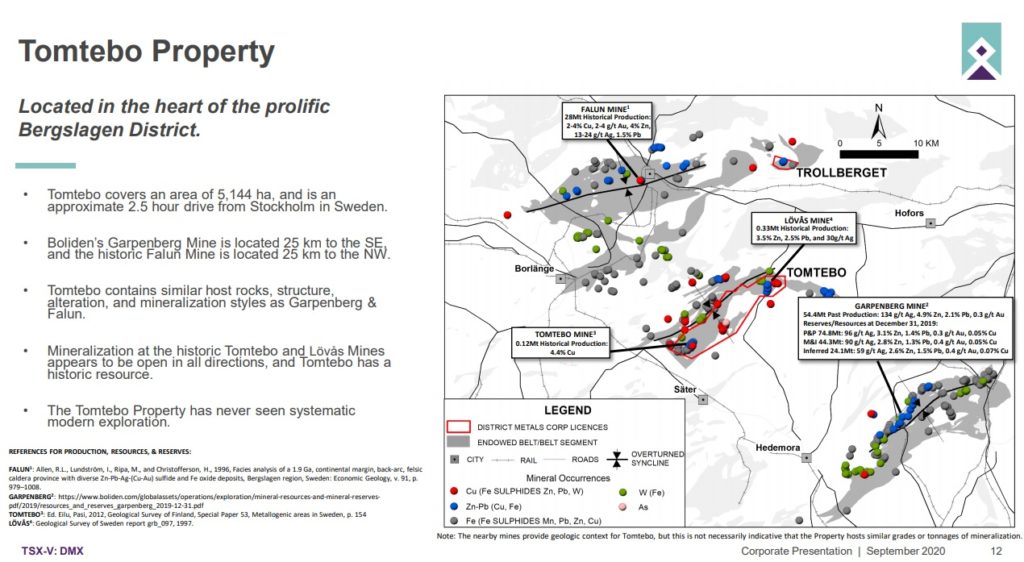 … As you can see in the slide above the Tomtebo property is located between the Falun Mine and Garpenberg Mine. Furthermore if you look at the grades and tonnage of said mines you realize that those are some abnormally good deposits. Garpenberg in particular is a behemoth to put it mildly. I think finding something similar would probably be worth a couple of billions at least. That's the blue sky prize for District Metals as I see it. Proof of the value of Garpenberg is found in the cash cost graph below: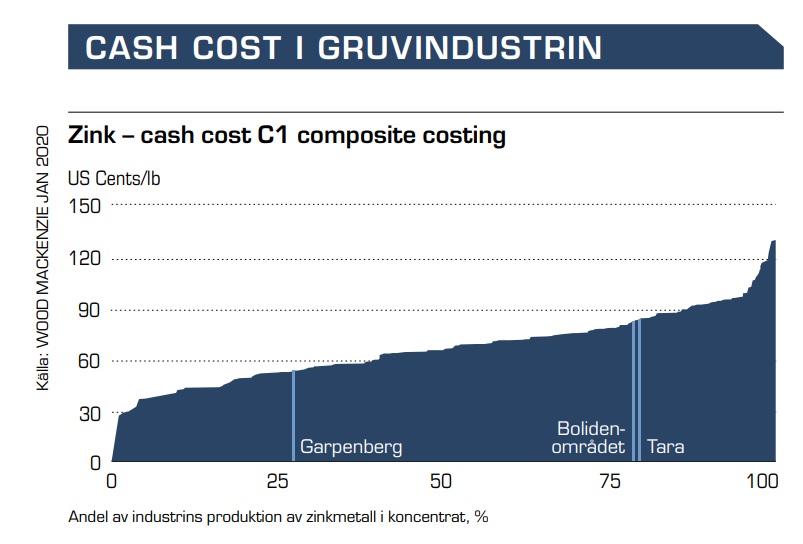 … In the words of Boliden, Garpenberg is "The world's most productive underground zinc mine":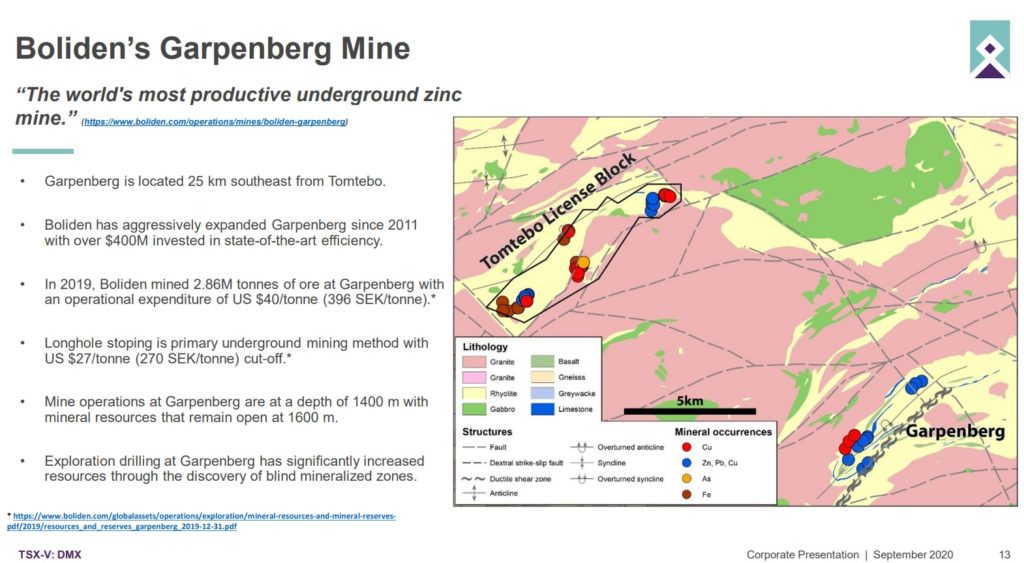 As mentioned earlier I consider the proximity to one of Boliden's flagship monster mines to be a big plus since a potential future acquisition of Tomtebo would produce synergies for Boliden.
You can read up on the long history of the Garpenberg Mine HERE.
What I really like about District Metals is that the Tomtebo project is not a greenfield, project with grassroots exploration, but rather brownfield exploration. This de-risking aspect is something that greatly skews the risk side in the risk/reward calculation for the better. Tomtebo actually saw mining back in the day and has a small historic resource already:
And here is a long section from on the Oscarsgruvan Zone, Tomtebo Mine:
… The slide above shows some obvious areas for resource expansion. Again, I consider this fact to be very important since growth then actually becomes probable.
Over the last few weeks/months District Metals has sampled and released results from a lot of legacy holes that were drilled on the property…
Examples:
4.67 m at 1,087.0 g/t AgEq1 or 28.0% ZnEq
4.45 m at 665.3 g/t AgEq1 or 17.2% ZnEq
1.55 m at 1,458.4 g/t AgEq1 or 37.6% ZnEq
16.17 m at 535.7 g/t AgEq1 or 13.8% ZnEq
29.44 m at 260.2 g/t AgEq1 or 6.7% ZnEq
4.0 m at 11.79% Cu
8.3 m at 1.69% Cu
5.5 m at 3.80% CuEq
This is as far as I understand pretty typical for the Bergslagen deposits. Namely that there are areas that are copper rich and others that contain more of other base metals and precious metals. All in all I take it as a good sign that the Tomtebo Property shows similar characteristics as its neighbors.
Blue Sky Potential
Within the Tomtebo Property there are actually two legacy mines. The Tomtebo Mine and the Lövås Mine (Trivia: "Lövås" translates to "Leaf ridge"). What is intriguing is that these two mines are actually 12.2 km apart within the same belt:
Can one for sure say that there will be mineralization between these two legacy mines? No, but suffice it to say that both deposits are pretty much wide open in multiple directions, and 12.2 km of distance between them means that there is a lot of exploration potential along strike. That fact coupled with how deep these deposits can go, as evidenced by the Garpenberg Mine, paints a pretty stunning blue sky picture: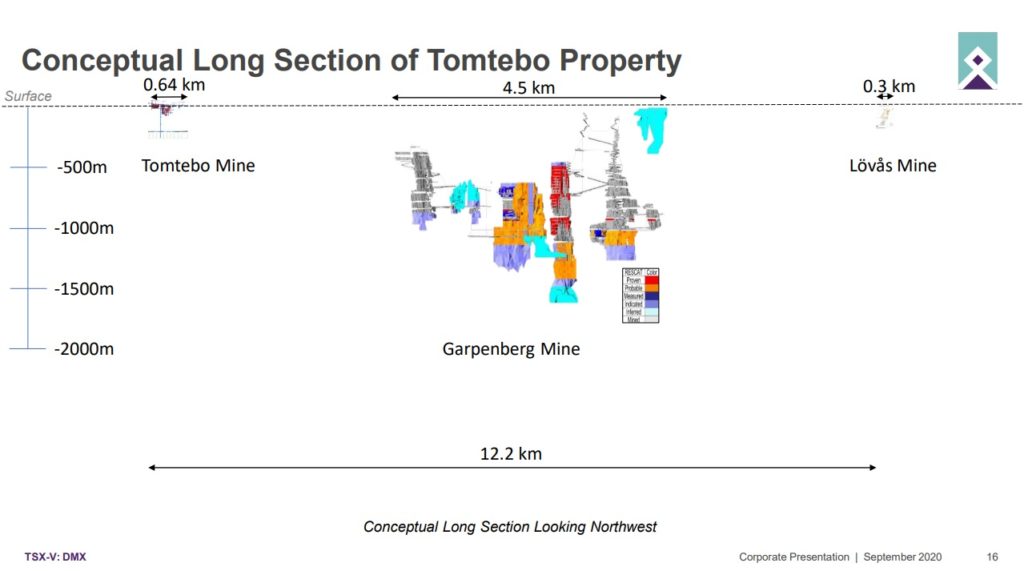 In Short:
The Tomtebo Property has seen mining and has historic resources. More importantly I see no reason why it won't grow with drilling by District Metals given that pretty much every mine/zone are open in multiple directions coupled with the 12.2 km of untested ground between the Tomtebo- and Lövås Mines(!). This fact, in my opinion, means that exploration success is Probable instead of Potential. As such, I personally expect future drill campaigns to result in growth.
Closing Thoughts
Just to recap I like the risk/reward in District Metals for multiple reasons. First of all, it is run by serially successful people who I consider to be serious value creators and not salary takers, which is further confirmed by the considerable amount of skin in the game. Secondly, the Tomtebo Property is in a tier #1 jurisdiction and surrounded by some of the best poly-metallic mines around. Any success here could be very valuable and there is a natural acquirer close by in the form of Boliden. Thirdly, the infrastructure is superb and I would assume drilling could be done at Tomtebo pretty much all year round, assuming adequate funding and permits are in hand. Lastly I would like to stress the point that the company should have multiple, obvious areas to drill test given that there are multiple areas with historic resources and that are also wide open in multiple directions. This isn't "hail Mary" exploration which greatly decreases risk and thus increases chance of success. I don't know if the company will find another monster akin to Garpenberg but given the current valuation I would think even 25% of Garbpenberg could deliver some serious returns. To top it all off the company has "Mr Bergslagen" working for them as a consultant…
All in all Us18.4 M for all the above is a pretty sweet deal in my book at least.
Planned Work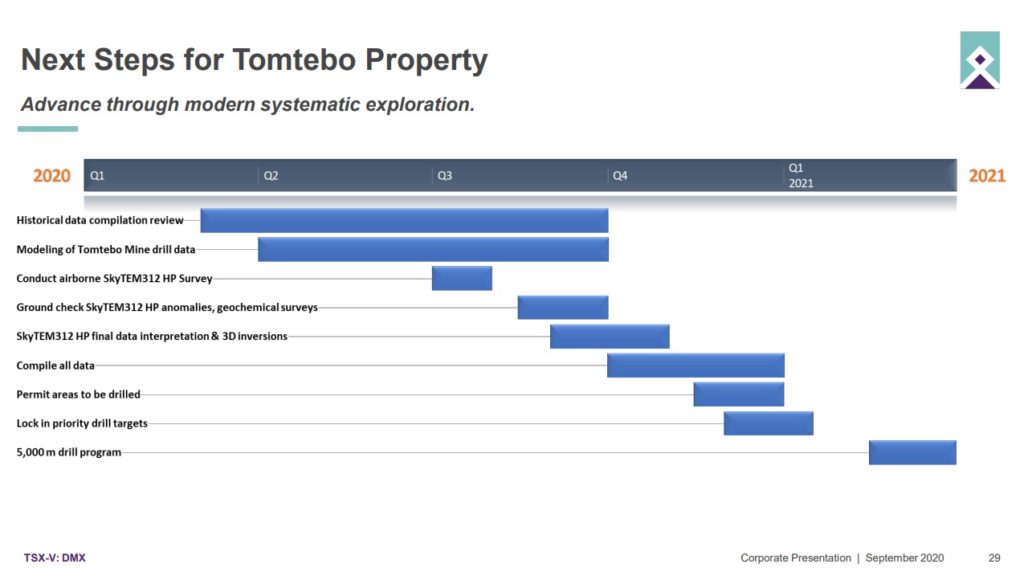 Chart Looks Interesting
To me it looks like the stock is in a pretty clear uptrend. The stock is lightly traded and I think some people do the best they can in terms of trying to accumulate shares without driving up the price too much. Patient buying in other words. I would assume this trend continues and perhaps accelerates until the planned drill start in Q1.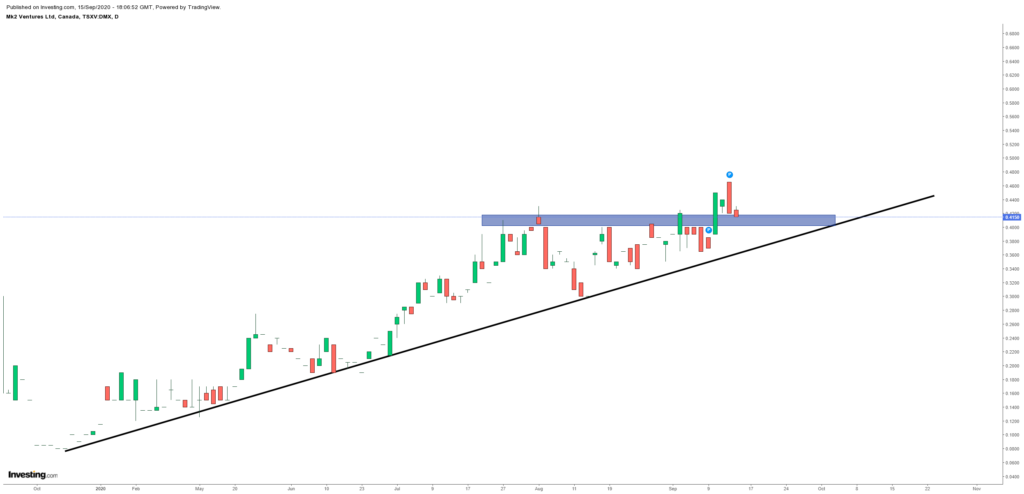 Note: This is not investment advice. I am not a geologist nor am I a mining engineer. This article is speculative and I can not guarantee 100% accuracy. Junior miners can be very volatile and risky. I have bought shares of District Metals in the open market and I hope to be able to participate in any Private Placement in the future. Therefore you should assume I am biased so always do your own due diligence and make up your own mind. I can buy or sell shares at any point in time. I was not paid by any entity to write this article but the company is a passive banner sponsor of my site.
Best regards,
Erik Wetterling aka "The Hedgeless Horseman"
Follow me on twitter: https://twitter.com/Comm_Invest
Follow me on CEO.ca: https://ceo.ca/@hhorseman
Follow me on Youtube: My channel