What has recently transpired in the stock of Cabral Gold is almost comical. I won't recap the entire case, which can be read here, but I thought I would just comment on a few things…
First of all, here are the highlights from the recent NR:
Vancouver, British Columbia – October 20, 2020 – Cabral Gold Inc. ("Cabral" or the "Company") (TSXV: CBR) (OTC: CBGZF) is pleased to announce the identification of a new high-grade target, and assay results from the initial three RC holes drilled at the Alonso high-grade boulder target at the Cuiú Cuiú gold district in northern Brazil. Highlights are as follows;

Dona Moca target – The ongoing regional reconnaissance program at Cuiú Cuiú has identified a new high-grade target at Dona Moca which is located 1.6km ENE of the Medusa target. Surface grab samples at Dona Moca returned gold values of 108.3 g/t, 32.0 g/t, 21.9 g/t and 3.9g/t gold in surface cobbles
Medusa target – Soil sampling in and around the Medusa target has identified a large coherent gold-in-soil anomaly which extends at least 1.4km and has a pronounced ESE trend, extending east of the previously reported high-grade boulders which range from 1.1 to 82.2 g/t gold. The presence of this anomaly suggests that Medusa could be a significant mineralized zone and may in part explain why so much placer gold was historically extracted from the adjacent stream which drains to the north 
Alonso target – Results have been received on the initial three RC holes completed at the Alonso target. Two of the three holes were drilled 150m east of the high-grade boulders at Alonso while the third was drilled south of the target. These initial holes did not intersect any high-grade gold mineralization. Results are pending on an additional twelve RC holes and the current drill program is continuing

Alan Carter, Cabral's President and CEO commented, "The identification of another new high-grade gold target at Dona Moca and a significant gold-in-soil anomaly at Medusa are both positive developments that continue to highlight the potential for discovering additional gold deposits in the eastern part of the Cuiú Cuiú concession area. The current drill program will test at least 10 different targets at Cuiú Cuiú and will take several months to complete. Whilst the first three RC holes at the initial Alonso target did not intercept high-grade mineralization at depth, results are pending on 12 additional drill holes, and we remain committed to identifying the source of the high-grade boulders on surface".
The stock has recently been pummeled and it corrected bigly when the NR hit. I guess it was because the first RC holes at the Alonso target did not hit any high-grade gold…
Lets look at the big picture here folks. The company has a 25,000 m drill program going at Cuiú Cuiú and the second drill rig should have arrived by now. The case for Cabral was never about the first three drill holes at any single target. If the company wanted to be conservative and make sure they would hit gold then they could simply do some infill drilling at their two existing deposits. However they did not. Why? Because Cabral is a true district play and there are enough targets and alluvial gold workings for the company to drill 100,000 m without being able to test everything. Three RC holes that were not able to intercept the source of the high-grade boulders means nothing in the grand scheme of things. First of all, these were blind holes and second of all, the source of the boulders is out out there somewhere. The company simply made a guesstimate of where they might be, since there is heavy vegetation that conceals the bedrock, and drilled three holes and hoped to get "lucky". The three (short) holes barely scratched the surface in terms of coverage at Alonso: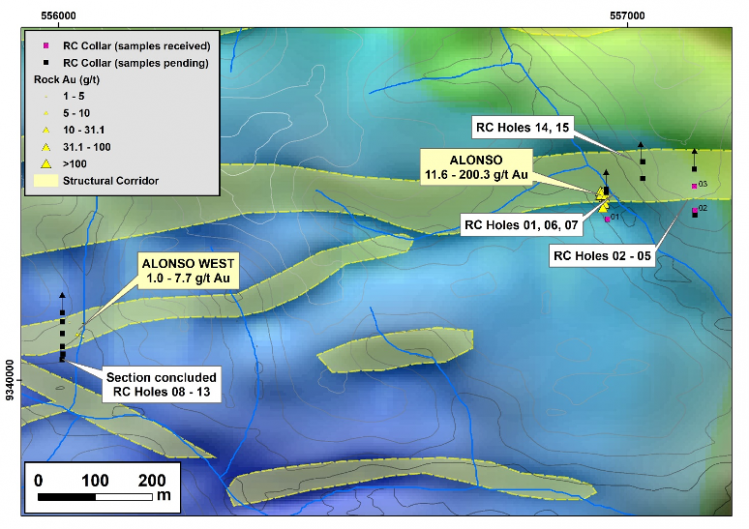 It was noted that
"The Company remains committed to identifying the source of the extensive alluvial gold in the drainage system at Alonso extending beyond the high-grade boulder occurrences, with the magnetics indicating a significant array of structures and intersections points extending from these initial lines. "
… Again, the high-grade boulders came from somewhere and it is simply a process to try and identify it. Also keep in mind that the previous slide just makes up a postage stamp compared to the total area of interest at Cuiú Cuiú:
(note the scale)
… There are additional (obvious) targets based on magnetics that do not even have a name or any work done on them yet. Pretty much every meaningful "magnetic low line", in the picture above, is of interest. Some multi kilometer mag lows even have drainages that have been confirmed to be gold bearing given that there has been extensive alluvial gold mining.
Bottom Line
Three blind holes failing to intercept a potential source is a drop in the bucket and does not change the case at all
Cabral has been finding even more areas of interest
There will be results from different areas throughout the 25,000 m drill campaign and even with that amount of drill meters they won't be able to test anywhere near all of the current or potential targets
Their mounted RC rig is very cheap to use and
Cabral has around 1.5 Moz of gold already and they are boldly stepping out and testing multiple targets in order to try and unlock a blue sky scenario…

The 1.5 Moz isn't going anywhere and I suspect they will have hit at least something new before this drill campaign is done

If Cabral wanted to play it safe and know they were going to hit gold then the company would simply stick to drilling out the already known deposits…

They are not… Which means they actually want to swing for the fences and that's what at least I want to see
In other words:
If you liked Cabral at $0.80/share then you should love it at sub $0.50/share because nothing has really changed and it just became cheaper.
The current Enterprise Value should be around US$37 M and I don't think that is a lot given a) They already got around 1.5 Moz, b) This looks to be one of the most prospective areas in the world, c) The company is aggressive with the drill, and d) Gold is at $1,900/oz.
Note: This is not investment advice. I am not a geologist nor am I a mining engineer. This article is speculative and I can not guarantee 100% accuracy. Junior miners can be very volatile and risky. I have bought shares of Cabral Gold in the open market and the company is a passive banner sponsor of my site. Therefore you should assume I am biased so always do your own due diligence and make up your own mind. I can buy or sell shares at any point in time. I was not paid by any entity to write this article but the company is, again, a banner sponsor.
Best regards,
Erik Wetterling aka "The Hedgeless Horseman"
Follow me on twitter: https://twitter.com/Comm_Invest
Follow me on CEO.ca: https://ceo.ca/@hhorseman
Follow me on Youtube: My channel