Cabral Gold is a junior company that I think has a great risk/reward profile and I was happy to have the company come on as a banner sponsor to The Hedgeless Horseman after talking to CEO Alan Carter a few weeks ago. This will be an introduction article to the company where I will try to explain why I think it is a solid case…
Cabral Gold in short:
Ticker: CBR.V
Website: LINK
Presentation: LINK
Video interview with CEO: LINK
Quinton Hennigh presentation: LINK
Basic Market Cap @ C$0.43/share: US$39 M (C$51.5 M)
Cash: ~

US$3.1 M

Enterprise Value: US$ 36 M
Resources: ~ 1 Moz of gold
Insider Ownership: 19%

CEO has personally invested $1.7 M

Upcoming Catalysts: 25,000 m drill program that has just started
Setting The Scene:
The case as I see it for Cabral Gold is pretty simple and as you know I want the investment proposition to be simple and obvious:
Cabral Gold has 1-1.5 Moz in the ground and enormous exploration potential. The company has numerous high priority, grassroots targets and the two known deposits are open in pretty much every direction. I consider the company's valuation to be pretty much underpinned what is already known and that it has a lot of room to grow over the coming weeks, months and years. Given the weakness of the Brazilian Real I also think that Brazil as a jurisdiction is quite interesting at this point in time.
The World's Largest Gold Rush
There have been many alluvial gold rushed around the world but the largest gold rush that has taken place was actually in the Tapajós region in Brazil. This is important because it of course suggests that an incredible amount of gold was formed in this area and Cabral Gold controls the sub-domain which produced the largest amount of gold. This area is currently known as the Cuiú Cuiú project and is Cabral's flagship project for obvious reasons: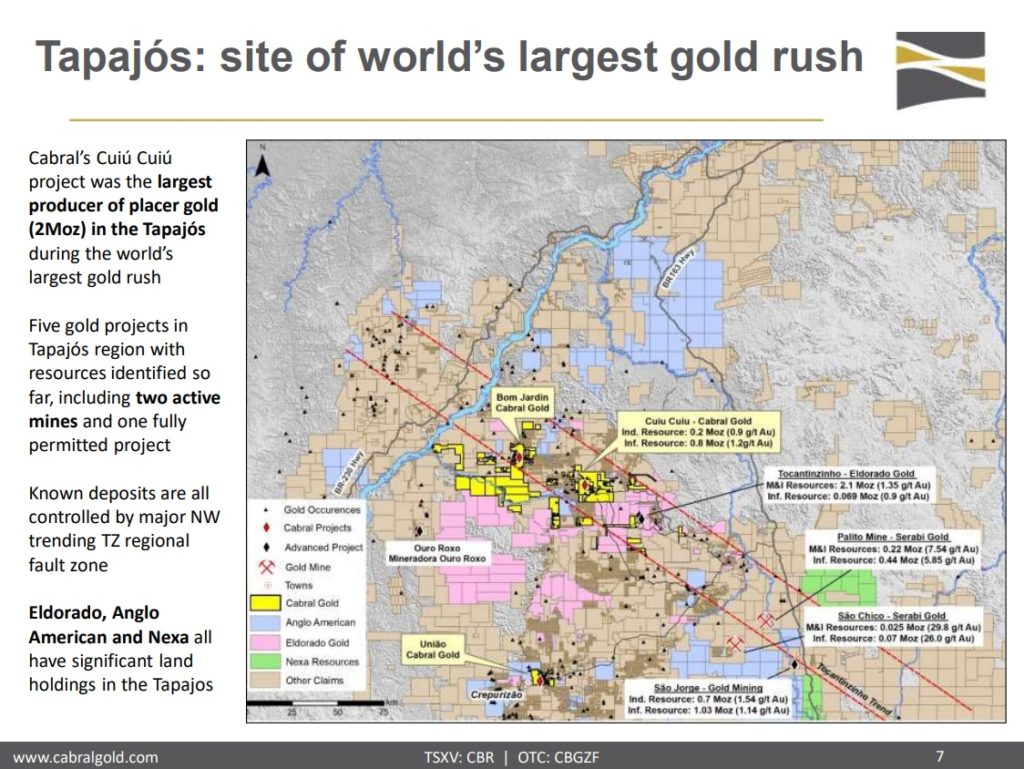 … As you can see in the slide above there are gold prospects, occurrences and mines scattered over a huge area. The deposits known, so far, are controlled by a major North-West trending regional fault zone (outlined in red). Cuiú Cuiú is located smack in the middle of this trend and is on strike from Eldorado Gold's Tocantinzinho deposit. Lets take a closer look on Cabral's flagship project:
If one were to stake an area with the highest potential and limited information one would obviously stake the area where the largest amount of gold has been eroded from bedrock sources. Well, that is pretty much what Cabral Gold has done. The Cuiú Cuiú area is estimated to have produced 10 times more of alluvial gold production than the area around Eldorado Gold's deposit farther to the South-East. If simplistic alluvial gold recovery, within a highly vegetated area, could amount to 2 Moz then one gotta wonder just how much lode gold might be hidden within the Cuiú Cuiú project. All that alluvial gold came from somewhere and the 2 million ounces just makes up the erosional fragments that could "easily" be found…
The main take away is that there is obviously an incredible amount of alluvial gold found over many square kilometers in the Cuiú Cuiú area and it suggests that there might be a huge lode gold prize beneath the surface.
So Where Are The Sources To all This Alluvial Gold?
Knowing there should be a lot of lode gold is one thing but finding said lodes is another. Given the extensive nature of the alluvial workings the target area is incredibly large. Thankfully there are tools and clues that is helping Cabral to hone in on where these hidden gold sources might lie…
The first clue is obviously where alluvial miners have recovered gold that was released from bedrock sources through erosion. Another clue is the shape of the eroded gold fragments. The closer to the original source the more angular the "nuggets" tend to be. Angular quartz boulders, which is the actual vein material, is also a good clue that gold bearing lodes should be close. Lastly, the best macro exploration tool might be geophysics in the form of magnetics…
Why? Because it seems that the gold bearing lodes correlate quite well with magnetic lows which suggests area where the naturally occurring magnetite, which is magnetic, has been destroyed by hydrothermal fluids. And hydrothermal fluids is what the gold travels in, as a solution, as it races to the surface and later solidifies as gold and quartz etc. On that note, here is a map with "macro" scale magnetics, prospects and drill collars over the central portion of the Cuiú Cuiú project:
… One thing that sticks out is the tendency for the alluvial gold workings to "connect" with magnetic lows (colder colors) which have somewhat of a west-east strike. If we zoom in on the MG Deposit area it looks like this:
… This slide highlights the fact that the mineralized hits pretty much align with where the magnetic lows (cold colors) would suggest there have been hydrothermal fluids, which have destroyed the magnetite, which creates the contrast in readings when compared to the surrounding rocks (hot colors, where the magnetite has not been destroyed). The fact that this correlation seems to hold true is of course a very big deal because it should mean that Cabral has a macro and micro scale exploration tool which allows the company to quite readily identify prospective targets all over the district. This is especially true when these magnetic lows are proximal to areas which are confirmed to contain alluvial gold which has been shed from lode gold structures. Without the geophysics it would be much harder to tackle this district play given the heavy vegetation which conceals the bedrock.
Another sign that magnetics surveys might be excellent tools for finding gold bearing structures within Cuiú Cuiú is the fact that Cabral found several, large quartz boulders in an area which is now called the "Alonso" target, and that these boulders were located pretty much on top of an East-West magnetic low:
(red circle added by me)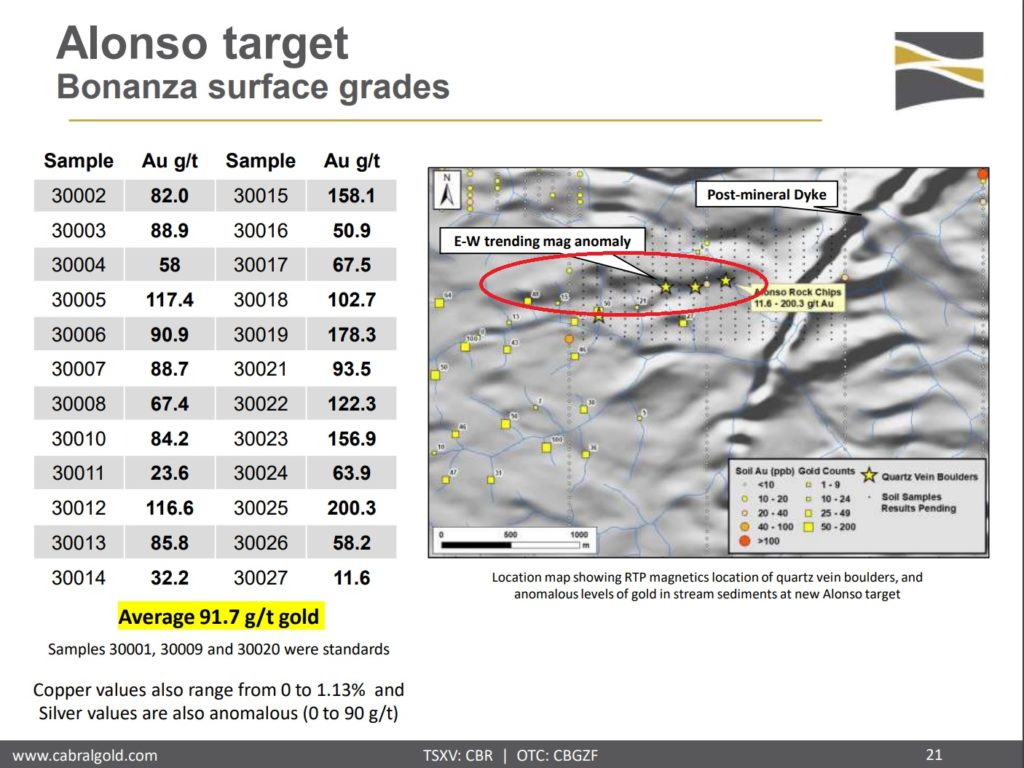 Given that the quartz boulders are large and quite angular the management team believes that they probably have not been transported more than a few meters to a few tens of meters from the source. This sure seems to line up with the proximity to the east-west trending magnetic low. Furthermore, the grades of the quartz samples are obscene. An average of 91.7 g/t is not something you see every day. Sure, you have probably often seen news releases from companies where there is a high- to bonanza grade sample or two, but rarely do you see this kind of average grade from multiple samples. Who knows, maybe that 1-2 km long mag low contains a major high grade to bonanza grade deposit. This target has never been drilled but is expected to be drilled over the coming weeks and months.
I won't go over every target that Cabral has in its exploration pipeline but I think the next slide tells the story: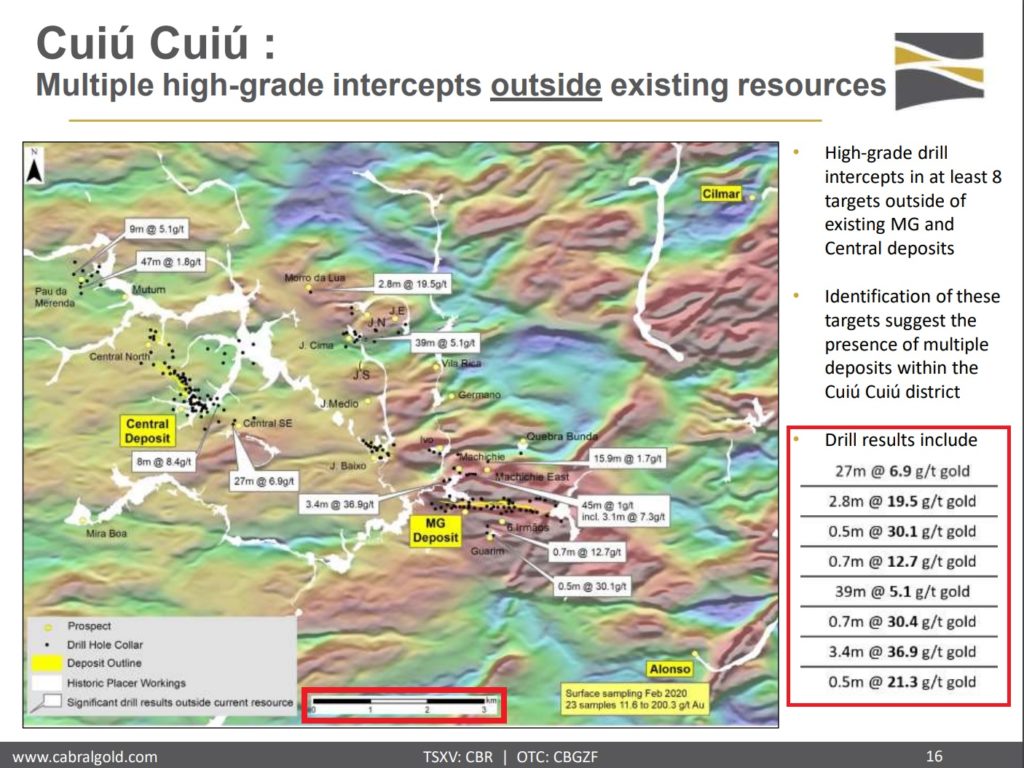 … I think it's quite easy to imagine this becoming a major gold district and why Quinton Hennigh expects there to be gold mining in this region for generations to come. Some excerpts from the Crescat Capital presentation:
"When you see an alluvial gold footprint that big there has to be something very large driving it"

"I think this will truly turn into a world class gold camp"
Another important thing to note is that Quinton stated that the high grade lodes could have significant vertical strike. The alluvial footprint coupled with the vertical potential really makes me wonder just how large the blue sky case could really be.
Large land package, many targets…
The scale of the target area and amount of targets is a bit overwhelming. How long would it take and how costly would it be to explore all these targets with diamond drilling? I don't know but fortunately Cabral were smart enough to acquire a cat-mounted RC drill rich which they believe can drill for 10% of the cost of diamond drilling. Cabral rightly describes it as a potential game changer: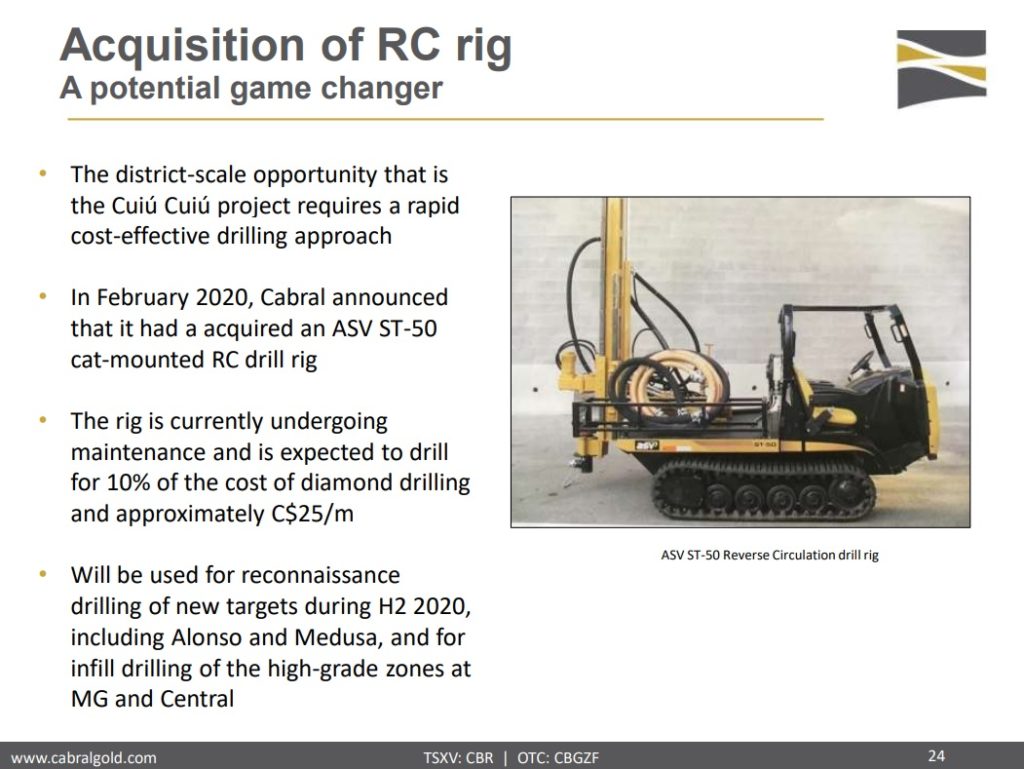 … All of a sudden one might be looking at one of the most news flow heavy juniors around with some of the highest exploration potential around. As a matter of fact, Cabral is planning a minimum 25,000 m of RC drilling on multiple targets over the coming months as per the August 20 NR:
… 25,000 m of drilling is a lot of potential news for a junior explorer of this size. It should go without saying that Cabral could change a lot before this drilling campaign, across multiple targets, is over.
Margin of Safety
While the exploration potential is enough for me to consider Cabral as one of the most exciting junior explorer over the coming months I do put a lot of weight on the "margin of safety" aspect of any potential investment. In other words I prefer to invest in companies with some meat on the bones which will act as a value "floor". Thankfully this is one of those rare stories where most if not all of the current Enterprise Value is backed up by already banked success on top of having significant blue sky potential. In the case of Cabral the margin of safety comes from the fact that the company already has a resource of ~947,000 ounces to ~ 1,482,000 ounces depending on what "top cut". "Top cut" is basically when you cap the grade at a given number. For example a 100 gpt intercept, using a 20 gpt top cut, would be treated as 20 gpt intercept for the resource calculation.
MG and the Central gold deposits are just the start. The launch platform if you will. A 1.0-1.5 Moz deposit(s) might not be developed but it's not that far from 2-3 Moz and I would be surprised if this resource number can't grow rapidly in the future. As a matter of fact, the MG and Central deposits is believed to have a lot of room to grow laterally (on top of being wide open at depth as well):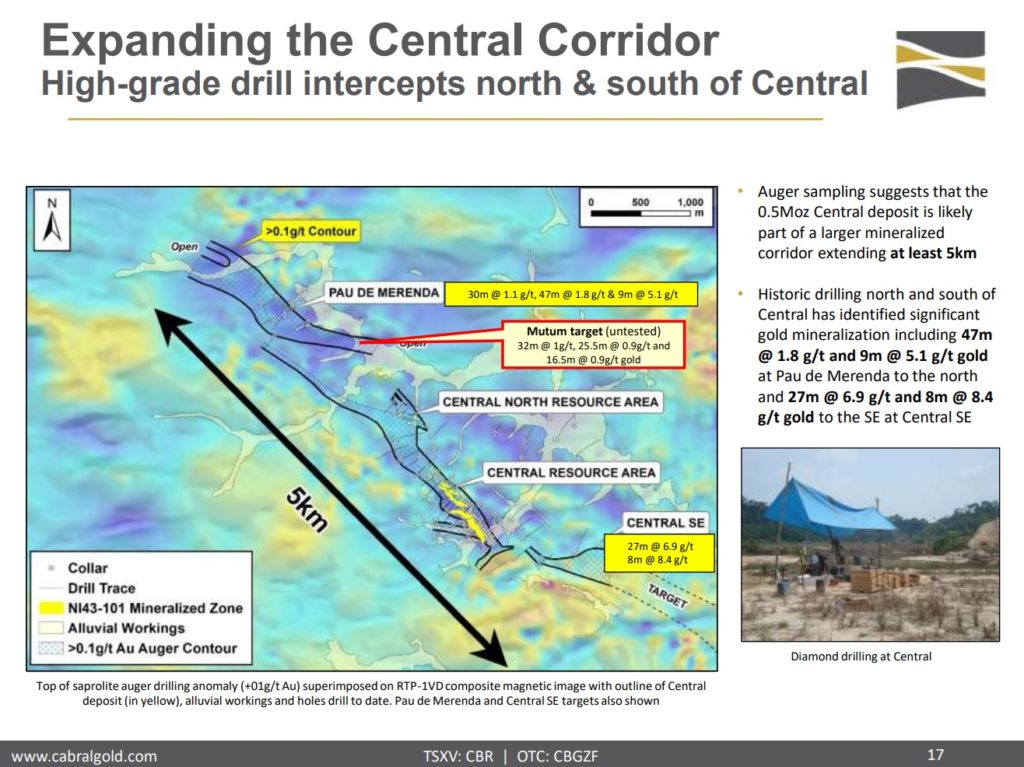 Closing Thoughts
The combination of the ounces in the ground, obvious district scale potential and the starter deposits being wide open is why I think Cabral checks all three boxes:
Margin of Safety [

✔

]
Probable Upside [

✔

]
High Potential Upside [

✔

]
From a risk/reward perspective this is exactly what I ideally want to see in an investment.
The Case in Cabral Gold's Own Words:
Neighbor: Eldorado Gold
Eldorado Gold has a deposit not far from Cuiú Cuiú and I think Cabral can benefit if/when Eldorado decides to put their Tocantinzinho deposit into production.
Technical Report Tocantinzinho Project Brazil
Estimated after tax NPV at US$1,970 gold: US$860 M
Estimated IRR at US$1,970 gold: 34.3%
Note: This is not investment advice. I am not a geologist nor am I a mining engineer. This article is speculative and I can not guarantee 100% accuracy. Junior miners can be very volatile and risky. I have bought shares of Cabral Gold in the open market and the company is a passive banner sponsor of my site. Therefore you should assume I am biased so always do your own due diligence and make up your own mind. I can buy or sell shares at any point in time. I was not paid by any entity to write this article but the company is, again, a banner sponsor.
Best regards,
Erik Wetterling aka "The Hedgeless Horseman"
Follow me on twitter: https://twitter.com/Comm_Invest
Follow me on CEO.ca: https://ceo.ca/@hhorseman
Follow me on Youtube: My channel