Flash News – Today (February 26):
This will be an introduction article to Prime Mining Corp (PRYM.v)
I am proud to proclaim that Prime Mining Corp ("Prime") is a new banner sponsor of mine. I have had Prime on my watch-list ever since they got listed late last year after having acquired one of Minera Alamos's projects which I thought looked pretty good. After recently talking to the company and doing more due diligence I started to like it even more. As much so that I was happy to have the company come on as a banner sponsor. Since I am soon flying to Canada for PDAC, I will only have time for this introduction article right now, but will be writing more about the company in the future.
Recommended Due Diligence:
Setting The Scene
I like "simple" cases and I especially like companies with management teams that are well aware that real value comes from turning gold in the ground into an actual business. I want to own companies that want to mine gold, not shareholders. With that said I am happy to say that I consider Prime to be a case of a focused company who's management team is dead set on actually becoming a real business.
If I would start off my summarizing the key points why I consider Prime to be one of those few cases where I actually consider a junior to be investment worthy it would be:
Significant insider ownership aka "skin in the game"
Proven team who has done what they are trying to do many times before
Flagship project is located in Mexico (Sinaloa) where permitting should be much easier than most places in the world
Flagship project is right now a high-grade, open pit project that starts at surface and has a low strip ratio
Flagship project has lots of exploration upside for future growth
Credible option for a low CAPEX path to production (60,000-70,000 ounces per year)
The company has a tight share structure
The company looks significantly undervalued compared to the potential value which could be unlocked in the near, medium and long term
… All that comes with only a Market Cap of C$32.5 M at C$0.55 per share. To me that looks too cheap for a junior packing this much heat when gold is at $1,650. If things come together as management hopes then Prime Mining could relatively soon (2022) become a "simple" low-cost gold producer in a world where gold is near it's all time highs. If that were to happen then I could see the company producing more free cash flow per year than the current Market Cap and it would of course then be trading at a valuation that would be multiples higher.
The fact that the near surface, open pitable material has exceptionally high grade made Bob Moriarty argue that too much money is left on the table by not building a real plant. Now I don't know what the optimal path forward is but it seems to me that it's a luxury "problem" to have. Options are never a bad thing. The company could start smallish with potentially very low CAPEX or it could spend more money and go bigger. We are expecting a new resource estimate in the short term which could highlight the upside potential granted that it shows a solid increase. Personally I guess I am quite neutral in terms of what exact path forward I would like to see. If the company does indeed start small then it could become a smallish producer in a hurry, which will probably be well received by the market. If the resource estimate surprised to the upside, coupled with the exploration potential that is still out there, I guess the company could revalued higher since it would show scale potential in a time where gold is at multi-year highs.
To sum up I would say that the combination of experienced management, skin in the game, banked success, credible path to production and the growth potential is what makes Prime Mining Corp stand out from the average junior in my eyes. This is pretty much the stuff I am looking for in a junior if I am to risk my own money.
The Meat and Potatoes
Now, lets dig into some slides from the presentation.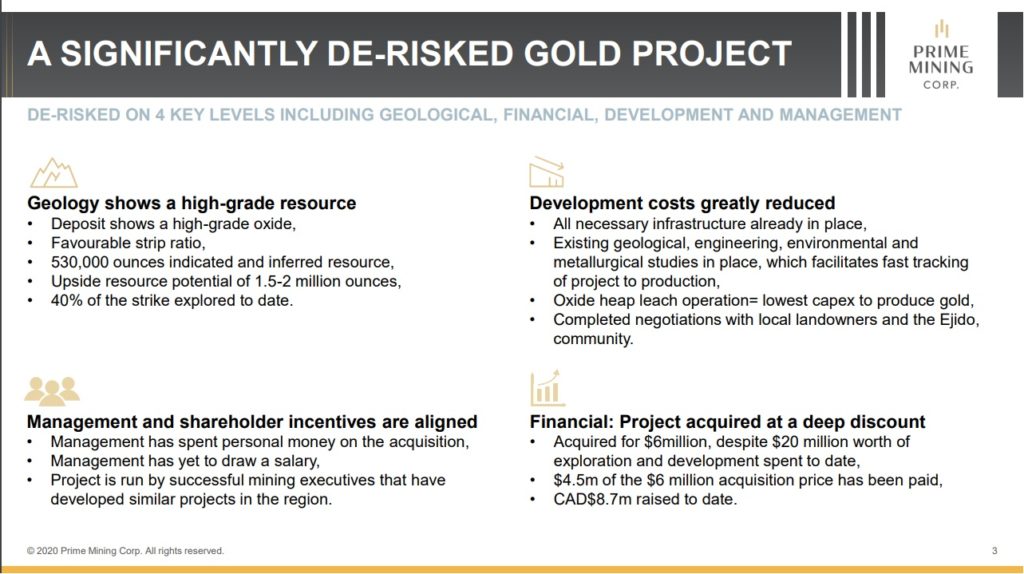 Currently the resource is quite modest and that might be a reason for the currently low valuation of this venture. Now, if the coming resource estimate is successful and adds a good chunk of ounces to the table, then it could very well make the market take notice. Personally I think there is some good exploration potential on the property and I have little doubt that the Los Reyes Project will get bigger. The fact that management has put a lot of money into acquiring the project and has yet to draw any salaries seems like a clear signal that they truly are confident that they will indeed be able to make a gold mine out of this venture.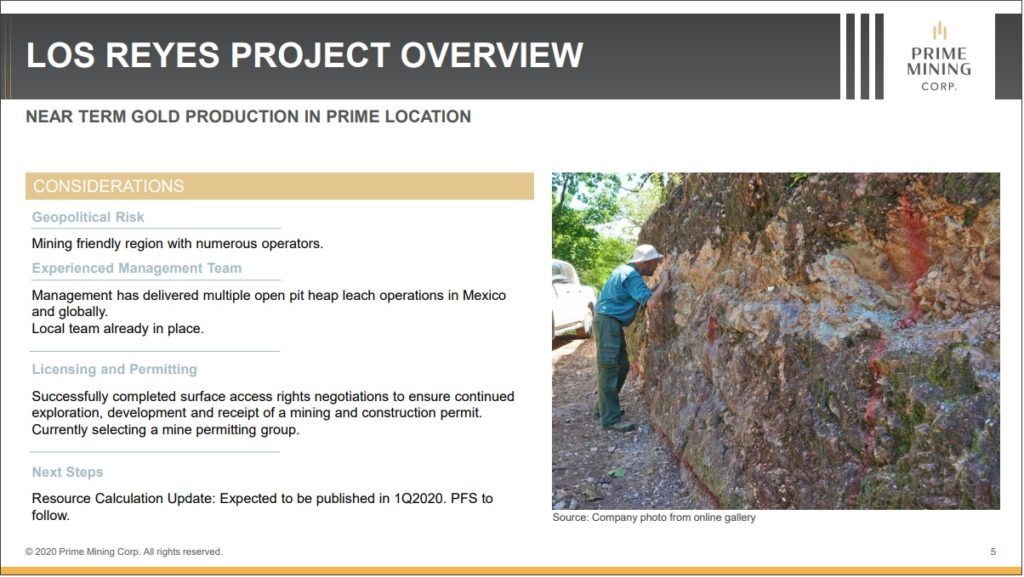 Insider/management confidence is one thing but when the insiders have done the exact same thing multiple times before then it is a whole other thing. Anyone can have misguided confidence but when you see competent confidence then I think it's really time to start paying attention and that goes for any company.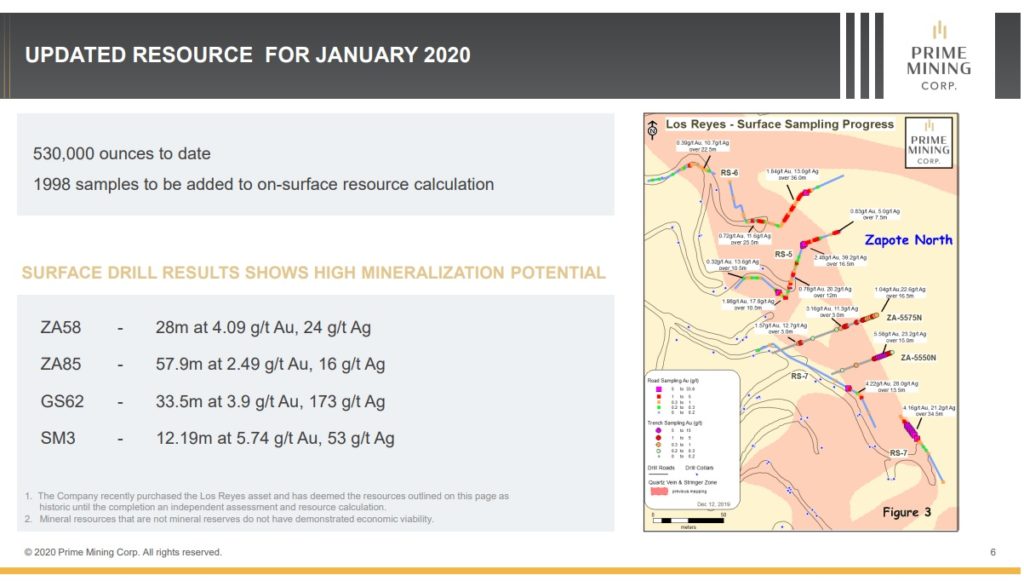 As you can see in the slide above there is some really juicy near surface mineralization on the property. It's higher grade than your typical open pit and since it's near surface it should thankfully also be pretty straightforward to mine. Simplicity is always a good thing in this business since so many things can go wrong. It's high risk/high reward after all and if risk can be reduced then the calculation gets better from an investor's stand point. On that note there were some very nice trench samples recently announced to boot.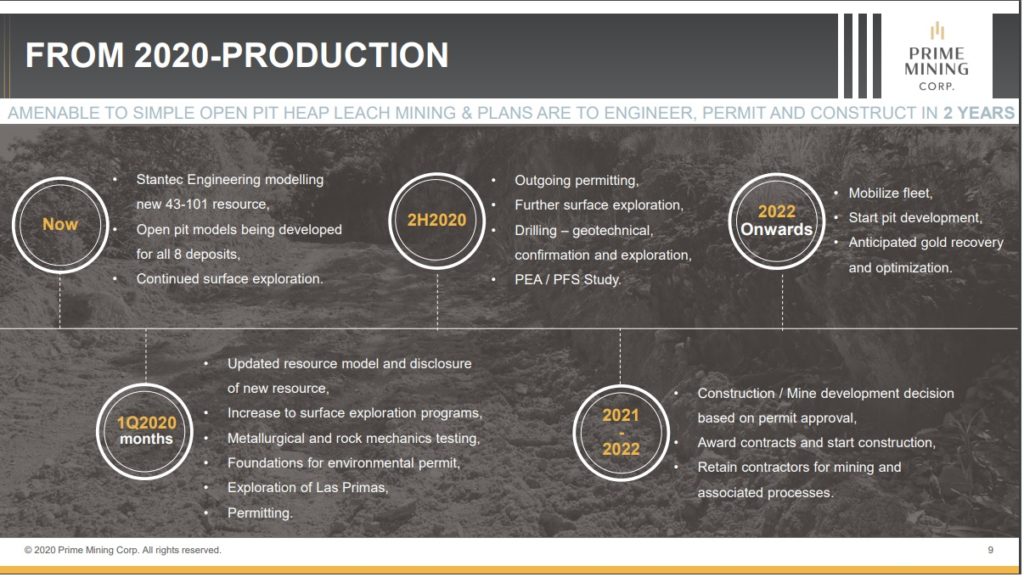 In the slide above you can see where the company currently is and where management sees the company going. If things come together, Prime could be a gold producer in 2022, and that's not far off. I recommend people listening to all the presentations and interviews which were posted earlier in this article in order to get some sense of just how low CAPEX could be and what the margins could be (assuming the company takes the low CAPEX route which has been outlined).
In the slide above one can see all the exploration targets that exists within the property boundary. Obviously the company has a lot of lateral room to grow and I would expect that there is a lot of depth potential as well. All in all, I think there is real potential for a major mine to materialize, given enough time… And I love growth stories since such companies have the highest return potential.
To Sum Up
I consider Prime Mining to have a good base in terms of high-grade, near surface mineralization which I am hoping can be increased substantially. A resource update is expected shortly which could hopefully jack up the margin of safety even further. Furthermore, the company has a BUSINESS oriented team which has built similar operations before. This is a big plus in my book since it means they know what to do and not to do which decreases operational risk considerably. With a lot of skin in the game, on top of a tight share structure, it suggests that insiders are in it for the long haul. This is of course very good to see as a shareholder since insider and regular shareholder interests should be aligned. With a MCAP of C$30 M and with warrants at C$0.50, there should be a lot of upside potential as well as funding options. Given how low the CAPEX could be, the income from the warrants alone might be enough to fund the lion's share of start up expenditures. Thus there is a credible path to 60,000-70,000 ounces of production if the company decides to go through with the planned route to quick production and grow the company from there. If this property ends up hosting 2-4Moz of gold then this could become a mine that will produce hopefully very profitable gold for many years to come and if that happens then today's valuation will look crazy cheap in hind sight. Lastly, there is probably still a possibility that even better value might be unlocked through building a "real" mill but with higher CAPEX. Regardless of what the exact path forward is I have little doubt that the competent management with a lot of skin in the game will be able to make the best possible decision.
With all of the above said, Prime strikes me as an investment case with a good buffer to the downside (perhaps even a bigger buffer after the next resource update), and with some good potential for out sized returns in the years to come.
Readers should make up their own minds as always. I have been buying Prime up to C$0.55 in the open market as recently as today and the company is a banner sponsor. Thus I am probably biased to some degree.
(Note: This is not a buy or sell recommendation. This is not investment advice and I am not a geologist. I cannot guarantee 100% accuracy of content. Always do your own due diligence.  I own shares of Prime Mining Corp which I have bought in the open market and am thus biased.)
Best regards,
The Hedgeless Horseman
Follow me on twitter: https://twitter.com/Comm_Invest
Follow me on CEO.ca: https://ceo.ca/@hhorseman