July 09, 2021
Pacific Ridge Resources is one of my latest portfolio additions. I very much like the Risk/Reward in this Micro Capper and I was happy to have the company on as a banner sponsor. I have participated in a private placement and have bought additional shares in the open market for myself and some family members. Therefore consider me biased!
My Case For Pacific Ridge in Short:
In early exploration the odds are always long in terms of making a discovery and especially a discovery which could be a mine one day. What I love about Pacific Ridge is that it's priced like a pre-discovery grassroot explorer but the company has already made a discovery at Kliyul (flagship project). The impending drill campaign is not intended to answer the question if there is mineralization in the ground at Kliyul. The company already knows there is a gold/copper porphyry present. What the company wants to find out now is whether there is a higher-grade "mothership" at depth as well testing to see if the geophysical anomalies right next door are mineralized as well. In other words this is not as high risk exploration like the tiny Market Cap would suggest. I would actually be surprised if the company did not hit some decent intercepts which is the main reason why I think the Risk/Reward at the current share price level is so attractive.
I think it is worth pointing out that Pacific Ridge has a quite impressive portfolio of projects so when you compare the Price of the company and compare it to the number of projects and the quality of the projects I think the current valuation is a bit silly. I actually think the company is very much cheap based on Kliyul alone. Oh and all projects are in tier #1 jurisdictions (BC and Yukon).
The way I see it is that I am not even fully paying for Kliyul while getting getting 6 additional projects for free. Another way to see it is that I am getting 6 projects and Kliyul, which has serious multi-bagger potential, for free. I consider making a mistake to be when I overpay for something and I don't see how in the world I could be overpaying for all this…
Either way I slice it it comes out as a Risk/Reward scenario way too good for me to pass on. Especially since Crescat Capital (QH) is on board which tells me that a) The targets are legitimate and b) That the potential prize is a big one.
Coming Catalysts:
Deep drilling at Kliyul (imminent)
Even Shorter Case:
De-risked flagship project (Kliyul) with proven gold/copper mineralization
Drilling will soon start in order to see if there is a "mothership" at depth as well as other systems nearby at Kliyul
6 additional projects in addition to Kliyul

Including RDP and Redton which will see exploration as well

… All that for…
Market Cap (@ $0.18/share): C$9.6 M
Cash: C$2.8 M
Enterprise Value: C$6.8 M
Setting The Scene: Quinton Hennigh of Crescat Capital's Presentation:
Lets Look at Some Slides
Investment Highlights in the words of the company:
What I note is that a) The company is looking to grow their already impressive portfolio and b) The company plans to unlock the value of the Yukon gold project portfolio. These are obviously activities aimed to create and/or monetize value. Given that the current Enterprise Value (EV) is only C$9 M I can see such activities quickly backing up the current EV. This paints an extremely favorable Risk/Reward picture where Kliyul could potentially be "risk free" from a Margin of Safety perspective. What I mean by this is that, as stated earlier, one could argue that there is enough intrinsic value present that the company could theoretically throw away Kliyul and it would still be hard to argue that the company is overvalued. By extension it would then mean that even if the current drill campaign comes up with absolutely nothing, for some reason, the intrinsic value of the company is probably not lower than where it is trading today.
Furthermore the slide above highlights the "corporate activity" that has been ongoing recently. What one can surmise is that Majors do indeed consider this part of the world as a very attractive area to build a mine. This is of course a very good sign since it means that the implied value of success ought to be higher here compared to most jurisdictions in the world. It also increases the chance of a natural exit via a take-over. All in all, success here should be relatively valuable and that goes for potential success as well. Newmont's acquisition of GT Gold came with a ~$450 M payday for GT Gold which highlights the blue sky scenario for a Pacific Ridge given its tiny Market Cap of C$11.8 M.
Project Portfolio
Not much to add other than that C$9 M in EV for 7 projects, selected by a good team, sounds ridiculously cheap. Especially given that Kliyul and RDP are proven to host gold/copper mineralization at significant widths already.
"The Quesnel Through"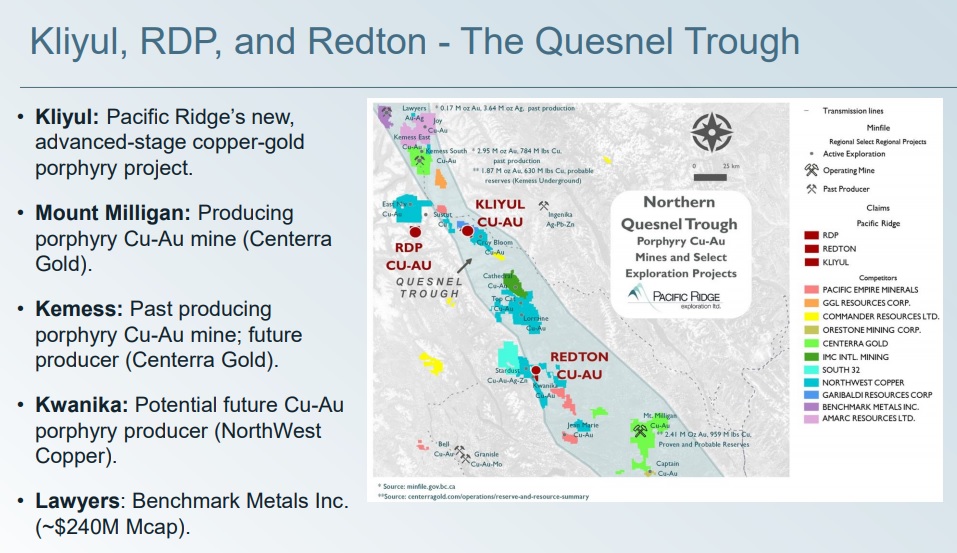 The slide above shows the three copper/gold projects (out of seven in total) belonging to Pacific Ridge as well as some regional players, deposits and mines. This is mining country and very prospective at that!
Flagship Project: Kliyul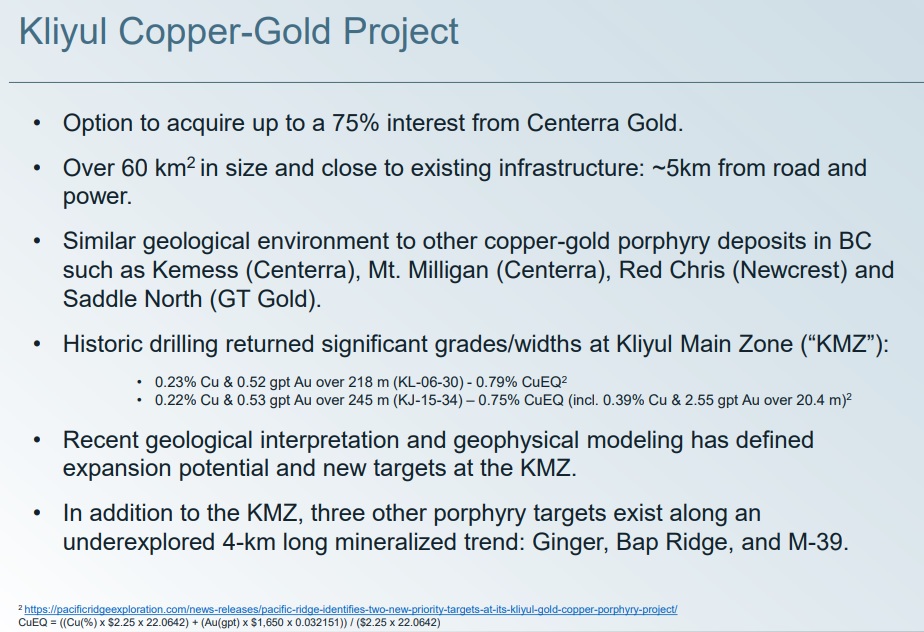 As you can see Pacific Ridge has an option on Kliyul from none other than Centerra Gold. It's a district scale project that is located close to both roads and power. More importantly it shares similarities with major deposits in the area and has already seen some pretty impressive hits with the drill bit.
To better get a sense of the quality the company has included a slide where a couple of the drill holes are compared to the resource grades of some large deposits in the region: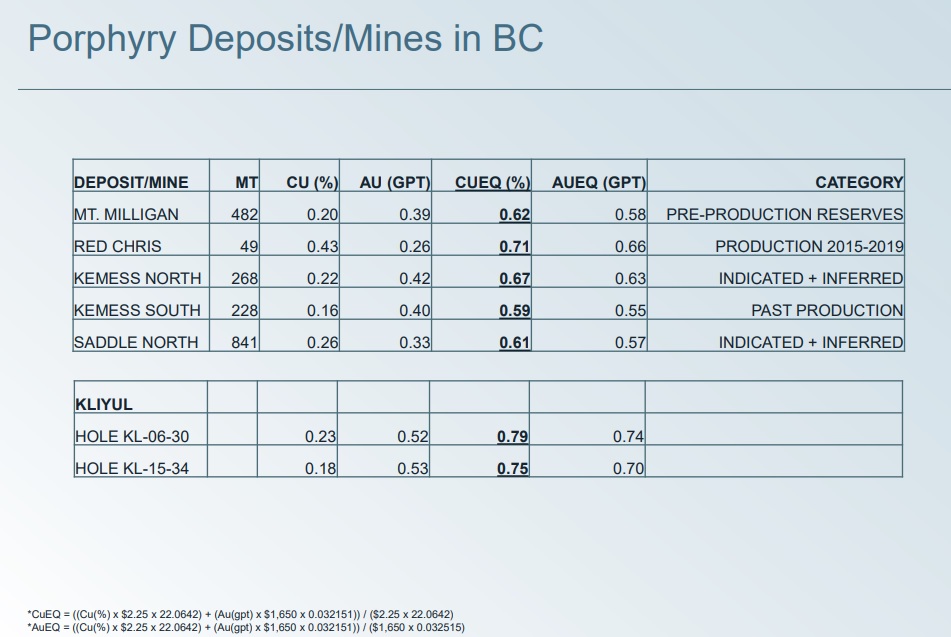 Kliyul appears to be a more "gold heavy" system which is fine by me since I am primarily a gold bull. The gold/copper mix obviously gives that diversification factor since copper should do well if the economy (EV revolution) does well and gold should do relatively well in more chaotic times. Anyway if the company is able to get similar, or better hits, then this could get really interesting really quick.
The coming drill campaign which should be starting very soon is designed to see if the mineralization that has been hit closer to the surface leads down to a "mothership" at depth (Oh and I highly recommend watching Quinton Hennig's presentation):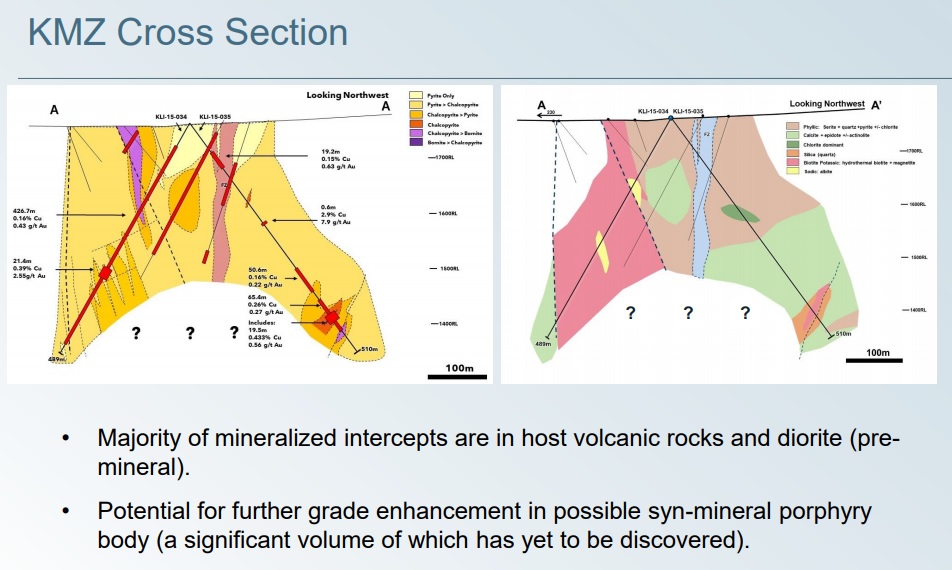 If you thinks that's an exciting target then your're probably going to love this:
In short: The company already knows there is good gold/copper mineralization at "Kliyul Main Zone" and the first target is to see if it gets even better at depth. However, geophysics have revealed two additional targets called "Kliyul West Target" and Kliyul East Target". In other words this coming exploration campaign will include both low(er) risk drill underneath known mineralization as well as testing two totally new targets. In essence this drilling campaign will have a lot of "bang for the buck" relative to the abysmal enterprise value of Pacific Ridge. What if they hit at depth at Kliyul Main Zone? What if they hit at two? What if they hit at all three?
Kliyul: Blue Sky
Not only are there three major targets as outlined above but there are multiple additional targets along a 4-km mineralized trend:
The company has inserted three slides of the porphyry complexes of Cadia, Oyu Tolgoin and Galore Creek which are all major deposits. In other words there is enough smoke in the greater Kliyul area to theoretically fit a truly massive disovery. And again, given the miniscule enterprise value of Pacific Ridge, no success at all is priced into the stock in my opinion. Thus, I see any blue sky success as "free upside" at these levels.
Summing up Kliyul:
Bonus Projects
Pacific Ridge has such an impressive portfolio that I will just skim through the rest. I mean I think the company is undervalued relative to Kliyul alone so the additional 6 projects are icing on an already impressive cake…
#1 RDP Copper-Gold Project
… As you can see RDP is also a de-risked gold/copper project with some very good grades over long widths. Exploration will be done here this field season and I am personally very intrigued with this project.
#2 Redton Copper-Gold Project
… The Redton Copper-Gold Project is earlier stage than Kliyul and RDP but it does show impressive anomalies (both in soil and geophysics). I don't think active exploration will be done here but it is yet another potential ace up the sleeve for Pacific Ridge (and which should be reflected in the enterprise value).
#3-#6 Yukon Projects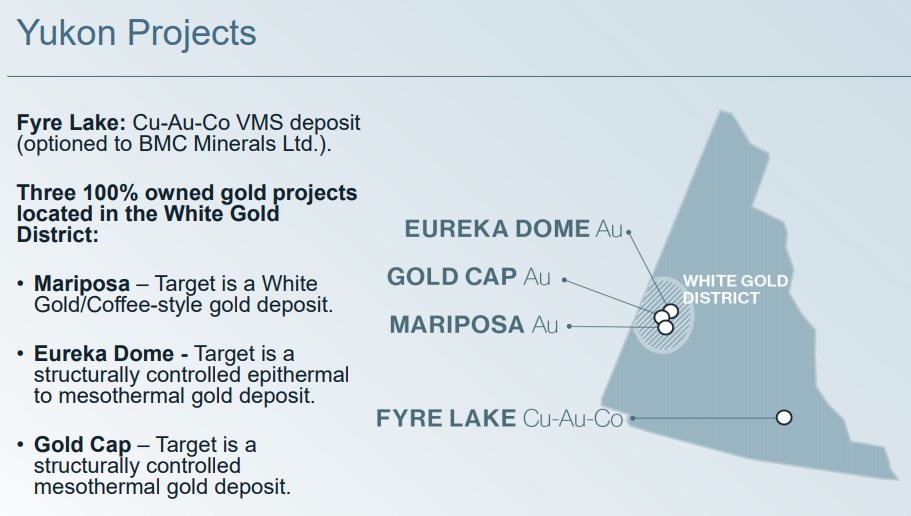 … I will not dig further into the multiple Yukon projects at this time since this article is already quite long in the tooth. With that said, one thing to note is that these projects also have intrinsic value and the company will be looking at monetizing them. Thus, these projects are additional aces up the sleeve given the miniscule enterprise value of the company. One can read up more on the projects on Pacific Ridge's website and presentation if one wants to learn more.
Summing Up
Pacific Ridge is "brain dead" cheap in my book…
For around ~C$6.8 in Enterprise Value I get:
Drilling at three major targets at "Kliyul" (de-risked with known gold/copper hits)

Hits up to 0.22% copper & 0.54 gpt Au over 245 m

Additional targets along a 4 km mineralized trend at Kliyul
Exploration at the de-risked "RDP" project

Hits up to 0.11% copper & 0.64 gpt Au over 122.95 m

A third copper/gold project in "Redton"
Multiple gold projects in Yukon
… I never expected to see cases like this with gold close to $1,800 and copper close to all time highs. But alas the sentiment in the junior mining sector is atrocious so here we are. When one is able to pick up companies as cheap as Pacific Ridge it becomes pretty much impossible to be making a mistake (overpaying). Not that success is guaranteed but this kind of Risk/Reward is so good it should never even be possible. Pacific Ridge looks cheap based on Kliyul alone so one gets 6 projects as a pure bonus in my book. On the flipside one gets 6 projects and Kliyul for free. Regardless this looks so cheap to me that the current drill campaign could totally bomb out and I would still argue that the current valuation is a joke… "Tails I win, heads I don't lose"? With that said, never bet the farm on one stock!
Note: I own shares of Pacific Ridge and the company is a banner sponsor. Therefore consider me biased and do your own due diligence. I cannot guarantee the accuracy of the information in this article. I can buy and sell shares at any point in time. Junior mining companies are very risk and can be extremely volatile.
Best regards,
The Hedgeless Horseman