Q: How do you see the progress in terms of exploration methods and evaluation methods going for gold
bearing gravels?
A: Before answering this question, please consider for a moment that it was only really in 2018 that we were gradually becoming aware of a potentially vast alluvial / marine erosional terrace across the flats from Karratha to Port Hedland and south to the hills near Egina. Committing to embark upon an aggressive campaign to secure tenure and better understand what these gravels could mean, we were concurrently addressing the exploration riddles thrown up by Comet Well, expanding and improving the Beatons Creek resource and maintaining tenement expenditure across our other east Pilbara tenements (mostly at Talga Talga, Virgin Creek and Contact Creek), whilst also conducting preliminary mapping and rock chip sampling in other areas to maintain tenement expenditure, amid a patchwork of access challenges and heritage clearance timing. The total marine terrace is a vast area, significantly larger than our existing land package and whilst a team of around 40 people is considered large for an exploration company, we needed to work fast to build an understanding of what this new concept could mean whilst not detracting from existing works. Daunting doesn't begin to describe the challenge. We had a sneaky head start during 2018, with a low level option deal struck with Farno Mcmahon around April 2018 which allowed our geologists onto the property to observe their works and study the gold occurrences whilst also purchasing all gold found – which eventually became the ingots poured ahead of the 2019 AGM. Extra people were pulled in to undertake urgent desktop data analytics, gleaning information from exploration reports, historical accounts and journals to feed into our Pilbara wide database whilst we sent people out into the field to make observations and talk to modern day prospectors. Nothing we saw in any of this preliminary work detracted from the marine terrace story, hence the decision to pivot part of our resources to this new mineralization mode and complete the cornerstone acquisition of Farno Mcmahon. This deal was particularly important as it gave us two granted mining leases at Egina and Station Peak, and importantly incorporating an existing processing approval at Station Peak that has allowed us to immediately process bulk samples on site. The IGR 3000 alluvial plant, purchased for the 2016 mining trial at Beatons Creek, was relocated and modified for this purpose.
Exploration progress since acquiring Farno McMahon back in late 2018 has been nothing short of breathtaking, with a steep learning curve the order of the day. Owing to the scale of this undertaking and the likely requirement for financial and technical support well into the future, we attracted a substantial funding / JV partner in Sumitomo Corporation, tied up significant neighbouring land packages in JVs and made amazing progress with the Kariyarra people who have now completed substantial heritage surveys across the terrace to allow exploration works to continue across our priority targets. We were aware from the commencement of exploration that the process was going to be slow at first whilst we learnt how to best sample this beast, with a view to speeding up the process to allow much quicker surface area coverage in future. With regards to exploration we've thrown the kitchen sink at it. GPR (success), auger drilling (quick fail), regional mapping (success), mechanical sorting (success), square 100t bulk samples (like playing Battleships – qualified success), trench excavation perpendicular to swale direction (like a fishing net – success), metal detecting in 20cm flitches to study vertical gold zoning in the gravels (success and great fun but slow), 1t MAK sampling to mimic 100t bulk samples (success so far), bulk sampling with a cross strike bias (success), modifications to the IGR3000 (success), plus some other techniques that remain the IP of Novo as a result of some very smart geological thinking.
So we're really well placed for future exploration success with a growing understanding of what to look for to inform and refine our prospect ranking model. Many of our priority targets have already been heritage cleared with a number more to be cleared as soon as this current pandemic situation allows. Being in lockdown due to this pandemic provides a valuable breather for our geologists to take stock and mine our substantial information databases for new insights, not just at Egina but right across the Pilbara. 
Q: What has surprised you the most, good or bad, when it comes to Pilbara?
A: What has surprised me the most is that having now spent the best part of three seasons exploring for gold in the Pilbara it is not so much whether we'll find gold, it's more whether the geology is coherent enough and the grade high enough to support a mining operation. Basically the more we look, the more we learn and the more we find and we've still really only just scratched the surface. Whilst this is not yet reflected in an increasing resource inventory, it is contributing to a growing internal confidence in the gold potential on our tenements. We believe the resource ounces will materialise, albeit slower than the traditional 'drill and join the dots'. Certainly, the lack of increasing gold inventory is no reflection of a lack of gold. The nature of nuggety gold occurrences requires different exploration techniques and requiring larger volumes of sampling to yield a defendable grade result and are much slower.
A great comparative example is the traditional use of surface soil sampling to zero in on deposits – usually this is a very quick and simple process, with quick turn around of assays. In Novo's case however, an equivalent soil sample is a 1t MAK sample, requiring heritage surveying, mechanical excavation, detecting, mapping, boxing, rehabilitating, transporting, processing and microscope work to yield a result that is not a recognised assay but a point count of various sizes of gold. This just to hone in on the next suite of bulk sample targets to generate grade results.
Q: What do you think attracted Sumitomo to Novo and Pilbara?
A: 3 things.
Thing 1 – Quinton.
Thing 2 – The opportunity to be involved in a potentially very large gold system from the ground floor. Sumitomo typically don't get involved in early stage projects but it seems that this one has captured their imagination as much as it has ours.
Thing 3 – Novo culture and people. This is very important to the Japanese and whilst Australians and Japanese work quite differently, it is very important to Sumitomo that our team are respectful, hard working and conduct themselves such that we are predictable and can be trusted.
Q: What do you think of the recent discoveries of high grade lode gold in Pilbara? Do you consider Pilbara to be under explored for more than just conglomerate gold?
A: I think it's fantastic – any successful gold exploration in the Pilbara contributes to a growing database of knowledge. The success that companies such as Degrey and Calidus are enjoying, plus a growing band of other juniors plying their trade will build a growing sense that the Pilbara could attract significant capital and become a substantial gold producer in future.
When the Pilbara was largely deserted during the 1890s in favour of the promise of riches in cooler and more hospitable climes down south around Coolgardie and Kalgoorlie, the conglomerate lodes were not well understood as the prevailing wisdom at the time was that gold must be associated with quartz veins, hence the concentration of works around Marble Bar and Nullagine, with only minor dabbling in conglomerate mining at Tassie Queen and Just in Time near Marble Bar plus a few nibbles taken from Beatons Creek near Nullagine.
Recent lode gold exploration success shouldn't be seen to diminish the potential for conglomerate gold or its alluvial remnants and it is a premature leap to assume that these lodes explain the origins of the conglomerate gold. Novo have come across numerous potential lode gold targets during the past 3 field seasons and we expect we will get to them in due course once cashflow is established from production. Until then we intend to maintain discipline around prioritizing exploration activities around the conglomerate gold occurrences as we believe that these offer far greater potential for scalable production.
As a footnote to this question, it needs to be noted that whilst Quinton was drawn to the Pilbara owing to the Archean Wits proximity and with the oceanic precipitation theory in mind, he has made it clear to our geologists that they should not to be constrained by any preconceived geological models and to apply good geological observation and discipline to figure it out. The Wits / Pilbara association is not new and many people have explored the Pilbara for Wits style deposits in the past, conventionally drilling and hoping to hit carbon leader reefs and the like without success. Clearly the wits and the Pilbara are not the same – given the intervening few billion years and vastly different climatic and tectonic settings it would be rather remarkable if exactly the same style of gold was found in the Pilbara today. At the end of the day what matters more than how the gold is formed is the fact that it exists. Bear in mind the Wits was discovered some 130 years ago and has been mined for over a century and there are still deeply entrenched theories regarding its formation.
Q: When do they expect to start generating cash flow?
A: As soon as possible.
Q: "Rob said 'What your about to see is the start of a new gold mine' we're his words when the world seen the first famous video of Purdy's and Comet well. Would he like to give us his thoughts on that statement today now that they have secured 100% ownership?"
A: Not exactly true, Quinton said that, but no matter – if I were delivering the presentation I may well have said it myself. Will Comet Well and Purdys be a mine in future ? In the absence of a resource and economic studies to prove it I cannot put my hand on my heart and say it will definitely become a mine in future – indeed market disclosure rules prevent me from making such a claim. Having said that, we certainly wouldn't have tidied up the ownership of Purdys if we didn't believe in the potential to head in that direction. Mechanical sorting results from late 2018 / early 2019 and more recent technological improvements certainly indicate that it may be possible to generate a high grade concentrate from the site for processing elsewhere. It will be difficult to generate a resource at such a property, however referring back to an answer to a previous question, we may not need a resource to progress it, with a mineralization report sufficient for this. The 'nuggetiness' would make conventional grade control very difficult if not impossible, however mechanical sorters could hold the key to an innovative solution to this challenge as the scanners record the number of gold pixels passing the scanner, which could be used as a proxy for grade, albeit slightly in arrears of mining. We need to think like alluvial miners and adopt an economic model involving minimal capital and respond rapidly to what the rocks tell us. Lots of work to be done yet and the path ahead may not be conventional but we are excited by the potential for not only this area but what the successful deployment of sorting technology could mean for many other areas. 
Footnote on the infamous Purdys live feed to the Denver Gold Forum. I've read and heard lots of opinions about this, from being labelled a stunt, to being staged, to being done to attract Kirkland Lake funding (the funding was in the bank well before the live feed). The truth is far less controversial. Novo came to the realization very early that owing to the nuggety nature of our gold mineralization, we had to have faith in the geological model to properly understand the meaning of what we were seeing – we had to believe it to see it. Guests to Purdys and Comet Well that had the first hand privilege of being able to hear the metal detectors scream and watch Rob Beaton pop gold out on demand at Comet Well, came to understand that in addition to having to believe to see it, you also had to see it to believe it. Given the logistical challenge of flying potential investors half way around the world to have the same experience, we thought that rather than bringing Mahommed to the mountain we would bring the mountain to Mahommed and hence the idea of the live feed was born.  The aims were really to demonstrate the abundance of gold (cue noisy metal detectors), then to demonstrate that the gold was associated with a coherent package of hard rock and not a minor localized alluvial occurrence (cue the jackhammers to hammer it out of the rock sequence) and do it all live on screen to demonstrate that none of it was staged. The whole exercise was fraught with risk but to our collective relief in the end the team busted out some pretty nice gold in the nick of time. The share price response to this exercise was genuinely unexpected. It is possibly a very good thing that the technical rehearsal session on the Sunday night prior to the conference presentation was not the actual live feed – whilst stabilizing pictures and getting the volume right the gold that we popped out live on screen that evening had the technical team agog. 
Q: QH has stated that in terms of fineness the ore at Beaton's Creek is the most fine followed by Egina and Karratha. What is known about the ore at Blue Spec and where is it relative to these other deposits?
Q: What is known about Patch 47? Is the ore in conglomerates like BC/CW or is it weathered and free dig like at Egina? What prompted Quinton to add this to the deal with Artemis ending the JV?
A: Yes, correct. Permit me to over answer these questions and roll them into one. It seems to be a regular source of confusion so I'll provide a brief non-technical explanation of our known projects in the one place. These are the projects that have been mentioned in Novo news releases. …… and yes there are other prospects at various early stages of exploration but you'd be disappointed if that weren't the case with over 12,000 sqkm and more than a dozen geologists actively out geologizing.
Beatons Creek
Current resource base of 457k Oz indicated @ 2.1 g/t Au and 446k Oz inferred @ 3.2g/t Au located in the Hardey formation. Our original project and arguably the best understood conglomerate in the Pilbara. It's nuggety, but not as nuggety as some of our others. The resource is roughly half oxide, half sulphide. It's a flat lying, saucer shaped deposit that outcrops through a low range of eroded hills, daylighting from the side of each of the finger ridges. It has laser like consistency in terms of its width and lateral expression – you can 'eye it in' across the ridges from the right vantage point for the 2km of strike extent, so the game has been more about determining the grade than the shape. Unfortunately, we're about 20 million years too late for a massive prize. If we could travel back in time a bit before the Beatons Creek conglomerate was substantially eroded it would be substantially bigger – by an order of magnitude. Despite this, we still quite like the deck we've been dealt.
We believe that the resource will increase as it's mined, both internally (we believe our grade estimate to be somewhat conservative but time will tell) and externally. Beatons Creek is open to the south west as the saucer shape deepens in that direction. There are also some scabs of conglomerates on other adjacent ridges and some evidence of other lodes that may have existed in parallel above the modern day remnant that may develop as we go south west. Committing money to increasing the resource further at present is not seen to be a good use of funds as any mining in these areas is at least 6 years away, probably more. Assuming the operation is successful, ongoing exploration will be incorporated into the operating plan in time, where the people that know can grow it. The current resource consists only of the mineralization that connects from drill hole to drill hole however the drill hole spacing is sparse enough for some channel deposits to squeeze between them or have only one pierce point, hence whilst not in the resource model, we'll pick up these channels as we mine. We could have drilled tighter spaced holes to pick these up but that would have cost a Fort Knox amount of money and not considered money well spent when we now have the critical mass for an operation. There are also numerous other subordinate reefs above and between the main M1 and M2 reefs (small squibby things that are highly visual and often very high grade) that we also expect to pick up as we mine. We are actively looking at the possibility of using mechanical sorters to upgrade these squibby subordinate lenses so we can afford to be less surgical as we mine them. Having said that, mining should be relatively straightforward – mining flat lodes that don't require blasting should allow for really effective ore and waste separation. These extra gold sources are not likely to double the resource but given we have to mine the areas anyway to get to the M2 reef below, they are a kind of a bonus. With a few bonuses there also come some challenges. We would be operating very close to the town of Nullagine. Noise and dust management so close to sensitive receptors will require management. Beatons Creek is also situated in a P1 (priority 1) water reserve that feeds the town water supply (albeit we're told that a drop of water at Beatons would take around 20,000 years to reach the town water supply), however notwithstanding this we would have to limit or eliminate the use of chemicals at the site and ensure proper design management of final landforms to encapsulate and minimise AMD from the sulphidic material in the waste (nothing at all unusual here in the mining world). All available processing options are the other side of Nullagine, so we would need to truck our ore through town until we can construct a bypass to the west of town, planning for which is well advanced. Town meetings to discuss our operations have been overwhelmingly positive with locals very supportive of Novo, likely due in part to do with the integrity with which Quinton and our other employees have conducted themselves in the past.
The first few years of production should be freely diggable, with maybe a little ripping required by dozer in the tight areas. This is based upon experience from the 2016 bulk sample and the 40 odd 2 tonne bulk samples collected during 2018.  Mining in the hard rock will present more grade control challenges as it requires drilling and blasting, but nothing that's new to mining. We also have a few tell tales to help the mining crews – the reefs are generally overlain by an armoured lag and the digger operator can feel this (like breaking through a crunchy nut bar) and then the layer below the reefs is typically a bright white 'sand' horizon. So we can hear and feel the top and see the bottom – delightful !
Beatons Creek is all free milling (non refractory), with oxide recoveries expected well above 95% and sulphide recoveries somewhere between 85 and 90% and on top of this we expect to recover more than 60% of the gold through gravity recovery circuits ahead of the leach tanks.
Karratha
This project consists of Comet Well / Purdys and more recently 47K. Purdys was the scene of the well known 2017 live feed to the Denver Gold Forum. These deposits are all much more nuggety than Beatons Creek and pose a greater challenge to estimate grade and generate a resource, but whilst it's a challenge it's not one we're planning on walking away from any time soon. Where else can you walk along over many kilometres and find a nuggety gold bearing conglomerate that makes a metal detector sing like at Comet Well / Purdys ? The prospector nugget digs make the area look like a bombing range for about 8km along the outcrop.
Determining grade of these nuggety deposits can certainly be done but it's not quick and it's not cheap. It also requires a two step process to determine what sized sample needs to be taken to be representative of the lode gold grade. Note we were taking around 300kg sample initially from Purdys (very scientifically this is what filled a 44 gallon drum – good for transport and handling and small enough to be assayed conventionally (albeit very time consuming and expensive). From these samples and general field observations, the smartest coarse gold experts in the world were engaged to run their algorithms to tell us what size sample would enable us to quote a representative grade, calculations which are based around gold size distribution observations. Initial advice was along the lines of "don't know yet, but go bigger at Comet well for starters". So when we hit the ground at Comet well in early 2018 we started sampling in 5 tonne samples, requiring a specialized processing lab to be built in Perth to handle these samples, which was subsequently used to process the Beatons Creek 2t samples. Whilst not yet final, we now know that representative grades for Comet Well and Purdys can only be derived from very large samples such that trial mining will likely be the next phase of development. Note that lack of representative grade does not mean a lack of gold and this is something that commentators are grappling with and account for much of the misdirected criticism of Novo. You kinda need a grade to generate a resource, but remember that you only need a mineralization report to have an exploration license converted to a mining license as a precursor to mining. What we'll have to grapple with over the coming months and years is how to best progress these projects through to production. You can spend a kings ransom proving it's there to industry standard or if you can avoid large capital outlays (ie mechanical sorters etc) you could just bootstrap it into production and learn more through mining (hark back to earlier commentary about the use of innovation – test fast, test cheap).       
We've recently consolidated this area and taken complete ownership of Purdys and 47k in a deal with Artemis to complement our majority stake in Comet Well. When you stand on the Comet Well and Purdys conglomerates and look maybe a kilometre south you can see the Hardey Formation (hosts Beatons creek about 400km away on the other side of the basin) outcropping through a range of hills, so these conglomerates lie comparatively lower in the stratigraphy  than Beatons Creek. It should be mentioned that the nomenclature applied to the different formations can keep geologists in heated debate for hours and there has been considerable effort to try to line up the various layers of stratigraphy across the Pilbara (and indeed it doesn't take much googling to locate attempts to line these up against their cousins over in the Kaapval Craton of South Africa). Much more yet to be done here in this broad spaced jigsaw puzzle, but as we piece it together it should enable us to further narrow our exploration focus.
So where's Karratha at in our thoughts ? We love it and when we get into production at Beatons Creek we aim to put the pedal to the metal to develop these conglomerates as quickly as possible, likely based on the concept of mechanical sorting and trucking a concentrate to a processing facility near Beatons Creek. Mining approvals and native title negotiations may take a while so some patience will be required    (if I specified a timeframe I'd be held to it and inevitably be labelled a liar), but what I can assure people is that we will use our best endeavours to progress it as rapidly and intelligently as possible whilst considering all stakeholders.
As for 47k, no point sugar coating it, it's a freak of a nuggety gold area that's probably been responsible for more fishing boat upgrades in Karratha over the past few years than anywhere else. Thankfully prospectors legally can't dig too deep and we think there's lots more to learn about this area. It's about 5km north west of Purdys (just follow the tyre tracks 😊) and we've been all over it geologically in the past and we think we have a unique take on the area that we will follow up in due course.
Egina (including Paradise, Road to Paradise, Paradise SW, Clarke, South Egina)
Wow, I love it !
Very nuggety so it throws up all the challenges of nuggety gold in terms of proving grade and generating resources but at least it's flat, relatively shallow and thus far has proved to be everpresent (though much more work to be done to prove it's both everpresent AND economic). The potential is rather large – very simply put basically any flat country from Karratha to Port Hedland and south to the ranges has potential to host shallowly buried erosional remnants of conglomerates that likely once existed in what is currently mid air (you can see conglomerate remnants in the ranges to the south) and locally enriched by basement sources. We've developed some pretty smart algorithms for locating where we think the best bits could be and so far, Kas' team of geologists are pretty much batting 100 in terms of finding gold bearing gravels where they've looked. This does not yet mean you can dig a hole anywhere on the flats and find gold, but it is worthy of mention that Artemis used to extract significant gold from the Nickol River prospect nearly 200km north west of Egina on a dead flat erosional terrace and there exists historical evidence that Chinese miners back in the late 1800s would pick up nuggets from the mud flats outside Roebourne at low tide (about 100km north west of Egina). Other prospectors accounts and desk top detective work are also really interesting. This is a story within a story and whilst it will take a while to crystallise the vision, the vision is strong and has attracted the attention of a major global player in Sumitomo Corporation of Japan. 
Virgin Creek and Contact Creek
West and north west of Marble Bar, these are very early stage exploration plays where the structures have been mapped over great distances. Initial drilling, mapping and rock chip results definitely provide some  encouragement. Lots of prospector workings about the place with nuggets found that look very familiar. Whilst very early days and we are way off proving anything economic here, we think the gold sizing is more likely to be like Beatons Creek than Karratha. Here's the fundamental paradox of Novo that causes great disparity in potential valuations – if you buy Novo stock for these prospects alone right now you'd be bonkers,  but they may yet prove to be the jewel in the crown. We just don't know but we'll progress them as resources allow. Maintaining tenement expenditure here for now whilst we focus on other priorities but priorities could change very quickly and the switch could be flicked very quickly here when we get into production. 
Talga Talga
Read any historic accounts written by gold prospectors in the Pilbara and Talga Talga (about 10km north of Marble Bar) will dominate. Back in the day, these high grade lodes were more closely related to the conventional wisdom of subvertical lode gold. These cherty, bif like lodes run through a low range of hills and the lodes and erosional remnants were a favourite of the prospectors of the day. It will never be known exactly how much near surface gold was taken from this area but based upon a cursory understanding, if I ever develop a time machine, after I've watched the pyramids being built I'll take myself to Talga Talga around 1880 with some very large containers and then teleport myself to 2021 to sell into a raging gold price. Again, we're maintaining tenement expenditure here but the switch could be flicked very rapidly with cashflow from production. Our geologists really like Talga Talga.
Blue Spec
So back to the original question 'what is known about the ore at Blue Spec' and where is it located ? Blue Spec is located roughly25km due east of Nullagine on Skull Springs Road and is one of a number of prospects along a formation that runs parallel and to the north of the Mosquito Creek formation mined by Millennium Minerals for the past 7 odd years. It's a very high grade gold / antimony deposit that runs around an ounce per tonne in a narrow subvertical knife blade shaped lode system (see Novo's news release dated August 17, 2015 for disclosure regarding the historical Blue Spec resource estimate issued by the former owner of the Blue Spec project reported in accordance with JORC 2012). Whilst it's the odd man out in our exploration stable, interestingly the outside interest in this deposit surpasses all others. Whilst the grade is alluring it's received only modest attention by us against the backdrop of the bigger picture however we've recently availed ourselves of historic economic studies and done some high level studies on mining and metallurgy. It looks like a very interesting project in its own right, but it is metallurgical different and is likely to require it's own processing circuit. The site may be of strategic importance because it is on a Mining Lease that is permitted for processing and hence represents a possible location for a processing facility for Beatons Creek.
… That concludes Part 2 of the Q&A with Rob Hymphryson of Novo Resources. A big thank you to Rob for taking the time and energy to answer these questions in a very detailed manner!
Rob in Action
(Caption contest)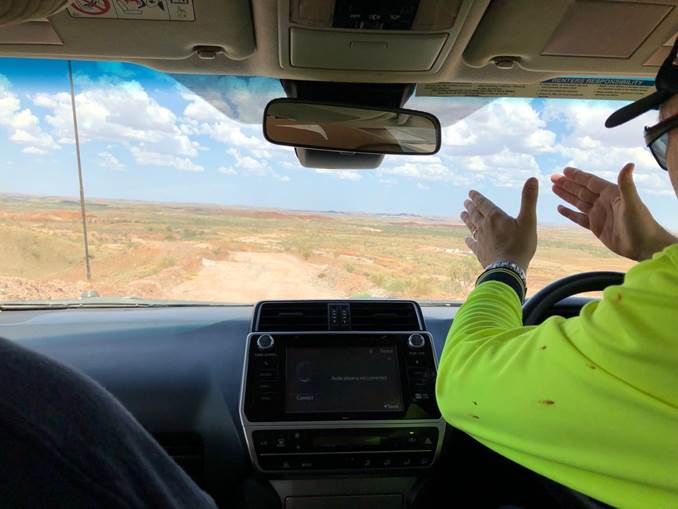 Maybe…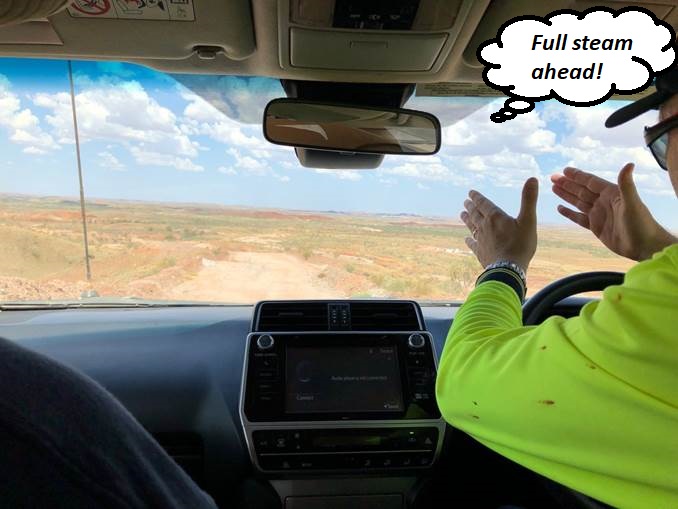 Note: This is not investment advice. Always do your own due diligence. I am a shareholder of Novo and the company is a banner sponsor.
Best regards,
The Hedgeless Horseman
Follow me on twitter: https://twitter.com/Comm_Invest
Follow me on CEO.ca: https://ceo.ca/@hhorseman