Sept 27, 2021
"David and Goliath"
Metals Creek Resources is a junior exploration company with two advanced projects located in Canada. In this article I will explain why I own shares of Metals Creek and brought the company on as a banner sponsor.
Ps. Given that sentiment has made the whole sector brain dead cheap I will try to hammer out as many cases as I can before these bargains are gone.
Metals Creek (MEK.V) in Short
Flagship Asset #1: Ogden Gold Project, Timmins, Ontario, Canada

50/50 JV With Newmont Mining
Located between two existing mills belonging to Newmont and Pan American Silver
Historic highlighted results include:

210.19 g/t Au over 12.53m
49.96 g/t Au over 9m
1.94 g/t Au over 94m
2.20 g/t Au over 78.85m

Should be drillable year round!

Flagship Asset #2: Dona Lake Project, Ontario, Canada

Option Agreement with Newmont
Past producing mine
Drilling highlights by Metals Creek:

4.08 g/t Au over 20.85m
3.04 g/t Au over 25.05 m
3.89 g/t Au over 23.08 m
8.07 g/t Au over 7.00 m

Should be drillable year round!

Enterprise Value @ $0.14/share: ~US$9.65 M

(C$3.5 M in cash and C$2M in equities)
Market Cap (Basic): C$18.5 M
My Case For Metals Creek in Short
The current valuation for Metals Creek leads me to beliieve that I am able to buy the Ogden Project (50/50 JV with Newmont) on the cheap while getting the Dona Lake Project for free. The company is valued like it's a grassroot explorer even though the Ogden Project is quite de-risked and has seen a bunch of very good drill results come out of it. The fact that it is in a 50/50 JV with Newmont makes it an obvious take-over candidate and this is further strengthened by the location and the fact that there is a hungry mill nearby. Newmont would have it naturally easy to take the plunge given the a)  50% Stake in the project already and b) The sunk costs already in place for the nearby mill. In other words Newmont would have a natural 50% "discount" and would not even need to build a mill. This also highlights the fact that the Ogden Project ought to have a much lower level for success needed before it passes the critical threshold for monetization. What I mean by that is that perhaps "only" 1 Moz of resources could be more than enough to warrant a development decision in the eyes of Newmont. Compare it to a project in a remote location with little infrastructure and no mill nearby. Said project might need at least 3 Moz on the books before any company would even think of developing it. At the end of the day an ounce found at Ogden is probably worth multiples compared to an ounce found by the average junior which means that the ROI from drilling ought to be relatively high for MEK investors.
Given that the Thomas Ogden Zone, which is the zone which produced the most impressive drill intercepts, will the focus of the upcoming drilling campaign I think there is a relatively good chance of some eye opening assays in the future. If a C$17 M MCAP company, in the heart of the Timmins camp, would hit anything close to the previously reported highlighted results then I would be pretty surprised if there was not a material market reaction.
I am expecting a revaluation in Metals Creek in the future either by a) Market sentiment improving and Price heads closer to fair Value without the help of news, or b) The company is able to show that there is a lot more to the gold system at Ogden, or c) Both sentiment improves along with further drilling success (ideal scenario). The longer term "HODL" case is of course that the company will continue to prove up especially Ogden and one day in perhaps a couple of years time we will see it being acquired by Newmont Mining. To sum up I see Metals Creek as undervalued Now and if things go well I can see it as a long term HODL case with a natural exit at hopefully multiples of today's share price.
My expectations for Metals Creek is to see a ~200% return during the next real leg higher in juniors with little to no real help on the news front. In other words I expect an improvement in sentiment alone to lead to a good return from these levels (granted we have no idea when that will happen!). If the company has further success at especially the Ogden Gold Project then this can turn out into a long term HODL where I would expect a buy out and >500% returns if not >1,000%. More importantly, I don't think these is any chance I am making a mistake by overpaying for all the assets at these price levels. All together I see it as buying a company that is undervalued, and has no business going down further (although it of course can it really shouldn't stay down for long), while also getting some serious upside potential.
Even Shorter Case:
Enterprise Value: ~US$9.65 M (C$3.5 M in cash and C$2M in equities)
Two Projects in tier #1 jurisdictions

Ogden Gold Project, JV with a major (Newmont)
Dona Lake Project, option with a major (Newmont)

Margin of safety due to very low valuation
Very high upside potential due to low valuation
Probable upside given that both systems are open
High ROI on success in regards to Ogden especially (Due to JV with Newmont and location)
Above average chance of a natural exit (Take over by Newmont)
Upcoming Short Term Catalysts
Flash Update: Crescat Capital just released a new presentation on Metals Creek:
Flagship Project #1: Ogden Gold Project, Timmins, Ontario
The Ogden Gold Project is located in one of the most premier addresses in Canada: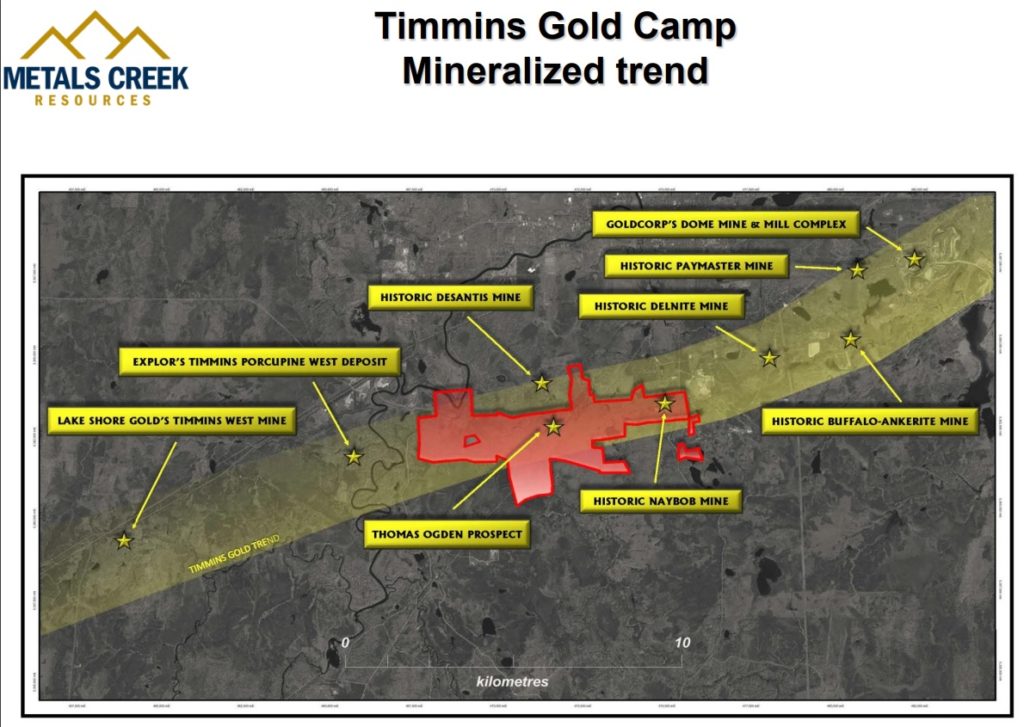 There are two things that makes the Ogden Gold Project really stand out. One is that it is located between two mills. The "hungry mill" to the east, to quite Quinton, is the Dome Mine and Mill Complex which belongs to Newmont Mining. The mill to the west currently belongs to Pan American Silver. Suffice it to say it would be hard to even come up with a better address for a junior. The second important thing that stands out is that the somewhat legendary Timmins Gold Camp has been one of the most well endowed gold camps in Canadian history: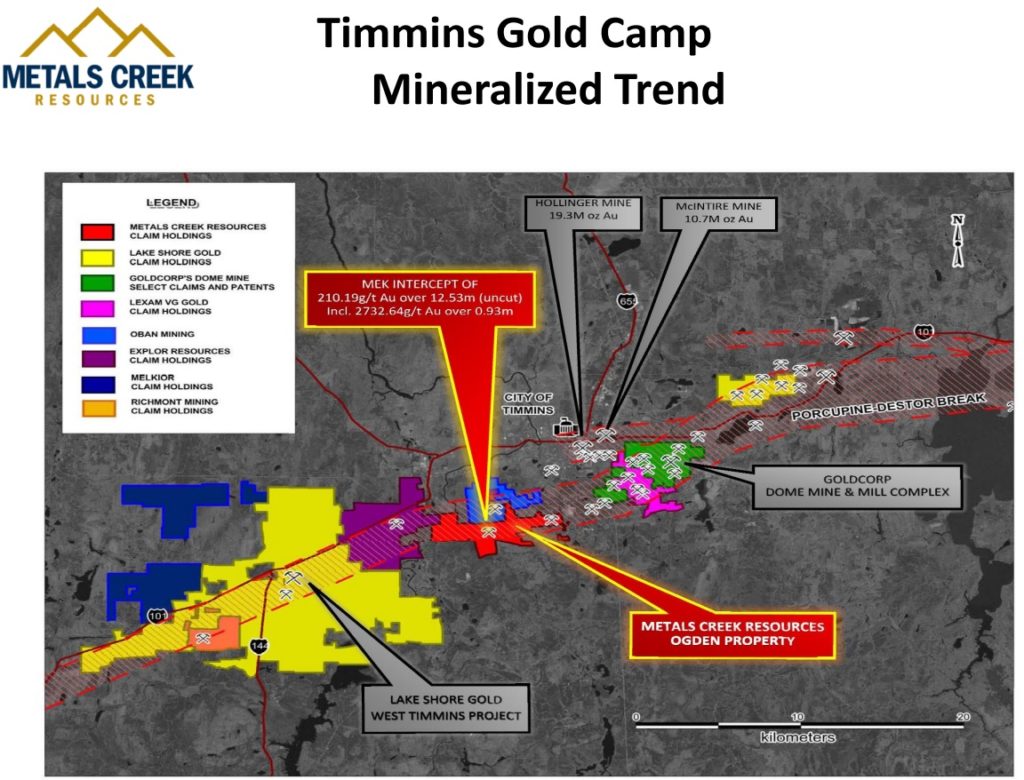 This is the company summing up Ogden in their own words:
If we take a closer look at the project from a bird's eye view we can see that there is quite a bit of smoke within the Ogden Gold Project and that a) Most areas have seen limited drilling and b) There are areas near confirmed mineralization that seen no drilling: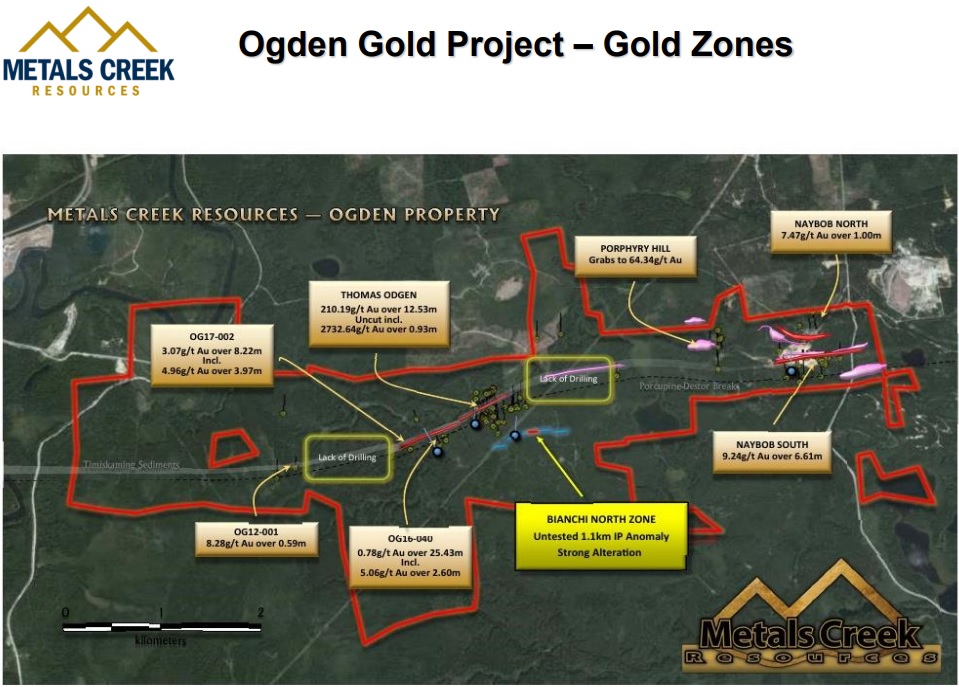 The Thomas Ogden Zone is the most advanced zone and it has produced some stellar results (note the step out holes as well):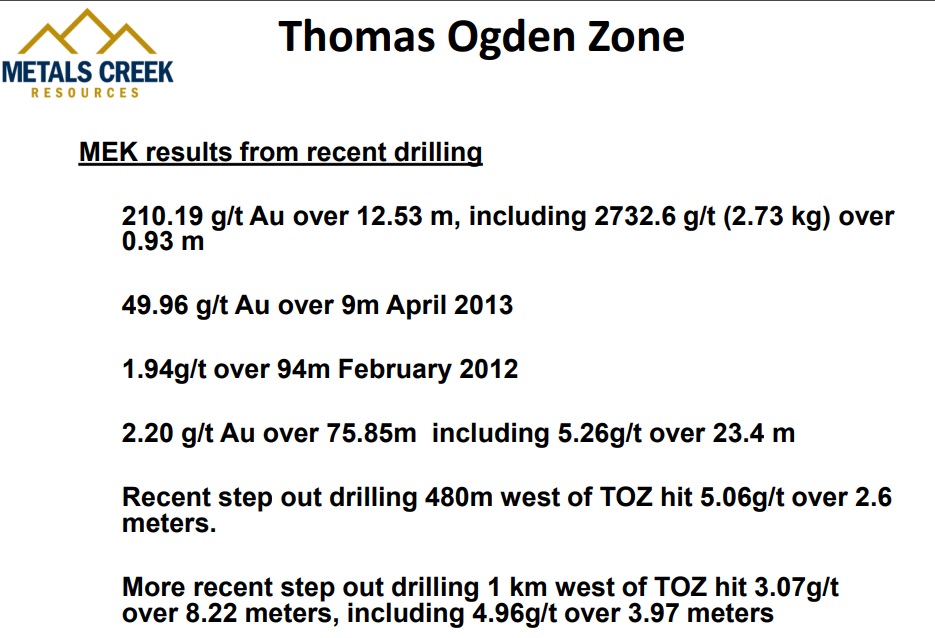 As Quinton explains in the Crescat video these results came out when the mining sector was in a full blown bear market and nobody really cared. And since then there has just been a limited burst of additional drilling. Thus I see this story to simply be picking up where it left off during the last bear market. The company is cashed up and therefore now has the means to show what the real potential at Ogden might be. If this project had been fully drilled already, like some projects that re-surface when market sentiment gets better, then it wouldn't be nearly as interesting.
The following slide shows the known and interpreted shoots on the Ogden property: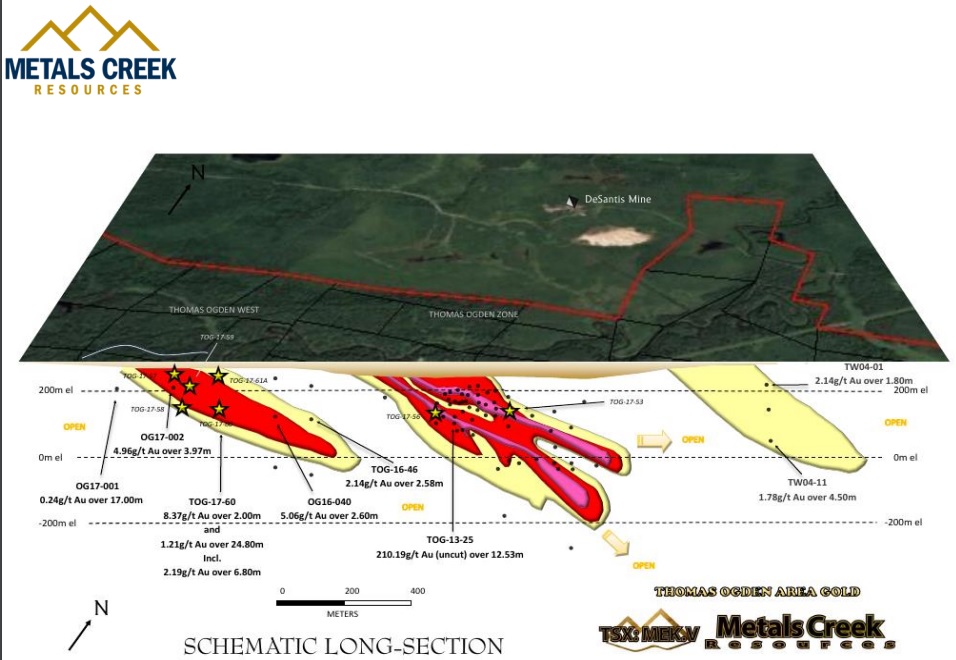 The red outlines are the higher grade portions and the pink outlines are the highest grade portions. Importantly these pink shoots of very high grade mineralization are wide open down plunge and they have only been drilled down to a max depth of say 300m. These types of systems in this area are known to extend to depths of 1-2km which means that there very well could be a lot more high-grade gold at depth. It simply has not been tested yet.
Below you can see some of the highlights from the 2012/2013 drilling. Now these have long been forgotten by the market given the low valuation of Metals Creek but if the company is able to get some more (new) hits like that, which I wouldn't be surprised to see, then one can ponder what the market reaction could be (especially when sector sentiment gets better):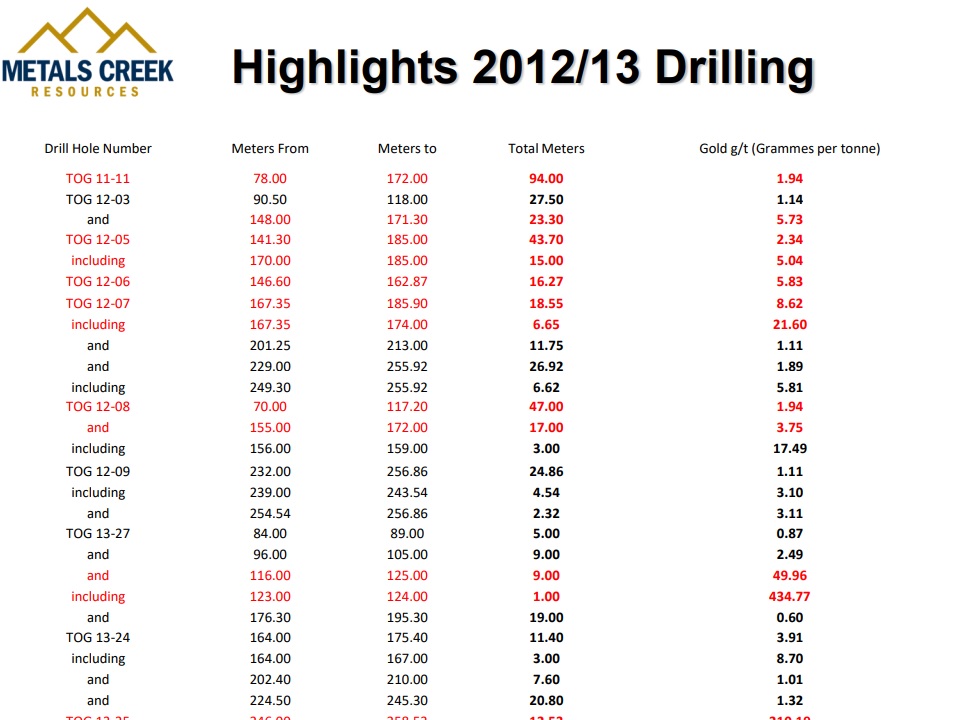 The "super bonanza" intercept was encountered in a fold feature which will hopefully continue off section for some way yet: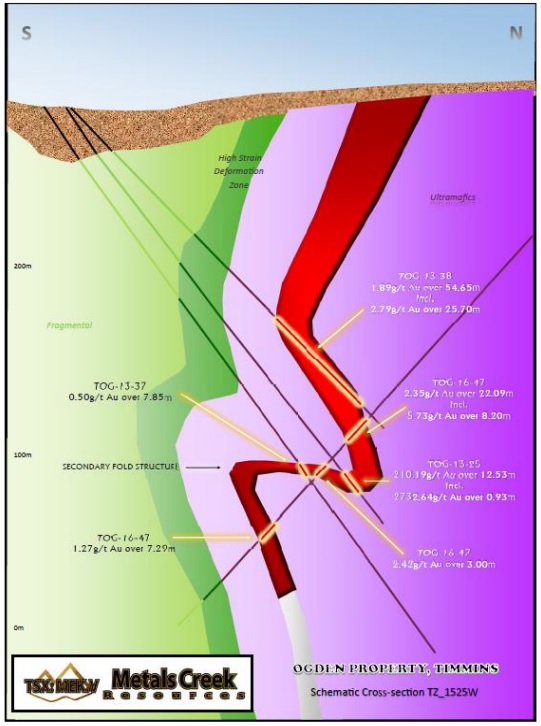 Lastly I would point out that Quinton talks about there being a porphyry sticking it's "nose" up in close proximity. I guess this might have provided a heat source as well as potentially an additional metals source (but that's above my pay grade). Anyway he states it reminds him of mineralization found in the Dome pit (Dome was the big mine not far away from Ogden).
Flagship Asset #2 – The Dona Lake Project
I won't go into much detail on Dona Lake since I think The Ogden Gold Project alone is enough to provide some great Risk/Reward for Metals Creek at these levels but here goes…
Dona Lake is currently under an option agreement with Newmont Mining: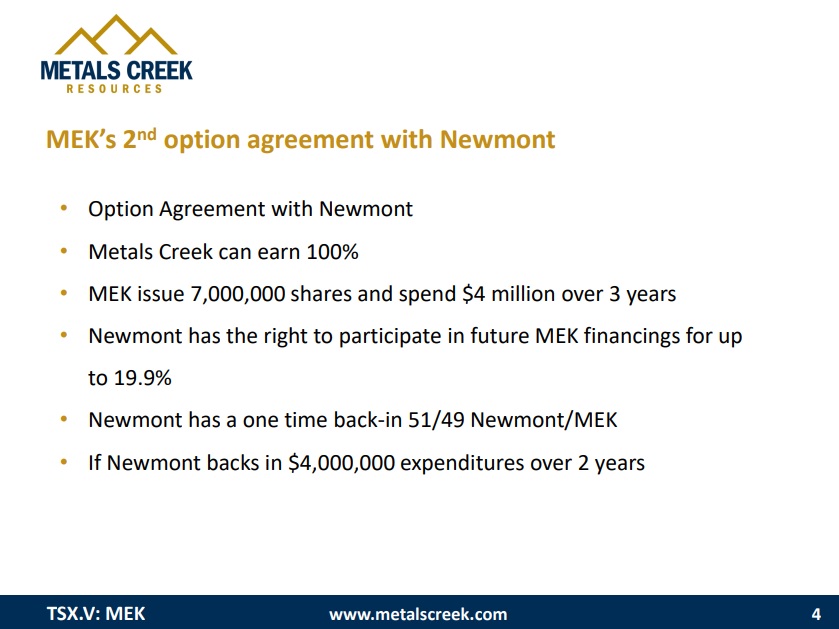 At the Dona Lake Gold Project has seen historic production and the company has tested this gold system, which is in a Banded Iron Formation (BIF), both near historic stopes as well as at depth. The following slide is from the news release dated August 18 and included the most recent drill results from the project:
"This round of drilling was successful in further defining mineralization below the 455 level as well as evaluating the remaining high-grade mineralization south of the Dona Lake mine workings. Future drilling will continue to target the down plunge extension of the mine stratigraphy below existing drilling and continue to build on recent success in delineating high grade mineralization remaining south of the mine workings as well as testing for any potential high-grade mineralization north of the mine workings." States Alexander (Sandy) Stares, President and CEO of Metals Creek.
Now I don't really know how to value the Dona Lake Project. It has seen historic mining which is a positive. Other than that I don't know much more than that the mineralization looks to have decent grades and sometimes with considerable widths. As for gold deposits in Banded Iron Formations the thing that stands out is that these systems can be big and almost seem "never ending":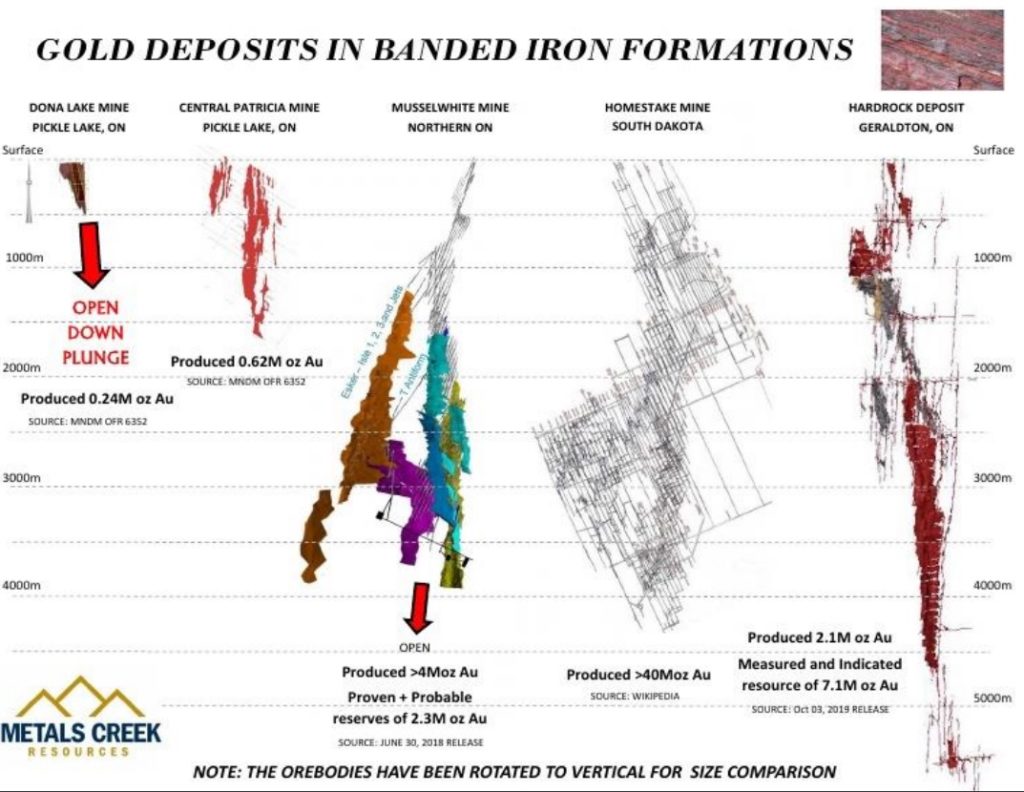 Case in point is the Hardrock Deposit in Geraldton, Ontario (farthest to the right). Tombill Mines, which is another company I own, has recently shown that the Hardrock Deposit over there continues on to their ground. The Homestake Mine in South Dakota went so deep that, after closure, it has been used to run different scientific experiments since it was one of the deepest places on earth one could get to.
Anyway, there are a lot of "prospective iron formations" outside the immediate historic mining area within the Dona Lake Project:
What has spiced things up a bit is the fact that Metals Creek hit a high grade orogenic vein while targeting the Banded Iron Formation system at the historic mine. To quote Quinton: "What got really interesting though is that they hit a very high grade intercept in hole 7 as they were drilling down into the iron formation…"
(Green circles added by me)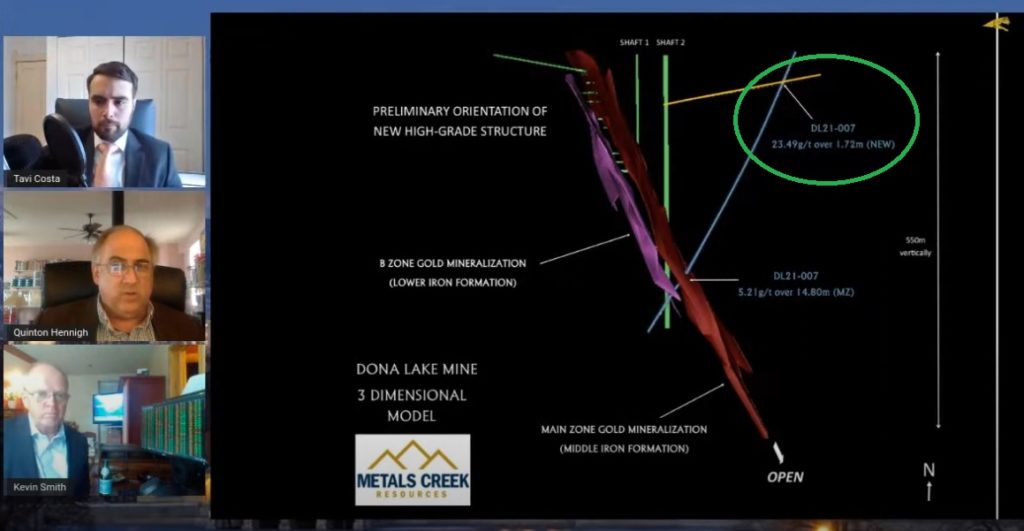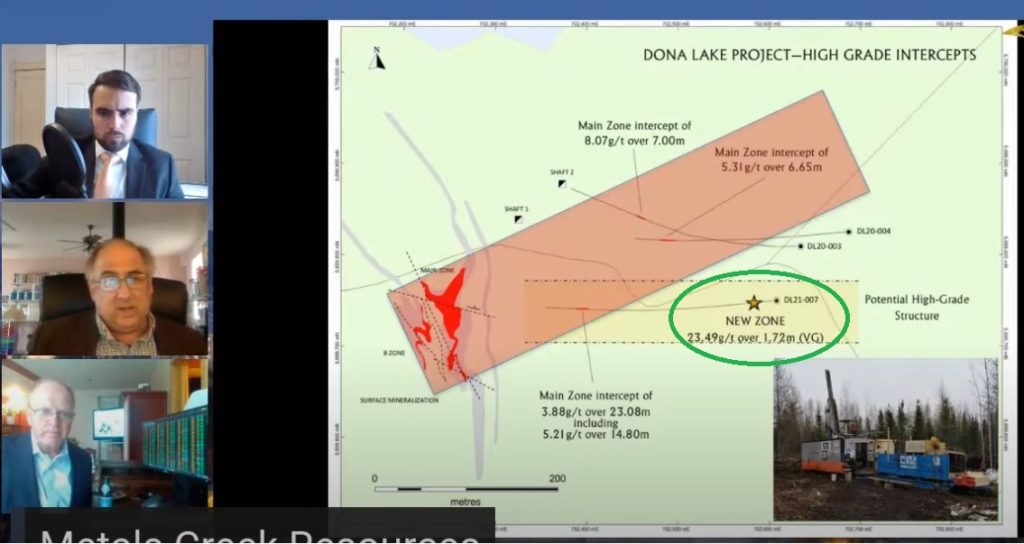 Quinton goes on to say that it looks like "these guys might actually be on to a significant, high-grade discovery… Basically a virgin gold system in this case… This just went up in my book… That means we have two great targets to test.". If there is both a BIF gold system as well as an Orogenic gold system in the same area that means that the gold endowment per vertical meter would go up which increases the potential economics (all else equal). In the presentation Quinton talks about wanting to see at least 1,000 ounces per vertical meter.
To sum up I guess I would say that the Dona Lake story might be evolving for the better which is obviously a good thing. Given that it's still early stage as it pertains to this orogenic gold potential I see it as a potential "bonus ace in the sleeve". I still think Ogden is considered to be the real meat to the story. With that said I don't think I am paying anything for Dona Lake so it is all a bonus really.
Closing Thoughts
Lets say 2 Moz of relatively high-margin gold at Ogden is worth C$400 M to Newmont given the sunk costs and proximity to their mill. In that case MEK would be worth C$200 M. Is 2 Moz doable? I think so. Is 2 Moz the blue sky ceiling? I don't think so. Anyway, with an Enterprise Value of Us$9 M ( Market Cap of C$16 M) obviously very little of anything is priced in…
Today one can buy;
The de-risked Ogden Gold Project (50/50 JV with Newmont)
The de-risked Dona Lake Project Option (Option with Newmont)
~$C3.5 M in cash
C$2 M in equities
… For a total of C$16.17 M (@$.12/share).
It doesn't take a rocket scientist to realize that is a ridiculously low valuation that should be corrected one day. Valuations like this which can be seen during sentiment extremes is how one can produce outsized returns in the future. High returns start by buying something that is very undervalued after all. When the pendulum swings, as it always does, I expect Metals Creek to go up substantially in order to get better in line with a risk adjusted "fair value". What is the fair value? I don't know but 100% higher should be a piece of cake. If the company produces some good hits during the upcoming drill campaign at Ogden and the market sentiment gets better then I wouldn't be surprised to see a multi bagger in short order.
Anyway, the most important thing is that I don't there is any chance I am overpaying for all of this at C$0.12/share and my only job as a value investor is to NOT overpay but rather buy as cheap as possible. I fully believe I will make a very good return on Metals Creek. I also fully believe it could go down more before it goes up say 200%. Since I am not greedy enough to say no to my expectations of a 200% return I have bought shares via the latest PP and I have not sold a single one. Lastly, I would not advice anyone to put all their eggs in one basket, not invest money that you can't afford to lose and not invest if you can't afford to wait until market sentiment improves.
Further Due Diligence:
Website: LINK
Crescat Capital (Quinton Hennigh) Presentation:
Some Amateur TA
I could see this being a reverse Head and Shoulders formation which, in case it breaks out, has a target of around C$0.37/share. Interestingly that lines up with my expectations of around a 200% return from here when we have our next (sentiment driven) leg up in miners. Can it go lower first? Of course. Do I expect it to go lower and never go up? Nope.
(Absolutely NOT trading advice!)
Note: This is not investing advice and I am not an investment advisor. I own shares of Metals Creek and the company is a banner sponsor. Therefore assume I am biased and make up your own mind. Junior miners can be very volatile and very risky. Assume I may buy or sell shares at any time. Never invest money you cannot afford to lose.
Best regards,
The Hedgeless Horseman