My Simple Investing Strategy – Criteria I use
First of all I prefer to consider a longer term horizon than the market because companies with clear, near-term catalysts often gets bid up and companies with unclear and/or longer-term catalysts usually are trading at depressed levels. Second of all I prefer companies with enough internal growth potential to keep the market interested over many years and that is why my largest holdings are companies with either potentially very big projects and/or multiple projects. Thirdly, I don't like the idea of a company going after a single small to medium sized project and potentially being forced to go out and buy a new project in a hot market. Fourthly, I prefer companies where management has serious skin in the game which should mean that the management team is not that interested in running a "life style" company where they are comfortable with just sitting around and doing nothing as long as they get their salaries. Lastly, I prefer companies that are not in the mature phase unless I really believe the people behind it can put their project into production because I don't want to own a company where little can be done to increase value and excite the market and I risk just sitting around for years waiting on someone bigger to buy the project. Basically I want the people to be exceptional if I am to own a "mature" company where internal growth is either not a priority or is limited.
… In light of all that, I believe it opens up the possibility to both capture time-arbitrage (buying non-discounted future potential) as well as hopefully escaping a lack of news flow which might bore the market. If the market primarily discounts catalysts which are expected to happen within say a  3-month rolling basis then one would want to have a stream of expected catalysts on a maximum 3-month rolling basis, to keep the market from getting bored. Keep in mind that this theory assumes that one is fully invested and are not looking to take advantage of any dips due to the market getting bored. If the market does get bored and the company starts trading with an "impatience discount" then that is obviously a buying opportunity. I basically look for companies that are undervalued relative to what they already got and I get the growth potential for free:
If I would categorize some of my holdings according to the graph above it would be something like this: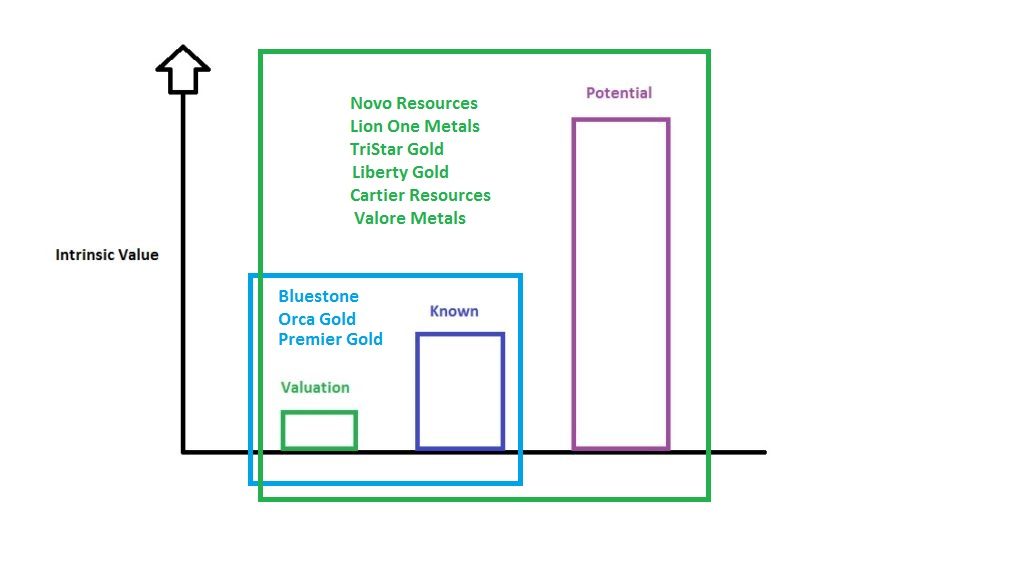 I for example left out Irving Resources because I consider Irving to be more of a pure potential play.
I truly believe in keeping things simple and if one gets the few important things right then half the battle is already won. I'm not a geologist or engineer after all…
In short I look for companies which fit most and preferably all of the following criteria:
Skin in The Game

Incentive to create actual value for shareholders

Access to capital

Being able to take advantage of the internal growth opportunities

Internal growth potential

Projects with significant growth potential and/or multiple projects in the pipeline

Who cares?

External validation

Exception: If in the "mature" phase

Company needs to have very good people with access to capital
Just to show you that I do indeed follow this "simple" strategy I thought I would go over some long term holdings of mine:
Irving Resources
Insider ownership: Very good

Management/Directors own 18.60% of the company on a fully diluted basis

Access to Capital: Very good

Eric Sprott
Newmont Goldcorp
Potentially Sumitomo Corporation

Internal Growth Potential: Very good

4+ high-potential targets within their first claim block, The Omu Project

One target is currently being drilled (Omu Sinter) and another is expected to be drilled this year as well (Omui)
The Hokuryu and Maruyama targets are expected to be drilled next year

… And Irving has several additional large projects in Japan

Who Cares:

Newmont Goldcorp
Sumitomo Corporation
Novo Resources
Insider ownership:Very Good

Management/Directors own 14.96%

Access to Capital: Very Good

Eric Sprott
Kirkland Lake
Sumitomo Corporation

Internal Growth Potential: Unparalleled 

13,000 km2 of land holdings
Three potentially semi-basin to basin wide systems to explore

Mt Roe conglomerates
Hardey Formation conglomerates
Egina type lag gravels

Hardrock targets

Who Cares:

Newmont Goldcorp
Sumitomo Corporation
Kirkland Lake
Creasy Group
Lion One Metals
Insider ownership:Very Good

Management & insiders own 22%

Access to Capital: Good

Been able to do multiple big financings  throughout the company's existence
Good institutional backing

Internal Growth Potential: Very Good 

Controls an entire Alkaline Gold system (very rare)
10Moz+ potential
Starter project with very good economics for staged growth

Who Cares:

Quinton Hennigh
I know some very large entities have visited the project in the last year (pending)
TriStar Gold
Insider ownership:Very Good

Insiders & associates own 27%

Access to Capital: Good

Recently got backed by Royal Gold

Internal Growth Potential: Very Good

Controls a whole paleoplacer "basin" that is 7-9km from side to side
Already delineated 2Moz of resources just from drilling the edges
A Tarkwa look-alike (Tarkwa is operated by Gold Fields and is a 30Moz+ paleoplacer deposit)

Who Cares:
… I think I have made my point.
Some short notes on some other holdings that fit most of the criterias:
"Mature" companies with high insider ownership, excellent people involved and good backing:
Orca Gold

Big project in Sudan and a spin off in Ivory Coast
Backing

Resolute Mining
Kinross Gold
Lundin family

Bluestone Resources

Excellent project in Guatemala
Lundin family owns 34%
Other Favorites:
Liberty Gold

Skin in the game
Excellent people involved
Loads of internal growth potential
Backed by the Oxygen Group
Great access to capital

GFG Resources

Skin in the game
Excellent people involved
JV with Newcrest

Premier Gold Mines

Skin in the game
Huge pipeline of projects
JVs with Newmont, barrick and Centerra
Companies with competent people involved that are just "too cheap":
Valore Metals
Gatling Exploration
Cartier Resources
Genesis metals
I have more holdings that the one listed in this article but they are more speculative or are very mature producers already.
(Note: This is not investment advice and I am not a geologist. Always do your own due diligence. I shares of all companies mentioned, which I have bought in the open market and am thus biased. Novo Resources, Lion One Metas and TriStar Gold are passive banner sponsor on my site. )
Best regards,
The Hedgeless Horseman
Follow me on twitter: https://twitter.com/Comm_Invest
Follow me on CEO.ca: https://ceo.ca/@hhorseman