District Metals (DMX.V) is even cheaper than I thought…
Apparently I have missed the fact that they have yet another projects called the "Bakar Copper Property" in BC, Canada.
Today we got this NR: "District Provides Update on the Bakar Copper Property"
In short: District-Sherpna is earning into an 80% stake in the project and plan to drill up to 800m in two holes to test a geophysical anomaly.
Garrett Ainsworth, CEO of District, commented: "In the most recent phase of exploration at the Bakar Property we attempted to sterilize the project, which in turn resulted in the identification of the EC Target.  This part of Vancouver Island is prospective for porphyry copper and VMS style mineralized systems, and we are excited about the quality of the geophysical response paired with mineralization and mapped alteration that supports both target models.  The EC target is mostly covered by thin overburden and is characterized by multiple strong coincident anomalies that have the potential to be a very significant mineralized system. Given the magnitude at Elephant Crossing it was a straightforward decision to approve a drill program to test this target.  District Metals will remain as the operator of exploration activities at the Bakar Property. 

Lastly from a regional perspective, NorthIsle Copper and Gold's (TSX-V: NCX) North Island Project, which is adjacent to the northeast of the Bakar Property, continues to deliver strong results that showcases the outstanding metal endowment of the district.  Drilling a new road-accessible mineral occurrence discovery in this belt will provide upside exposure to shareholders at a low expenditure."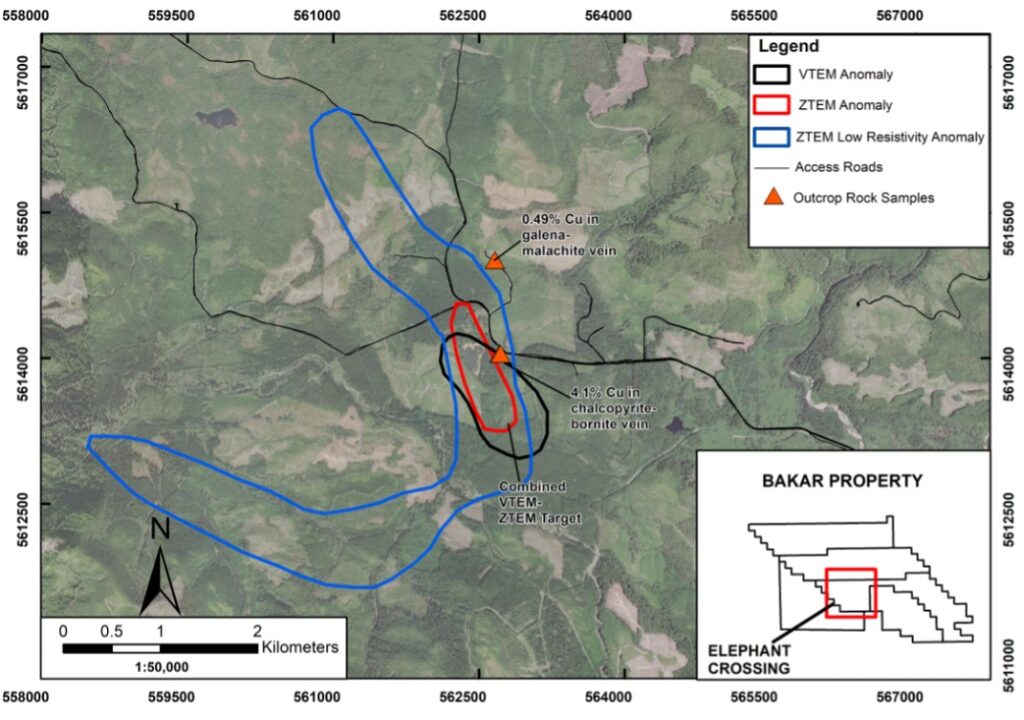 I wouldn't put much risk-adjusted value on this for the benefit of District Metals but since District is trading for C$17 M then even this JV has the potential to move the needle. I guess the main point is that District Metals is offensively cheap. Don't get me wrong, a large part of the entire junior sector is selling at fire sales prices, but District is not your average junior. This company has toper tier management, four high quality projects in the Bergslagen Belt of Sweden, and their flagship "Tomtebo" project is ripe for additional growth (and there is already a historic resource there).
In terms of mining economics there are few places on earth that are cheaper than Sweden. Thus, all else equal, a mine with a given grade will have above average margins and therefor above average value. These two mines in northern Sweden will give you an idea just how high efficient a mine can be in Sweden (albeit Northern Sweden):
The "Björkdal "(underground) Mine in northern Sweden:

P&P Reserves 11.5 mt @ __1.47 gpt__
All-in sustaining Costs ($USD/oz) 2021: $1,200-$1,350

The "Aitik" open pit mine in Sweden:

2020: Year-end ore processing achieves 41.6 Mt at a head grade of 0.13 g/t Au, 1.1 g/t Ag, and 0.24% Cu
Operating profit of 2,296 MSEK (C$311 M) m in 2020
… If you had to guess I doubt you would think a 1.47 gpt underground mine or a 0.13 gpt Au/1.1 gpt Ag/0.24% Cu Open pit mine could even make a profit.
Here is a presentation by Business Sweden from the recent AME Roundup conference discussing the merits of Sweden from a mining stand point:
Valuations like we see for District Metals will gravitate closer to fair value one of these days. If District Metal's valuation was "fair" and rational then nobody would be stupid enough to go out and look for metals. I doubt Garrett would even get out of bed in the morning if he thought the current valuation was a fair estimate of the intrinsic value across District's entire portfolio. Oh and said metals have climbed higher over the last several months on average to boot.
Do you know why I find the current Junior Sector boring? It's not because it's been getting cheaper for the last 18 months (well OK partly that). The main reason why I find it boring is that every other junior, especially high quality ones, have become so cheap that it's pretty much impossible to make a mistake as a buyer. And by mistake I mean PAYING more than what a company is WORTH. The exciting hunt for the "hidden gem" in terms of cheapness is nowhere to be found. There is no need to hunt. There is barely any need to do much due diligence. They are so cheap that one can spend 5 minutes reading the presentation, then look at price, and immediately conclude "wow, Mr Market is completely detached from the realities of mining". One day the mining sector will be hot again and District Metals could probably spin out any of the four projects in Sweden and have the spun out entity trade close to the current value of the entire company…
You sow during cheap times and harvest during expensive times. We are in deep cheapness territory right now. Just my 2 cents of course.
Timberline Resources (TBR.V)
From the January 27 NR:
"("Timberline" or the "Company") announced completion of its 2021-2022 drilling program at the Eureka Project. Drilling began in October 2021 after a 2-month hiatus as contractors became available again to resume the program initiated in June 2021. This phase of drilling included completion of 23 drill holes totaling 4,859 metres (15,942 feet) aimed primarily at the Water Well Zone (WWZ) and Oswego Targets. (Figure 1). The drill program included reverse circulation (RC), diamond core (core), and RC with core tails (Table 1).

The drilling in the WWZ followed previously reported higher-grade (>3 g/t Au) intercepts (see Company news releases dated February 14, 2015, January 7, 2021, and October 27, 2021). The WWZ is immediately adjacent to the Lookout Mountain Resource and has the potential to significantly expand the resource at higher gold grades. Fourteen new drill holes, including six core holes, in this program will add many more gold assays and much more geologic information to the WWZ target. Timberline also drilled a core hole to the east of the WWZ to provide the most thorough test yet of the significant IP anomaly in the Graben Zone. The Company also completed nine RC holes at the Oswego Target, approximately 1km east of the WWZ. These holes will test the downdip extension of the high-grade surface sampling reported in December (see Company news release dated December 6, 2021)."
Note:
If the believed core recovery problems are solved the the risks are to the upside in terms of grade
9 holes will come from the Oswego trend where the incredible channel samples came from
"Eureka" already has a >500 Koz Au resource and I-81 Gold just set up shop next to the project
Company has to additional projects
… A depressed Mr Market is currently offering the whole shebang for C$25 M
Goliath Resources (GOT.V):
Looks like there was perhaps a cross trade of some 500K shares that led to a discount of 12%, on no news, and when both gold & silver were up. Note that the company will need to raise money before one of the most high impact drill campaigns of any junior can start this coming field season…
Note: This is not investing advice. I own shares of all companies and they are banner sponsors. Therefore assume I am biased and make up your own mind. Juniors are risky and volatile.
Best regards,
The Hedgeless Horseman