Only a couple of weeks left until the "artificial" selling and artificial undervaluation subsides.
I find that some of the most undervalued juniors out there are the ones that IPO'd this year. I think that is explained by the typical IPO flippers and sentiment brining them down which then further opens up pressure via ye old tax loss selling. Therefore it is perhaps not a surprise that they are some of the many companies I have increased my stake in as well as for some family members. I am therefore of course biased and urge people to do their own due diligence in order to appreciate the potential Price to Value gaps that might be present.
Examples:
Mantaro Precious Metals (MNTR.V)
This is one I have mentioned a couple of times. Just mind numbingly cheap after having gone done over 70% in price on pretty much nothing. The company has however picked up a new flagship project which I think is worth more than the current Enterprise Value alone and Mantaro has 5 silver projects on top of that. It appears that the fire sale selling has stopped so the tax loss silly season might already be behind us here.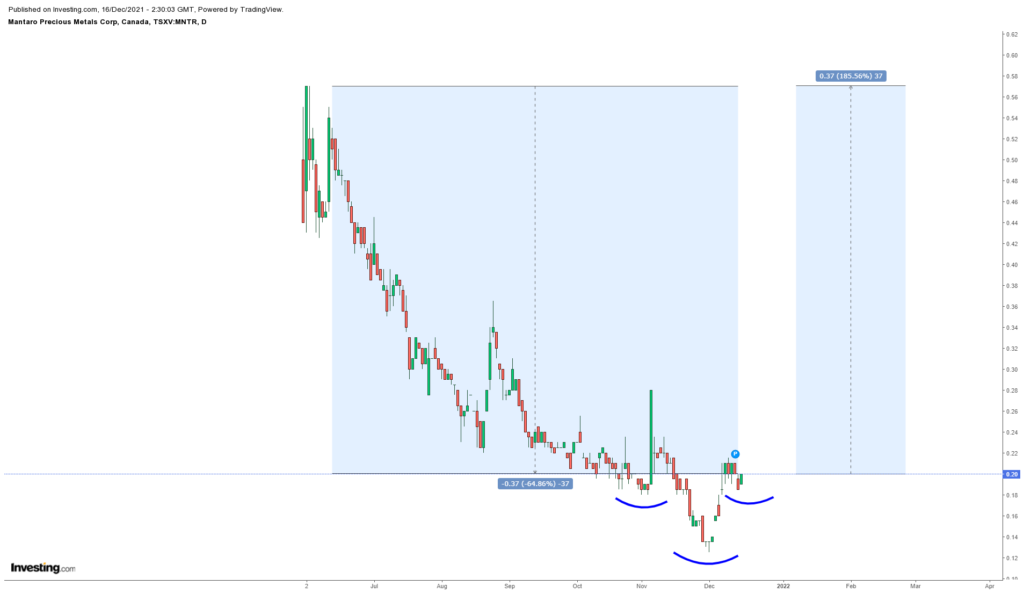 Galantas Gold (GAL.V)
Well this is technically not an IPO actually. The company was completely revamped however with new management and started off with a big placement. High grade gold exploration in Ireland around a permitted mine and a 500,000 oz resource. Recent drilling highlights of 10.1 gpt and 93.5 gpt silver over 6.5 m. Market Cap is down to C$30 M. What can I say other than silly season:
Mayfair Gold (MFG.v)
50,000 m drill program via four or five drill rigs ongoing and my guess is they have around 3-4 Moz in Timmins, Ontario. Recent drill intercepts include 1.22 gpt gold over 65.9 m. Market Cap is down to C$60.4 M and the company is very cashed up:
As with Mantaro I reckon the silly season selling is mostly behind us.
Goldshore Resources (GSHR.V):
Very new kid on the block. Starting with 4 Moz and doing a big drill campaign with multiple rigs currently. Project is in Ontario and the company is backed by Wesdome. In other words one gets big beta given the large resource as well as alpha given the aggressive drill program. Probably one of the least risky HODL's with growth potential in the space. I currently only have a very small position but that's mostly because everything in the sector is so cheap that I am throwing money at like 30 stories already.
Closing Thoughts:
The whole junior sector is a joke. If you ever wanted to know what cheap looks like. This is it.
Note: This is not investing advice. I own shares of all companies mentioned and all except Goldshore are sponsors. Therefore consider me biased and make up your own mind.
Best regards,
The Hedgeless Horseman