Prosper Gold (PGX.V) is acting as expected since the 10,000 m maiden drill campaign started a few days ago at Golden Corridor: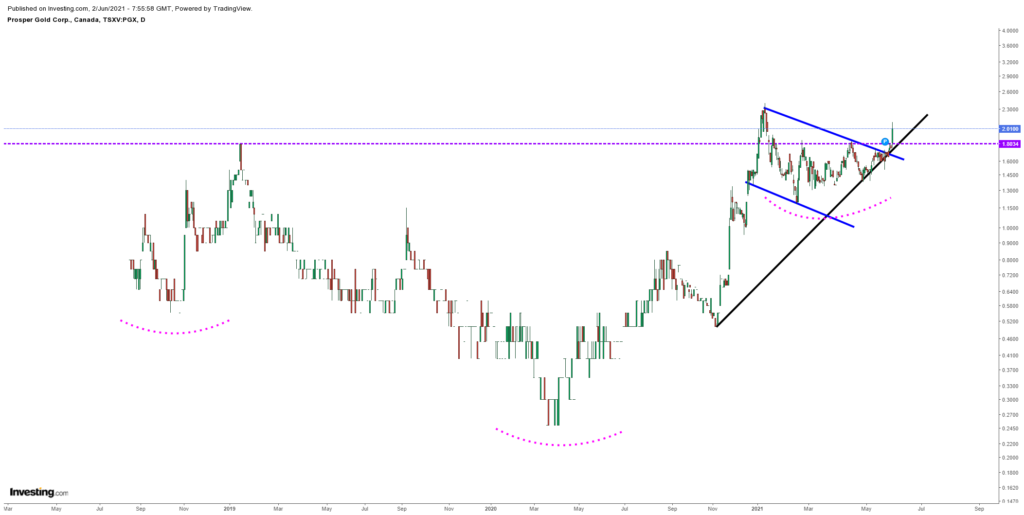 MayFair Gold (MFG.V) hit 38m at 1.94 g/t Gold at Newly Identified Fenn-Gib Footwall Zone.
"Mayfair Gold President and CEO Patrick Evans commented: "Confirmation of the high-grade footwall zone outside and immediately to the north of the Fenn-Gib deposit is a significant development. The recently completed high-resolution heli-borne MAG survey is now aiding in our understanding of the footwall zone as we plan further exploration drilling to determine the orientation, extent and tonnage potential of this new mineralized zone.""
Goliath Resources (GOT.V) sounds better and better to me after listening to this convo between Jay Taylor and Quinton Hennigh.
Lion One Metals (LIO.V) has restarted development and drilling with six drill rigs.
Defiance Silver (DEF.V) chart make it looks like the stock is consolidating for another move higher (with good reason in my opinion):
Novo Resources (NVO.) recently announced proposed changes to the board. The board is getting more well rounded and the gentleman from Sumitomo along with Akiko Levinson will not stand for re-election. With Egina having been slow, or even perhaps at standstill right now, it perhaps does not come as a total surprise. The more important question is if this says anything about the prize at Egina(?). Personally I think Egina is as good as ever and that these delays due to COVID, red tape and aboriginal agreements are unfortunate. However, with Novo's stake in New Found Gold being close to C$185 M, Novo is becoming incredibly cheap. Beaton's Creek just needs to not totally suck and this might be the cheapest stock in the space. Given the amount of bashers in the forums there are clearly some shorts who are desperate to see the price go down. If this latest announcement was their "trump card" then the shorts might be in big trouble. Again, as long as Beaton's Creek for whatever reason isn't a total failure (and I have no reason to believe it to be so), then the shorts risk getting a religious experience in the coming weeks/months…
And it rhymes with the fact that Novo looks to be at the final stages of some serious consolidation action. If there are any upside surprises this stock could get really wild to the upside in the coming weeks/months I think:
District Metals (DMX.V) is still being underestimated in my opinion. On that note CEO Garrett Ainsworth recently talked to Cory Fleck of Kereport on the back of the first 3 out of 20 holes from the maiden drill campaign.
Eloro Resources (ELO.V) is still one of my biggest tactical bets at the moment and the QH's recent interview with Jay Taylor led me to buy even more: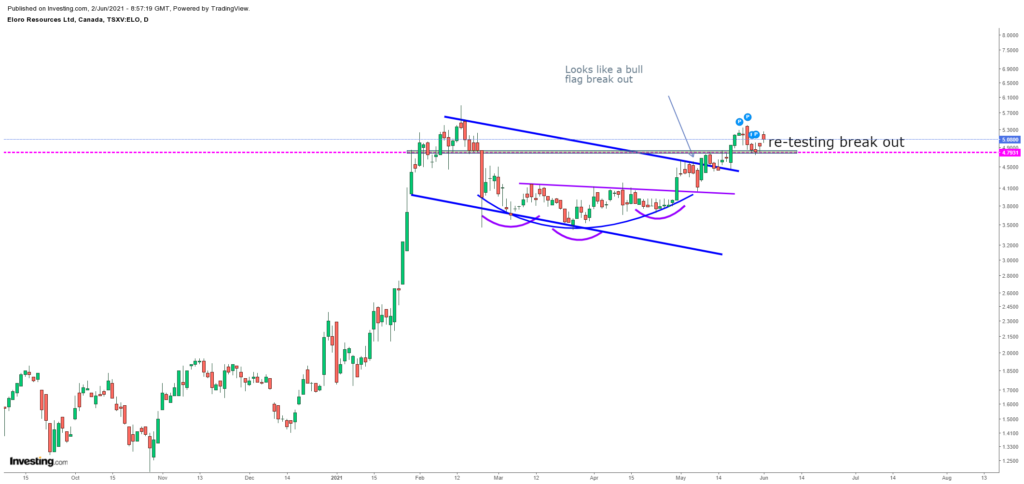 Note: This is not investment or trading advice. I own shares of all companies mentioned and they are banner sponsors. Therefore consider me biased and do your own due diligence.