Gold Line Resources is a company that appears to be going through metamorphism into a serious explorer in both Sweden and Finland. In this article I will explain the case as I see it and why I was happy to have the company come on as a passive banner sponsor to help get their story out there.
Name: Gold Line Resources
Ticker: GLDL.V
Company website: LINK
The most recent headlines from the company:
Jan 25: GOLD LINE RESOURCES CLOSES ACQUISITION OF OIJÄRVI EXPLORATION LICENCE
Jan 10: GOLD LINE ANNOUNCES INCREASED FINANCING OF $4 MILLION AND INCLUSION OF A SPROTT STRATEGIC INVESTOR
De 31: GOLD LINE ANNOUNCES $3M NON-BROKERED PRIVATE PLACEMENT AND APPOINTMENT OF STRATEGIC PERSONNEL TO ADVISORY BOARD
Dec 23: GOLD LINE APPOINTS TOBY PIERCE, BENCHMARK METALS CO-FOUNDER, AS CHAIRMAN OF THE BOARD
Dec 16: GOLD LINE APPOINTS GORDON KEEP TO ITS ADVISORY BOARD
Dec 15: GOLD LINE APPOINTS FORMER KIRKLAND LAKE GOLD VICE PRESIDENT OF EXPLORATION, DOUGLAS CATER, AS TECHNICAL ADVISOR
… To me this looks like a mustering of forces and a raise to be aggressive. Competent people and ambitions is always something I want to see as a growth focused resource investor.
Expected Valuation Post Raise:
Shares outstanding (Basic): 136 M
Cash (post financing): ~C$4.7 M
Market Cap (Basic @0.14/share): C$19 M
Enterprise Value (Basic post financing): ~C$14.3 M (US$11.0 M)
My Case For Gold Line Resources
First of all I like growth. Second of all I prefer to see it in tier #1 jurisdictions. Gold Line is a ~C$20 M junior explorer with multiple projects in Sweden and one de-risked project in Finland which the company acquired from Agnico Eagle. In total the company controls 6 properties and the one in Finland has a small resource on it which should provide some margin of safety. As the recent financing closes the company will have approximately C$4.7 M to create further value with.
Highlighted drill intercepts from the "Kylmäkangas" deposit in Finland:
11 m at 22.7 gpt Au
9.3 m at 5.01 gpt Au
15 m at 9.2 gpt Au
The company recently announced that it hit 22.5 m at 2.4 gpt Au (54 gram-meters) Au at "Paubäcken" in Sweden which I consider to be a very promising result given the early stage of the project and the limited drilling done so far.
I see Gold Line as a cheap case based on the sum of its parts. With 6 properties to explore which includes a historic resource in Finland, a potential emerging discovery in Sweden, I think shareholders get a lot of kicks at the can  with a low price tag. There are certainly never any guarantees of a significant, economic deposit being found but given the early stage success coupled with number and scale of projects, I think Gold Line should have a better shot than most juniors. Add the fact that its taking place in Sweden and Finland is a big bonus since success here ought to have above average value. I have spoken with management who believe there is a relatively good shot of proving up at least 1 million ounces in Finland for starters and from what I know of the project it looks feasible to me. Therefore I see it as Gold Line having at least 1 Moz of high-grade gold in a tier #1 jurisdiction sometime in the future as likely, coupled with more upside at said project, as well as the potential on the other five projects in Sweden.  The company also recently announced that is acquired the "Oijärvi Exploration Licence" from EMX Royalty Corp which hikes the exploration potential in the immediate area surrounding the deposit bought from Agnico Eagle. Gold Line now controls the entire Greenstone Belt in that area.
Very large land positions in Sweden & Finland with a lot of exploration potential, 250 Koz historic resource, competent people and C$4.6 M in cash for C$19.7 M. To me this looks like good Risk/Reward.
To Summarize
#6 projects in Sweden and Finland

Great first world jurisdictions
Considerable exploration potential with a large pipeline of projects
The project in Finland was purchased from none other than Agnico Eagle and already has a hhigh-grade, historic, inferred resource

Team is getting packed by some heavy hitters

It's the value creation skills of the people involved one is buying as a shareholder on top of what is already known/confirmed

Margin of Safety

"Kylmäkangas" deposit  (Bought from Agnico Eagle)
Historic resource of 250,000 ounces of gold at 4.11 gpt Au and 2 Moz silver at 31.1 gpt Ag
Includes some impressive high-grade results such as 11 m at 22.7 gpt Au

Competitive advantages

Northern Sweden has very cheap power and both low grade open pit and underground deposits work here that might not work in many other places
Relationship with and backed by Agnico Eagle
Relationship with and backed by EMX Royalty Corp

Cashed up: C$4.7 M 
… All the above can currently be purchased for

C$19.7 M
Some additional success at any project going into the next sentiment high in miners could easily see Gold Line produce a multi bagger from these levels I think. What the longer term picture will be beyond that is something one will have to wait and see. A meaningful deposit in either jurisdiction could very well be worth a few hundred million dollars in a better sentiment environment I think. Like many exploration companies the risks are high and one gets compensated for this by the potential for a big return in case things work out well. Therefor I believe in diversification across good risk/reward stories like this where a few big "winners" can offset a lot of "losers". What I especially like about buying cheap is that so little success is priced in. I mean just the projects amassed up until now could probably sell for more than the EV of C$15 M in a better sentiment environment. So from a valuation stand point I have a hard time seeing Gold Line getting much cheaper and especially staying much cheaper than this.
Lets go through some slides from the most recent presentation…
Investment case in the words of the company:
The jurisdictions and substantial land position in said jurisdictions is obviously a major value point. I would also note that I think the partnership with EMX Royalty Corp is a big plus given that those guys are among the sharpest in the industry. If EMX likes a land position I got to believe there is a good reason for it. In other words Gold Line does not have large swathes of "moose pasture" for promotional reasons. Getting a project from Agnico Eagle is a big tell that the large project in Finland is for real. That EMX will get a royalty and Agnico Eagle are paid in cash AND shares is a sign of confidence to boot:
"Gold Line Resources Ltd. (TSX-V: GLDL) ("Gold Line" or the "Company") and EMX Royalty Corp. (NYSE American and TSX-V: EMX) ("EMX") are pleased to announce that they have entered into a definitive agreement (the "Agreement") with Agnico Eagle Mines Limited (NYSE and TSX: AEM; "Agnico") pursuant to which Gold Line will acquire a 100% interest in Agnico's Oijärvi Gold Project located in central Finland and the Solvik Gold Project located in southern Sweden (collectively, the "Projects") for an aggregate purchase price of US$10 million comprised of cash and shares of each of Gold Line and EMX (the "Transaction"). Agnico will retain a 2% net smelter return ("NSR") royalty on the Projects, 1% of which may be purchased at any time by EMX for US$1 million." – LINK
Gold Line's Total Portfolio: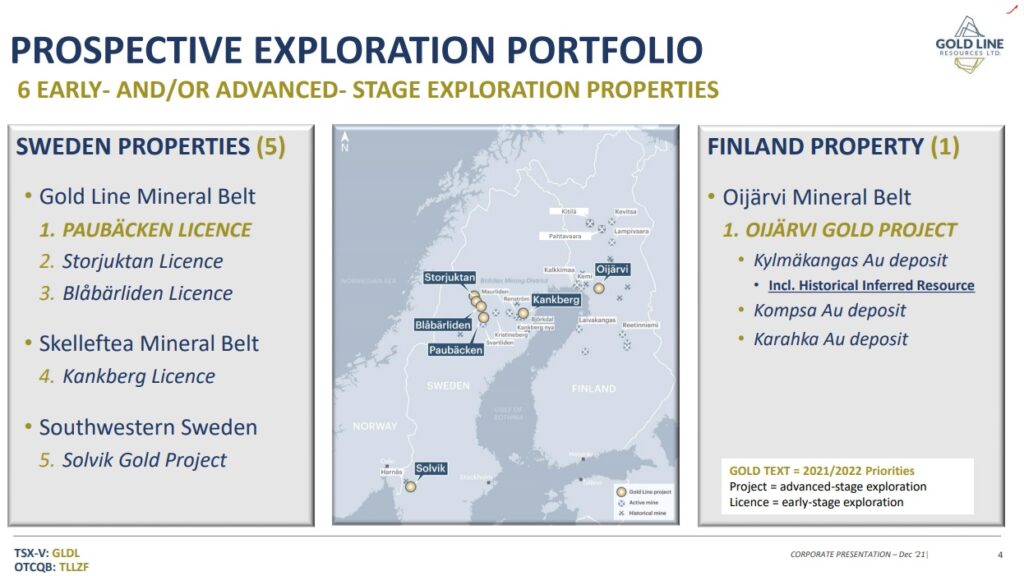 I think Gold Line have enough projects and land for three or more junior explorers to share. A lot of exploration potential for one junior in other words. Especially with a single one with an Enterprise Value of C$15 M.
People:
(Note that this list is not complete since Douglas Cater (Ex Kirkland Lake VP) and Gordon Keep have recently been added to the Advisory Board.)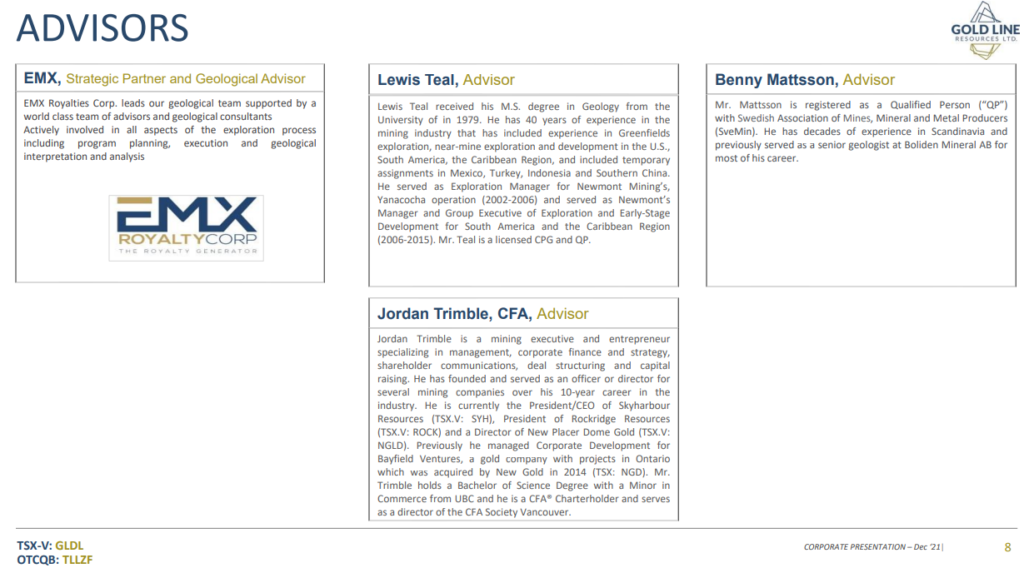 The CEO, Adam Cegielski, was the founding director of Cayden Resources which was sold to Agnico Eagle for $205 M.  He was also involved with a project in Uganda that was sold to Rio Tinto which I take as a sign of a person who understand the economic business (actual value) side of things. Toby Pierce, who recently came on board as Chairman of the Board, is a co-founder of Benchmark Metals which is a junior that has been doing very well lately. The company also has a Swede on board in the form of Benny Mattsson who spent most of his career with the major mining company Boliden which is a big plus given that many projects are indeed in Sweden. Furthermore I like the fact that Dr. Eric Jensen is on board. I met Eric during a site visit to District Metals and Norden crown (EMX is involved with both) and I was very impressed by him. He is an incredibly sharp guy who thinks outside the box and pretty much seems to be aware of everything that happens in the mining business.
#1 Gold Line in Sweden
As you can see the company has three major projects within the "Gold Line Belt" and one within the Skellefteå Belt in northern Sweden. Within this belt you find gold deposits such as Barsele, Fäboliden and Svartliden. Obviously this is a gold rich belt and there should be more gold hidden there. On that note, limited exploration at both the "Blåbärliden" and "Paubäcken" has confirmed the presence of high-grade gold. Gold Line is obviously betting that these hits were just the tip of the proverbial iceberg. Obviously the recent results from just three out of a total of five drill holes suggests this given that one hole hit 2.40 gpt Au over 22.5 m (core length) and had a higher grade interval running 4.6 m over 9.5 m.
One thing I would like to point out is that electricity in northern Sweden is very cheap thanks to all the hydroelectric plants.  The Björkdal mine for example is an underground mine with a reserve grade of only 1.47 gpt Au(!) and the expected AISC for 2021 is (was) $1,200-$1,350/oz. With cost inflation this is expected to climb for this year as for a lot of miners worldwide. Anyway, the point is that in terms of economic potential for a mine, northern Sweden is probably one of the best areas in the world to find a deposit. I would also point out that even in Central Sweden you have giant underground mines with decent grades like Boliden's Garpenberg, mine which can profitably produce metals, at very low cut-off grades. Lastly, since economics are very important for a royalty company it makes sense why EMX Royalty picked up a lot of ground in Sweden. Remember, a royalty is worthless if there is no mine and to start a mine the economics for a deposit have to make sense. Cheap electricity is obviously a big factor for an endeavor like mining…
"Electricity map" of Sweden: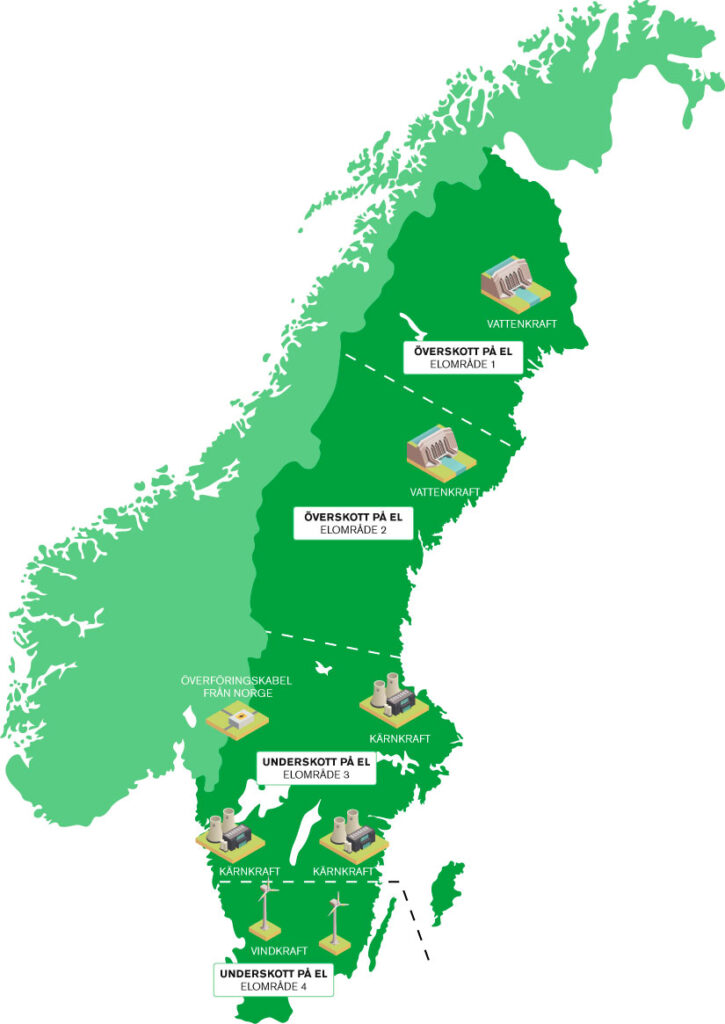 … Area 1 and 2 are characterized by "Överskott på el" which means "Surplus of electricity".
"Paubäcken" Project, Sweden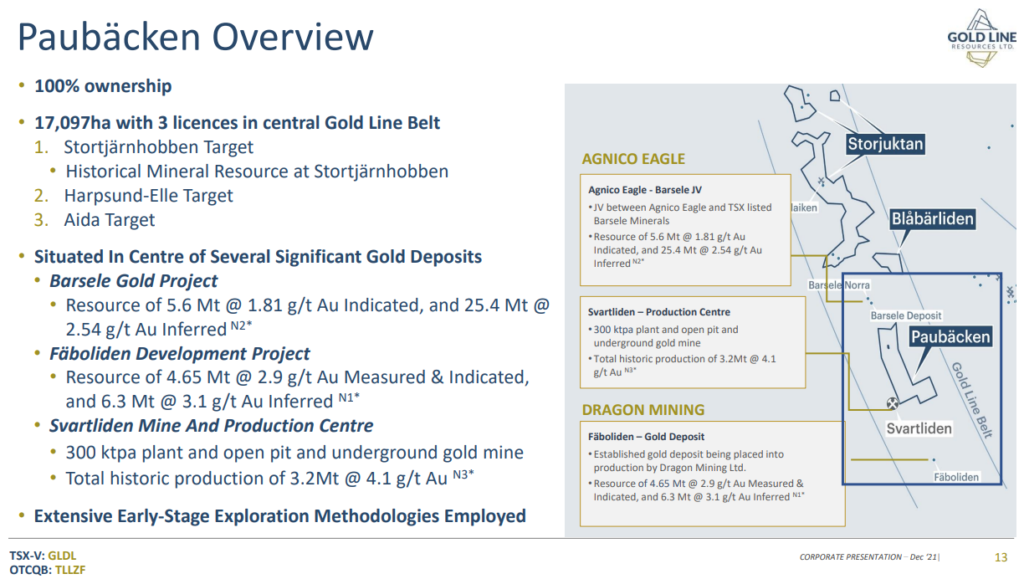 Paubäcken is Gold Line's southernmost project within Sweden's Gold Line Belt. To the south-east you have the Svartliden Mine and Production Center and to the north you have the Barsele deposit which is a JV between Agnico Eagle and Barsele Minerals. The presence of a Major gold miners is obviously very nice to see and hmmm… Can you see some say consolidation potential and synergies in the picture above…? I can.
Paubäcken is an early stage exploration project which has seen very limited historic exploration. Gold Line has hit the ground running though:
As mentioned earlier the company also started off with a very small scale, drill campaign to the tune of 1,500 in five holes. Interestingly the company was able to hit an intercept of 2.40 gpt Au over 22.5 m (core length) in hole PAU 21003 which translates to a respectable 54 gram*meters. There are still two holes out of five holes yet to be reported:
Hole PAU21003:
(Note that the vertical BOT-drilling predicted there was indeed something below with a hit of 1.43 gpt Au directly above)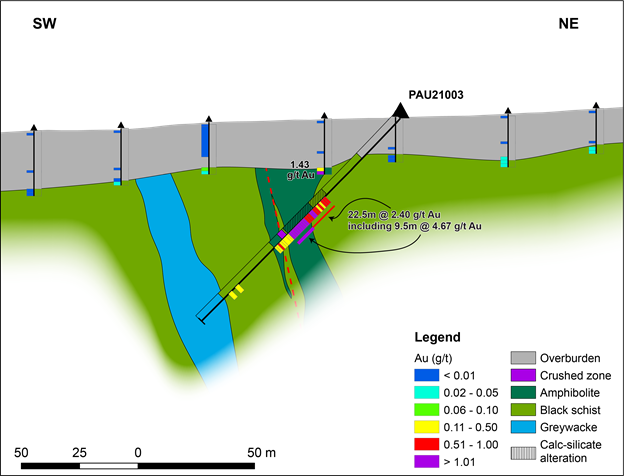 Drill map: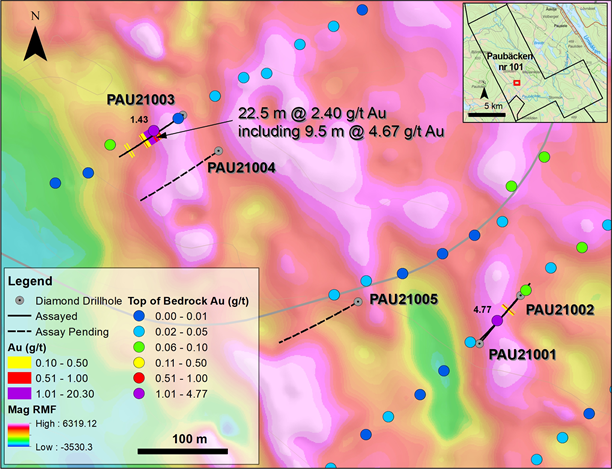 Firstly this hit just re-enforces my love for BOT-drilling. Sweden and Finland both have a lot of cover rock and BOT-drilling was used in Finland by Rupert with great success given that it led to the massive Ikkari discovery. FireFox Gold is is doing the same in order to cover a lot of covered ground in an efficient way over in the same area of Finland. I think investors typically pay little attention to BOT-drilling results but I have become a big believer. In fact, the Ikkari deposit was highlighted by a single BOT-drilling hit and that single hit marked the spot of what is now a >4 Moz deposit.
Also note that like I said earlier underground mines in Sweden are known for being highly cost efficient as highlighted by The Björkdal Mine's low grade so 2.40 gpt Au as seen in the Gold Line drill hole could be highly economic even underground. On that note, the Barsele deposit (JV with Agnico Eagle) has an underground cut off grade of just 1.5-1.8 gpt Au:
The economic potential is something I think a lot of investors pay too little attention to. I certainly used to. The fact is that an ounce in the ground is only as valuable as the profit margin at can be recovered at. Mining 4 gpt Au underground in many places of the world might be slightly economic, or even a break even proposition, while such a deposit could be very valuable in northern Sweden for example. Just to hammer home this point just look at Boliden's Aitik mine which is the largest open pit mine which is located in Northern Sweden and is the largest open pit mine in the country:
2020: Year-end ore processing achieves 41.6 Mt at a head grade of 0.13 g/t Au, 1.1 g/t Ag, and 0.24% Cu
2021 Guidance: Cu 0.21 %, Au 0.11 g/tonne
2022: Guidance: Cu 0.20 %, Au 0.10 g/tonne
Those are grades no retail investor would even be close to be excited about, and yet…
Aitik actually produced an Operating profit of 2,296 MSEK (C$311 M) m in 2020.  Retail investors might not care about economics as much as they probably should but actual mining companies sure do. Anyway lets move on…
In addition "Paubäcken" Gold Line has four other projects in Sweden to explore:
"Storjuktan"
"Blåbärliden"
"Kankberg"
"Solvik"
So four projects in total just in Sweden alone. Lets move over to Finland…
#2 Gold Line in Finland – "Oijärvi Gold Project"
The Oijärvi Gold Project, which was purchased from Agnico Eagle, consists of a very large land package which covers the entire "Oijärvi Greenstone Belt":
The project has seen 51,854 m of diamond drilling which I would argue is a drop in the bucket given the size of the project. Still 3 known gold occurrences have been confirmed already and the the project comes with a high-grade, historic resource:
The "Kylmäkangas" Deposit
The historic deposit is pretty centrally located with obviously a lot of exploration potential for additional ounces whether it be extending Kylmäkangas or satellite deposits that could feed a central mill for example:
The resource itself is made up of 1.89 Mt @ 4.11 gpt Au and 31.11 gpt Ag and contains:
250,000 Oz Au
1,896,000 Oz Ag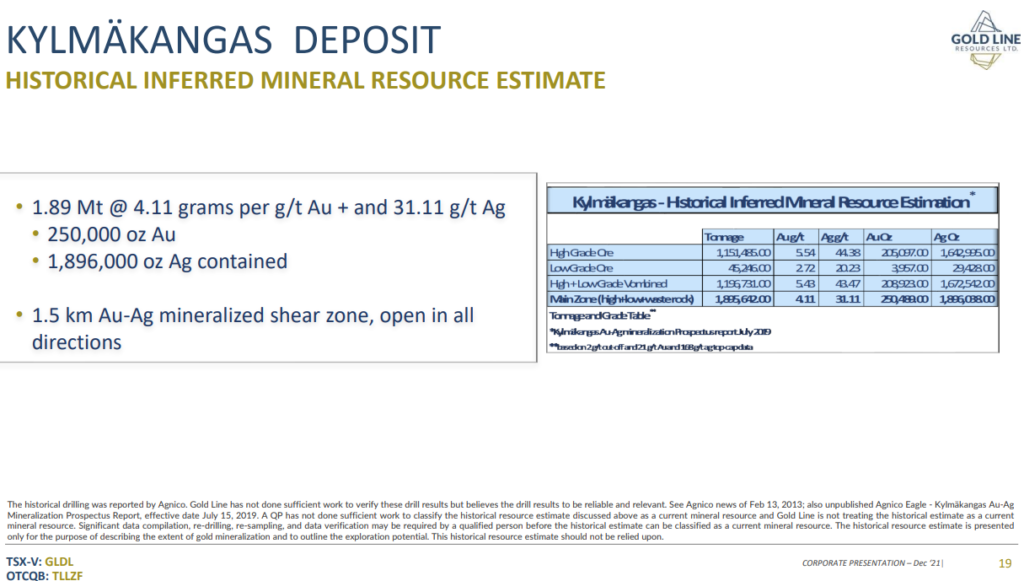 Also note that the mineralized shear zone at Kylmäkangas is open in all directions: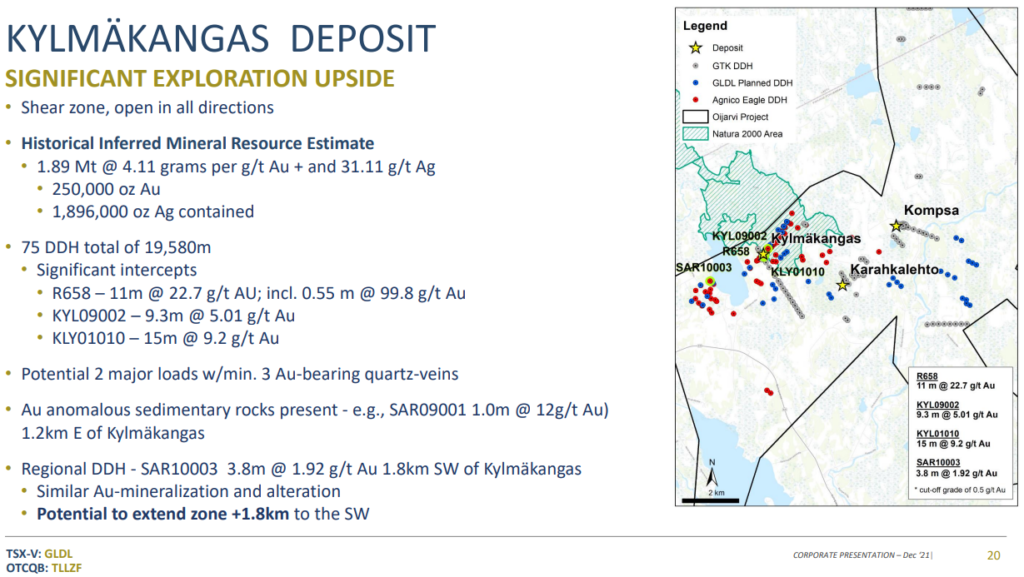 Notable historic intercepts include:
11m @ 22.7 gpt Au
9.3m @ 5.01 gpt Au
15m @ 9.2 gpt Au
This is what the management team intend to do in the short term and what their expectations are: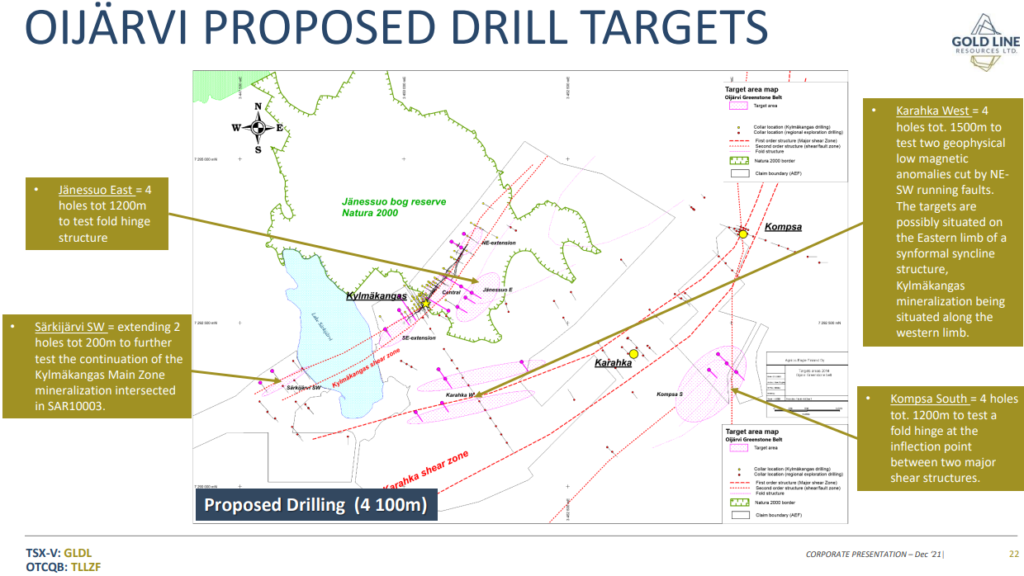 I don't think it is a stretch to say that the Risk/Reward for Gold Line at these prices is good in light of the Oijärvi Gold Project alone. Proving up 1 Moz around Kylmäkangas certainly sounds feasible and who knows how much more the company could find with time. I can see Agnico Eagle's reasoning to vendor it to Gold Line being that it is not a main focus currently and that they might come back at later stage if Gold Line proves up something of significance. I mean Finland is heating up overall and there are quite a few Majors and Mid tiers active in the country nowadays. This of course includes Agnico Eagle and their very large Kittilä gold mine.
Future Catalysts:
To Summarize:
Competent people involved who have created value in juniors before
Massive portfolio in two great jurisdictions
Backed by EMX and Agnico Eagle
Margin of safety via historic, high-grade resource
Loads of exploration potential
Loads of catalysts expected in 2022
With an Enterprise Value of US$ 11M it is extremely hard to not see Gold Line as a cheap play with great Risk/Reward even though it is of course high risk/high reward like any other growth focused junior. But then again what potential is priced in at these levels? Anyway I think Gold Line has multi-bagger potential via a swing in sentiment alone and if it coincides with some drilling success then I would not be surprised to see some robust returns in the medium term. The only thing I as an investor can control is what I am paying for a company and its assets + people. I really can't see how I am overpaying at these levels and I can't really see many catalysts that could decrease the risk adjusted value of the company enough for THESE levels not to be cheap. With that said the junior sector is perhaps the least efficient and most sentiment driven sector around so anything can happen with Price in the short term (That includes way undercutting the value of a company for an extended period of time). If the gold and mining bull gets going for real and Gold Line makes a new discover and/or grows Kylmäkangas substantially I think there is a shot for a ten-bagger in a couple of years. Obviously no guarantees.
Lastly I would just point out that I am not betting the farm on any single junior regardless of how great the Risk/Reward looks. If a story like Gold Line does well one does not need to bet the farm in order to have it materially impact ones portfolio in a good way. On the flip side of the coin I don't want to have a position so large that any one stock could "kill" me. Anyway, I am happy to include this case in my well diversified, growth focused portfolio and have the company on as a banner sponsor.
Some Amateur TA
Well if I had to guess I think we have seen the lows at least with the break out of the channel. I don't see a reason for Gold Line to get cheaper but you know how the markets are. Anything can happen in the short term…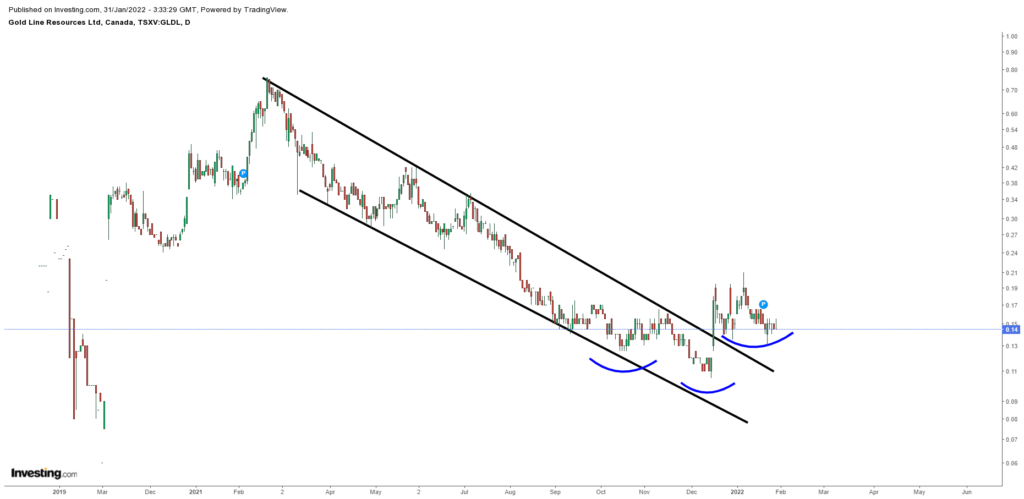 Note: This is not trading or investing advice. Always do your own due diligence. I own shares of Gold Line and the company is a banner sponsor. Therefore consider me biased. Junior miners are volatile and risky. Never invest money you need and cannot afford to lose. You are responsible for your own decisions and I share neither your profits or losses.
Best regards,
The Hedgeless Horseman