This article will cover my current thoughts on Eskay Mining (ESK.V). Eskay Mining has become my largest position, I bought more shares today and the company is a banner sponsor. Therefore consider me super biased and do your own due diligence. This is not investing advice and I cannot guarantee the accuracy of the information in this article etc.
Previous articles on Eskay Mining:
TL;DR: "How Should I Put This?"
Eskay Mining is turning into one of the most remarkable stories in terms of sheer Blue Sky Potential I have ever seen and it just happens to be in a jurisdiction where Newcrest Mining just announced it wants to sink C$3.5 B into when the company releveled its plan to acquire one of Eskay's neighbours (Pretium Resources, which is also located in the Golden Triangle of BC, Canada). I hereby designate Eskay to Behemoth class. I personally don't think we have seen anything yet and I think almost no one has an idea of just how big this COULD get. Note that if I felt I would be paying for said blue sky potential I would not be this bullish. If we capture even 10% of the total blue sky scenario I would be more than happy..
Major Catalysts in The Coming Weeks/Months
Assays from 93 holes…
First ever assays from the UPPER VMS mound at

TV

First ever assays from the LOWER VMS mount at

TV

More assays from the FEEDER ZONES at both

TV

and

Jeff

More assays overall from

Jeff

Assay from the 300 m step out between TV and Jeff that hit a 86 meter interval of replacement style sulfide mineralization
First ever assays from the

Vermillion VMS target

that hit tens of meters of sulfides in multiple holes
More data from the

Scarlet Ridge VMS target

(Traced for 1.5 km at surface and open)
… Each one could have material impact on Eskay's implied value.
Setting The Scene
Idealized picture of a live VMS system: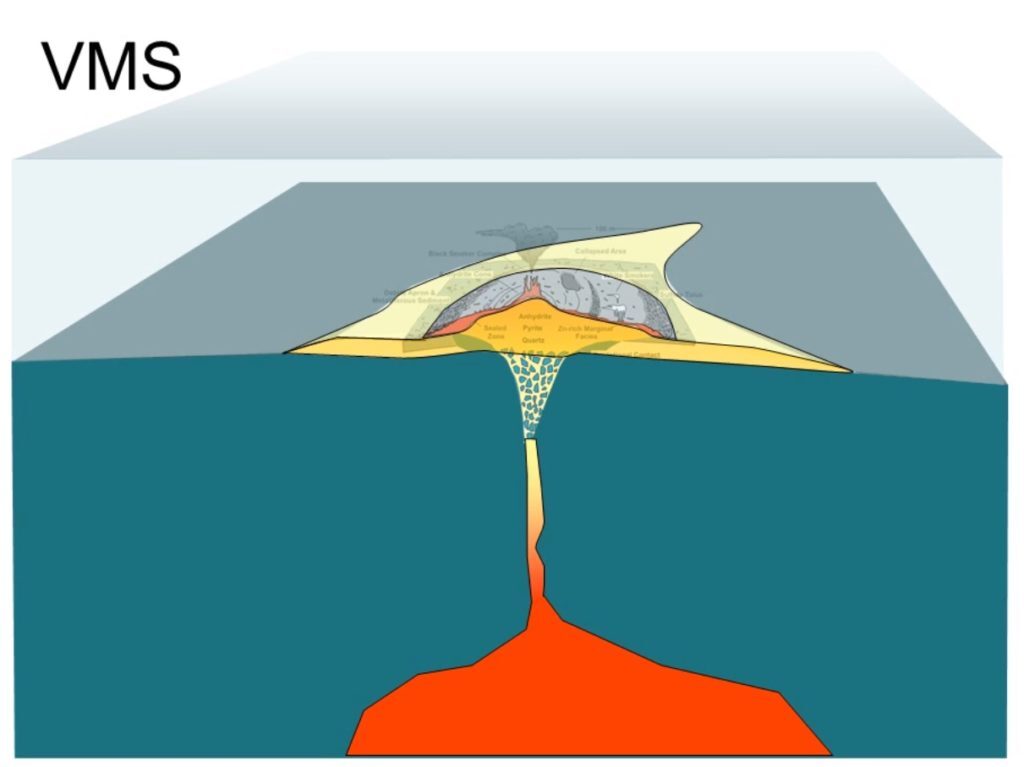 A more detailed picture:
In short:
You have a "feeder/stockwork Zone" where the fluids came up from deep in the earth and then erupted on the sea floor with metal bearing content. These fluids then cooled off as it got mixed with the much cooler water in the sea and the metals "shed" out of the solution and bedded the sea floor (like when you over saturate a glass of water with salt and the salt just drops to the bottom of the glass).
A view of the original Eskay Creek deposit…
From Above:
(mineralization is in pink)
Cross section:
(Mineralization is the pink unit in/between the light brown and salmon colored units)
As you can see the original Eskay Creek bonanza-grade deposit quite small and still it would probably be worth around C$3-4 B today  if I had to guess. This is not the whole story however since Skeena Resources picked up Eskay Creek and has drilled out a resource of around 5 Moz AuEQ which was (obviously) never mined. This "Eskay Remnant" deposit is worth C$1.6 B at US$1,700/oz gold and Us$24/oz silver…
A view of the current footprint for the original Eskay Creek as well as Skeea Resource's "Eskay Creek remnant deposit" which has a total resource of circa 5 Moz AuEQ:
(Total endowment ~10 Moz AuEQ)
(Guesstimated value today >C$4-5 B)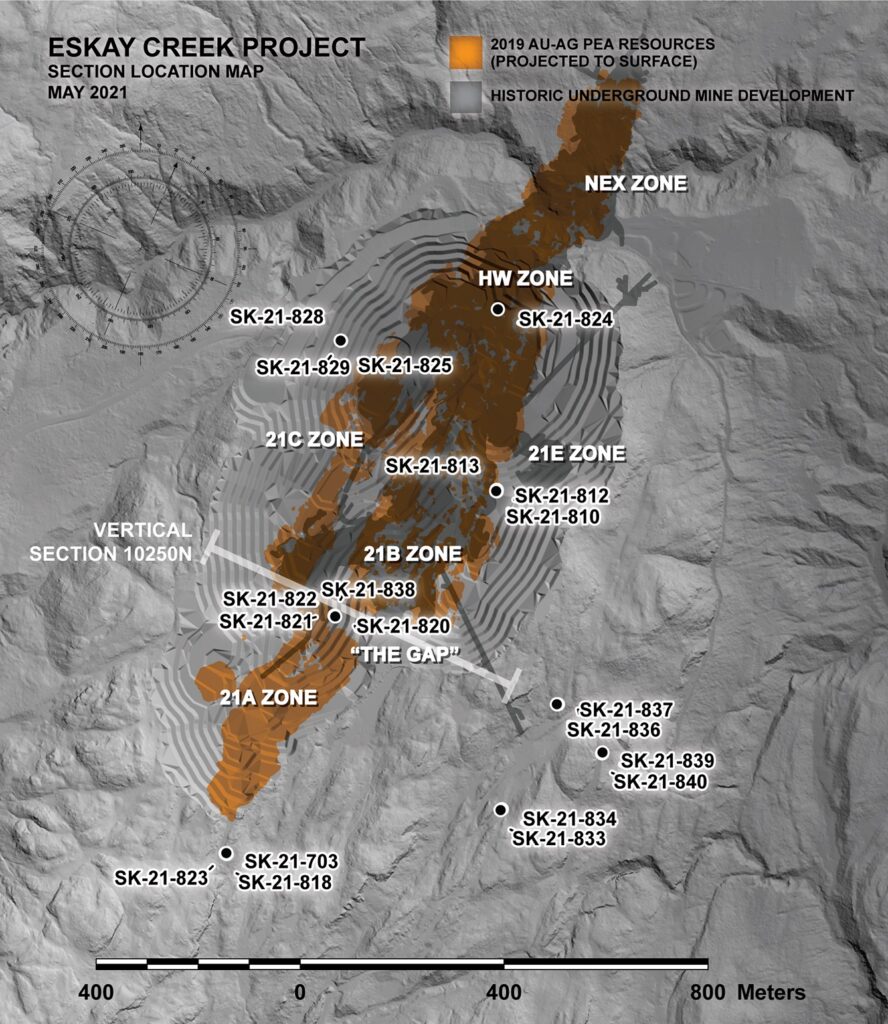 … Keep this scale in mind and remember that this VMS system that was "only" a bit over 1 km long would possibly be worth some C$4-$5 B today. Also note that the ~10 Moz Au is found in/near primarily one single horizon called "The Contact Mudstone":
Up until the last few years it was believed that this Contact Mudstone was the only place one would possibly be able to find more Eskay Creek type VMs systems. Today Skeena and Eskay Mining has shown this to be false…
Enter Eskay Mining Today
In a previous article I discussed the fact that Eskay Mining's team had confirmed there to not be one… But rather six different VMS hosting horizons:
"On Eskay Mining's land tenure, six mineralized horizons have now been confirmed within the entirety of the Hazelton Group stratigraphy" – link
What we have learned in the latest news releases is that Eskay Mining has found TWO VMS horizons and therefore there should be two feeders (one has at least been found already):
So to recap:
The original Eskay Creek deposit was located in/near the "Contact mudstone"
Mineralization in this "Contact Mudstone" has yet to be drilled by Eskay Mining
Eskay Mining has hit TWO other VMS horizons that are located down section from the "Contact Mudstone" (older VMS systems than the original Eskay Creek)
Eskay Mining has hit at least one feeder zone at both TV and Jeff
… Number of stratigraphic targets are therefore at least #4 for Eskay Mining and that is without the single target that made up the Eskay Creek deposit
Both the TV and Jeff deposits are wide open along strike, down dip and up section. Key prospective stratigraphy including the mudstone that is host to high grade mineralization at Eskay Creek that is sandwiched between a footwall rhyolite and hanging wall basalt has yet to be drilled at TV and Jeff. This unit is hypothesized to be a short distance up section from the current drill holes making for a very intriguing untested target. – link
So the question is, will we also find even more targets like the even younger (up section) horizon that hosted the original Eskay Creek deposit?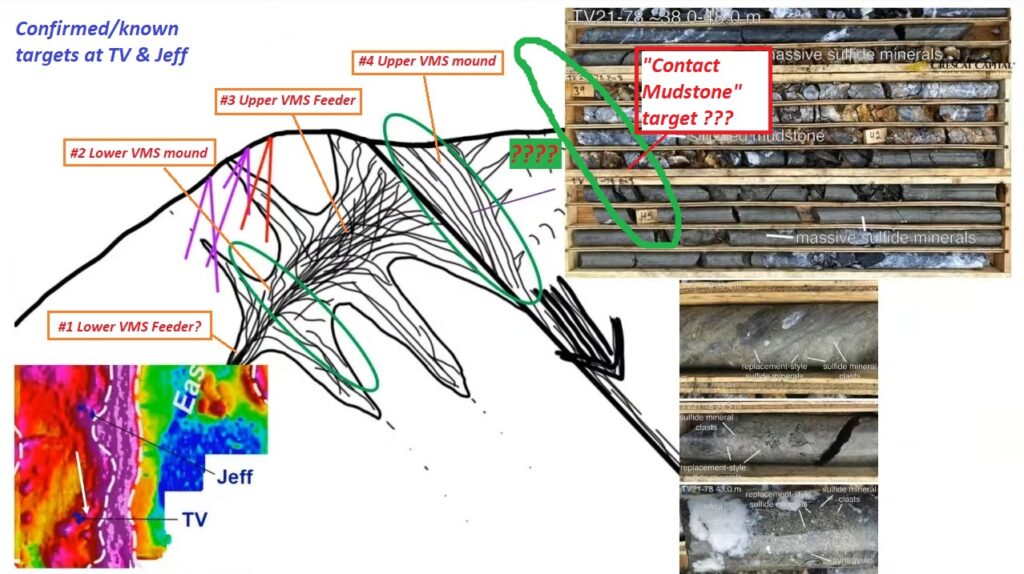 Well, the Eskay Creek ore hosting horizon has now been confirmed to be present around the C10 target which is over 20 km south of the Eskay Creek deposit and TV/Jeff lies in between. Thus I consider the probability for additional discoveries in the Contact Mudstone horizon (or other units up section. More on this later.).
On that note Eskay Mining announced that one of the last holes for the season was drilled 300 m north of TV and 1.7 km south of Jeff…
(bold added by me)
"Although the planned drill program designed to bridge the TV and Jeff deposits was cut short due to snow, one of the last drill holes completed this season, TV21-81, collared approximately 300 m north of TV and 1,700 m south of Jeff, encountered an impressive 86 m (beginning at a down hole depth of 242 m) of replacement-style sulfide mineralization hosted by dacite breccia, similar to that observed at both TV to the south and Jeff to the north"
… This hole was not only a 300 m step out hole from TV but the mineralization hit is UP SECTION from the mineralization at TV(!). In other words they hit even ANOTHER target horizon which brings the known targets up to FIVE at TV/Jeff. And they have STILL YET to find possible Contact Mudstone hosted mineralization like Eskay Creek. This means that the potential did not just increase laterally but "vertically" as well so it's like a multiplier success(!).
Here is John talking about the hole:
A crude drawing by me trying to show the comparison and differences between TV and Eskay Creek with Eskay's 5 known targets pictured: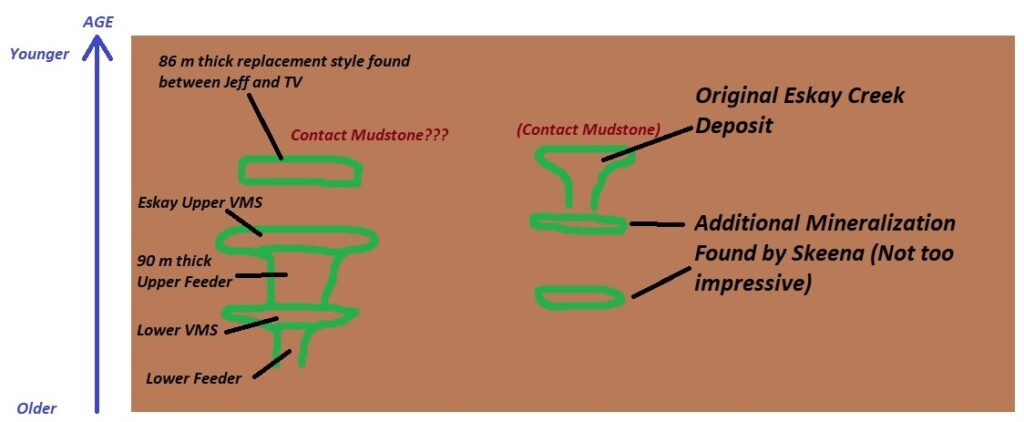 The Feeder Zones Quality
"Jeff" (Feeder) Highlights:
High-grade Au-Ag mineralization encountered in holes J20-33 and J20-34 is interpreted to represent possible feeder mineralization for an exhalative Eskay Creek type system, possibly situated somewhat higher up the stratigraphic section in close vicinity to the drill hole locations. – LINK
J20-34: 5.08 m grading 33.4 gpt Au eq including 1.59 meters grading 83.8 gpt Au eq*
J20-33: 35.5 m grading 10.6 gpt Au eq including 9.25 m grading 33.6 gpt Au eq including 3.00 m grading 82.8 gpt Au eq
"TV" (Feeder) Highlights from the latest NR:
TV21-63: 140.28m grading 2.6 gpt AuEQ (Includes 47.77 m grading 5.2 gpt AuEQ)
TV21-54: 92.3m grading 2.7 gpt AuEQ (Includes 44.41m grading 4.7 gpt AuEQ)
TV21-47: 30.41 m grading  4.7 AuEQ 
Holes TV21-54 and TV21-47 are believed to be close to true width of the feeder.
Again, these are hits from like one Feeder Zone which makes up one out of now five known targets. Kinda crazy really.
Quinton Talking about the "Upper Feeder Zone" (one of the five targets) at TV from the recently published webinar:
"This thing in terms of scale is enormous… Like I said earlier, this stockwork here… This blue zone you see in the middle of the screen… That this itself is about 90 meters thick… Two to two and a half times the thickness as was seen in Eskay Creek"
Furthermore I sent some questions to Quinton asking about the impressive Feeder Zone at TV:
Q: From what I understand the feeder zone is typically not a very relevant target in VMS camps which would speak to just how good the (upper) feeder encountered at TV is?
A: Feeder zones can make ore in some VMS camps, but they are generally subordinate to the massive part of the system. I consider these results very encouraging and bode well for the overall outcome.
Q: If the upper feeder is this good does that mean that the feeder below the lower VMS horizon could be even better (assuming they shared pathways) or would the upper feeder be this good because it has somehow leeched/remobilized mineralization from the lower feeder and VMS horizon?
A:Hard to say what the lower feeder might return. It could be that is cannibalized and moved up to the upper one. Or, perhaps there is much more left to discover. 
Q: Am I correct in simply assuming that the quality of the feeder speaks about the quality of the VMS horizons that formed on top?
A:This is often the case. Let's hope we are this lucky here
To Sum Up
TV and Jeff is showing incredible stratigraphic/vertical potential with:
TWO known VMS horizons
TWO known feeders (Upper Feeder with incredible results)
An additional zone that saw a hit of 86 meters of Replacement style sulfide mineralization between TV and Jeff
… The vertical potential is simply staggering. Just consider the fact that where the average VMS system found in the world might have one VMS mound as main target and maybe, just maybe the feeder zone is worth anything. TV & Jeff is now confirmed to be a STACKED SYSTEMS and at least the UPPER FEEDER ZONE looks bloody incredible. That's a lot of bang for the buck in terms of vertical potential per m2.
So lets look at the lateral potential which would be a multiplier in terms of blue sky…
Blue Sky around TV & Jeff
"Eskay has identified numerous potential sulphide targets in areas between Jeff and TV, along 6 km strike to the north and south and in stratigraphically higher positions where exhalative mineralization is expected to occur."  – link
I interpret the "pimples" as Quinton like to call them as possible VMS centers, from where different types of the known targets might be present, and as you can see there is a whole swathe of pimples between and past TV & Jeff to both the north and south. Not only that but there are more pimples to the west near the other anticline (!). With the success of the 300 m step out hole the idea of TV and Jeff being connects (1.8-2 km long) is looking more and more probable. This alone would have the strike length of Eskay's first target(s) to be double the strike length of the original Eskay Creek. And like the quote stated earlier this "string of pearls" could in reality be up to 6 km long which would put it at 6 times the strike of Eskay Creek.
Blue Sky For The TV/Jeff Area Visualized:
(How many Eskay Creek deposits can you fit in this picture alone? Food for thought.)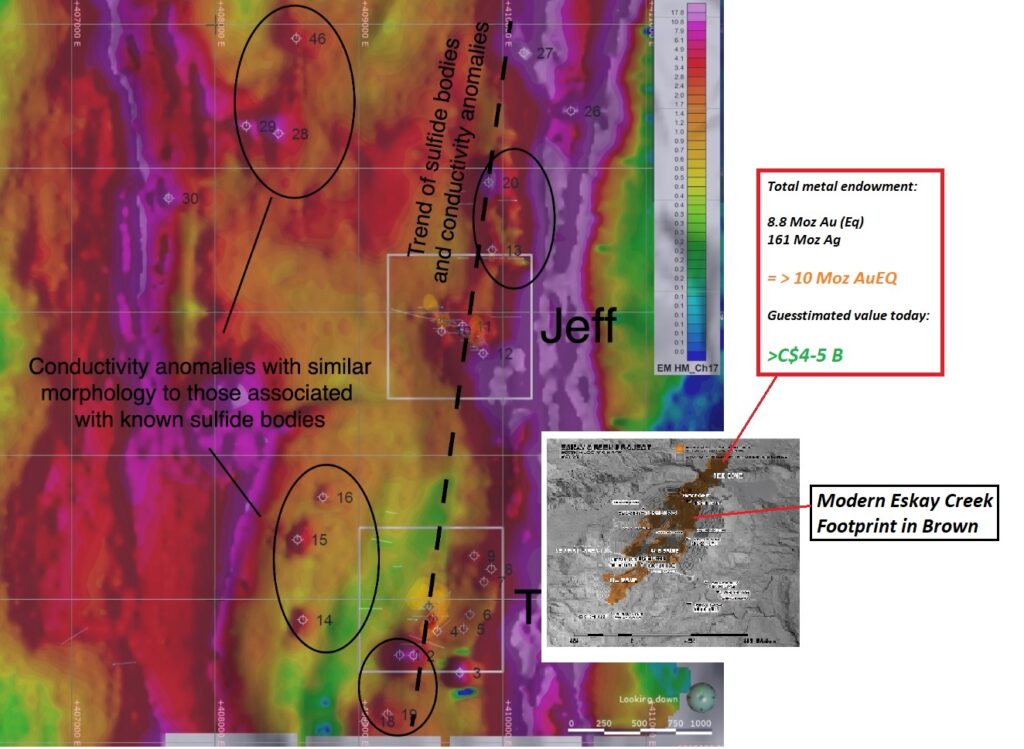 … I can see at least four obvious 1km long clusters and remember TV and Jeff might be connected with a blue sky of 6 km in total. Note that the scale might not be pin point accurate but should be pretty close.
Total Blue Sky
The slide above makes up this much of Eskay Mining's total land package:
(Previous SkyTem slide approximately shows the area in the red box)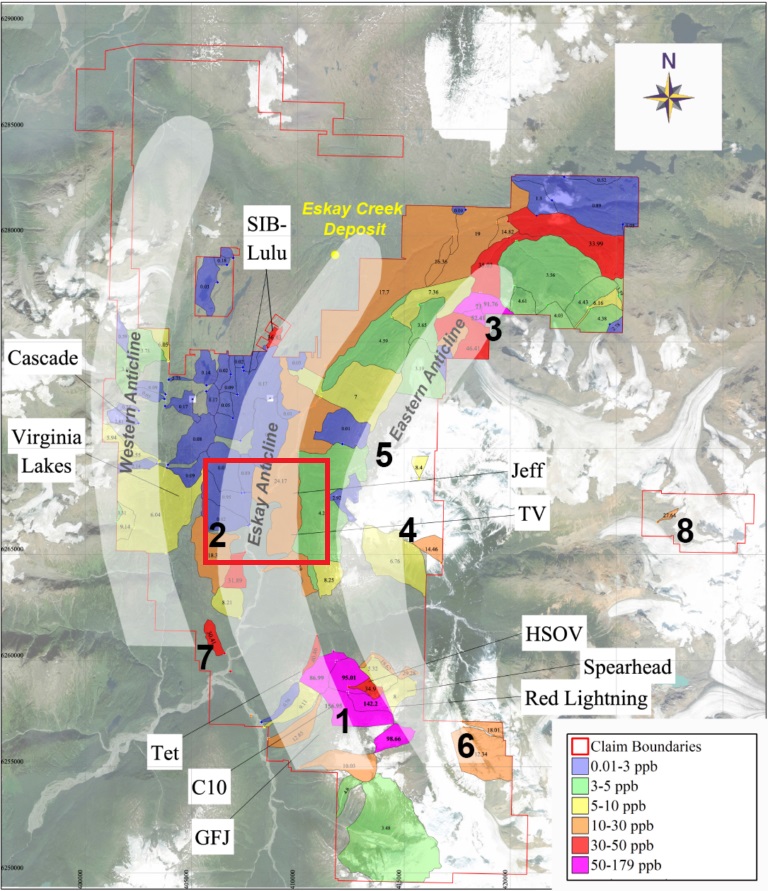 … What you see are several >10 km trends that lit up when they got the BLEG results back. All that gold is shedding from somewhere and this slide suggests there might be many Eskay Creek type VMS deposits under Eskay Mining's control. Think about that for a second. The company controls 85% of the belt pretty much and this slide suggests that there is gold shedding all over the place. The original Eskay Creek mine was around 1km long and Skeena's current deposit which has been drilled around the original mine does not have much more strike than 1km. Still it is worth around  >$1 B and the original Eskay Creek mine has been theorized to be worth C$3-4 B today… That footprints is a postage stamp in this picture. More than that the Eskay Creek deposit was a postage stamp in the postage stamp.
So if you thought the blue sky potential is beyond belief just from the TV and Jeff area then you might need to sit down when you realize there are like at least SEVEN additional areas of interest beyond TV and Jeff…
And some are already quite de-risked:
From the Oct 13 NR:
"…confirms that the highly prospective Upper Hazelton Group stratigraphy is present in close proximity to the C10 VMS system, and establishes that the newly discovered Vermillion deposit constitutes a major new VMS discovery for Eskay Mining. In addition, ground work at Scarlet Ridge (formerly named New York; name recently changed to avoid confusion with another prospect in the area with the same name) confirms that area hosts extensive rhyolite-hosted VMS mineralization over a strike length of at least 1.5 km (THH: If so, this would be a longer strike than the Eskay Creek deposit).
So there you have it. Three additional VMS systems and one shows at least 1.5 km of strike. Then you have the other targets which are back in the very long que:
Sib/Lulu (borders Skeena)
Cumberland
Spearhead
Tet
Red Lightning
Closing Thoughts
In terms of total blue sky potential Eskay Mining is one of the most absurd stories I have ever come across or heard about in the precious metals space. Heck one "small" Eskay Creek type deposit would be enough to create a possible ten bagger from here… But the total Blue Sky is multiples of that.
Skeena Resources has around 5 Moz in total resources which includes 3.88 Moz AuEQ of total reserves. The company's Market Cap is close to C$1 B. Eskay Mining has a Market Cap of around C$440 M which of course LOOKS expensive at face value. But when you factor in that Eskay Mining controls 90% of the entire Eskay Creek district and the blue sky is at least ten fold that of Skeena Resources I start to get much more comfortable.
As I see it Eskay is pricing in around 2-2.5 Moz of Skeena Resources type mineralization. Given that Eskay's drill results so far is perhaps the best early stage results I have ever seen I deem it probable that at least 2-2.5 Moz of AuEQ at relatively good grades will be found. Thus I see it as a probabilistic, although speculative, margin of safety to be in place. If Eskay would find out that the VMS Mounds host bonanza-grade mineralization at TV/Jeff then all bets are already off. If TV/Jeff were to be connected then all bets are off etc. I mean the Upper Feeder Zone alone looks ridiculous and for example the hole TV21-63 which hit 144 m of mineralization grading 2.6 AuEQ starts at a depth of 3.72 m (!). I would imagine >2 gpt material that starts near surface could be very economic in an open pit setting. Furthermore hole TV21-54 which hit 92.29 m of 2.7 gpt AuEQ is believed to be the true width and that mineralization started at 211.42 m down hole so we know the grade seems to carry on to depth. As a matter of fact Quinton stated that the distance between the Upper VMS and Lower VMS at TV is 300 m and obviously the feeder structure must carry on in between. And when you add in the potential of the two VMS Mound horizons the ounces could rack up quickly…
On the subject of economics, the following schematic by Quinton the recent Crescat Capital presentation makes it look like a large part of the TV system could actually be open pitable(?):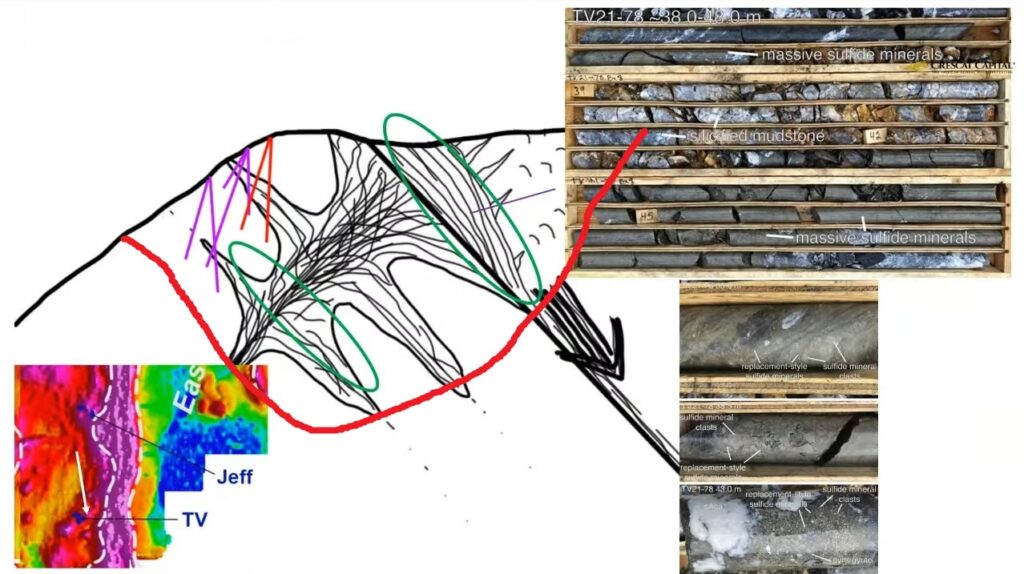 Note that the purple and red lines that represent the holes from the last season of drilling looks to just have "clipped" some "branches" coming off of the central part of the feeder zone and that one of the latest holes hit a ~90 m intercept which is believed to be the true thickness(!). Furthermore, not only does the Feeder start at surface but the Upper VMS horizon (upper green circle) was hit at a very shallow level, as the slide suggests, in hole TV21-78 (awaiting assays):
(Figure 1: Core from approximately 38-48 m in hole TV21-78 showing massive sulfide mineralization and associated silicified mudstone. This is one of several holes that encountered exhalative and clastic massive sulfide atop the TV VMS system.) – source
Personally I expect to see a future where the "immediate" TV VMS system to probably more than underpin the CURRENT valuation for the whole company.
You can imagine what Eskay Mining could be worth if the following words of John De Decker probes to be true:
I would also point out the fact that Newcrest just acquired Pretium Resources for around C$3.5 B and Pretium is located not far away to the west of Eskay Mining. Thus I surmise that the implied value of any success here just went up given that Newcrest has confirmed that The Golden Triangle of BC is a place where a C$20 B major miner wants to have operations.
Anyway, the results of the first five holes out of this years drill campaign were obscenely good and there are 93 more to come. yes 93.
Before this field season is over we will have a clue of how good the Lower VMS Mound, Upper Feeder and the Upper VMS mound might be as well as how good the 300 m step out hole with replacement style sulfide mineralizaiton might be. We will also get a glimpse of how good the Vermillion VMS might be since sulfides were hit in multiple holes over tens of meters.
In other words we might get confirmation that:
TV indeed is incredible
Jeff indeed is incredible
Vermillion does indeed host good VMS mineralization
And we also know that Scarlet Ridge has been traced for 1.5. That's FOUR different VMS systems, and the both at TV and Jeff they are STACKED VMS SYSTEMS, and THEY MIGHT BE CONNECTED, and thus be ONE LARGE 1.8-2 km STACKED VMS system that is OPEN TO THE SOUTH AND NORTH for a cumulative length of 6 km (!).
Key Point:
The total Eskay Creek deposit (original and Skeena's) hosted around 10 Moz AuEQ from a bit over 1 km of strike, from primarily one horizon, and could be worth some C$4-$5 B today.
Eskay Mining is onto:
>4 VMS systems and two of them are stacked (Jeff/TV)
Eskay Mining has 5 different targets zones

Two VMS Mounds
Two Feeders
One replacement style horizon higher in the stratigraphy between TV and Jeff

TV and Jeff might be one ~2 km long system
Scarlet Ridge shows sulfide mineralization over a strike length of at least 1.5
Eskay Mining controls some 90% of the entire Eskay Creek district
… In short Eskay Mining is pricing in 1/10th of one Eskay Creek deposit and Eskay Mining has potential to find multiple Eskay Creek type deposits as well as larger ones than the original.
I… Very much like… The Risk/Reward even at today's share price. 
As always, remember that there are no guarantees only Risk/Reward and I personally see it likely that Eskay Mining will prove up its current valuation and I also see it possible that the stock could be a >10 bagger if I simply hold it long enough. In that case I also expect a lot of >30% corrections along the way as usual. I love stories with a long runway and where the margin of error can be large. With Eskay Mining I see a pipeline of targets so long that the company could be busy for years or even decades. More importantly I don't need the company to find >5 Eskay Creek deposits worth C$4-5 B each. One or even half of one would probably suffice for me to get a multi bagger from here. If they find more that's a welcome bonus and as it stands now there is definitely potential for multiple.
Major Catalysts in The Coming Weeks/Months
Assays from 93 holes…
First ever assays from the UPPER VMS mound at TV
First ever assays from the LOWER VMS mount at TV
More assays from the FEEDER ZONES at both TV and Jeff
More assays overall from Jeff
Assay from the 300 m step out between TV and Jeff that hit a 86 meter interval of replacement style sulfide mineralization
First ever assays from the Vermillion VMS target that hit tens of meters of sulfides in multiple holes
More data from the Scarlet Ridge VMS (Traced for 1.5 km at surface and open)
… Each one could have material impact on Eskay's implied value.
Amateur TA
(Not trading advice)
(Daily): Well this looks like a Bull Pennant to me and if I am not mistaken it would suggest a target of at least $4.7/share depending on how one measures the flag pole:
(Monthly aka big picture): Well they say "The bigger the base the higher in space" and I have yet to see a larger consolidation pattern in a stock than this:
I am not even going to speculate what kind of final target could be reached after breaking such a long consolidation but it does rhyme with my thesis that Eskay Mining has higher absolute blue sky potential than 99.99% of juniors.
Note: This is not trading of investing advice. Always do your own due diligence. I am biased. Juniors are risky. Don't invest money you cannot afford to lose. I am not an investing advisor. Assume I can buy or sell shares at any time etc.
Best regards,
The Hedgeless Horseman