Published: May 21, 2021
Follow me on twitter
With Eskay Mining's aggressive field season nearing I thought it would be good to remind myself (and potentially others) why I think Eskay is almost unique in terms of total blue sky potential (Warning this article contains a lot of bullishness)…
Recapping the "new team's" first drill campaign at TV/Jeff:
An impressive eighteen of twenty holes from the 2020 drill campaign report significant precious mineral intercepts (Au eq = Au + Ag/65) including:
Jeff:

J20-39: 50.36 m grading 1.8 gpt Au eq including 14.12 m grading 4.2 gpt Au eq
J20-38: 10.70 m grading 1.3 gpt Au eq
J20-37: 7.66 m grading 4.9 gpt Au eq*
J20-35: 13.30 m grading 1.8 gpt Au eq
J20-34: 5.08 m grading 33.4 gpt Au eq including 1.59 meters grading 83.8 gpt Au eq*
J20-33: 35.5 m grading 10.6 gpt Au eq including 9.25 m grading 33.6 gpt Au eq including 3.00 m grading 82.8 gpt Au eq
J20-32: 3.20 m grading 3.9 gpt Au eq
J20-31: 24.55 m grading 2.0 gpt Au eq*

TV:

TV20-45: 3.66 m grading 2.4 gpt Au eq
TV20-44: 24.54 m grading 1.5 gpt Au eq
TV20-42: 8.00 m grading 2.2 gpt Au eq
TV20-41: 9.23 m grading 1.2 gpt Au eq
TV20-40: 29.92 m grading 3.5 gpt Au eq including 4.10 m grading 11.7 gpt Au eq and a second zone of 65.27 m grading 1.7 gpt Au eq*
TV20-39: 40.74 m grading 1.8 gpt Au eq including 10.50 m grading 2.9 gpt Au eq*
TV20-38: 20.53 m grading 2.5 gpt Au eq including 10.50 m grading 3.5 gpt Au eq*
TV20-37: 17.46 m grading 3.3 gpt Au eq including 4.2 m grading 8.0 gpt Au eq and a second zone of 54.95 m grading 1.0 gpt Au eq*
TV20-36: 32.83 m grading 2.3 gpt Au eq including 1.5 m grading 17.4 gpt Au eq*
TV20-35: 15.00 m grading 2.3 gpt Au eq and a second zone of 16.33 m grading 3.4 gpt Au eq*
* Previously announced in Company news releases dated September 22, 2020 and December 22, 2020
… I had honestly forgotten just how good the results were before I reminded myself this morning. It's not often you see an intercept the likes of 35.5 m grading 9.50 gpt Au AND 70.0 gpt Ag. Let alone in a maiden drill campaign. But it's not just the quality of the intercepts but perhaps the sheer potential size at TV/Jeff which is even more impressive…
Although TV and Jeff targets are approximately 1.8 km apart, and the Company is interpreting these discoveries to be separate systems, interpretations of recent SkyTEM geophysical data suggests strong continuity of stratigraphy along this segment of the east limb of the Eskay Anticline. TV and Jeff may well be geologically connected and part of a larger approximately 6 km long corridor along which numerous electrically conductive anomalies occur.
Both the TV and Jeff deposits are wide open along strike, down dip and up section. Key prospective stratigraphy including the mudstone that is host to high grade mineralization at Eskay Creek that is sandwiched between a footwall rhyolite and hanging wall basalt has yet to be drilled at TV and Jeff. This unit is hypothesized to be a short distance up section from the current drill holes making for a very intriguing untested target.
Yes, the classic Eskay Creek horizon is not even included, and yet the company drilled fantastic holes in a completely different VMS sequences(!). Blue sky potential at TV/Jeff is obviously huge but the best part is that this might just be the first monster…
Even Bigger Picture
#1. The BLEG results – Gold All Over: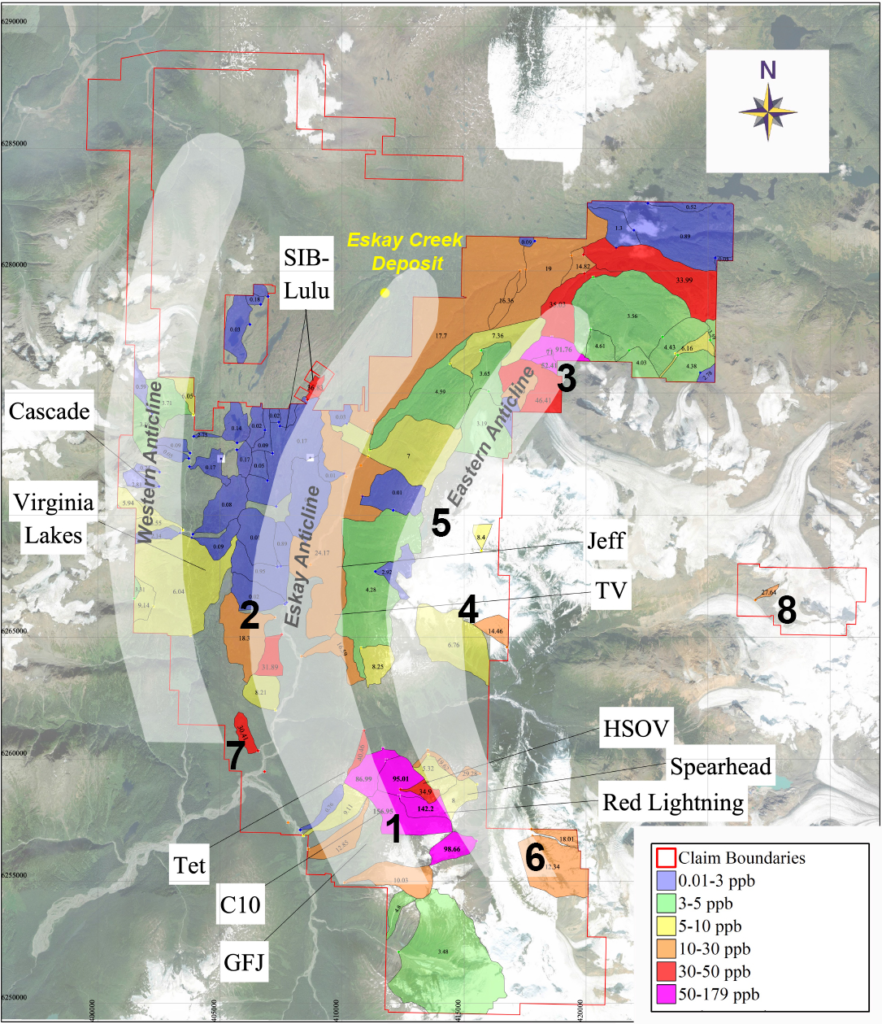 … What you see are several >10 km trends that lit up when they got the BLEG results back. All that gold is shedding from somewhere and this slide suggests there might be many Eskay Creek type VMS deposits under Eskay Mining's control. Think about that for a second. The company controls 85% of the belt pretty much and this slide suggests that there is gold shedding all over the place. The original Eskay Creek mine was around 1km long and Skeena's current deposit which has been drilled around the original mine does not have much more strike than 1km. Still it is worth around  $1 B and the original Eskay Creek mine has been theorized to be worth >C$3 B today… That footprints is a postage stamp in this picture.
#2. New Geological Findings – Down The Rabbit Hole
Not only is the lateral potential larger than I have seen in any other junior except Novo Resources but the company has also figured out that there actually is at least SIX different horizons:
On Eskay Mining's land tenure, six mineralized horizons have now been confirmed within the entirety of the Hazelton Group stratigraphy, the volcanic and sedimentary sequence of host rocks that formed on the sea floor (Figure 1). These include from top to bottom: 1) the Contact Mudstone horizon, host to the high grade Eskay Creek deposit, 2) the Eskay Rhyolite Mudstone Horizon, 3) the Bruce Glacier Mudstone Horizon, 4) The Spatsizi Mineralized Zone, 5) the Brucejack Lake Mineralized Zone, and 6) the Johnny Mt Dacite Mineralized Zone. Horizons 1-3 have been identified at the adjacent Eskay Creek property and continue onto the Company's property. Horizons 4-6 have been newly identified by Eskay and collectively represent a previously unrecognized VMS mineralizing event on the Company's land holdings and within in the Golden Triangle as a whole.
mineralization within the older Betty Creek Formation indicates that back-arc rifting and VMS hydrothermal activity within the Eskay Rift began much earlier than previously thought. The implications of this discovery are profound, because it means the entire Hazelton Group stratigraphy is prospective for Eskay Creek-like VMS deposits.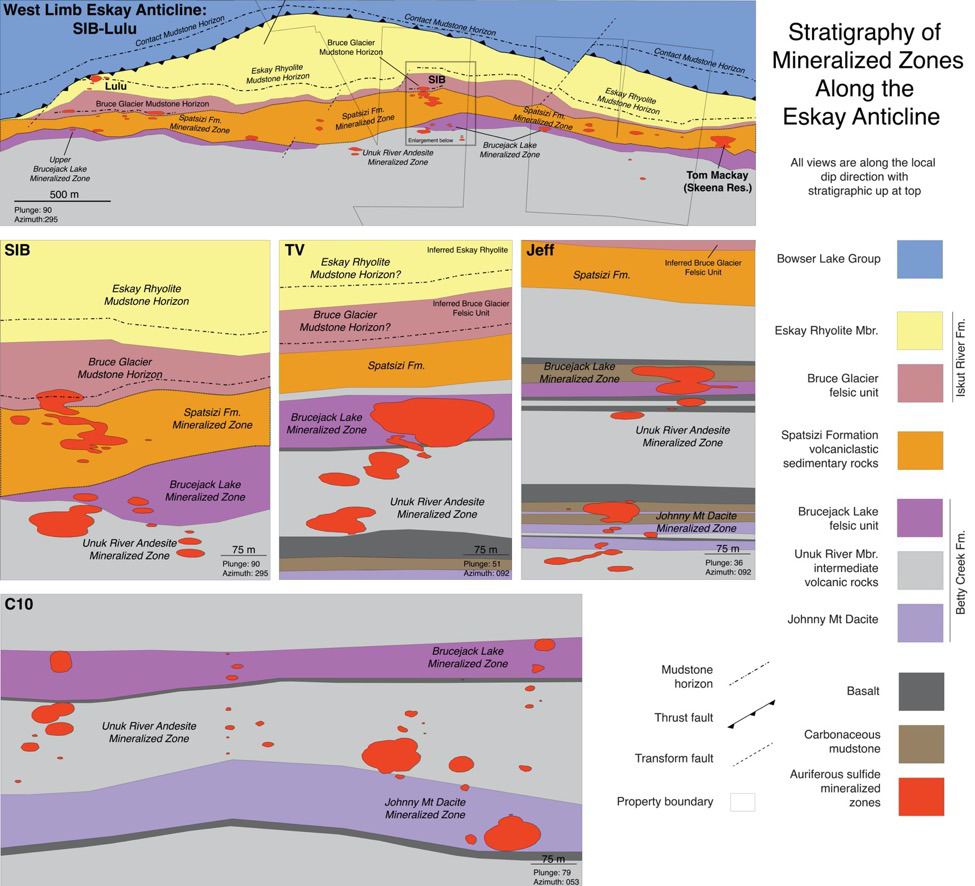 …This is really nuts!
Why? Because it appears that precious metal rich fluids seem to have been spewing out on the sea floor in this region for a much longer time than previously thought and that the original Eskay Creek sequence was just one deposit formed from ONE of those events.
On that note here are some recent comments I got from Quinton Hennigh:
This is the wonderful thing about VMS. They occur in clusters. They tend to have similar grades
… This has profound impact on Expected Value in my book. If the quality of the VMS deposits in a cluster tend to converge then how promising is it not, for the district play overall, that the "first" VMS deposit (Eskay Creek) happens to have the most obscene precious metal grades ever found…?
#3. SkyTEM 
Judging by the success of the first drill campaign it seems that SkyTEM is highly effective when it comes to identify VMS bodies in the area. This is why Eskay Mining is now flying SkyTEM over the ENTIRE 52,000 Ha land package which includes those tens of kilometer long BLEG anomalies.
The company already have multiple additiomal SkyTEM targets seen in the slide below (and that's just a postage stamp of the entire land package):
Conclusions
Eskay Creek was a small deposit, but it was extremely high quality, and would probably be worth several billions today. It is the highest grade precious metal VMS deposit ever found…
Eskay Mining controls around 85% of the entire Eskay Creek belt where one could expect to find similar deposits.
Eskay Mining's BLEG results suggests there could be many many VMS deposits along multiple >10 km trends
Eskay Mining's team has recognized that there are at least SIX different periods where VMS deposits formed in this region
Eskay Mining's 2020 drill campaign showed that SkyTEM works very well in identifying VMS systems
Eskay Mining is doing SkyTem over the entire 56,000 ha land package and the SkyTEM that has already been done shows multiple targets around TV/Jeff
TV/Jeff could be a one big, multi-kilometer system which has already shown to have very good grades and thickness
In terms of total blue sky potential I don't know of any junior that compares except Novo Resources. I mean the company controls a huge land package and that land package happens to be the place where one of the best VMS deposits ever found is located. And VMS deposits tend to form in cluster which means that there SHOULD be more than one of these. And to top it all off it seems there were at least SIX of these events that took place here.
I am very long Eskay Mining because of it's (in my opinion) extreme, total long term potential. Fast forward a few years and I think they might have discovered multiple Eskay Creek type VMS deposits and the value of that would obviously be something else. Not that there are no guarantees that TV/Jeff will be a monster or that they will find multiple VMS deposits. I just personally believe that and is why I think the long term Risk/Reward even with today's Market Cap is very favorable.
In light of all of the above I find it truly fitting that Eskay Mining has the biggest base I am currently aware of for any junior miner. It's a 31-year long consolidation pattern and as they say: "The bigger the base the higher in space":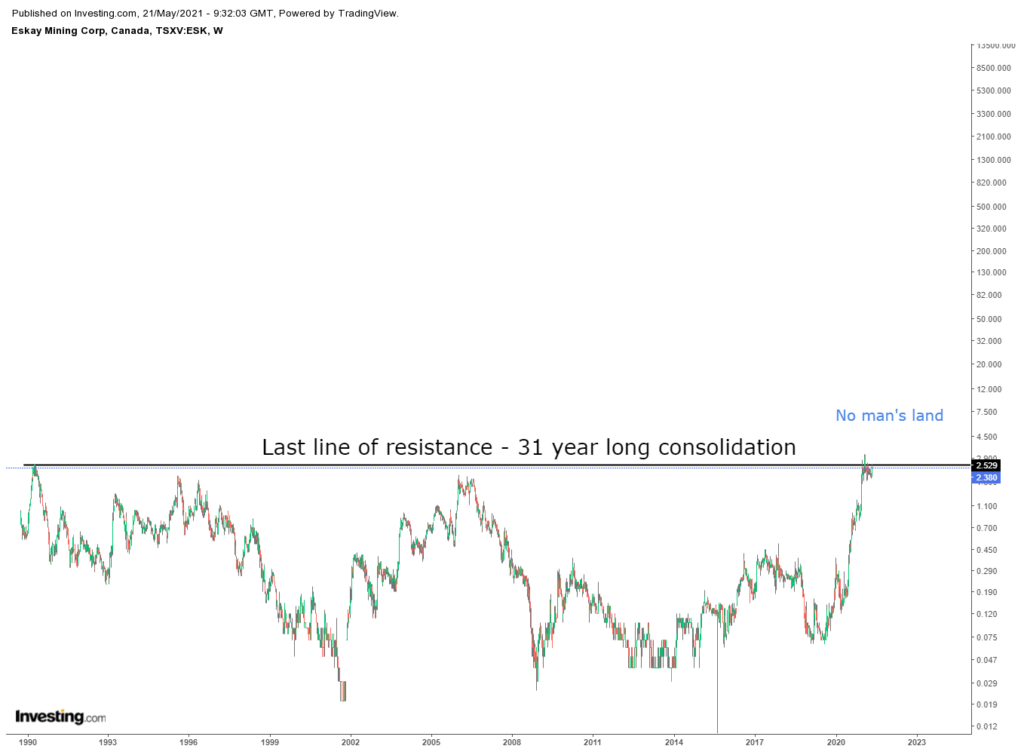 If Eskay Mining turns out along the lines that I hope and think is possible then I really have no idea how high the stock can go. But as always, there are no guarantees it will happen.
Note: This is not investing or trading advice. I own a lot of shares of Eskay Mining and the company is a banner sponsor. Therefore consider me biased and do your own due diligence. I cannot guarantee the accuracy of the information in this article.
Best regards,
The Hedgeless Horseman