In this article I will discuss my case for Timberline Resources which is one of the best risk/reward cases I know of simply because the company already has over 500,000 ounces in the heart of the Battle Mountain-Eureka trend in Nevada as well as multi-million ounce potential to boot. I have talked to Patrick Highsmith who is President, CEO and Director of Timberline Resources a few times and I consider him to be very competent, honest and I have a lot of respect for the guy.  I consider Timberline Resources to be a sleeper because the valuation makes little sense in light of what the company already has coupled with the impressive upside potential across its three projects. I was happy to have the company on as a sponsor for that win-win situation and I hope to go to Nevada in the future and see the project(s) up close and personal when Covid allows.
Setting The Scene
Company website: LINK
Quinton/Crescat Presentation (video): LINK
TImberline MIF presentation (video): LINK
My Case For Timberline Resources in Short:
There are multiple factors that attracted me to Timberline Resources. Firstly, the company already has over 500,000 ounces of near surface resources in the famous Battle Mountain-Eureka trend in the heart of Nevada (top jurisdiction in the US and one of the best in the world). Furthermore, the company has recently come out with the first in fill drilling results from the 2020 exploration program which have been better than I expected (15.24m at 10.09 gpt Au, 48.77 m at 1.00 gpt Au etc). Perhaps this means that previous drilling for various reasons understated the quality of this shallow deposit. Personally I think that the current resource and some drilling of "low hanging fruit" could probably prove up something worth over US$100 M quite easily. I mean 0.5 Moz-1.0Moz of shallow gold in this part of Nevada should have plenty of options for monetization. This is the "margin of safety" I see present in Timberline. However, the much more exciting factor that tips the scale in my eyes, is the the fact that the Eureka project looks like it could turn into a district play. This is the attractive "Upside Potential" which greatly affects the risk/reward. Then factor in the Team/People involved. Timberline has one of the most impressive teams I have seen in a junior of this size;
Leigh Freeman, Chairman: Co-founder of Orvana Minerals and ex Chief Geophysicist at Placer Dome
Patrick Highsmith, President, CEO & Director: Ex Newmont Mining, BHP, Rio Tinto and Fortescue
Quinton Hennigh, Director: One of the best geos in the world and needs no introduction really
Steven Osterberg, VP Exploration, Director: Ex BHP etc
Dave Mathewson: Ex head of Newmont's Nevada team with following attributed discoveries; Ress, Northwest Rain, Saddle and South Emigrant in the Rain Mining district, extension discoveries at Gold Quarry and Mike deposits.
… That's a seriously stacked deck for a junior with an Enterprise Value of around US$29 M (at C$0.36/share). You can read up more on all the people involved HERE.
Furthermore the company has two additional projects which are also located in Nevada which are called the Seven Throughs Project and The Paiute Project. The Seven Throughs Project is a very interesting one given that it saw mining by old timers around a hundred years ago (when gold was around US$20/once) and by reverse-engineering the old reports it seems that the "Coalition Mine" had lodes grading up to 2,167 g/t Au. I think this is a hidden gem that might actually be worth a lot. We'll call these projects the "Hidden Bonus Value".
Lastly, we have the fact that all these projects are in Nevada which is the best jurisdiction in the United States and one of the absolutely best in the entire world. This means that any success here should be well rewarded.
My Even Shorter Case for Timberline:
Margin of safety: >500,000 ounces of near surface resources at Eureka, Nevada
Upside Potential: Eureka looks like a district play where the current resource is the tip of the ice berg and there are two other good looking projects in the portfolio
People: Can't really ask for a better team to be hunting Carlin gold giants
Jurisdiction: True tier #1 jurisdiction
Bonus/Hidden value: Two additional projects in Nevada, including the Seven Throughs Project which saw historic mining with obscene grades
Skin in The Game: Directors and Management owns 28.4%
… All for around US$29 M in Enterprise Value. There are not a lot of juniors out there that ticks all of the boxes but I dare say Timberline Resources does which is why it's one of my favorite junior explorers. Personally I think Timberline is cheap based on what the company already has banked at Eureka and I also believe it is just the start.
Upcoming Catalysts
Lots of assays from both infill and aggressive step out drilling
Geophysics results
Margin of Safety – Eureka Property, Nevada
Timberline's current focus is the company's flagship asset, called the Eureka Property, which is located within the world famous Battle Mountain-Eureka gold trend in Nevada: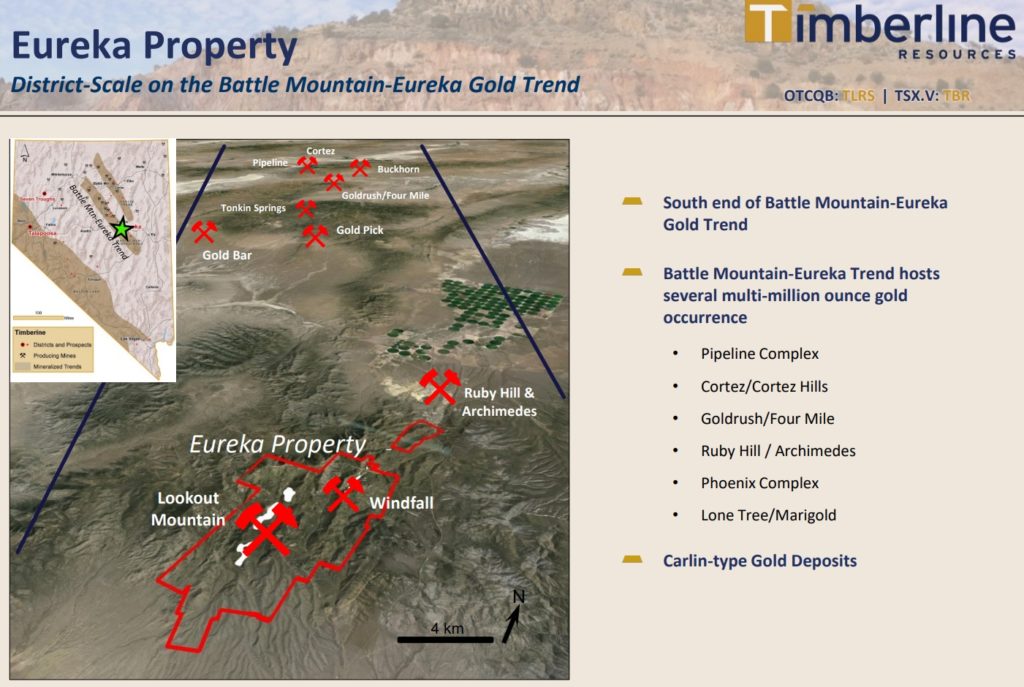 … This trend host some of the largest and most profitable gold mines in the world and it's rare for a junior like Timberline Resources to own a property in such a prestigious address. This area is probably one of the best places in the entire world to find a gold deposit. With that said I don't only refer to the regions prospectivity but perhaps more importantly the value per ounce. The region has plenty of mills and flagship mines belonging to the two largest gold miners in the world (Newmont Goldcorp and Barrick Gold). One million ounces of economic gold in this area might be worth multiples of what a million ounces would be worth in most parts of the world. There is a reason why this asset was held on to and why insiders of Timberline basically financed it by themselves during the bear market in gold. And today the insiders own 28.4% of the company.
The Eureka Property has seen quite a bit of historic mining which included one of the first heap leach operations in the United States. There is currently a NI 43-101 Gold Resource within the Lookout Mountain trend: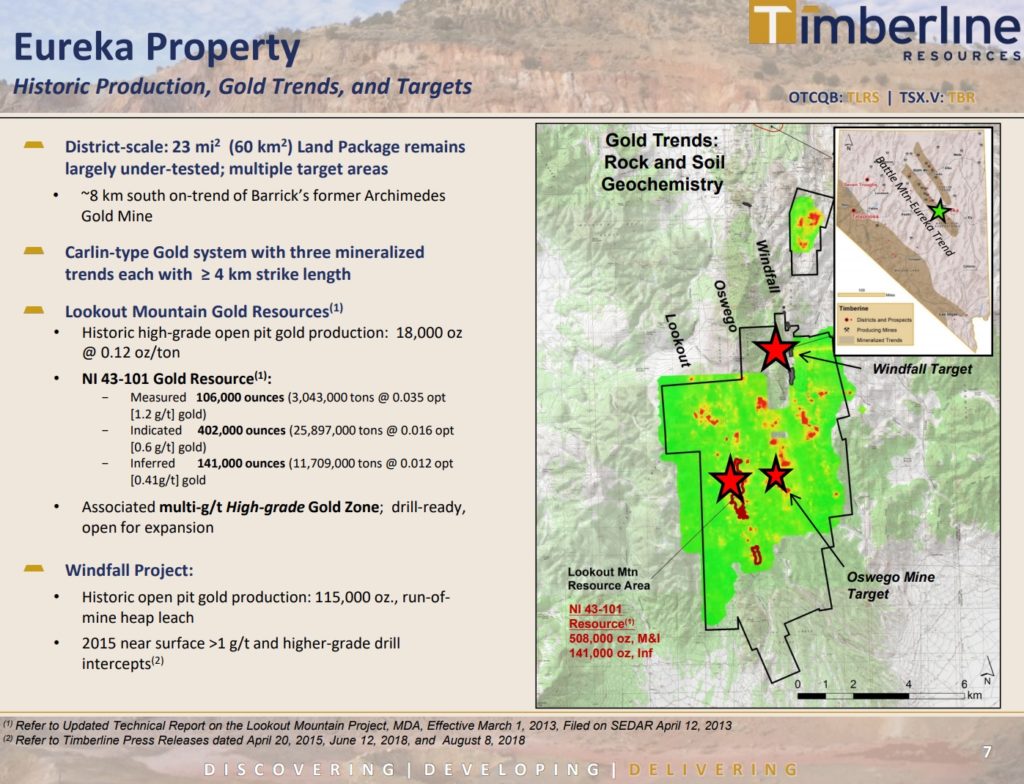 The resource is relatively low grade but it is near surface and there are plenty of profitable low-grade gold operations in Nevada. At the current gold price there is little doubt in my mind that this starter resource could be worth over $100 M (especially since there are hungry mills in the area). With that said I think the key thing to remember is the fact that this 0.5 Moz is just the start and what attracted me to Timberline Resources is not only the fact that it has a margin of safety in the form of said resource but that I believe there is immense exploration potential within the Eureka Property…
As you can see in the previous slide there are three distinct multi-kilometer long trends of anomalous gold in soils. To see this in the heart of the Battle Mountain-Eureka trend is exciting enough but the really exciting thing is that the world class team of Timberline Resources believe that some of these trends connect at depth (in at least some areas). In other words the team believe that there will be Carlin Gold style mineralization that goes from one trend to another and that that only the "uplifted" parts of the systems outcrop at surface…
On that note, the following slide is from a presentation by Quinton Hennigh (Crescat Capital) where he has made a schematic that shows how he and the Timberline team believes there is high-grade Carlin style mineralization that goes from the Lookout Mountain trend to the Oswego trend:
(High-grade targets at depth are circled in orange)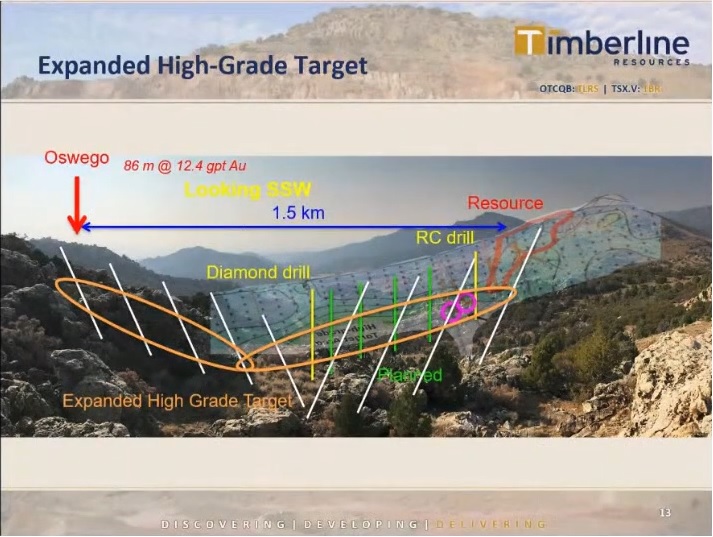 … Given that this the distance between the two outcropping trends is about 1.5 km it should make the upside potential obvious. And keep in mind that this is just one target of hopefully many within the district scale land package that is controlled by Timberline. The slide also mentions the trenching results from the Oswego trend and obviously the results were obscene at 86 meters of 12.4 g/t Au. Now, Quinton believes this is trench sample was testing the side of the mineralization and we don't know how thick this high-grade "bed" or "layer" might be. Regardless, it does not need to be thick with grades like that obviously.
The company has been drilling both deeper step out holes as well as holes around and within the current resource…
On December 1 the company put out a news release titled "Timberline Confirms and Extends High-Grade Gold Mineralization at its Eureka Project, Nevada" which included results from the first sever reverse circulation ("RC") drill holes of its 2020 drill campaign:
Snippets:
"Highlights
Hole BHSE-176 intercepted near surface high-grade gold mineralization, 15.24m averaging 10.09 g/t, beginning at 21.34m downhole depth. Within this interval, there are sub-intervals of 9.14m of 16.31 g/t, including 3.05m of 31.40 g/t.

Holes BHSE-177 and 178 encountered shallow oxide gold within the existing resource, including 18.29m of 0.87 g/t (from surface), 48.77m of 1.00 g/t, and 59.44m of 0.63 g/t.

Holes BHSE-180, 181, and 182 confirmed northward and down dip extensions of mineralization beyond the historic Lookout Mountain pit, including gold intercepts up to 18.29m of 1.58 g/t in the latter of these holes."
Hole BHSE-176 was collared as a near offset to a historic hole that encountered multiple zones of high-grade gold in oxidized rocks less than 30m below surface. The historic high-grade gold zone was confirmed and extended by this hole, and host rocks are visibly oxidized and yielded high gold recoveries by cyanide leach analyses (averaging 94%). Additional intercepts reported in Table 1 are from lower-grade disseminated portions of the deposit in this area, most of which are similarly oxidized.

Timberline's President and CEO, Patrick Highsmith, commented, "We are encouraged by these first results from the 2020 drill program because higher-quality samples from modern RC drilling have increased the grade and thickness of the high-grade mineralization in the Lookout Mountain resource area. These new data also improve the quality of our geological and assay information within the resource. Timberline's geological team has worked hard over the last year to re-log dozens of historic drill holes, and that work is clearly paying off allowing us to model and plan drill programs with maximum effect. Beyond these encouraging results, we eagerly await assays from deeper step-out holes in minimally-explored areas to the east of the resource."
What jumps out is that it seems the quality of the mineralization seems to be increasing as the quality of the samples are increasing. This leads me to believe that the current resource might be better than what it currently looks on paper. In other words I think the "true margin of safety" in this stock is higher than what one might think.
Immediate Upside Potential
In the news release dated November 2 one could read the following:
"In addition, approximately 2,600 m of Reverse Circulation (RC) drilling has been completed in 12 holes in and around the historic Lookout Mountain open pit (Figure 2), which produced approximately 18,000 oz of gold grading 4.1 grams per tonne (0.12 ounces per ton) during the mid-1980s. This drilling targeted resource infill and extensions of high-grade mineralization within the pit area, and tested strike extensions of the mineralized system to the north over approximately 200m. RC hole BHSE-187 tested extension of the high-grade gold mineralization in the Water Well "Orpiment Discovery Zone" east of the pit and intersected 32m of black, siliceous argillite with notable orpiment (arsenic sulfide). All RC assays are pending."
… This is very interesting because orpiment is a mineral that has a yellow color and often correlates to quite good grades. In this picture below from the presentation you can see a chunk of rock (from Timberline's project) that contains orpiment and this particular sample graded 5.1 g/t Au: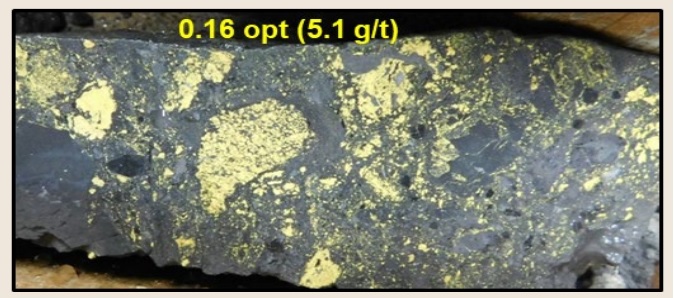 Anyway, this hole BHSE-187 which tested extension of the high-grade mineralization in the "Orpiment Discovery Zone" which is located to the east of the historic pit and pretty much directly on trend towards the incredible trench sample at Oswego:
(Hole with orpiment is circled in orange)
… One can also see the location of the locations of the deep core holes that have been completed or are in progress. I'm talking about holes BHSE-188C, BHSE-190C and BHSE-191 which are even farther to the east and therefore even closer to the Oswego trend. Now it sounds like the deep holes have hit some thick intercepts of encouraging stuff such as carbonaceous breccias and pyrite but I have no idea if or what these intercepts will grade. The RC hole that hit "32m of black, siliceous argillite with notable orpiment (arsenic sulfide)" sounds like a definite direct hit of some sort though…
On that note there certainly already is confirmed high-grade mineralization in the area given the following intercepts that have come out of Lookout Mountain: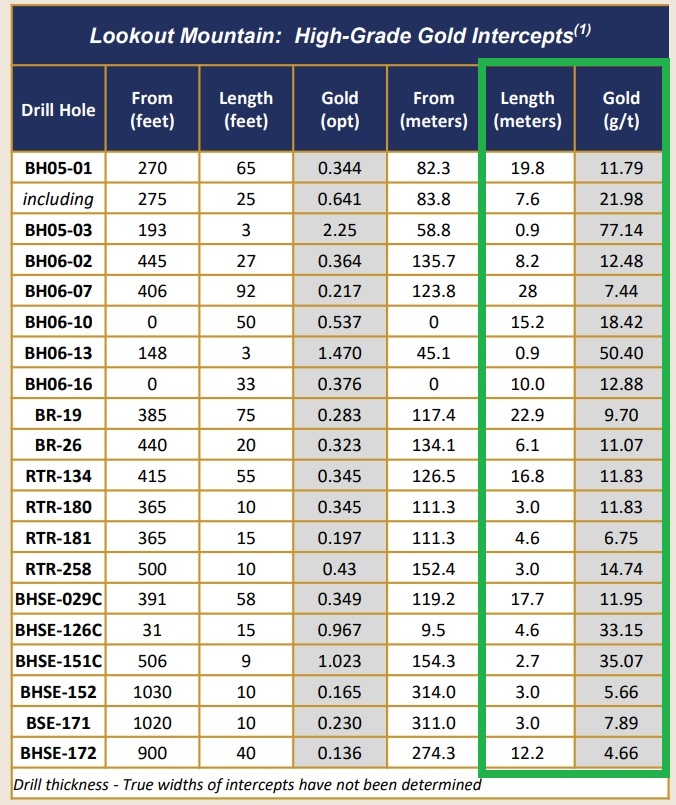 Timberline has a huge area to explore given the obvious multi-kilometer trends with anomalous gold and there will definitely be both hits and misses along the way. However, I think that any of these very aggressive step out holes could set the story on fire since it should make the market to start appreciating what the blue sky potential really is for Eureka. On that note…
Eureka – Blue Sky Potential
The blue sky thesis at Timberline's flagship Eureka Property is simply that there is a) Lots of near surface potential around the three distinct, outcropping trends and b) That there is a lot more high-grade gold mineralization, at depth, between and around these trends: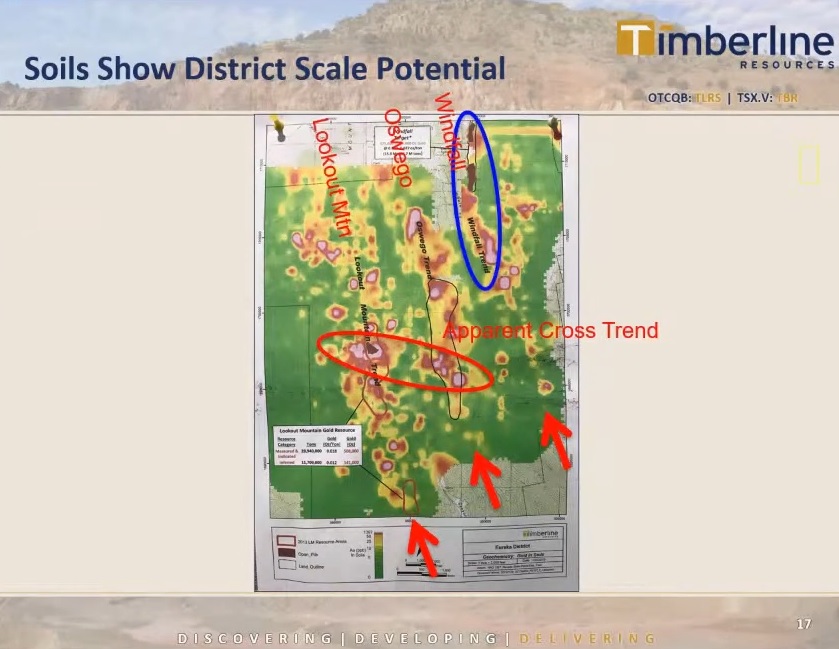 I have discussed the current exploration that is focusing around the Lookout Mountain resource and the "apparent cross trend" between Lookout Mountain and the Oswego trend (circled in red above). Now lets take a look at the most eastern trend which is the Windfall trend:
… This trend has seen historic production of near surface gold mineralization which is similar to what is found over at the Lookout Mountain trend several kilometers to the west. On that note, this is what Quinton had to say about this slide above:
"The more important thing is… Notice that those pits follow along a certain bed and I'm pretty darn sure that's the same bed you see clear over… You know two trends over at the Windfall trend. (THH: He meant the Lookout Mountain trend)" – QH
In broad strokes this is the blue sky opportunity within the Eureka Property:
(Crude cross-section schematic done by me)
And just to repeat, this is what it looks like from above: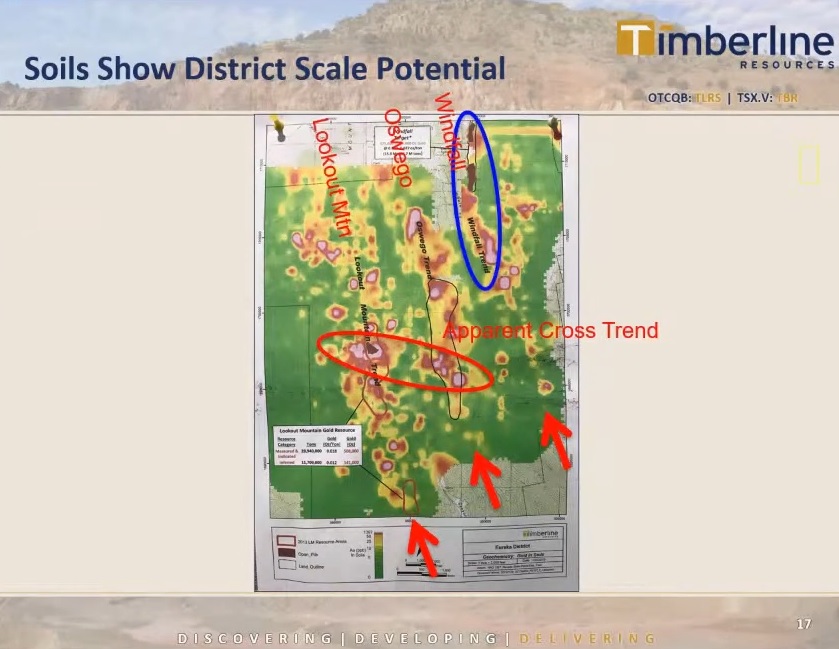 I would summarize by just saying that I think Timberline Resources has a LOT more potential than the market is aware of (or at least giving the company credit for). Given the sheer scale of the three "golden trends", which can be seen above, I think there is definitely multi-million ounce potential at Eureka. Obviously not every part will be mineralized, but when one considers that just the outlined "apparent cross trend" between Lookout Mountain and Oswego has multi-million ounce potential, one quickly realizes that it is not needed for Eureka to become a big success.
Bottom Line
US$29 M for a Carlin style gold project, in the heart of the Battle Mountain-Eureka trend in the heart of Nevada, and with over 500,000 ounces to start with is way to cheap in my opinion. I don't think the current Enterprise Value even reflects the intrinsic value of the starter resource, let alone all the blue sky district potential. If that wasn't enough the company has two additional projects in Nevada to boot. Top it all off with the people involved and their amount of skin in the game and Timberline Resources quickly appears to have one heck of a risk/reward case in my opinion.
A multi million ounce resource in the heart of Nevada could easily be worth several hundred millions of dollars or more. I believe Timberline is just beginning and I think the company will be very busy over the coming months and years given the simple fact that the company pretty much has an entire district with a lot of smoke. The best part is that I don't think I am paying much if anything for the potential which means I don't think I am taking on any real exploration risk at this valuation. Cases like this where I see fundamental downside as extremely limited while the upside potential is significant and perhaps even probable are my bread and butter. Therefore I own a good chunk of Timberline Resources and was more than happy to have the company come on as a banner sponsor of The Hedgeless Horseman.
Bonus Value
1. The Seven Throughs Property, Nevada
Since June 2012, Timberline controls a large property block of patented and unpatented mining claims comprising essentially the entire Seven Troughs gold mining district near Lovelock in Pershing County, Nevada.

The purchased property package covers 4,100 acres, consisting of 64 patented and 238 unpatented lode mining claims, all of which are under a long-term lease agreement, along with 162 additional unpatented lode mining claims. The leased portion of the property package requires no lease payments or work commitments from Timberline.

The Seven Troughs district is recognized as yielding some of the highest gold production grades in Nevada history. Small-scale operations from the district in the early 20th century reportedly produced about 150,000 tons of ore grading approximately 1.20 ounces of gold per ton (opt) (41.1 grams per tonne) (g/t) and 4.0 opt (137 g/t) silver.

Exploration data generated since 1977 by several operators including Newmont and Teck includes 111,565 feet (34,005 metres) of rotary drilling from 159 holes, 11,501 feet (3,505 metres) of core from five holes, extensive geochemical and geophysical data, and surface geologic mapping. A considerable database of district activity was included in the purchase and is expected to contribute to the development of several drill targets.
… In my opinion this project is probably almost worth as much as the current enterprise value of the company. Just looking at the grades makes me think of the Hishikari gold mine in Japan. Some of the mined material had truly obscene grades…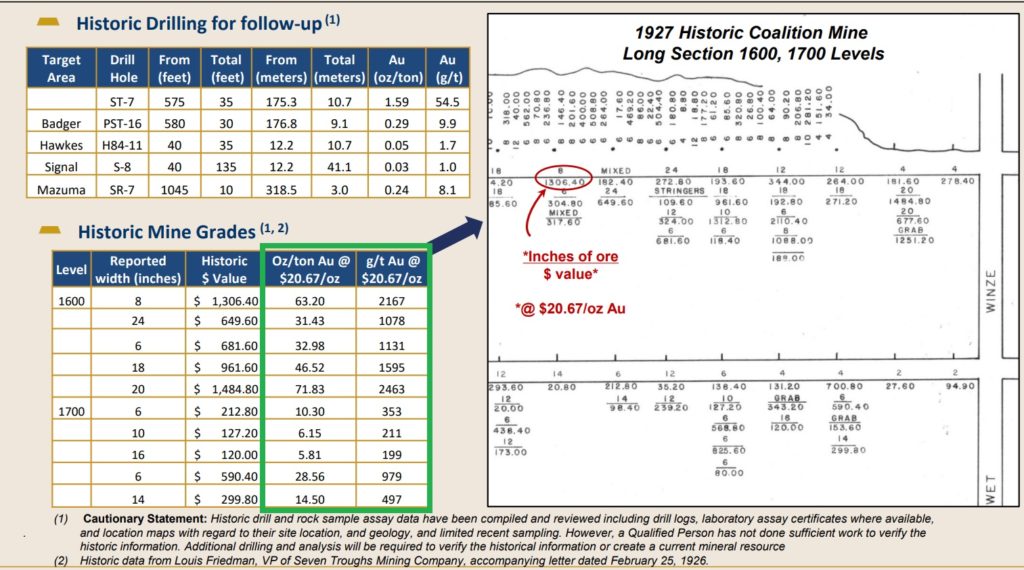 I don't know if this will be spun out or worked on later by Timberline but I for sure consider Seven Throughs to be a good ace up the sleeve which skews the risk/reward even further in a very positive way.
2. Paiute, Nevada
Property Description and Ownership:

Paiute is located in northern Nevada, approximately 6.5 miles west of Battle Mountain near the northern end of the Battle Mountain-Eureka Trend, one of Nevada's prolific mineral belts.  The project area sits within the Battle Mountain mining district and covers approximately 1,343 acres in a total of 65 unpatented Bureau of Land Management (BLM) mining claims.

Infrastructure is excellent at the project site with interstate highway and railroad immediately adjacent to the property, and high voltage power to the immediate north.

Timberline is the operator of the JV.   There are no earn-in work expenditure requirements.
The Paiute Project is actually a JV with Nevada Gold Mines (Barrick-Newmont Goldcorp) and Timberline Resources currently has 80% ownership. I won't dig deep into Paiute at this time but lets just say there is smoke there:
… And the smoke has been confirmed with drilling:
The two main target zones: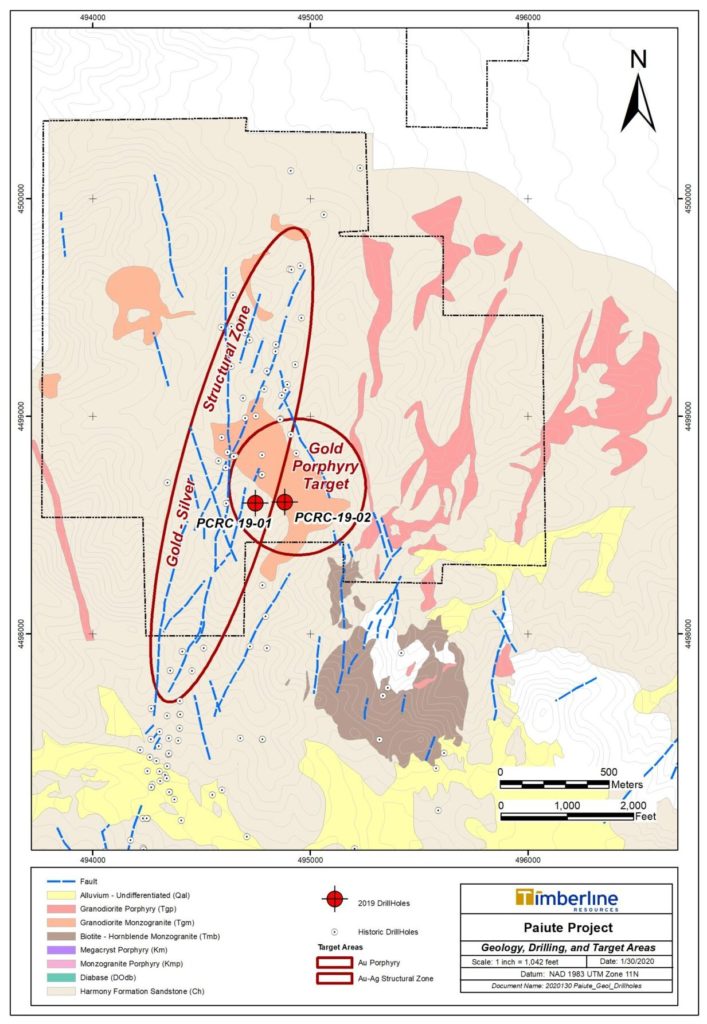 Bottom line
The bang for the buck in Timberline Resources is simply incredible in my opinion. As I have stated a lot of times I am looking for juniors with great risk/reward and with a growth pipelines that should allow the companies to have their hands full for years. The reason is because I don't want the companies I own to need to go and buy a new project in a hot market. I want to own the thing being sold, not the thing being bought, when valuations are high.
Note: This is not investment advice. I am not a geologist nor am I a mining engineer. This article is speculative and I can not guarantee 100% accuracy. Junior miners can be very volatile and risky. I have bought shares of Timberline Resources in the open market. I can buy or sell shares at any point in time. I was not paid by any entity to write this article but the company is a passive banner sponsor of The Hedgeless Horseman. Therefore you should assume I am biased so always do your own due diligence and make up your own mind as always.
Best regards,
Erik Wetterling aka "The Hedgeless Horseman"
Follow me on twitter: https://twitter.com/Comm_Invest
Follow me on CEO.ca: https://ceo.ca/@hhorseman
Follow me on Youtube: My channel