Feb 14, 2022
Solis Minerals (SLM.V, SLM.AX) is a copper focused junior I have recently picked up some shares in while also bringing the company on as a banner sponsor. Solis Minerals has three projects and is currently swinging for the fences (drilling) their flagship project which is located in Chile. This is a high risk/high reward story with the benefit of being very cashed up as the recent financing closes. In this article I will explain why I have picked up some shares. Remember that I am likely biased so do your own due diligence and make up your own mind as always.
Company website: LINK
Valuation
Basic shares outstanding post raise: 60.4 M
Market Cap @ $0.24/share: C$14.5 M
Cashed up: C$5.5 M post financing
Low Enterprise Value: C$9 (US$7.1 M)
Case in Short
#3 large projects in Chile and Peru
The flagship "Mostazal" project in Chile has seen copper mining and the company is currently being drilled

"Foregn Resource Estimate": 10 Mt at 0.95% copper at 11 g/t Ag

Cashed up: C$5.5 M
High insider ownership: 33%
Cheap
I see Solis as a very straightforward case. The company will have C$5.5 M in cash and has three copper projects to spend it on. First up is the flagship "Mostazal" project which is basically a small scale copper mine already with historic production of 120,000 tons at a copper grade of 1.8%. It is the copper rich Mantos deposits that have been mined, and Solis Minerals is currently hunting both Mantos style mineralization and the potential elephant at depth, which would be a copper porphyry body. In other words we know there is copper there already which is of course a big thing from a de-risking stand point.
"Price is what you pay, value is what you get"
Investment Highlights in the Words of the Company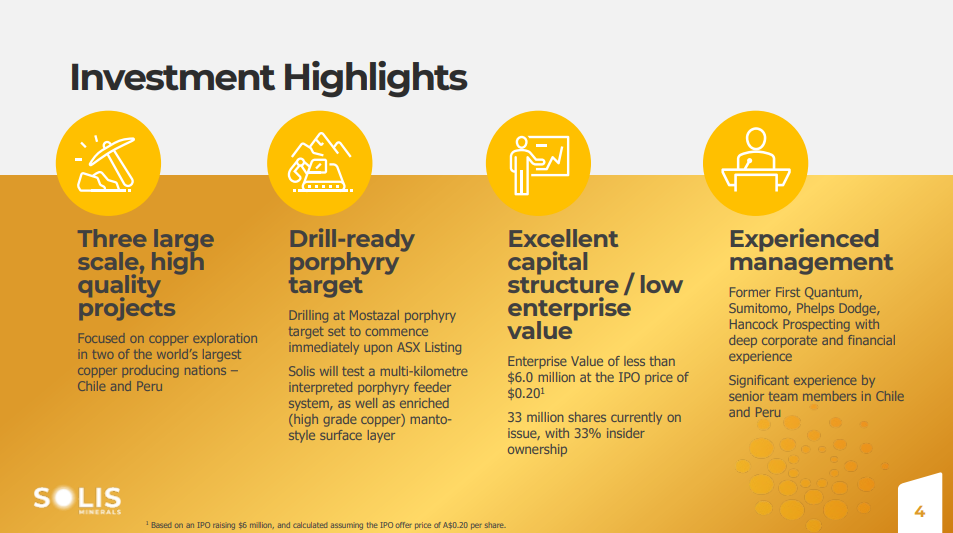 Why hunt copper in Chile and Peru?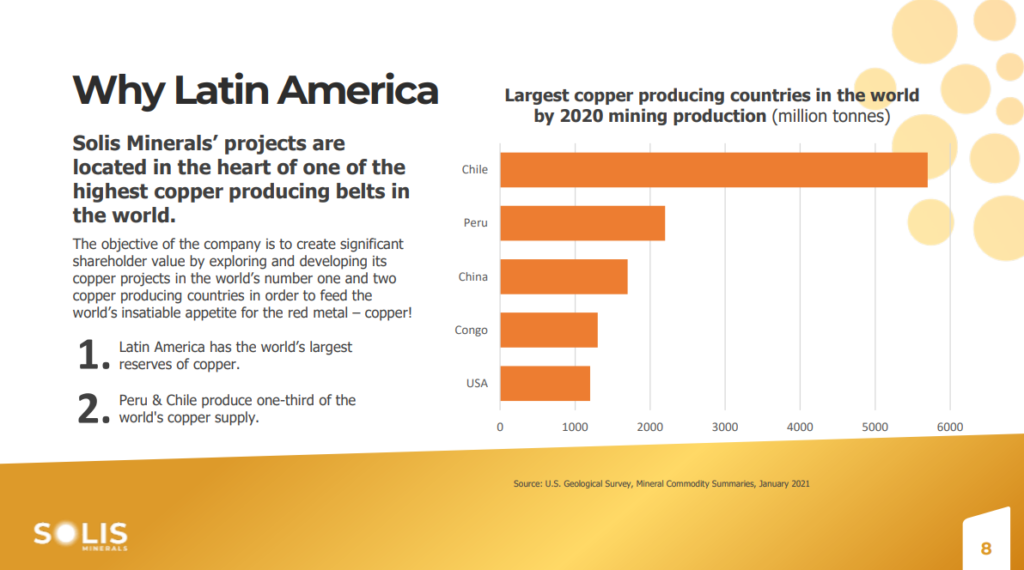 … If you want to find big copper deposits then Chile and Peru would be the places to start.
Flagship Project – "Mostazal", Chile
Mostazal is no typical grassroot exploration project. This is a known copper bearing system which has seen mining to the tune of 120,000 tons at an impressive grade of 1.8%. This production comes from the high-grade "mantos" mineralization that is close to surface. Furthermore here is already a "Foreign estimate" that suggests there is at least 10 million tons at a copper grade of 0.95% and 8 g/t silver already in place. It is not large enough for a major to get interested but not many projects comes with a an "estimated starter resource" of 10 Mt at almost 1% copper (Ps. The mantos mineralization is still wide open to boot):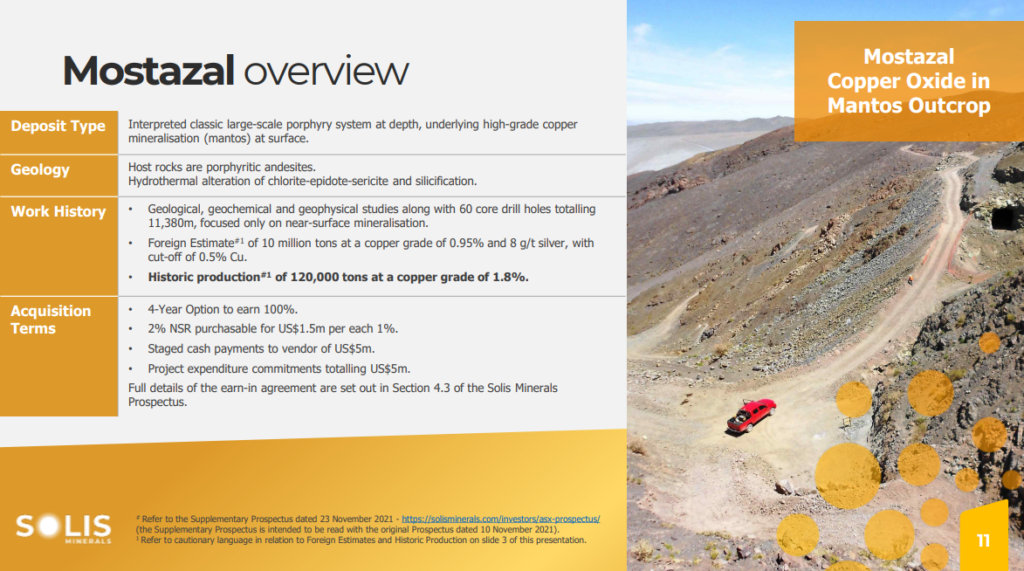 To earn 100% of the project Solis must make cash payments of US$5 M in a staged manner over a 4-year period and spend US$5 M on the project over a 4-year period (You can read up on the terms here). I think this speaks to the merits and especially the advanced nature of the project. In light of this I find it intriguing to see Solis priced higher given that I find most earn ins to be low balling the actual value for different reasons (like a motivated seller).  In short I see Solis as earning into near surface, oxide, 10 Mt copper deposit while also getting  a shot at finding "the mothership" at depth: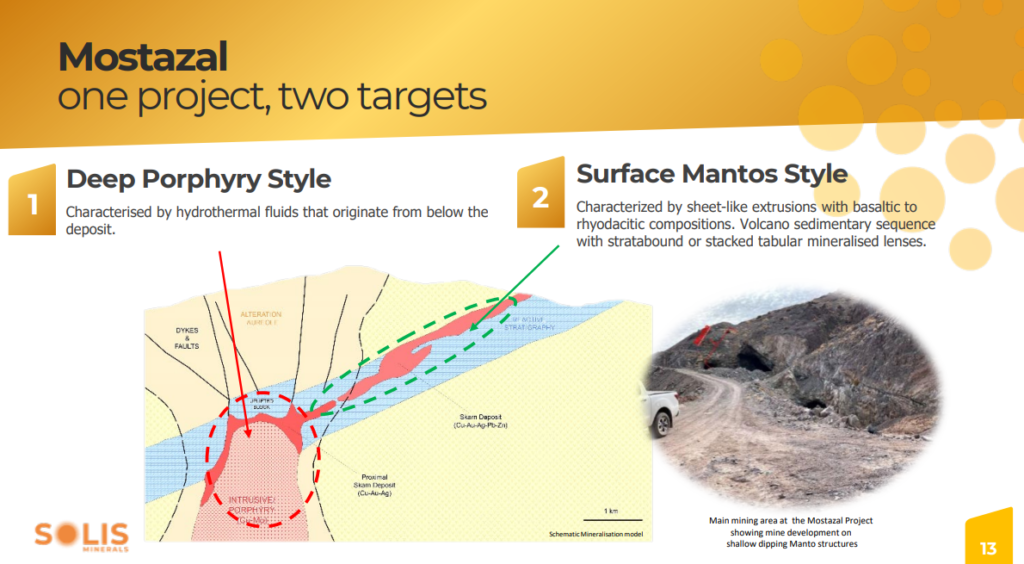 Geophysics does indeed suggest there are several areas of interest:
(also note the relatively shallow copper intercepts in the "manto lenses")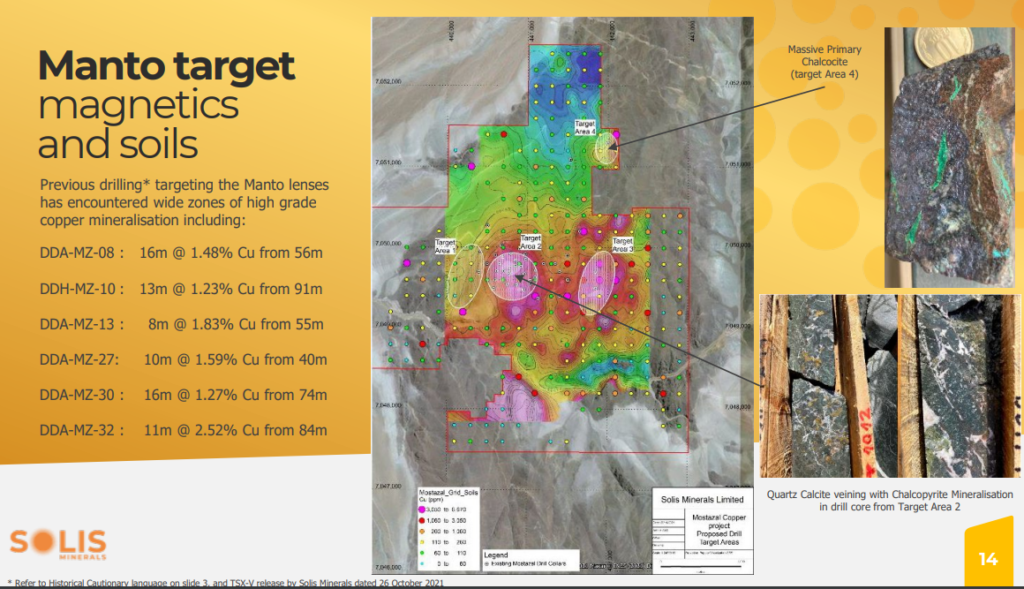 A thankful thing for Solis is that the deep targets are not really "that" deep. I am invested in a copper juniors that is drilling a porphyry target at >1,000 m depth for example. In terms of development potential I don't think the depth matter that much if it is going to be a large underground operation but it sure is a boon for juniors not needing to drill extremely expensive holes. For Solis the targets are believed to be at "moderate" depths of 300-500 m: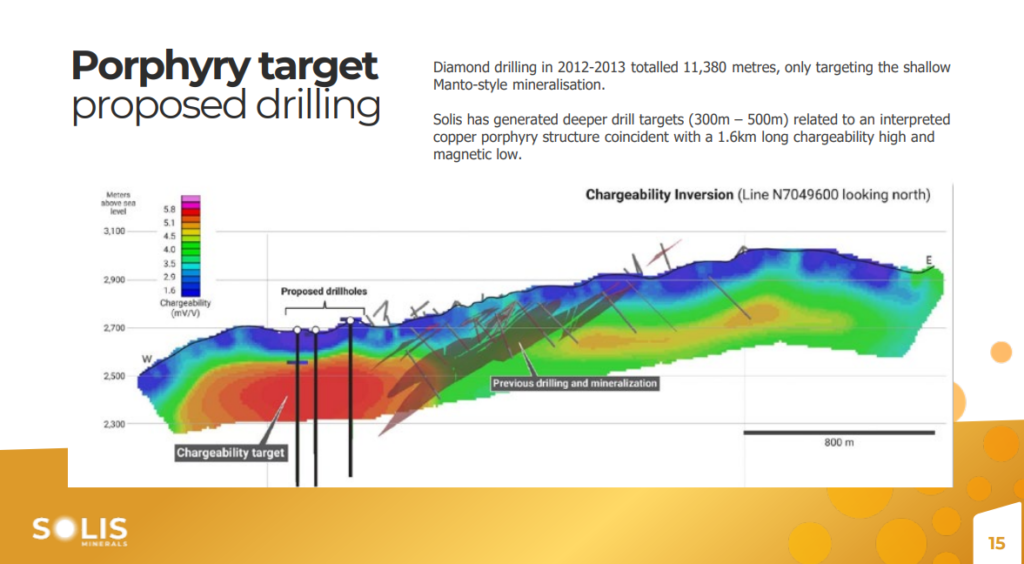 All in all Solis has identified FOUR main target areas just in the Mostazal project: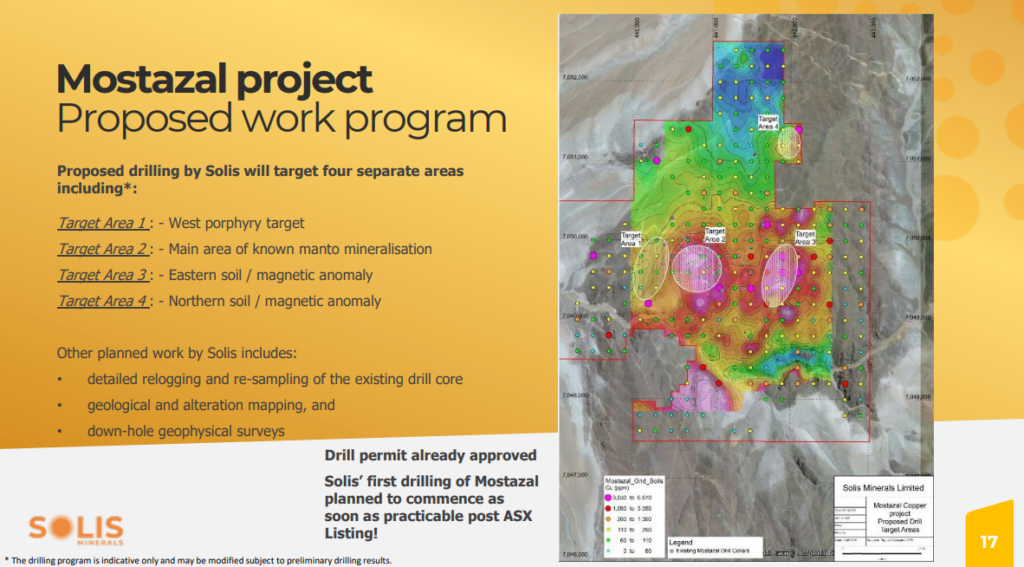 Summing up Mostazal
As I see it there are two main ways that Solis could create significant value at Mostazal. It can expand the estimated 10 Mt of mantos style copper mineralization and/or hit one of the major, deeper targets. Given the favorable supply dynamics of copper, meaning the world needs a lot more of it, I think a smaller, simpler near surface deposit could be worth a good bit of money. For a very large company to take notice and acquire the company I would think that Solis would need to find a typical Chilean giant at depth. On that note it would appear they are in the right neighborhood: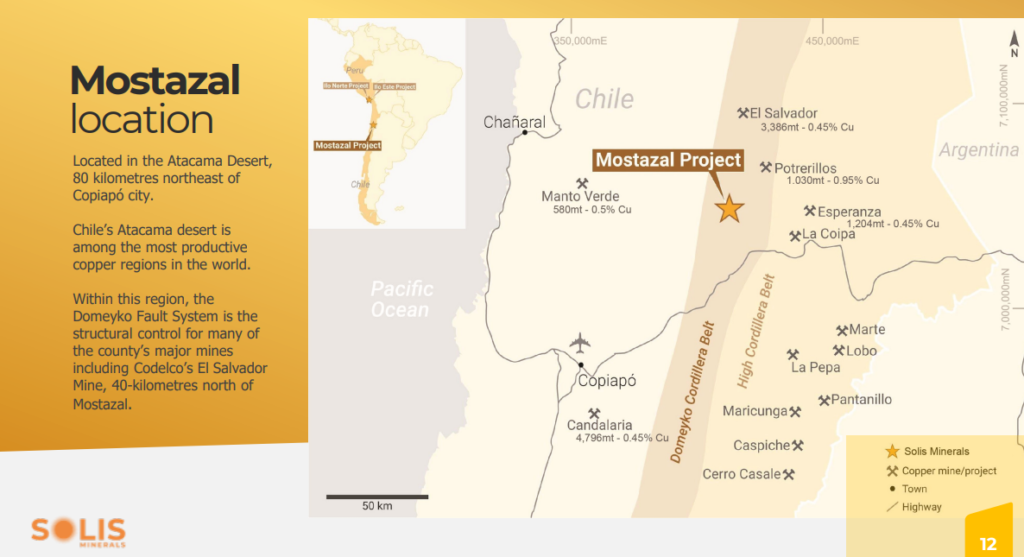 In short I see Mostazal as providing Solis with; a) "Margin of Safety" from the known, near surface, oxide mantos-style mineralization, b) Probable growth via expanding the low hanging fruit in the form of said mantos-style mineralization, and c) Multiple shots of serious blue sky potential (Either from one target alone or multiple targets combined).
Given the current valuation put by a depressed Mr Market I would suggest that Solis provides a solid Risk/Reward opportunity based on the characteristics and potential of "Mostazal" alone. The Mantos mineralization provides significant margin of safety at these levels in my book and I see it as relatively likely that the company will complete the 100% earn in.
I think that as long as copper does not crash in the future then Solis could make a killing on this project. If the company was starting from scratch that would be one thing. But to start with a guesstimated resource of 10 Mt of 0.95% copper is another. With C$5.5 M in the bank the company has the tools to both unlock the project's blue sky potential as well as earning in to it at the same time. A win-win.
Maybe the Mantos deposit(s) themselves could be grown a few times over? Maybe they do hit a big porphyry deposit at depth to boot? Maybe some of the several high priority targets pay off?
In short: I see this as one of those cases where if it pays off it could pay off a lot. With 33% insider ownership and US$10 M etc to earn in I see it as management having very high conviction that Mostazal will be worth a lot in the future. As always there are absolutely no guarantees but thankfully the company is priced in a way that if management is right in their conviction then I think this has ten bagger potential over the coming years.
I think it is unwise to bet the farm on any one stock but I am happy to have this kind of a Risk/Reward case in my diversified portfolio. It also gives me some additional exposure to copper which might have one of the best long term Demand/Supply characteristics in the metals space.
Current Events
The company has thankfully hit the ground running and is currently drilling. Recently, on February 8, we got a news release titled:
"Widespread Copper Sulphides Logged in FIrst Two Holes at Mostazal Copper Project"
Snippets:
Copper sulphides, sometimes locally abundant, have been observed during logging of the first two holes completed from surface down to 362m (in hole 1) and 444m (in hole 2), as part of an initial 2,000m diamond drilling program at the flagship Mostazal Copper Project in Chile. Solis' maiden drill program is targeting both near surface manto-style copper mineralisation and an interpreted primary copper porphyry mineralisation feeder structure at depth.

Drilling has encountered visible copper sulphide mineralisation in both of the first two holes completed (MODD001 and MODD002), comprising several mineralised zones from surface consisting of chalcocite+/-bornite occurring as amygdales, fracture fillings or in veinlets (with quartz-epidote-chlorite-calcite) and/or chalcopyrite.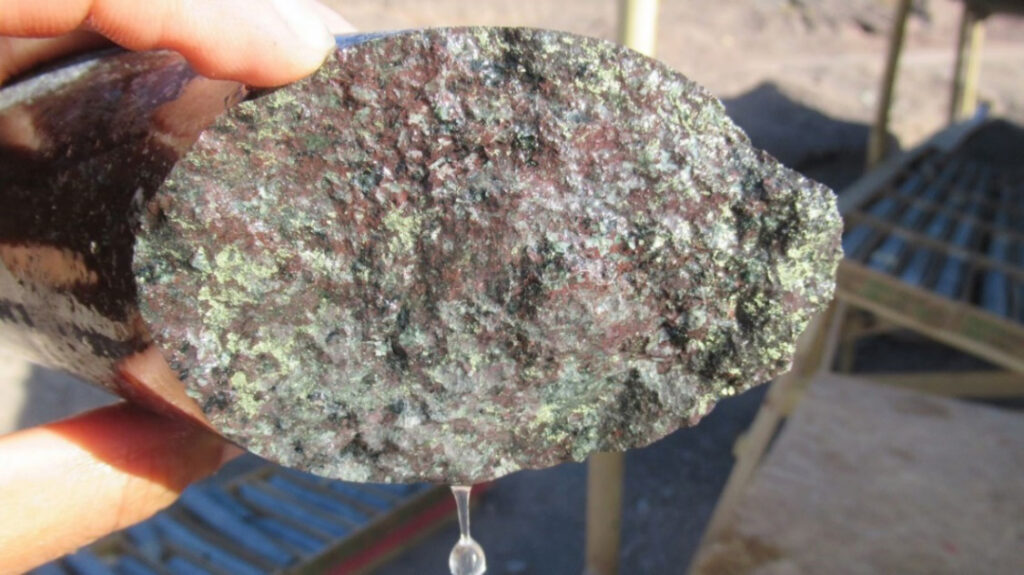 The presence of Bornite sounds encouraging given that it is a very rich copper mineral.
More from the NR:
(Bold added by me)
Detailed logging of MODD001 indicates successful intersection of the targeted "manto" type copper mineralisation from the surface with disseminated sulphides logged extending from surface to the end of the hole (362m) and from surface to at least 444m depth in MODD002. Individual "mantos" are less than 2m thick and encountered in stacked packages that may reach approximately 10m in thickness. Final mineralised intervals remain to be defined based on pending assay results.
To hear that disseminated copper sulphides have been logged from surface to end of hole #1 (362 m) obviously sounds very exciting. Hole #2 appears to have encountered disseminated sulphides from surface to at least a depth of 444 m. We don't know the actual results yet so we do not know how good these holes will actually be. With that said it sounds very exciting which is echoed by CEO Jason Cubitt:
CEO Jason Cubitt commented:

"Drilling is progressing very well, with our first two drill holes now completed, and we are off to a fantastic start at Mostazal. These first drill holes were designed to test the near surface manto-style mineralisation encountered in the historic drilling, and our logging has confirmed the presence of widespread alteration and disseminated copper sulphide mineralisation throughout both holes.

"Assay sampling of MODD001 is now well underway, with an expected laboratory turnaround time of at least four weeks from the receipt of samples.

"The drill rig has now moved and commenced drilling at the third planned hole (MODD003). This drillhole is targeting the heart of the interpreted IP chargeability geophysical anomaly, which we believe may represent a feeder structure for the extensive manto-style copper mineralisation found closer to surface at Mostazal and drilled in our first two holes."
In short: I am not popping champagne just yet but I am very interested to see what will come out of this drill campaign.
Bonus Value – "Ilo Norte" and "Ilo Este", Peru
Since Mr Market is currently in a depressed state regardless of how well copper is doing he has decided to, in my opinion, throw in two additional projects in Peru for "free":
These projects are certainly worth something. Just how much I do not know. Given that I think Solis is cheap based on what is known at Mostazal coupled with the potential at Mostazal I see it as getting these two projects for free at the current Price of the company.
Closing Thoughts
From a Risk/Reward perspective with an Enterprise Value of US$7.1 M I think Solis is a "no brainer" given what is already known about the flagship Mostazal project. If I'm "lucky" the case will have played out well over the coming months and year and I will one day sit on a return of a few hundred percent. If I'm "unlucky" I will be sitting on a loss.
Wrapping up the key points as I see it:
Low valuation
High insider ownership
Advanced asset with known copper mineralization at Mostazal
Lot of room for additional value creation
Currently drilling
As always never bet the farm on any single junior explorer no matter how good the Risk/Reward might look. Big success is the exception not the rule.
Note: This is not trading or investing advice. I own shares of Solis Minerals and the company is a banner sponsors. Therefore assume I am biased and make up your own mind. Assume I may buy or sell shares at any time. I share neither in your profits or losses. Juniors are risky and volatile. Never invest money you cannot afford to lose etc.
Best regards,
The Hedgeless Horseman