This piece will be about my personal/subjective case for Snowline Gold. It is incredibly subjective,  forward looking, highly speculative and all that stuff that makes this sector fun and risky. I have a significant position in Snowline so consider me biased! These are my opinions, thoughts and conclusions and mine alone. If you do not agree with anything in this article then that is more than fine! I share neither your losses or your profits. Lastly, I was halfway done writing this article when the most recent news release came out so an "updated picture" of where I think things stand can be found in the middle of the article.
Setting The Scene – How quickly things can change
Snowline Gold first came onto my radar almost exactly one year ago as Quinton Hennigh (Crescat Capital) introduced the company on July 30, 2021. 12 months ago Snowline "only" had some intriguing drilling success at the "Jupiter" target (Einarson Project), the "Valley" target at Rogue was yet to see its first hole, and the "Ursa" Project was perhaps the main attraction given the sheer scale of the soil anomaly… But then the company drilled >100 gram-meter holes at the Epizonal (Fosterville type) "Jupiter" target… And then the company drilled up to 211 gram-meters in the first ever holes drilled at the the Reduced Intrusion-Related Gold System (Fort Knox type)  "Valley" target… Within just one field season the company had so much success with the drill bit that the behemoth sized "Ursa" anomaly has somewhat been put on the back burner.
Snowline Gold really is one of the most remarkable exploration stories that I am currently aware of. Those who might have followed me for some time are probably aware of the fact that I have referred to the Kenorland Discovery Study several times before and how I think it is a handy guide in terms of evaluating the quality/impact of early stage drill success. The study draws conclusions about how the quality of an early stage drill campaign relates to the odds of a discovery potentially turning into a significant deposit. This study was done by looking at the initial exploration success that led up to the discovery of some of the most well known deposits. The study basically tries to infer a relationship between early stage exploration results and the final quality (endowment) of a mineralized system aka the odds of finding a multi-million ounce gold system.
To sum up: The better the initial results are the higher chance of a company being onto a significant discovery…
These are some of the conclusions made by the authors:
(Note: "GT" = Gram*meters)
If a company drills <4,000m and hit a 75 GT intersect, this could be very significant
If a company drills 10,000m on an initial program and does not intersect a >100 GT intersect, this should downgrade the target
The majority of >2 Moz Au deposits have initial GT intersects >50 GT
To capture majority of the >2 Moz deposits, discovery intersect should have >5m of mineralized rock
The majority of >5 Moz Au deposits have initial GT intersects >134 GT
To capture majority of the >5 Moz deposits, discovery intersect should have >10m of mineralized rock
If a company drills <4,000m and hit a 75 GT intersect, this could be very significant
Enter Snowline Gold's 2021 campaign…
Discovery #1. The Epizonal Gold (Fosterville/New Fond Gold type) discovery:
Discovery #2. The Reduced Intrusion-Related Gold System ("RIRGS" aka Fort Knox type) discovery:
Very few grassroots exploration campaigns will meet the upper criteria outlined in the Kenorland Discovery Study. I am not aware of a single company that was able to do it twice, at two different projects, in a short field season. This feat is truly remarkable from a statistical stand point. Suddenly Snowline Gold found itself sitting on potentially two significant discoveries, after having drilled as many targets, out of a portfolio that contains more than #16 targets in total. I will mostly discuss the RIRGS discovery in this article.
Snowline Gold in Short
Two discoveries with >100 gram-meter holes in limited drilling

"Valley" (Fort Knox type RIRGS)
"Jupiter" (Epizonal/Fosterville type gold system)

Proof of concept/analogues for Valley

Victoria Gold's Eagle Mine
Kinross Gold's Fort Gold Mine

Potentially extremely ROI on drilling at Rogue/Valley (and Gracie)

Potentially an extreme amount of de-risked ounces per drill meter
Potentially extremely large targets and predictable mineralization with very high hit rates

Potentially abnormal size potential at Rogue/Valley (and Gracie)
Enormous land package with multiple additional RIRGS, Epizonal, Carlin and base metal targets

127,310 hectares in total across 7 projects

Located in Yukon which is a tier 1 jurisdiction

and is where Victoria Gold literally built a large open pit mine quite recently and is mining the same deposit type as Valley (RIRGS)

Cashed up: ~C$30.5 M in cash
Synergies

Material success at one target will hike up the implied value of Snowline's other targets in the area since any future development would bring infrastructure closer to all other targets
My case for Snowline Gold
I simply think that when this field season is over the Valley RIRGS target will have an "inferred" endowment of >>10 Moz (with blue sky a lot higher for valley alone) with good grades for a system of this type. If we get "lucky" at the enormous Gracie target right next door then the company might end up proving up more inferred gold than all my other gold juniors combined in just the next six months. This would not only make Snowline the owner to one of the largest undeveloped gold deposits in North America but it would also hike up the implied value of the Jupiter target and the other zillion targets the company has in its portfolio via the obvious synergies. . The best part is that the Valley target looks enormous, quite predictable and of unusually high quality for a Reduced Intrusion-Related Gold System. In other words the ROI aka value creation curve for Snowline might be the highest in the entire junior gold space in my opinion. Another way to put it is that Snowline Gold might prove up more "inferred" ounces from this field season alone than say Osisko Mining has been able to do after drilling over 1,000,000 meters over multiple years.
Proving up a large disseminated gold system vs a nuggety vein system:
On that note Willem Middelkoop of Commodity Discovery Fund posted the following on CEO.ca in light of how strong the stock has been coupled with the high volumes traded:
"Investors now understand this has probably been the last PP SGD will ever do… so buying in the open"
… My interpretation is that Willem believes the cash which is being raised right now will be enough for Snowline to show that the company has found something truly enormous and that it will be so obvious, so quickly, that the company gets acquired before needs to do another raise. Such a quick discovery-to-take over journey would of course be very hard if this was a nuggety vein system, which would require a lot of time and drill meters, instead of a disseminated gold system with apparent super-size potential.
The scenario above is certainly exciting and would be a slam dunk for Snowline investors. With that said, if Valley or Gracie becomes a truly enormous discovery (say >50 Moz), then that rhymes with how Barrick and Newmont ended up being the two largest gold companies in the world. Barrick became a real player on the back of the Goldstrike discovery in Nevada and Newmont turned into a real gold focused company on the back of Gold Quarry. A single discovery of such magnitudes could literally catapult a company straight into a "major" producer if it would get into production. This is of course extremely forward looking/speculative but maybe 5% of such a scenario happening is priced in currently.  Given that Snowline's project portfolio is larger and more prospective than almost any junior around I would say the company would also have additional growth potential to boot: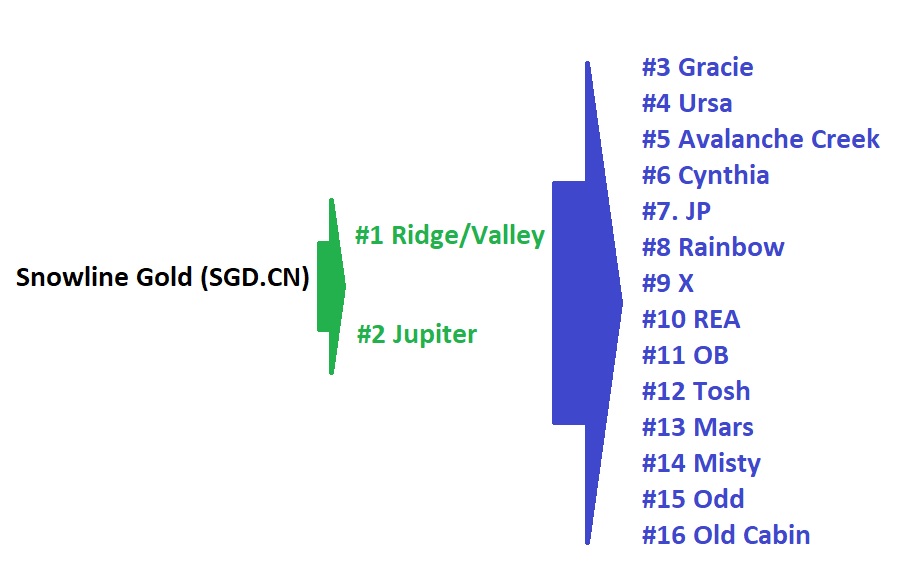 How much gold do we need?
If a surface area as big as the pink square in the slide below measuring 500 x 500 m2, is mineralized to 400 m depth with an average grade of 1 gpt , it would result in a 8.7 Moz gold deposit.  I think such a scenario alone (or slightly larger) would pretty much be a company maker: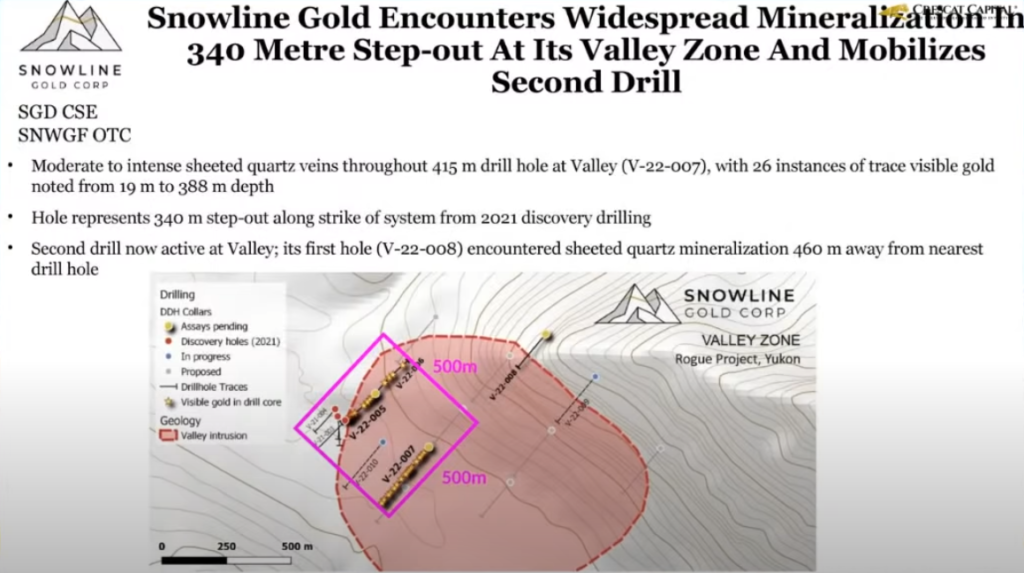 Anything beyond that pink square could be considered "bonus" upside depending on personal expectations. And said bonus upside might be remarkably large for Valley and Gracie combined: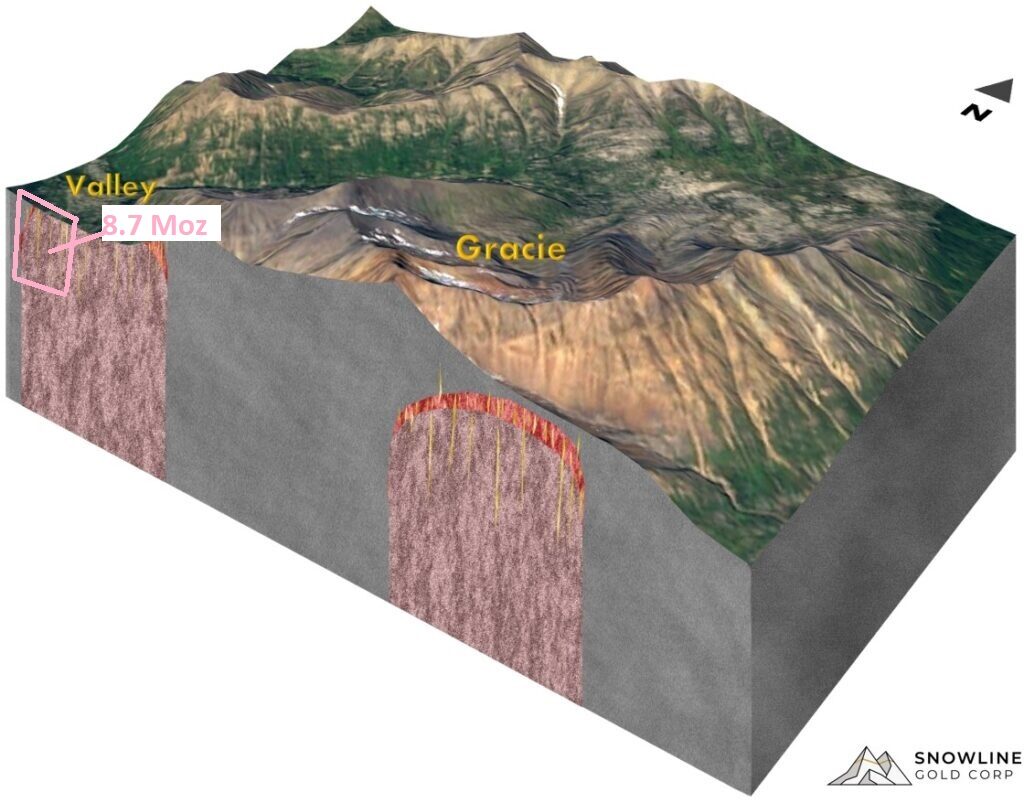 … One pink box might be enough for a company maker but how many more could fit within Valley and the 5.1 km trend at Grace? Who knows. More at least.
Lets not forget the company also has a brand new Epizonal Gold discovery, with >100 gram-meter hits, and which is wide open along an open ended soil anomaly measuring 3 km so far: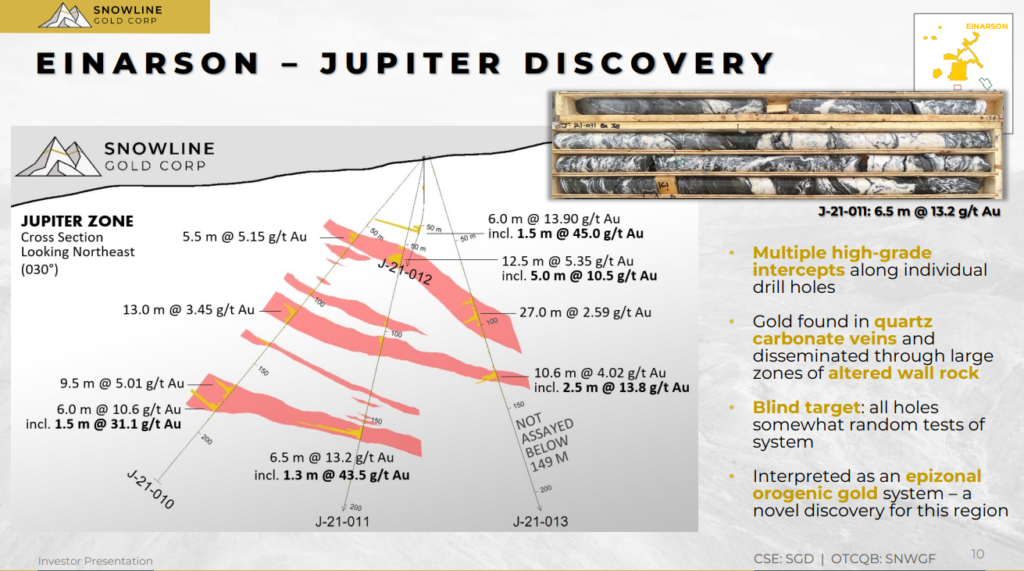 Then there is some #20 additional targets that are yet to be drill tested across Snowline's enormous land package:
(Note: Not all of Snowline's projects and targets are not even included in the following slide)

My even shorter case for Snowline Gold:
I think Snowline has a good chance of having >>10 Moz of gold at Valley (which I consider quite far away from being priced in) with blue sky perhaps pushing 40-80 Moz from the Rogue project (Which is obviously not anywhere priced in so it would be a big free bonus in my mind). Then I get an Epizonal Gold discovery ("Jupiter"), the huge base metal target called "Ursa" and some #20 more projects/targets which includes more intrusion-related gold targets, Epizonal gold targets, base metal targets and Carlin Gold targets for good measure. I see Snowline as having a good shot of making one of the largest discoveries ever and I see a pipeline of projects which could allow for a number of additional discoveries as well as significant spin out potential. Basically I see Snowline as having the exploration potential of >#20 juniors combined with two significant discoveries already in hand. As such I think it is extremely undervalued and the Risk/Reward is one of the best I have ever seen and thankfully the ROI on drilling could be absolutely extreme as well.
Extreme blue sky potential at Valley & Gracie
Potentially extreme pace in terms of proving up ounces/derisking

Potential for a true world class tier #1 discovery worthy of being a flagship mine of even the largest miners

Enormous project/target pipeline

Second discovery already confirmed at Jupiter
… And the best part is that I do not think a lot is priced in "even" at ~C$300 M (As always extremely poor sector sentiment typically brings big opportunities for the few that are still in the sector and are paying attention). If this story works out somewhat along the lines I hope and expect then Snowline could be a real "portfolio saver" even if this correction persists. In case this becomes a "shockingly" large discovery I think it will generate such excitement that it cuts through this poor market sentiment like a hot knife through butter.
Bottom line:
Snowline might be pricing in a 20% chance of discovering 10 Moz at Rogue, while I think the chance is significantly higher, and it could be significantly more than 10 Moz from Valley alone… Thus a big fat no brainer Risk/Reward case in my book. I will either lose money, make some money or make a lot of money.
Another way to think about it is that I think that in order for the Rogue project alone to NOT be a company maker Snowline must be UNABLE to find the footprint of the pink box below, grading 1 gpt going 400 m depth, ANYWHERE on the project:
… Not only do I consider that highly unlikely given what we know but Mr Market is also giving me great betting odds against it thankfully.
Snowline Gold – 30 years of work to become an overnight success 
Today's Snowline Gold's project portfolio is the result of decades of prospecting, data gathering, and boots on the ground exploration efforts by the Berdahls family owned prospecting company. A very wide net was cast as the Berdahls previously staked and optioned over >1% of the Yukon's surface area: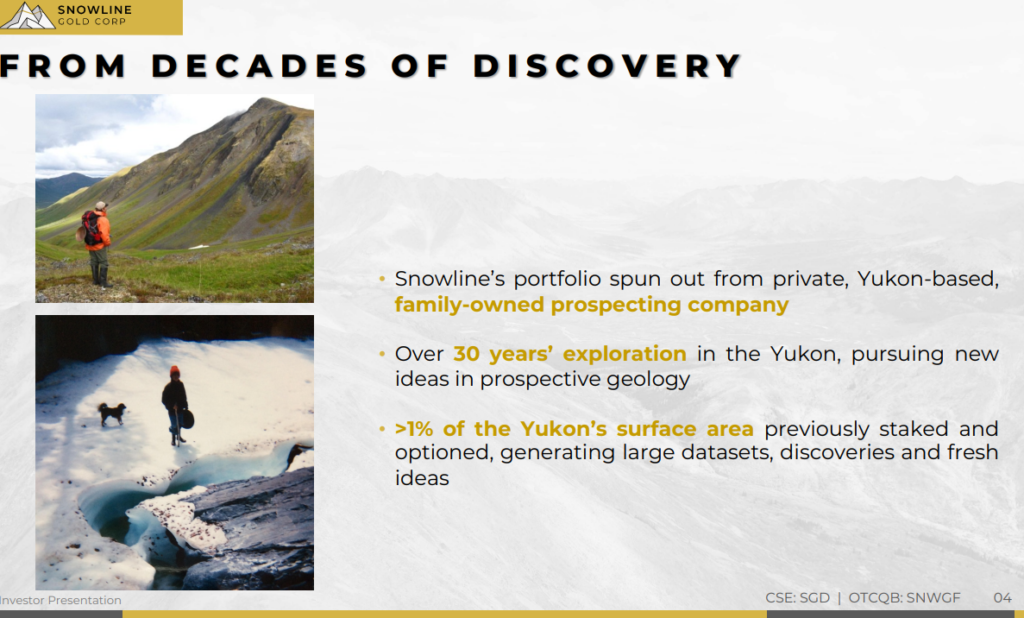 Below is a slide from 2020 which highlights some of the data used to pinpoint the main areas of interest over a freakishly large land mass (and they have covered even more ground than this):
(Note the scale)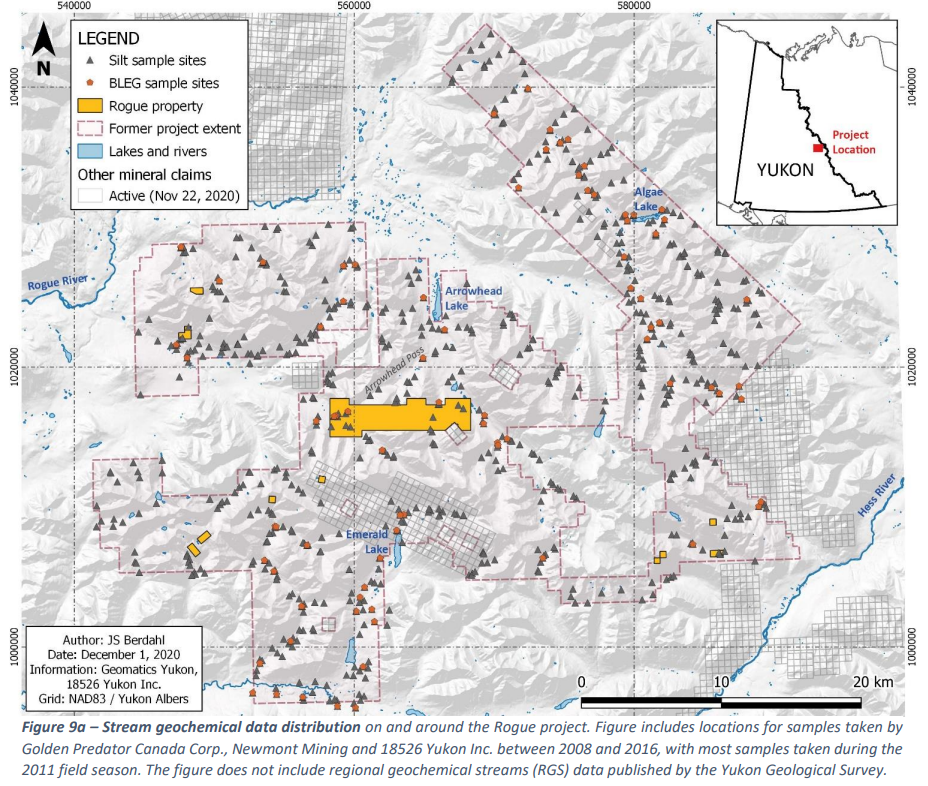 Snowline has basically been able to collect data over an extremely under-explored part of the Selwyn Basin which is the size of a small country and then been able to pluck out and keep the jewels. The result is perhaps one of the most prospective and deep project portfolios of any junior today…
Snowline Gold's Project/Target Portfolio Today
Yes, Valley is currently what the market is focused on, but man oh man do investors get a lot more than that…
At C$1.95/share the company has a Basic Market Cap of C$248.8 M and C$30.5 M in cash currently. That is a snapshot (Basic) Enterprise Value of ~C$218 M or ~US$ 169 M assuming my numbers are correct. That's US$169 M which one is paying up for the implied value of Valley, the Gracie trend, Jupiter, Ursa, Avalanche Creek, all other targets/projects mentioned below (and the company has more targets than the ones listed).
"Jupiter" – (

Epizonal Gold system

) – Following up on DRILL DISCOVERY #1

>100 gram-meter hit

"Valley" – (

Intrusion related gold system

) – Following up on DRILL DISCOVERY #2

>100 gram-meter hits

"Gracie" –  (

Intrusion related gold target

) –

To be drill tested this season

5.1 km trend of anomalous trend of gold/bismuth/tellurium

"Ursa" – (

Gold and silver & base metals targets

)

– Maybe drill tested this season

a roughly parallel 14 km trend of elevated to highly anomalous zinc accompanied by elevated silver, copper, molybdenum, nickel and vanadium.

"Avalanche Creek" – (

Orogenic gold target

) –

Maybe drill tested this season

Orogenic gold occurrence discovered in September 2020 along a major fault structure. 22 grab samples of a mineralized boulder train averaged 7.8 g/t Au and graded up to 34.2 g/t Au.

"Cynthia" (

Intrusion related gold target

)

2×2 km zone of alteration, veining and elevated gold geochemistry between two Tombstone suite intrusions

"JP" – (

Intrusion related gold target

)

Covers a 900 by 600 m exposure of an intrusive stock 7 km southwest of the Valley target.

"Rainbow" (

Intrusion related gold target

)

The Rainbow project covers a gold and pathfinder element soil anomaly associated with surface alteration caused by a recently discovered intrusion, thought to belong to the mid-Cretaceous Tombstone Plutonic Suite. 

"Old Cabin" (

Intrusion related gold target

)

An additional large block, "Old Cabin", covers a suspected buried intrusive stock inferred from a small (roughly 200 m) granodiorite plug within a 2 x 4 km magnetic anomaly.

"X"

– (

Several styles of gold targets

)

multiple gold-in-soil anomalies, including a 3.5 x 1.0 km area with generally elevated (>10 ppb Au) to highly anomalous (up to 6,355 ppb Au) gold in soils. 

"REA"- (

Several types of targets

)

The REA claims cover a zone of gold and base metal anomalism in soil and rocks near a zone of complex structural intersection and along strike of the X claims.

"OB" (

Epizonal Gold target

)

generally elevated (>10 ppb Au) to anomalous (up to 522 ppb Au) soils along a 2.3 km strike length, with 16 of 79 samples (20%) returning >100 ppb Au

"Tosh" – (

Orogenic gold target

)

Mineralized rock samples up to 6.8 g/t gold and up to 1,146 g/t silver over a 15 kilometre area

"Cliff"

–

(

Orogenic gold target

)

Systematic soil and talus sampling over Cliff identified a large, consistent gold in soil anomaly averaging 179 ppb Au and over an area of 1,600 by 300 metres

"

Mars"

– (Orogenic gold target &

Carlin Gold Potential

)

Orogenic gold occurrence with Carlin potential. Only the southernmost end of a 3.5 km gold in soil anomaly has been drilled, consistently yielding gold mineralization in silicified structural zones with intervals of up to 0.571 g/t Au over 21.16 meters (poor recovery)

"Misty" – (

Carlin Gold Potential

)

a 30-kilometer-long zone of consistently elevated to anomalous gold and Carlin pathfinder elements in soils corresponding to a variably faulted, doubly plunging anticlinal structure exposing carbonate stratigraphy known elsewhere to host Carlin-type gold.

"Odd" – (

Carlin Gold Potential

)

a pronounced 3.5-kilometer-long gold and Carlin pathfinder element soil and stream sediment anomaly corresponding to a thrust-faulted domal exposure of carbonate stratigraphy.
… As I stated earlier I think Snowline has more large scale, high quality targets than 20 average juniors combined in my book. Snowline might actually have the most prospective and high quality junior I am aware of. When one account for the fact that drilling at both of the first two targets, out of this immense portfolio, led to two brand new discoveries with >100 gram-meter intercepts I think it speaks to just how good Snowline's average target might be. To see one early stage drill campaign tick all boxes in the Kenorland Discovery Study is extremely rare in itself. To make two out of two such discoveries is something I have never seen at least. Furthermore Snowline has also greatly expanded some claim blocks as well as staked new projects over the last 12 months which I will cover later in this article. In other words these remarkable discoveries appear to be "proof of concept" for this entire region which has prompted the company to lock up even more ground with targets ranging from more intrusion-related gold systems, orogenic gold systems to base metals systems. The company has even more targets outlined than the ones above according to the presentation but I am not sure everyone has a name yet. Anyway, I would be surprised if Snowline did not end up with even more discoveries than Valley and Jupiter, while any one of those could be a company maker in their own right.
Food For Thought:
What is the Jupiter Epizonal gold discovery worth?
What is Ursa worth?
What is Avalanche Creek worth?
What is Gracie worth?
What is the entire portfolio of targets across the 127,000 hectare total land package worth?
What is the Valley target alone worth?
What is the entire grassroot portfolio of targets worth?
For starters Snowline hit 100 gram-meter holes in the first two targets that were tested, which is beyond extremely rare success, and should give an indication of the overall quality of the portfolio. Anyway, if we exclude Valley, Gracie and Jupiter and put lets say ONLY US$4 M of value on average for the other #13 targets listed above then the grassroot target pipeline would be worth US$4 * 13 = US$56 M (I think this is conservative given the scale of many targets).
Then lets say that the massive Gracie trend at least has an implied value of

US$20 M

(I think this is incredibly conservative given the size).
Then lets say that the Jupiter Epizonal Gold discovery is worth at least

US$20 M

.
Now if the current Basic Enterprise Value of Snowline is US$209 (at $2.35/share) and we subtract the implied values for the #15 targets above then we have US$209 M – US$96 M = US$113 M left that I could argue is the price I am paying for all potential at Valley. This of course leads me to conclude that Snowline's Basic Valuation is absolutely bonkers cheap given that I personally think Valley alone has say a 50% chance of being at LEAST 10 Moz worth at LEAST $1 Billion which gives an Expected value of US$500 M (0.5 * $1 B).
Rogue Project – Valley & Gracie targets
Lets first look at some analogues to Valley and Gracie…
Victoria Gold's Eagle Mine
"Fort Knox" type/

Reduced Intrusion-Related Gold System ("RIRGS")
>2.7 Moz at 0.65 gpt diluted grade
> 3.6 Moz Total endowment
Ramping up to 250,000 oz per year through 2023
Victoria Gold's Eagle Mine is a Reduced Intrusion-Related Gold System which is being mined open pit and is located in the same jurisdiction as Snowline (The Yukon). Unlike most small miners lately it appears that the Eagle Mine is a pretty robust operation: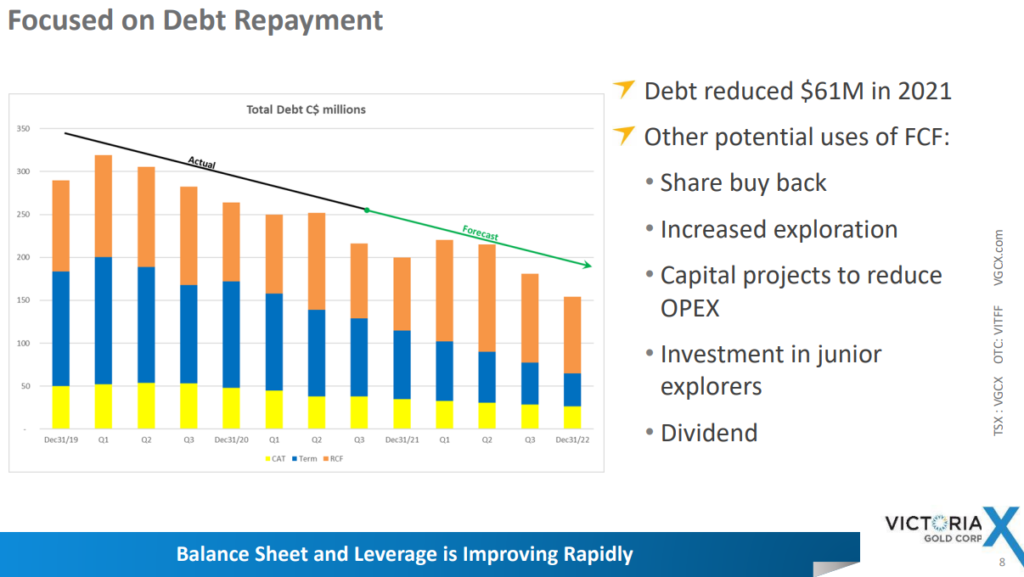 This gives me further confidence that these types of deposits are indeed very thankful for any miner to have and if Snowline would find a very large one (or two) it could have considerable economic value. Furthermore this next slide rhymes with what Quinton Hennigh has stated… That these types of systems can have incredible vertical potential:
… The vertical potential for these systems might be highly relevant since it is believed that both Valley and Gracie are believed to be two pretty much fully preserved gold systems of this type. In that case it would very much make sense for both targets to have 800 m depth potential or more which is highly relevant in terms of estimating the blue sky potential which I will get back to later. I would also note that the best hole presented with assay numbers in the slide above graded 1.22 gpt over 175 m and that Snowline drilled a hole grading 1.25 gpt over 169 m within the first four holes ever drilled at (the edge of) the Valley intrusion.
Another thing I would like to point out about the slide above is the fact that it looks like granite is "ballooning" out. To my amateur eyes it looks like the Eagle Deposit is, just like Fort Knox, located in the lower parts of an eroded intrusion. In other words it looks to me like this deposit is hosted closer to the root of the intrusion and that the upper parts have been long since eroded away. Just my 2 cents of course.
Kinross Gold's Fort Knox Mine
Reduced Intrusion-Related Gold System ("RIRGS")
~11 Moz total endowment
Gold Equivalent Production 2021: 264,283 oz 
2P Reserves grade today: 0.3 gpt
M&I Resources grade today: 0.3 gpt
Inferred Resources grade today: 0.2 gpt
The deposit had pre-production reserves in 1996 of 158.3 Mt @ 0.83 g/t Au with a 0.39 g/t Au cut-off (Bakke et al., 1998)
Fort Knox Gold Deposit
The Fort Knox deposits is also a Reduced Intrusion-Related Gold System and is owned and operated by Kinross Gold in Alaska:
… Note: "The Fort Knox ore deposit is hosted entirely within the 1,100 x 600 m east-west elongated Fort Knox Pluton (THH: Granite)"
Drill collars, pit outline and Fort Knox Granite (in pink):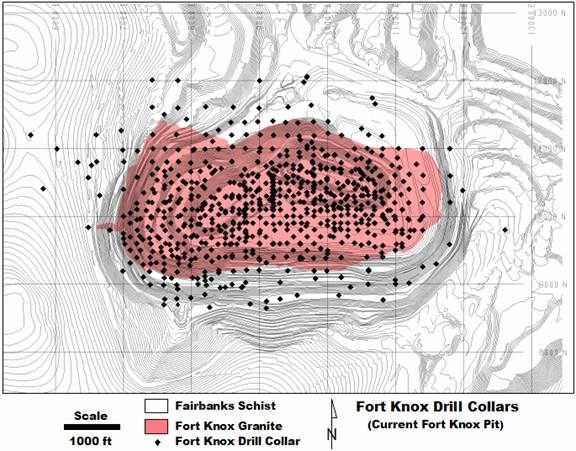 … One can see that pretty much all drilling is collared within or at the edges of the granitic intrusion
Modern Fort Knox pit and grade blocks:
(Note that blue colors are only 0.10-0.31 gpt)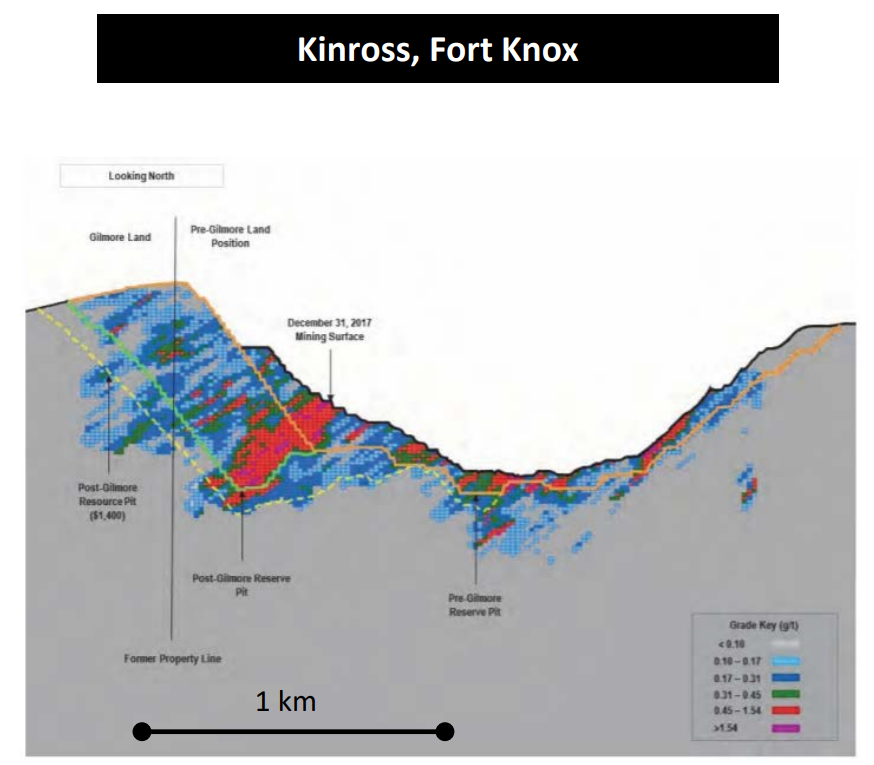 Section with geological units, shear zones and veins etc: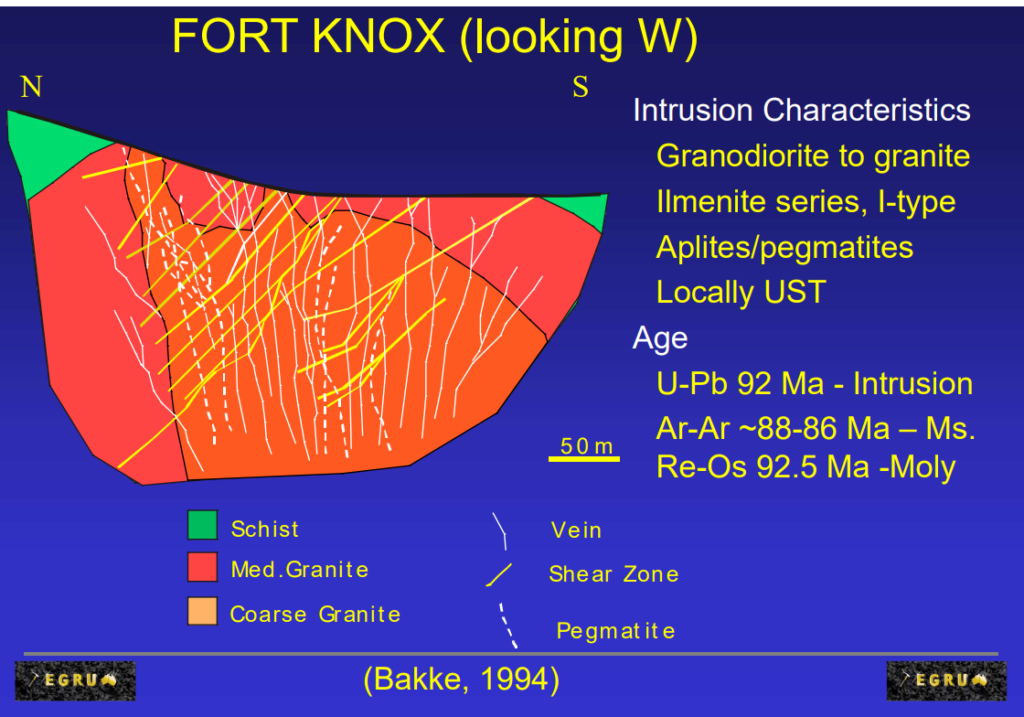 … Note that all the veins are depicted as being within the intrusion
What we know about the Reduced Intrusion-Related Gold System ("RIRGS") which makes up the Fort Knox deposit
Historical grades in the range of 0.3-0.8 gpt
Production grade today is 0.3-0.4 gpt
Open pit, mill and heap leaching of this RIRGS that far north (Alaska) works even with grades of only 0.3-0.4 gpt
Mineralization is entirely found within the Granite intrusion
The Fort Knox system is believed to be the lower parts of the intrusion (Upper parts have probably long since eroded away)
Fort Knox intrusion is estimated to be 1,100 x 600 m
The Jeeroy deposit, Kyrgyzstan
It's hard to find information on the Jeeroy deposit but Quinton has said it is also an RIRGS. Interestingly enough it provides an example of a remarkably high grade RIRGS: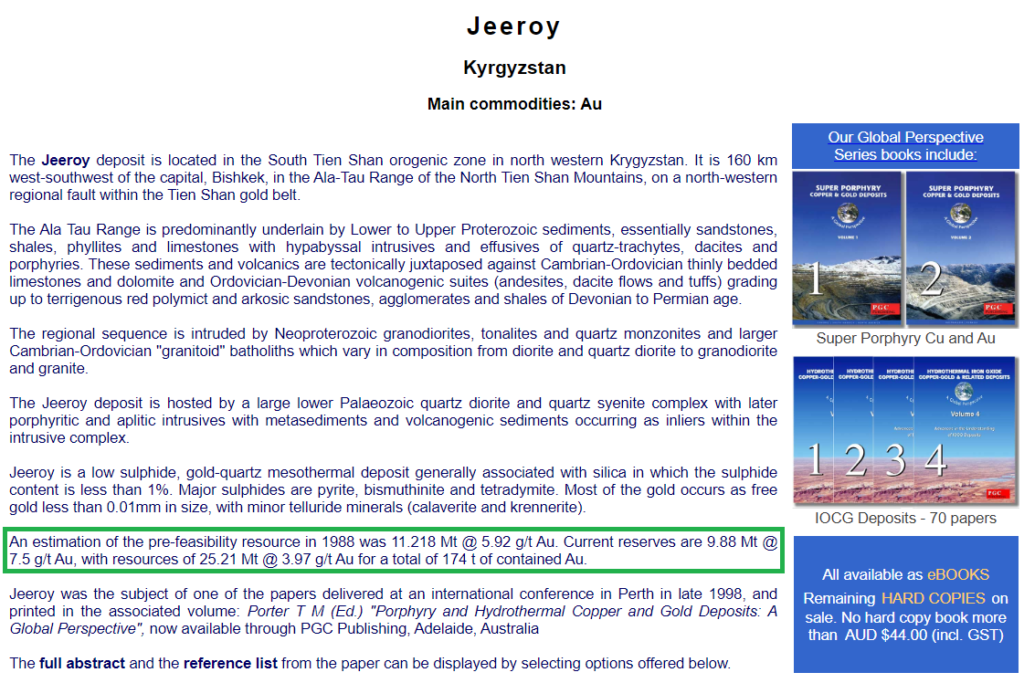 … The resource done in 1988 amounted to 5.6 Moz of gold with grades obviously way higher than either Fort Knox or Eagle (Albeit lower tonnage). This mine appears to be quite a big deal since Putin himself got involved in 2021:
"Russian President Vladimir Putin and his Kyrgyz counterpart, Sadyr Japarov, opened operations at Kyrgyzstan's second-largest gold deposit, pledging it would fuel investment in the economy and pad the state budget.

The two leaders launched the Jerooy gold refining plant, a mine operated by Russia's Alliance Group, on March 17 via a video-link ceremony.

Putin said the project would see "record volumes" of investment totaling $600 million over its lifetime and provide Kyrgyzstan's budget with about $70 million annually from the project…" – Source
Anyway, I am thankful there is at least one example of a RIRGS that apparently has considerably higher grades than Fort Knox and Eagle.
What we know about Reduced Intrusion-Related Gold Systems
Can be absolutely massive

Can have a vertical potential of > 1 km

Apparently tend to be very economic (easy, cheap to mine) given that Kinross is mining at very low grades and Victoria Gold is making good cash

The granite intrusion itself is the original source of the gold which when it cools gets cracked by the pressure of the fluids containing gold that cannot crystallize (stay) in the rock

Thus the intrusion is both the source of the gold and the source/host of the gold bearing veins

Thus where you have the intrusive rock there ought to be gold bearing veins with varying densities/grades nearby

Are expected to potentially be higher grade near the top and shoulders if the system is intact

From an economic stand point it could hike up the NPV/Payback period significantly by having the highest grades up front and especially if it's at/near surface. 
What we know about Valley and Gracie
Valley intrusion measures around 1,000 x 8,000 m2 at surface
Every hole so far has hit mineralization just outside the mapped intrusion as well as inside it at Valley
Appears to be two very large and "Intact Intrusions" of the same type as Fort Knox (and Eagle):
I emailed Quinton Hennigh recently to get a better grip on exactly why Valley and Gracie might be considered almost unique (At least for a RIRGS in the Tintina gold bet). I mean there are other deposits like this which are really big obviously (Fort Knox & Eagle) but it's easy to get paranoid when what appears to be a potentially unique opportunity presents itself. Anyway I asked why Snowline's RIRGS targets might be unlike all these other RIRGS deposits:
"Preservation at Valley looks perfect. FK and Eagle are a bit deeper and less preserved.   These are not the root of the batholith, but of the gold bearing part. Valley and Gracie seem to be at the top where grades are way better" – QH
When you really think about everything that would need to happen in order to have two semi-intact to intact RIRGSs it it starts to make sense why Snowline might indeed have pretty unique potential:
To summarize:
Fort Knox and Eagle which are believed to be the lower "remnants" of a RIRGS are currently producing gold in the range of 0.3-0.4 gpt (Fort Knox) to 0.6-0.8 gpt (Eagle today and Fort Knox in the early days).  It is believed that the upper carapace of an intact RIRGS could be more mineralized than the average of the full "stock". In order for this carapace to be intact and near surface the amount of erosion from the time of when these systems formed millions of years ago up until today had to be almost perfect. Thus, Snowlines RIRGS targets could be considered almost unique in quality given that both might have pretty much intact carapaces that starts at (Valley) or near surface (Gracie).
Anyway, the Valley intrusive target appear to be:
Larger than the Fort Knox intrusion
Almost entirely preserved which would include a potentially higher grade "carapace" near the top/edge
Initial holes show higher grades than Fort Knox and The Eagle Gold Mine
Visible gold has been seen scattered over great intervals in majority of the drill holes (assayed and un-assayed)
The vein density in the first hole to be drilled in the center of the intrusion appears to be spectacular
Drill traces (so far) with instances of visible gold plotted:
(Note the intensity of visible gold in hole V-22-007 which is pretty close to the center)
 V-22-007 drill core from 133.5 m to 159.9 m downhole:
(Note the astounding amount of veins in this interval)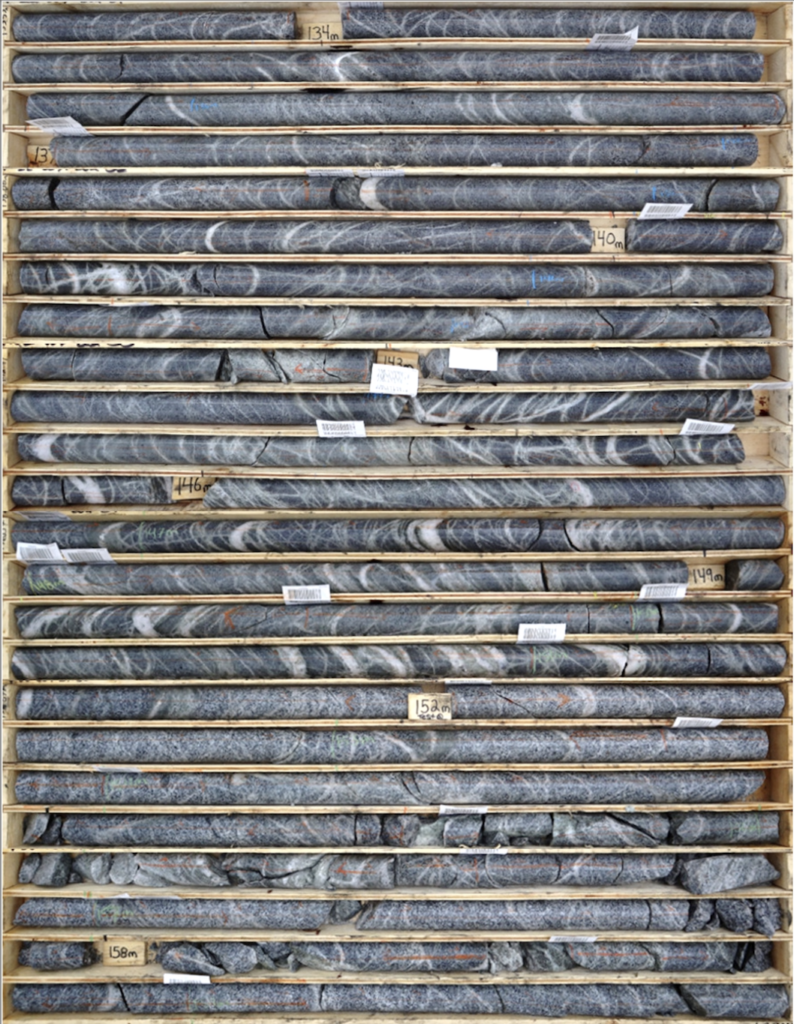 From the same news releases where the picture above was included:
Snowline Chair and Director Craig Hart comments that "I've seen a lot of rocks and a lot of drill core from many intrusion-related gold systems, but these Valley intersections have the most intense vein densities I've ever seen.  There are overprinting vein generations and varying vein orientations which is unusual and further indicates a very robust mineralizing system.  To see these vein densities over significant widths is very encouraging.  The numerous observations of visible gold and bismuthinite indicate that the system is mineralized, but of course the assay results are required before we get too excited."  Dr. Hart is a globally recognized expert in intrusion-related gold systems. – Link
Furthermore Dr. Hart had a scientific paper published in 2007 titled "REDUCED INTRUSION-RELATED GOLD SYSTEMS" which included the following snippet: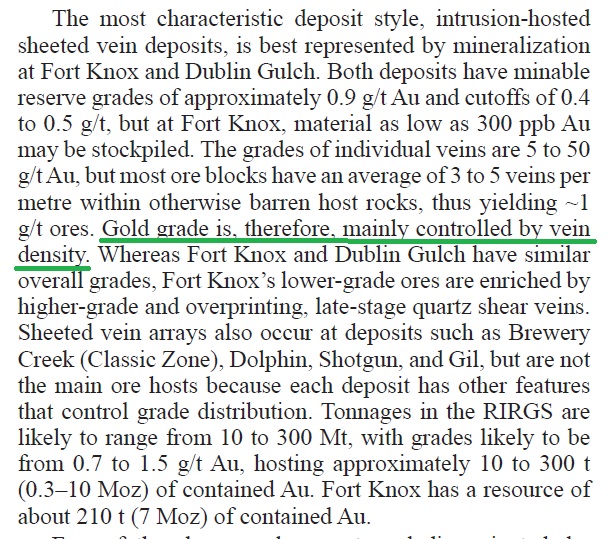 … Note and keep this in mind for later: "Gold grade is, therefore, mainly controlled by vein density."
I expect vein densities and grades to naturally vary. Some areas will for different reasons have been intersected by a lot of veins and some others will have been intersected by fewer veins. What I find incredibly exciting is the fact that hole 007 was collared almost in the center of the intrusion to a depth of 340 m true vertical. Maybe this higher-grade carapace is present and over 300 m thick at the top of the intrusion and/or the center of it is perhaps simply incredibly mineralized. Regardless it paints a very encouraging picture for the Valley target in my book.
What kind of size potential would be needed to warrant development in this part of the Yukon?
Valley/Gracie and Victoria Gold: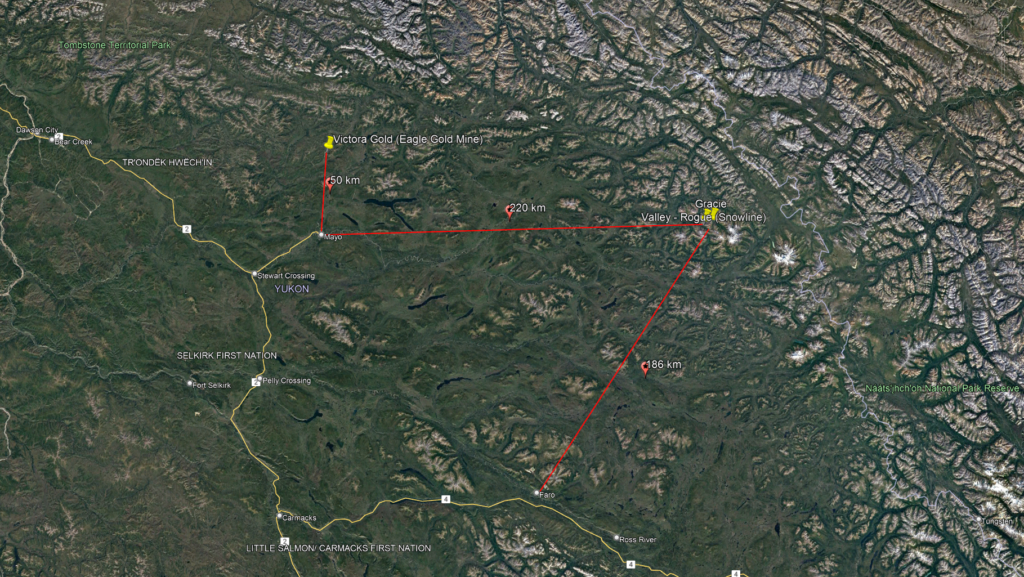 Well we know that Victoria Gold was able to finance and build the ~3.6 Moz Eagle Deposit which is relatively remote. We know it appears to be making good cash on that deposit even in this inflationary environment and with grades that are lower than what Snowline has hit so far at Valley. For discussion's sake lets assume Snowline would need find around 10 Moz in order for it to be developed. Lets call this the "base case" success needed which would by extension then also hike up any and all additional success above that number whether it is from Valley, Gracie, Jupiter, Ursa or any of the zillion other targets.
I would also note that Valley and most of Snowline's projects/targets are not "too" far away from where Fireweed Zinc has two significant deposits as well as the "North Canol Highway" for what it's worth: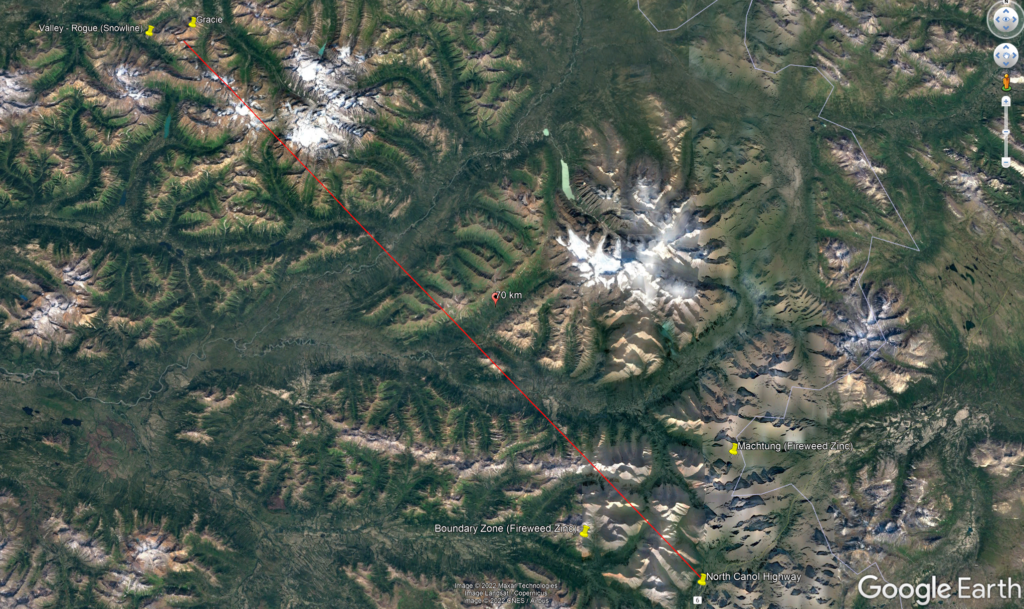 Lastly, Honey Badger's Plata mine with it's "winter trail" is only some 30 km to the west of Valley/Gracie:
Oh and if one wanted to build a very large mine it might not be a bad thing that it is not near any population centers etc.
Playing Around With Numbers
Lets use this pink Box drawn by Quinton in a recent Crescat presentation and assume the vertical strike is 400 m (hole 07 ended at 340 m depth and was mineralized all the way through)…
Surface area assumption: 500 x 500 m2
(Surface outline)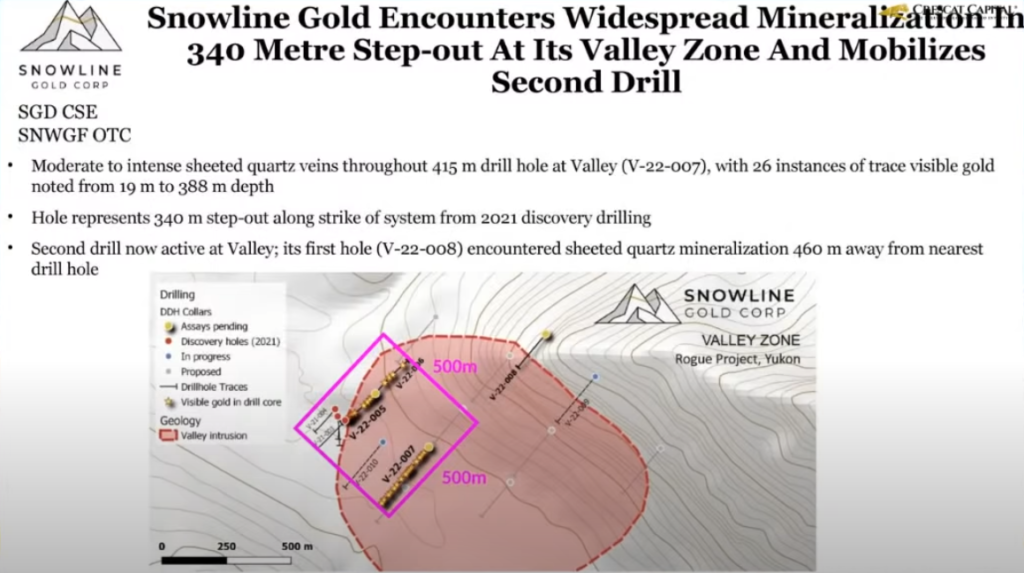 … Btw the northernmost hole (hole 08) hit veining as it entered the intrusion some 300 m from the limits of the pink box just FYI.
Depth assumption: 400 m
(Vertical assumption in light of confirmed mineralization)
… So if we dome some crude math and assume the dimension are 500 m (height) x 500 m (strike) x 400 m depth at 1 gpt then we get a 8.7 Moz deposit: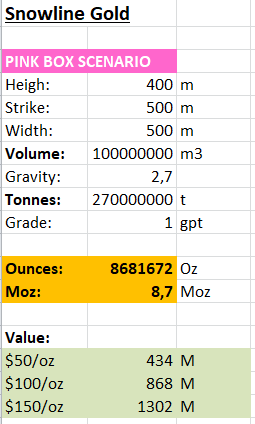 Again, things to note:
So far the grade has been >1 gpt outside/near the edges of the intrusion 
Hole 07 which was drilled almost smack in the middle of it appear to have more intense mineralization
These systems could extend to great depth as evidenced by Fort Knoz and the Eagle Deposit
Valley and Gracie might be almost completely preserved systems of the same type
With that said this pink box which alone could deliver a massive deposit and be close to the critical threshold needed for development could still only be a "postage stamp" of the total potential of Valley and the immense Gracie target (which is assumed to also be an intact RIRGS):
(Crude estimation of the 500 x 500 x 400 at 1 gpt needed to get to 8.7 Moz in pink)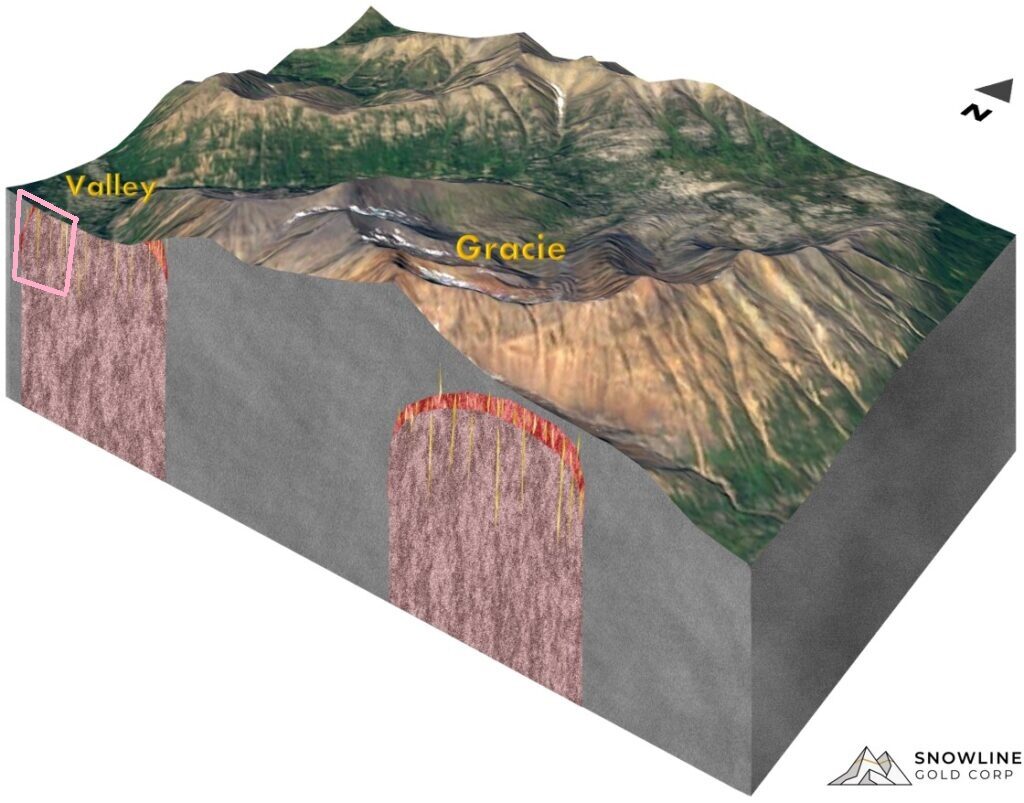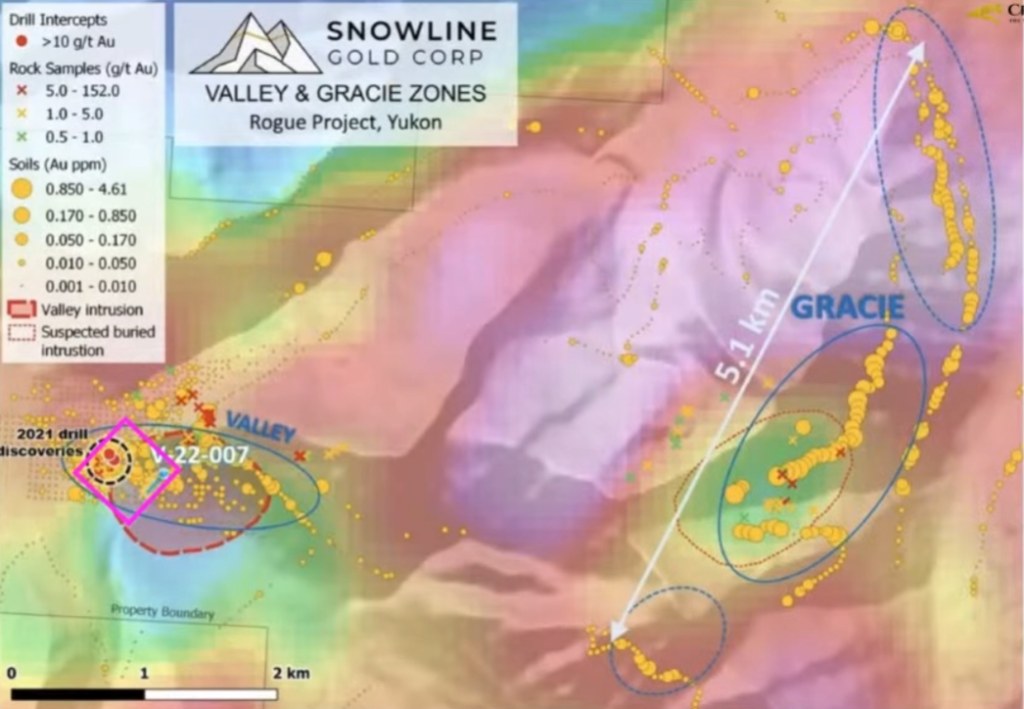 Thoughts on Valley
The Valley intrusive target appears to have a larger footprint than Fort Knox
The Valley intrusive target appears to be higher grade and have abnormally high vein density
The Valley target could have immense vertical potential given it is believed to be almost fully preserved
Thoughts on Gracie
Gracie sporting a 5.1 km trend with incredibly anomalous gold/bismuth/tellurium suggests this is also a

RIRGS

but with a potentially much larger footprint than Valley let alone Fort Knox
What I really love about this story is that "IF ONLY" the volume of that pink box is mineralized with an average grade of about 1 gpt then Snowline might already have a massive company maker on its hands. What I love even more is that it appears to be even HIGHLY LIKELY that AT LEAST such a volume will indeed be mineralized at Valley alone. Therefore my expectations are that Snowline has an inferred margin of safety already and that the pink box alone is not priced in yet. Furthermore this means that I see all the obvious blue sky potential outside that pink box would come as a bonus and that bonus might host more gold than almost all the rest of the gold juniors I own combined. If there is even a 10% chance of that then hey I'm more than solid from a Risk/Reward perspective I think…
Another way to put it is in order for me to be bearish I would need to deem it HIHGLY LIKELY that an area of rock to the tune of that pink box will be delineated with an average grade of 1 gpt. Now, given that they have already hit mineralization over a surface area that is larger than 500 x 500 m and that hole 07 has shown mineralization to 340 m depth, I would NOT consider this scenario to be likely at all.
So how much theoretical blue sky is there that I would not be paying for and thus not even take "Price risk" for at face value?
Lets assume both Valley and Gracie both have intrusive stocks with 1 km diameters and have at least 600 m depth potential with an average grade of 1 gpt.
The total potential for the uppermost 600 m of a 1 km diameter intrusion at 1 gpt would be:
And the total combined potential for both Valley and Gracie would therefore be 82 Moz in this scenario:
(Note: Obviously crude drawings based on a theoretical schematic)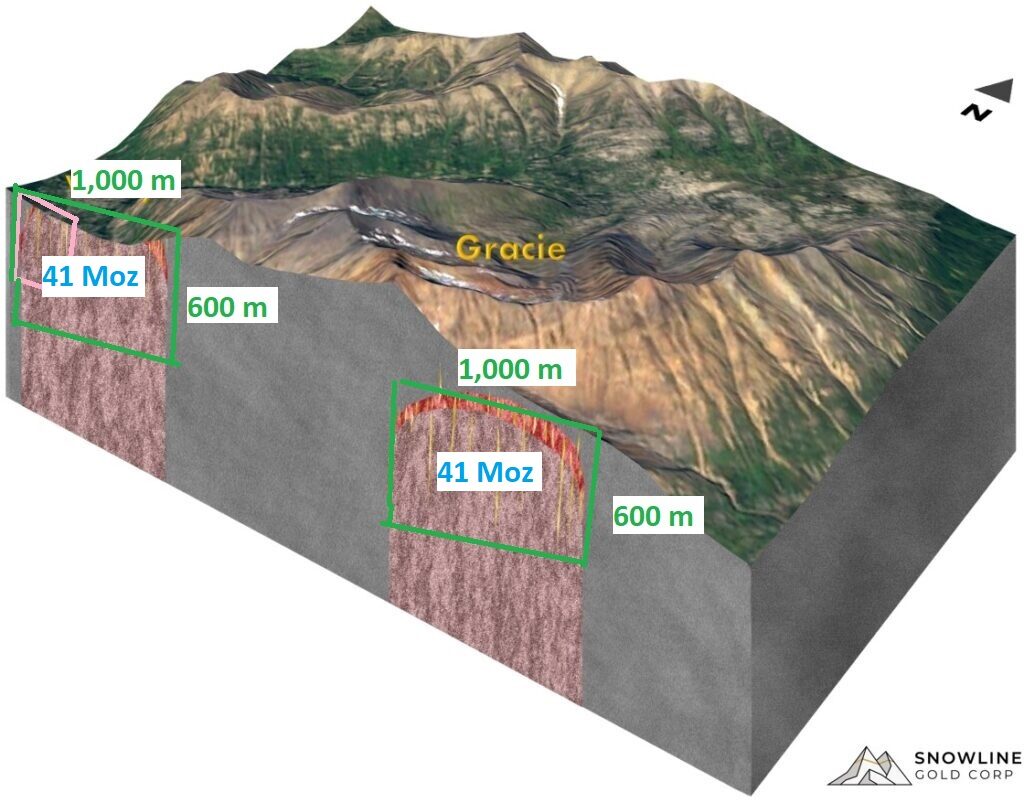 (Note that I "only" used 600 m of depth potential and that these systems can have considerably longer vertical strike as evidenced by Victoria Gold's Eagle Mine where mineralization has been confirmed to >800 m depth. In other words I am actually a bit conservative here as it relates to blue sky potential.)
… And before you say "You don't know that! That's hyperbole!" I would just say of course I don't know that but I also know that the current Enterprise Value of Snowline is around US$209 M or something. So if that is not even pricing in the obvious potential for the "pink box scenario" how much is it pricing in for the theoretical blue sky? None. I am not in the business of looking for absolute certainties (Because there are none, ever). I am in the business of looking for extremely skewed Risk/Reward cases and Snowline Gold might the one of the most extreme cases I have yet to come across. If Valley alone gets even halfway to the blue sky case I used then it ought to become a true Tier #1 discovery that could significantly move the needle for even Newmont or Barrick (let alone the other majors and down). If you have noticed there have not been a lot of acquisitions lately except mostly mergers etc. There simple are not many world class discoveries being made today and the larger miners simply have to buy up other miners in order to up their scale.
Furthermore it seems that these types of Reduced Intrusion-Related Gold Systems have pretty good metallurgy etc which makes them typically turn into quite good mines. I mean I find it incredible that Kinross is mining Fort Knox at 0.3-0.4 gpt way up in Alaska. Victoria Gold's full year AISC for 2021 came in at US$1,193/oz. Not super low but I think that's pretty good since it also has scale.
If Snowline were to prove up at least say 10-20 Moz at Valley (and or Gracie) that could be a very large and long lived mine which I think a lot of large companies could kill for. Also, lets not forget that this could prove to be hell of a lot bigger than 10-20 Moz as per Quinton's recent presentation for Crescat Capital where the theoretical target for Rogue was stated as 1-2 billion tonnes grading 1-2 gpt: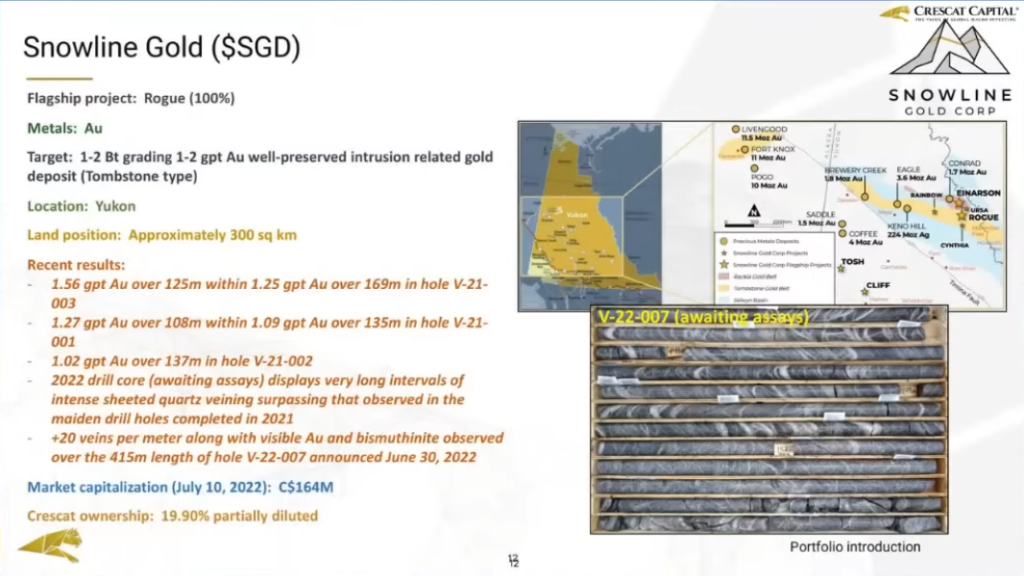 … 1-2 Bt of 1-2 gpt material puts the gold endowment POTENTIAL at 32-129 Moz. If Rogue does end up within that range then we are obviously talking several billions in potential economic value. If we take the lower limit of 32 Moz, and put say a price tag of $150 per ounce (I think Great Bear sold for more $/oz) in a take over scenario, the price tag could be  C$4.8 B. Given the Market Cap is around C$300 M, and Enterprise Value even lower, the upside potential in the stock becomes apparent. If the number of ounces ends up being in the middle of Quinton's range, or higher, then… Well you can plug in the numbers yourselves. Suffice it to say it would be one of the largest gold discoveries ever made and I would think every major would want a crown jewel like that. A big reason why I absolutely love BIG targets is that one can miss blue sky scenarios by a mile and still end up with a success. If Snowline "even" hits 50% of the lower limit then I think that would be a great success. If Snowline was already pricing in more than the lower limit then the risk would be considerably higher as a larger percentage of Blue Sky potential would be needed to materialize in order for there to be any upside from that point. Risk in my book, is potential that is already priced, in but still not confirmed. Is Snowline pricing in potential that is not confirmed? Yes, but how much? Anyway, this appears to be a legitimate shot on finding something remarkable…
On that note Quinton said the following at the end of his interview with CEO Scott Berdahl which was uploaded a little over 2 months ago:
"I'm gonna leave you with one note… Back in I think January when you had the conference in Vancouver… This is the Roundup Conference in which you know… A lot of geologists attend and look at core and meet… You know… Met with you… And looked at the core from both Jupiter and Valley and Ridge… Look I uh… I think I had more comments… I had people coming to me… They didn't even know… you know… (that) we were invested in Snowline… I had people say 'hey there's this company… This Snowline Gold… Absolutely amazing stuff'… These are people from big mining companies…"  
And lets fast forward to the latest Crescat presentation on August 05 where Quinton said the following:
"… It's probably the biggest Tintina type gold system anyone has ever seen… And interestingly, a lot of my friends who are geologists at major mining companies and stuff (THH: Note that Quinton has worked for Newmont and Newcrest), they are all watching this with baited breath… There is just a ton of people out there who can see the meaning behind this drilling even though it is very wide spaced… But they, they know right away, oh my gosh this could be huge…"
Those comments obviously jive with Willem Middelkoop's comments which were presented earlier in the article. Basically I think it's pretty safe to assume that Snowline Gold is very much on the radar of some very large mining companies already… It makes me ponder how cheap Snowline sitting at sub C$300 M in Market Cap might actually be.
I know pretty much everyone hates corrections/bear markets aka "Waah, my stocks don't just go straight up all the time!". The thing is that if the sector was hot, and sentiment was great, there would be no way in hell anyone would have a chance to buy a story like this at today's price in my opinion. Poor sentiment environments provide the necessary requirements to super charge ones expected future returns.
Updated Picture After The News Release on August 03
So before I was done with this article we got another exploration update on August 03. I will try to quickly go through some of the findings that I think are important…
Highlights:
Sheeted vein mineralization observed across 700 m by 800 m area at Valley, with mineralization open in all directions and wider step-outs planned
Central corridor of high vein density up to 300 m wide, 600 m long (open) and 430 m deep (open) encountered in holes V-22-005, 007, 010, 012, 014 and 015
V-22-015 in system for entire 554 m length, with broad zones of high vein density
All assay results and latest drill core evaluations pending, drilling ongoing.
First of all they have encountered veins across an area measuring 700 m by 800 m which is also open in all directions. Remember the research report which talked about the relationship between vein density and grade. In the slide below you can see different colors based on vein density which also includes the holes which were drilled last year
(My crude estimation of an 700 m by 800 m area in green)
Within that 700 x 800 m2 footprint there is an area up to 600 m by 300 m and 430 m deep which is described as the "central corridor of high vein density". In the following slide you can see Red/Yellow stars marking spots in the core where visible gold has been confirmed which is considered to be the said corridor: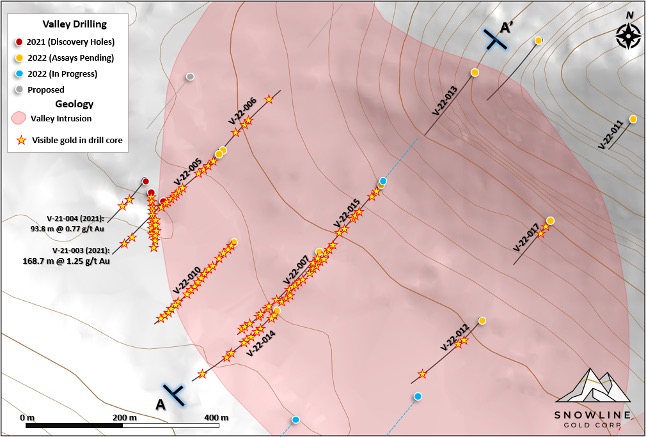 Now the grade will for sure vary across the intrusion but there are a few things we know:
The 2021 holes which were drilled outside the intrusion ran around 1 gpt on average
The confirmed footprint of veins encountered so far is around 800 m by 700 m
The corridor with "high vein density" is estimated to be 600 m by 300 m and up to 430 m deep
Note: Both Fort Knox and the Eagle Deposit have mineralization down to at least 800 m depth
So lets do a quick resource calculation for an area measuring 800 m by 700 m to 400 depth that runs 1 gpt on average:
… As you can see that results in 20.9 Moz of gold and remember that it is still wide open in every direction. At $100/oz the implied value would be C$2,091 M. At C$2.09/share the fully diluted Market Cap of Snowline is C$266.7 M or 12.8% of C$2,091 M. Given that the company has C$30 M in cash and would have many millions if all the warrants are exercised I believe it will be enough for the company to prove if the 800 x 700 m x 400 m area can indeed be said to average 1 gpt. In other words Mr Market is currently pricing in a 12.8% chance of that being the case. Given what we know I would personally put the chance of that closer to at least 50% and with the caveat that it might very well be even larger.
Now lets do a quick theoretical calculation for the "high vein density corridor" and assume an average grade of 1.5 gpt:
… That would be a 10.1 Moz open pitable deposit running 1.5 gpt gold starting at surface. This corridor alone could be enough for a company maker and I dare say that it would be unlikely for the Valley system to suddenly stop within these limits.
Other stuff to note from the news release…
Hole -21-015:
"The hole is mineralized to varying degrees along its entire 554 m length. From approximately 364 m to 502 m downhole it intersects at depth the same zone of abundant quartz veins encountered in both V-22-007 and V-22-014, with densities commonly above 15 veins/m and locally exceeding 30 veins/m, with individual veins up to 20 cm true thickness. Multiple crosscutting quartz vein generations are present, and trace instances of fine-grained visible gold were observed at points along the length of the hole "
… This could very well be a barn burner that gets the attention of the many people who just look at juicy numbers even though the context (scale) is the biggest positive with this target in my book.
A Potential Extension to Valley:
A potential southeastern extension of the Valley intrusion is suspected based on aerial magnetic data collected in 2021 and 2022.
… Meaning big might be even bigger.
So even though this "Mini Valley" is still just a theory lets do a quick calculation of what a 500 m in diameter body grading 1 gpt to 500 m depth could be:
… 8.5 Moz of gold. Not a bad thing to have in the back pocket given that it would be a "free bonus". If there is a 10% chance of this scenario playing out then the risk-adjusted value right now would be worth $85 M to Snowline assuming a value per ounce of $100.
THREE DRILLS NOW ACTIVE:
"A third helicopter-portable drill has mobilized to the Valley Zone. The drills and the geological team are working in tandem to continue building out the scale of known mineralization at Valley.

One drill is slated to move to the Gracie Zone, some 4 km east of Valley, where an intrusion thought to be related to Valley is present below surface. Aerial magnetic work and mapping have identified multiple structural corridors, including a sheeted join/vein array in hornfels sediment that parallels a dominant mineralization orientation at the Valley Zone. This Phase I program will be the first-ever drill testing of the Gracie Zone."
… It appears that the team at Snowline has located multiple structural corridors, including a "sheeted join/vein array". In other words it sounds like there is indeed one or more RIRGS in the area of that massive gold anomaly at Gracie!
Vein Density, Visible Gold and Gold Grades
As was mentioned earlier the conclusion drawn by Dr. Hart after studying Fort Knox and Dublin Gulch was that vein density was the best predictor of grade. Lets take a look at what the first holes out of Valley and see what conclusions one might draw…
The slide below consists of two zoomed in views of two slides that were included in the August 03 news release. The left slide shows vein density where the "hotter" the color is the more veins were encountered in a specific interval and the right slide shows the location of where visible gold was seen in the core:

The upper Green Star is hole 004 and the lower Green Star is hole 003. The Blue Star is the collar for both hole 001 and hole 002…
First of all note that hole 003 and hole 004 only seem to have TWO confirmed locations of Visible Gold (right slide above). Meanwhile, Hole 001 and 002 appears to be absolutely riddled with Visible Gold.
Second of all, note the COLORS representing vein density in the left slide above. Hole 003 and hole 004 have approximately 50% of their intervals colored in mostly light orange and some darker orange. For hole 001 and hole 002 it appears that some >70% is some shade of orange.
On that note, here is the vein density table:
So light orange represents a vein density of 5-10 per meter and dark orange represents 10-15.
Given that hole 001 and hole 002 had significantly more observations of visible gold relative to hole 003 and hole 004 (which I think only had two each) one would guess that the grades would be a lot better in the former. Well lets look at the results again:
Hole 003 which only had a couple of showings of Visible Gold actually ended up having the best gram-meter result. Now if we look at hole 004 which had two local "hot spots" of high grade, which somewhat seems to correlate with the location of the two instances of Visible Gold, and remove these hot spots we get a "residual grade" of 0.552 gpt over 67.35 m within the 69.45 m interval grading 0.90 gpt (Note that the two "hot spots" increase the actual grade by 63% going from 0.552 gpt to 0.90 gpt):
Discussion
First of all I think it is a very good sign that the gold mineralization appears to indeed be disseminated and not only carried by scattered spurts of high grade. In the words of the company:
"… in V-21-003 and V-21-004. Local "hot spots" of up to 16.2 g/t Au over 1.5 m are present within the mineralized intervals, but the broader intervals are carried largely by consistently anomalous gold values." – Source
… I find this incredibly important for the story and for me as a shareholder.
Second of all it does indeed appear that the Dr Hart's conclusion from studying Fort Knox and Dublin Gulch, regarding Vein Density being the best indicator for grade, holds merit at Valley as well. Lets assume the holes assayed so far showed vein densities (veins per meter) of 5-10 for say 70% and 10-15 for say 30% of the robust (reported) intervals and the average grade was 1 gpt. In that case one could say that the expected grade is 0.11 gpt per vein per meter:
Now lets take a look again at the Vein Density colors in holes 014, 015, 013 & 007 from this year's field season which are yet to be assayed:
Next I will show a slide where I have calculated a crude estimation of "Base Case Grades" for these four holes.
First note that:
I have Vein density CAPPED at 15 veins per meter even though

RED

color is >15

This means that over 50% of hole 007 is capped given >50% is colored in

RED

The baseline 0.11 gpt per vein per meter was calculated from hole 004 after excluding the "hot spots"

This means that the calculated grade are probably conservative given that grade jumped 63% with just two "hot spots" in hole 004

For Hole 013 I just looked at the first 200 m which is a pretty coherent interval of >5 veins per meter
There is some interval dilution of <5 veins per meter in some intervals that I did not include but simply lowered the % on the other three colors in order to reflect that somewhat
Conservative Base Case:
… The numbers above might not look impressive to everyone but I am very happy to have a conservative Base Case like this. These are 182-686 gram-meter intercepts after all which very very few juniors will ever drill on their respective targets. Furthermore the grade for Fort Knox is down to around 0.3 gpt for Kinross Gold and Victoria Gold's Eagle Mine has 3.3 Moz in reserves with a stated grade of 0.65 gpt. If these companies are making money on those grades then Valley is starting look incredibly impressive.
The Upside Scenario
I think the Base Case is well enough to have a major company maker on our hands given the size of the target. As we have looked at previously a 800 x 700 x 500 deposit grading 1 gpt on average translates into a monster 24.3 Moz deposit which would be a lot bigger than Fort Knox and Eagle while also being higher grade to boot…
But lets project some dreams which would probably even be "overkill" already. Lets look at Hole 003 which had a higher grade intercept of 58.55 m running 2.14 gpt. It's a bit hard to see but I have made an effort to correlate the assayed grades and the corresponding interval with Vein Density colors below:
… To me it looks like that interval is mostly colored in light orange with a splash of dark orange. So if Vein Density is indeed a good predictor then you can take some time and consider the Upside Cases for all the holes in this picture: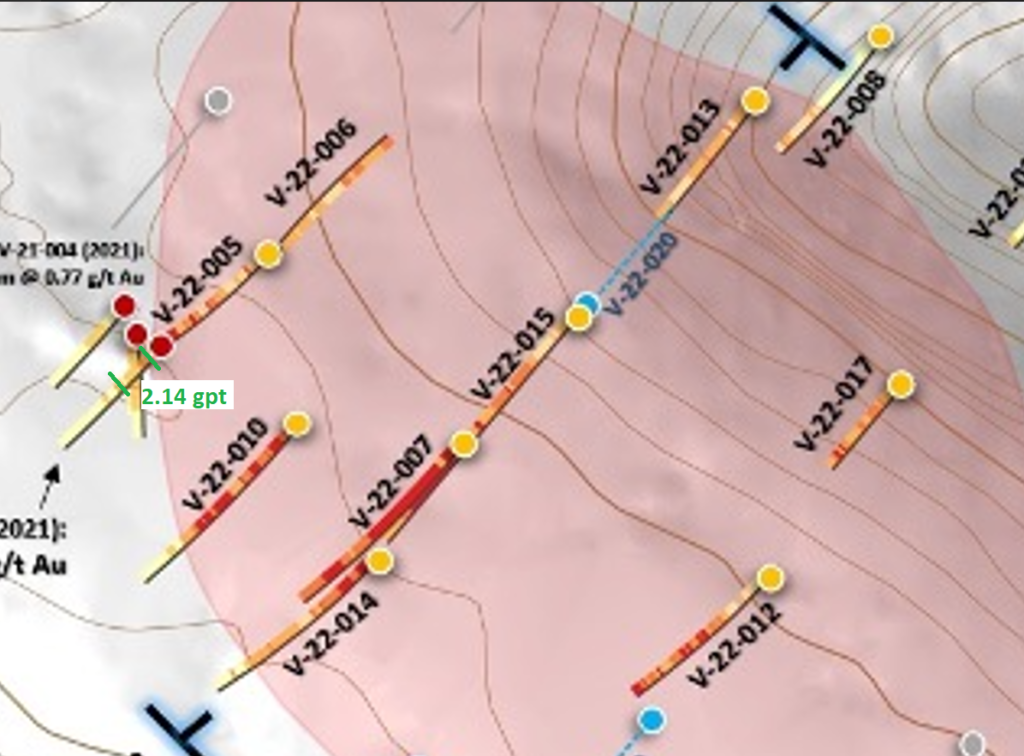 Bottom Line – Rehashing my case
Given all we currently know about Snowline's RIRGS-targets; Apparent footprint of veins hit so far, grades in the 2021 holes, confirmed depth of mineralization, the amount of apparent RIRGS-targets and the sheer scale of the Gracie anomaly I personally think that it is HIGHLY PROBABLE that Snowline will end up with at LEAST 10 Moz which would be a company maker. With that said blue sky potential is, as show earlier, multiples of this…
This is the simple reason why I think Snowline is grossly undervalued based on the balance of probabilities for Valley alone, let alone when one account for the implied value of the potential sister intrusion and the massive Gracie trend in near vicinity to Valley.
What would failure look like?
For Snowline's Rogue project to fail the Valley target, sister intrusion and Gracie must not have a combined endowment of less than 10 Moz even though it looks quite likely the high vein density corridor at Valley ought to check that box alone.
What Else do we Investors Get in Snowline?
The Fire Has Been Rising.. In The Background…
I think the intrusion hosted targets at Valley, Gracie and/or  the >3km Epizonal trend at Jupiter could be company makers in their own rights and I think Snowline is undervalued on a risk-adjusted basis in light of those targets already. But it gets even better because Snowline also has one of the most impressive projects pipelines of any junior I am aware of and these are made up of mostly more intrusive targets akin to Valley/Gracie and Epizonal targets akin to Jupiter. Many have already been proven to host multi-kilometer scale soil anomalies, high grade rock samples and/or promising geophysics features which makes them highly relevant. Over the last year, in wake of the incredible success at Valley (Intrusion hosted) and Jupiter (Epizonal), the company has expanded the claim blocks surround many of their other projects which show similar characteristics…
"Old Cabin" Project
"An additional large block, "Old Cabin", covers a suspected buried intrusive stock inferred from a small (roughly 200 m) granodiorite plug within a 2 x 4 km magnetic anomaly. Historical grab samples within this zone include quartz vein material assaying 8.7 g/t Au, and sulphide-rich skarn assaying 5.3 g/t Au. Elsewhere on the block, historical grab samples of quartz vein material have assayed up to 10.0 g/t Au. Streams draining the claim block consistently returned values in the hundreds of parts per billion gold., One particular stream draining from the magnetic anomaly returned gold-in-sediment values ranging from 233 to 1150 ppb Au. It is thought that a buried intrusionat Old Cabin could have an intact carapace at its top, with increased potential to host a significant reduced-intrusion-related gold deposit."
"JP" Project
"The third block, "JP", covers a 900 by 600 m exposure of an intrusive stock 7 km southwest of the Valley target. Historical sampling found subparallel gold-bearing quartz veins averaging 2 cm in width within and adjacent to the intrusion, commonly assaying between 1 and 4 g/t Au with samples up to 36.0 g/t Au."
Previous claim blocks:
New claim blocks: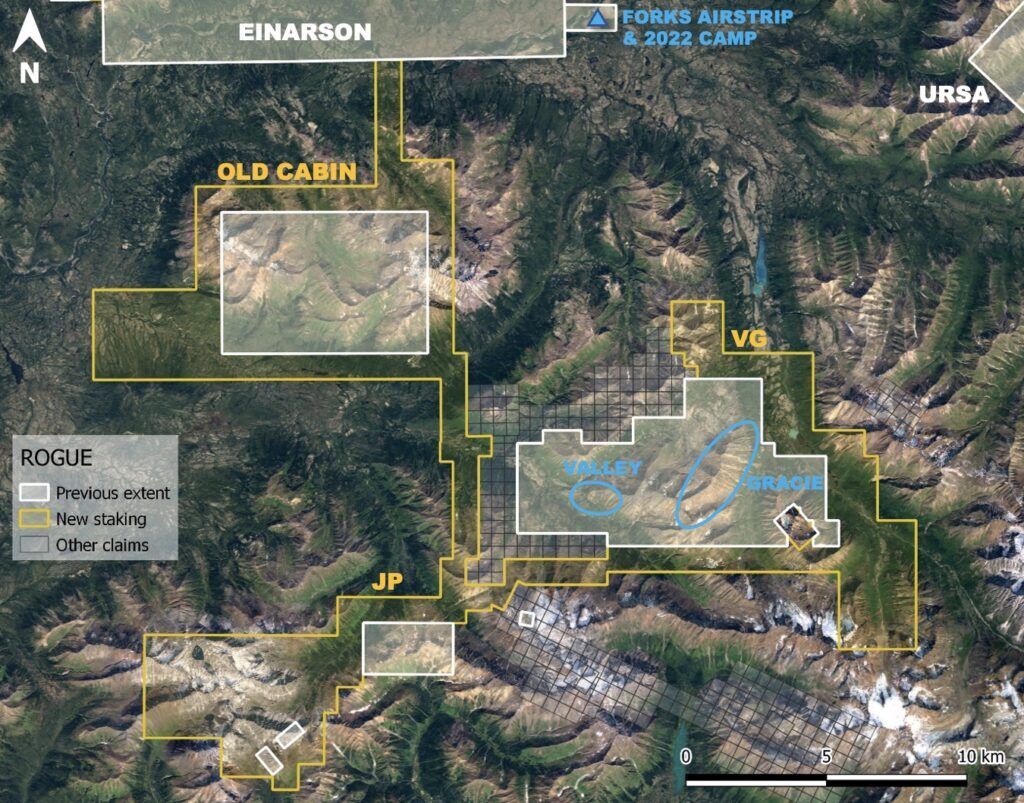 "Staking at Rogue expanded Snowline's tenure around its Valley drill discovery and its Gracie anomaly as well as around several additional exploration targets. Expanded claim positions were selected based on geology, field observations and data contained within Snowline's extensive regional database. Previously isolated land tenure positions at Rogue were connected, allowing for efficient allocation of exploration expenditures towards annual claim assessments across different areas."
"Cynthia" Target

– Greater Cynthia Project
Project Size: 1,399 hectares
Reduced Intrusion Related Gold System
2×2 km zone of alteration, veining and elevated gold geochemistry between two Tombstone suite intrusions presents a bulk tonnage gold target with potential for high grade structural zones
"The Cynthia claims cover a 4 square kilometre area of gold mineralization between two adjacent exposures of a Cretaceous Tombstone suite intrusion. Mineralization is controlled by district-scale fault zones and is especially intense in the central part of the project. Surface grab samples in these zones commonly assay from 200 ppb to 3 grams per tonne gold, with values up to 16 g/t Au in a central zone. Cynthia is along strike of the past producing Plata silver mine, and is within 8 km of an inactive heavy equipment winter access trail that connects to the North Canol Road."

"The two stocks are thought to be apophyses of a larger intrusion at depth. Adjacent sedimentary rocks have undergone intense hornfelsing, with abundant pyrite and pyrrhotite."
Previous claim block:
New claim block: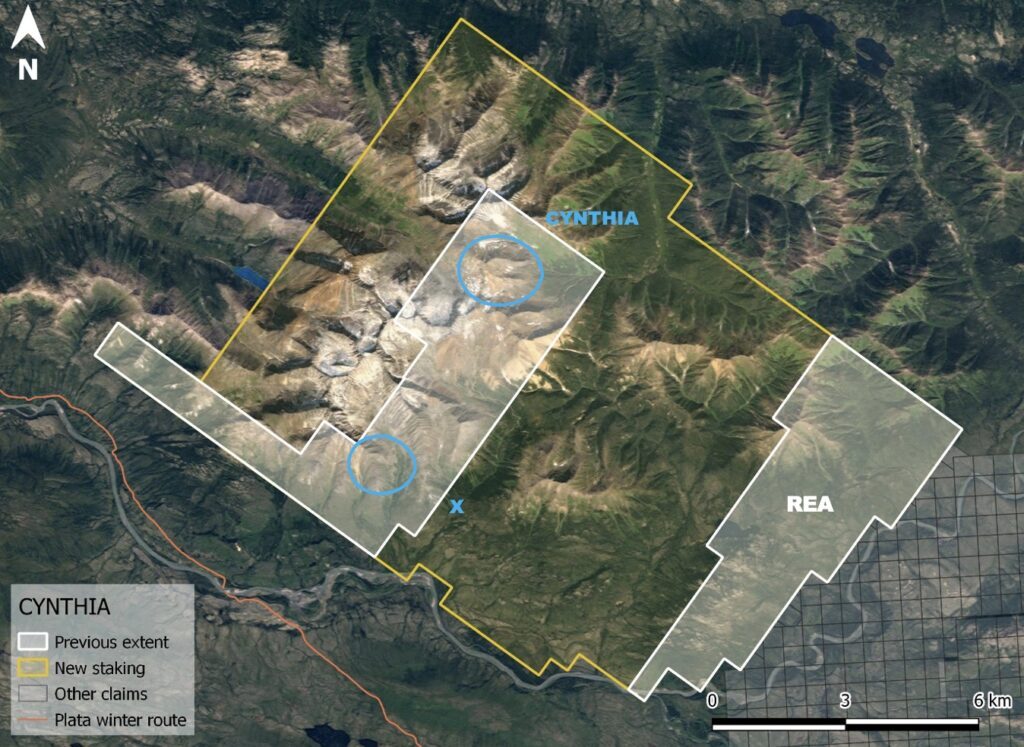 "The Cynthia project was expanded by nearly 3 times, connecting the Company's original Cynthia claim block with nearby mineral claim blocks currently under option from Epica Gold Inc., a subsidiary of HighGold Mining Inc. The expanded claim position covers potential sources of elevated gold content in historical soil and silt samples, including bulk-leach extractable gold samples, that are present across a wide area. Elevated zinc values are also present in historical soil and silt samples. The underlying geology at Cynthia is thought by the Company to be prospective for multiple deposit types, with two mid-Cretaceous Mayo series intrusions of the Rogue plutonic complex intruding a structural transition zone present in Selwyn Basin stratigraphy."
THE "X" & "REA" BLOCKS

– Greater Cynthia project
The X claims lie within 1 km of the southern boundary of Snowline's Cynthia project, south of Rogue and Einarson. Historical soil sampling conducted by the previous operator on the X claims revealed multiple gold-in-soil anomalies, including a 3.5 x 1.0 km area with generally elevated (>10 ppb Au) to highly anomalous (up to 6,355 ppb Au) gold in soils. Within this area is a 300 x 250 m zone of consistently anomalous soils, with 8 of 52 soil samples assaying above 1,000 ppb (1 g/t) Au (Figure 2). These anomalies are hosted in deformed Devonian age black shales intruded by a Mayo suite Cretaceous intrusion nearby, making for what the Company believes to be a highly prospective environment for several styles of gold deposit. Additional high gold values were encountered in historical soil sampling along strike, some 4 km from the anomaly. – Source
Quinton Hennigh discussing the "X" target in Sept 2021 – LINK
"There is a soil anomaly there that is to die for" – Quinton Hennigh
THE "OB" BLOCK

– Greater EINARSON Project
"The OB claims are located north of the Einarson property along the same regional geological feature as a prominent anomalous geochemical trend on Einarson. Historical soil sampling conducted by the previous operator on the OB claims returned generally elevated (>10 ppb Au) to anomalous (up to 522 ppb Au) soils along a 2.3 km strike length, with 16 of 79 samples (20%) returning >100 ppb Au. Follow-up rock sampling targeted carbonate and clastic units and did not identify the source of the anomaly, though nearby quartz veining was mentioned in sample notes. Given Snowline's quartz-vein associated discoveries at Jupiter and Avalanche Creek, exploration targeting of an epizonal orogenic model may prove more successful in identifying the source of the anomaly."
THE "HS" AND "GS-Y" BLOCKS

– Greater URSA Project
"The claim blocks comprising the HS, GS and Y claims extend coverage along the same belt of prospective Ordovician to Devonian rocks that host the strong, extensive, multi-element base metal anomalism identified in stream sediment and soil samples on the Company's Ursa project. This effectively triples the strike length of prospective rocks controlled by Snowline along this belt to over 30 km (non-contiguous). While Ursa appears to cover the strongest signal from this anomalous trend, historical stream sediment and soil sampling on the newly acquired blocks returned up to 1.84% zinc in stream sediment samples and 1.1% zinc in soils.

The Selwyn Basin is among the world's richest sources of zinc, with three major districts recognized to date: the Anvil District, Howards Pass, and Macmillan Pass. The rocks underlying Ursa and the newly acquired claims are similar in age and provenance to units at both Howards Pass and Macmillan Pass.

While Snowline's focus remains on its flagship gold projects, this expanded land position over prospective ground strengthens the opportunity for joint-venture, spin-out or sale if significant base metal mineralization is encountered on the Ursa project."
"HS", "GS-Y" and the "OB" blocks were optioned in 2021 along with "X" and "Rea":
Other Projects…
"Tosh" Project
Project Size: 3,700 hectares
Orogenic Gold in Established Placer District
Mineralized rock samples up to 6.8 g/t gold and up to 1,146 g/t silver over a 15 kilometre area
(Note the scale of these anomalies!)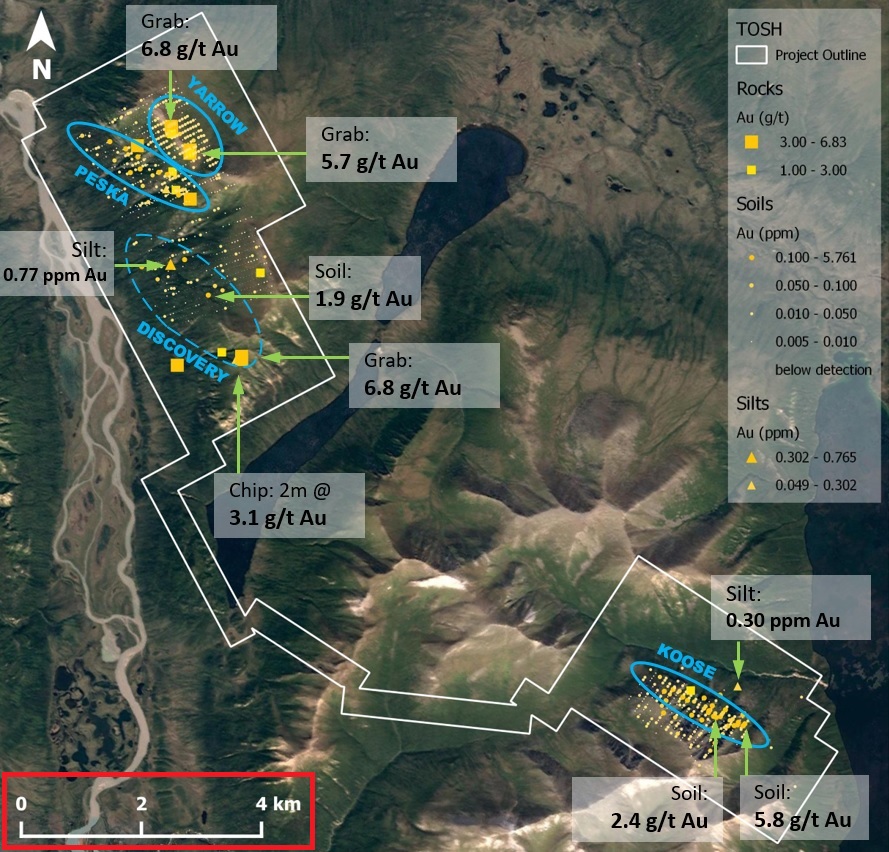 "The Tosh Project bears many hallmarks of a significant orogenic gold camp. Host rocks are high-strain schists and intercalated marbles of the Yukon Tanana terrane, the geologic province that hosts two recently discovered million-ounce-plus gold deposits (including Newmont's "Coffee" deposit, ~115 km to the north of the Tosh Project) and from which over 12.5 million ounces of placer gold has been recovered in the Klondike goldfields. Importantly, major regional faults cut Cretaceous and Paleogene intrusive rocks in the vicinity of the Tosh Project."

Grid soil sampling (1,379 samples) at the Tosh Project revealed two prominent NW-SE trending zones of anomalous (defined by 90th percentile gold values >27 ppb Au) multi-element geochemistry, "Peska" and "Koose," separated by 12 kilometres of prospective ground. Gold in soil values assay up to 5.8 g/t Au at Koose and 1.6 g/t Au at Peska. These zones extend roughly 2 kilometres each and remain open in both directions on trend. A historical ground-based VLF electromagnetic geophysical survey over part of the Peska zone suggests the presence of continuous conductive structures. – LINK
"Rainbow" Project
Project Size: 1,225 hectares
Reduced

Intrusion

Related Gold System
Ground magnetics reveal alteration signature across 3 x 2 kilometre area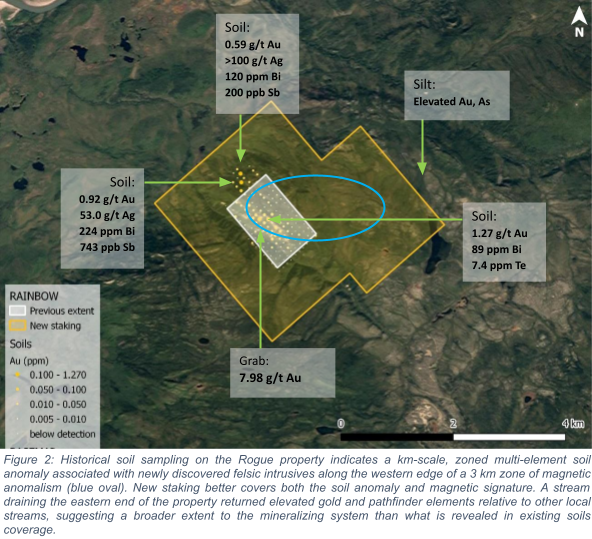 "The Rainbow project covers a gold and pathfinder element soil anomaly associated with surface alteration caused by a recently discovered intrusion, thought to belong to the mid-Cretaceous Tombstone Plutonic Suite. Other Tombstone-related gold deposits within the Tintina Gold Belt include Fort Knox (~11 million ounces Au), and Eagle (~4.8 million ounces Au).The property includes a northwest zone with anomalous gold in soils to 0.93 g/t Au, silver in soils exceeding a 100 g/t Ag assay limit, and anomalous bismuth, tungsten and antimony. The land position also covers a 3 km magnetic signature extending eastward from the soil anomaly.

Grid soil geochemistry completed over the property revealed a 1 km by 300 m zone of high gold values (to 1.27 g/t) accompanied by anomalous bismuth, tellurium and tungsten flanked by zones of anomalous arsenic, antimony and silver. This geochemical anomaly corresponds to the eroded edge of a 3×2 kilometre magnetic anomaly. Prospecting returned shear-hosted sulphide-bearing outcrop samples grading 4.1 g/t Au and locally-derived angular quartz float samples running 7.98 g/t Au. The magnetic anomaly reveals the potential size of the alteration system" – LINK
"Misty" Project
… Not often one come across a gold in soil anomaly that could be up to 31.6 km long. I'm not sure what the hell is responsible for all this gold but it looks like it could be something very very big.
Expectations
I expect the Price of Snowline to be higher in the coming months as I expect several 100-300 m intervals grading perhaps 0.7-2 gpt to come out from Valley. If that happens I also believe there will be an "inferred" resource at Valley alone which will be >10 Moz. If that happens I assume the system will still be wide open especially at depth given that both Kinross and Victoria Gold have both shown that their respective RIRGS systems have mineralization to at least around 800 m depth. Thus I think the market will start to price in not only 10 Moz but also some percentage of a blue sky scenario where Valley could host >20 Moz or more…
Then we have the possibility of Snowline also having some drill evidence that Gracie might also host a RIRGS and given the enormous soil anomaly one can only guess what a) Blue sky is and b) What percentage of said blue sky will get priced in by the market.
After all is said and done from this very field season I think there is a shot that Snowline has already become the top take-over candidate in the eyes of some major miners as per Willem's comment earlier in the article…
On that note I remember a video where Quinton Hennigh talks about how thankful High Sulfidation Epithermal Systems can be simply because they can also be very large, and have a lot of disseminated gold (ergo be quite "predictable"), which means they can be de-risked at an incredible rate from little drilling. I think this is a very relevant concept to have in mind for investors in Snowline Gold. Anyway, I found the clip which was from Crescat Goes Activist #8 and below you can hear Quinton talk about a major discovery
"… These systems are wonderful… If you get on to one of these… You know a few holes can actually tell you what you have very quickly… Perspective… Pierina which was a discovery back in 1996 I believe… It was found by Arequipa Resources… And they drilled all of I believe nine holes and the deposit was sold to Barrick for a billion dollars… Okay these are the stuff that dreams are made of…"

HOLE V-22-007
Winding back the clock to 1996… 
"Barrick Gold to Offer to Buy Arequipa for $669.5 M" –WSJ
"Barrick Better Offer For Arequipa" – bnamericas.com
"The Canadian mining company has increased its purchase offer from C$989mn to C$1.1bn (US$800mn), that is C$30 per share, decision which has met with the support of the Arequipa board of directors, reducing the possibilities of other bidders presenting their offers."

"Analysts predict that Barrick's offer of a substantial sum for a gold deposit that has not yet been proven, might set a precedent for other companies to purchase property before knowing its full potential."

"A spokesperson for Barrick told the press that the company believes there are at least five million ounces of gold at Pierina. "
"For Canada's brash young mining companies, that pot of gold may depend on acquisitions." –nytimes.com
"Several analysts wondered whether Barrick was not paying too much for Arequipa. The Peruvian site would have to yield 9 million to 10 million ounces of gold to justify the price, they said."
… Note that this all took place in 1996 and the project was located in Peru.
Now I will repeat Willem Middelkoop's recent comment which should begin to make sense by now:
"Investors now understand this has probably been the last PP SGD will ever do… so buying in the open"
Risk & Potential
We take on risk in order to have a shot at converting potential to reality. I think there is enough potential in Snowline that makes me comfortable taking on the risks which always comes with mining and exploration…
The slide below should be considered hyperbole and high octane speculation. It shows levels where the share price of Snowline would need to get to on a fully diluted basis in order to be reach the same price as some monster acquisitions and/or the valuation of NovaGold during its 2020 peak based on the same price/ounce and different endowment scenarios for Valley etc:
(Note that there is absolutely no guarantee that any of these scenarios will materialize)
As a project gets more advanced other risks will start to be relevant as permitting, community relations and anything else that has to do with a mine. But at this stage I think exploration is the main risk.
Note: I own shares of Snowline Gold so consider me highly biased. Always do your own due diligence and form your own opinions. Investing in junior miners can be very risky and never invest money you cannot afford to lose. This is not investing advice. I cannot guarantee the accuracy of the information in this article. I share neither your losses or your gains. Assume I might buy or sell shares at any time. I will not be able to hold anyone's hands 24/7.
Best regards,
The Hedgeless Horseman