Mayfair Gold is a newly listed company that has been flying under most people's radar so far. I have bought shares of the company across multiple portfolios and also brought on the company as a banner sponsor to help get this unknown story out there. I will explain why in this article.
Mayfair Gold is an advanced explorer with a flagship project called Fenn-Gib which is located in the very mining friendly, tier #1 called the Timmins Gold Camp, Ontario, Canada. The project already has over 2.0 Moz of gold on the books and there is excellent exploration potential both around the existing deposit as well as newly identified targets within the greater land package.
I have spoken to some of the largest shareholders of the company who struck me as being very smart and very bullish (not surprising!). From what I can gather there have been "weak hands" from the IPO that have been selling quite a bit of shares in the open market which would explain some of the downward pressure. To me this strikes me as a very good opportunity for potential undervaluation since it is a) A new and unknown story which means that there are fewer buyers and b) There are IPO flippers who have been motivated sellers. This is how a stock can get "artificially" undervalued in a hurry. And therein lies the opportunity as I see it.
My Case For Mayfair Gold in Short…
Boxes Checked:
Margin of Safety: Large resource present
Probable Upside: Company believes it can add some material low hanging fruit
People: The CEO is Patrick Evans and he is surrounded by a stacked team
Place: Well renowned Timmins camp in Canada which is a clear tier #1 jurisdiction
Tight Share structure
High Insider Ownership
High Potential Upside: Not just from pure exploration but derived from the factors above in light of the valuation
Valuation:
MCAP (@1.65/share): C$128 M
Cash: ~20 M
Enterprise Value:

C$108 M (US$89 M
… Two million ounces of gold in one of the absolutely best jurisdictions, an excellent management team, multiple drill rigs working and both probable upside as well as high potential upside for US$89 M is a bargain in my eyes. I have talked to people that believe that a resource of 3-4 Moz is quite doable and in a relatively short timeframe. In that case then I would guess that the projects could be worth several hundred million dollars and the current valuation would look really low in hind sight. Therefore I believe that Mayfair Gold has multi bagger potential and the best part is that the two million ounces of gold which is already on the books should more than back the current Enterprise Value. This means that I see low risk in terms of fundamental downside and good to excellent upside potential. There simply are not many multimillion ounce deposits in a premier jurisdiction out there today.

To be honest I don't think it took more than 15 min for me to classify Mayfair Gold as what I would call a "no brainer" risk/reward proposition. I want a case to be simple. I want the risk/reward to stand out. In short I think the price I am paying for Mayfair Gold is low compared to what the company already has and what it might become in the future.
Potential Comparables
#1 Maple Gold Mines is a Canadian junior with a Market Cap of C$114 M and it has formed a 50/50 JV with Agnico Eagle. The current resource, which Maple Gold will own 50% of, is:
Most of the resource if in the riskier Inferred category and Maple Gold's portion amounts to 1.39 Moz of gold. In other words it is lower than Mayfair's resource which is also 100% owned.
#2 Marathon Gold is another Canadian junior with a Market Cap of C$646 M. The company has a PFS stage project in Newfoundland with a resource of around 4 Moz:

Marathon's Valentine Lake project is obviously more advanced, larger and has higher grade.
Thoughts
Mayfair Gold currently has more gold and in a higher category than Maple Gold Mines's Douay Gold Project. Since Mayfair has obvious, near resource, exploration potential and is planning to have five rigs working, I think the total resource could be closer to Marathon Gold's Valentine Lake Project within a 12 month period. In other words I think Mayfair Gold is undervalued right now and I suspect there is a relatively good chance that the company could be worth a few 100% more within a 12 month period. That is pretty much the basis of why I think the risk/reward is great.
What You Get in Mayfair Gold
#1. People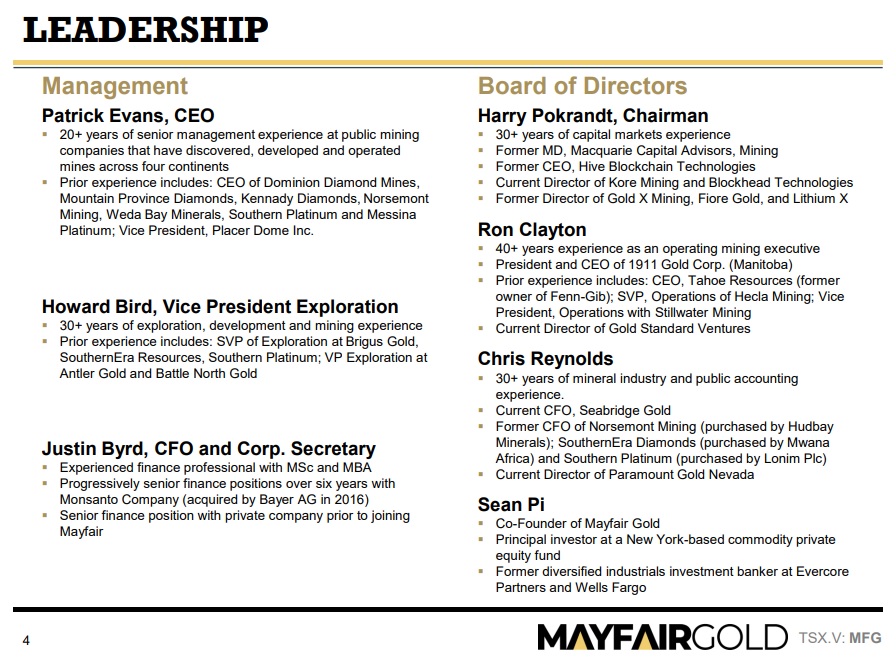 You can read the very impressing resumes of the people involved and I simply think that serially successful people like this would not bother with a crappy project. Therefor I see this roster as a good sign. Recently it was also announced that Douglas Cater joined the board of directors. This person has a lot of experience when it comes to exploring in the Timmins Gold Camp and has worked for Barrick, Placer Dome, Kinross and was Vice President, Exploration with Kirkland Lake Gold. Again, if someone like this joins the party then I think he has a pretty good reason.
#2. Jurisdiction
The Fenn-Gib project is, as you can see, located smack in the middle of the Timmins Gold Camp. There are a number of mines in the region which means that a) The communities are familiar with mining, b) There are potential buyers nearby, and c) A company can actually build a mine there. These are all positive factors when it comes to intrinsic value.
#3. Resource and near term potential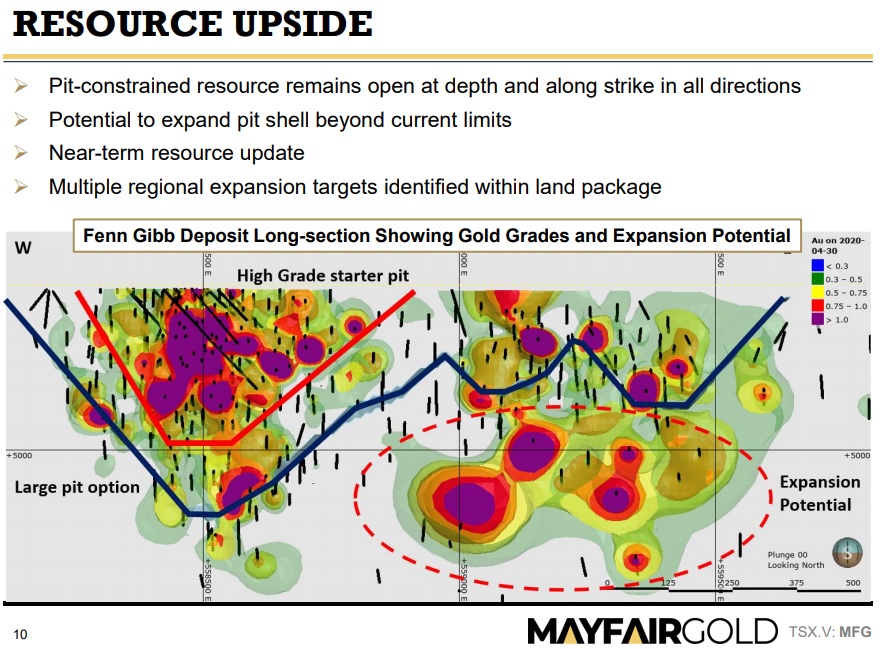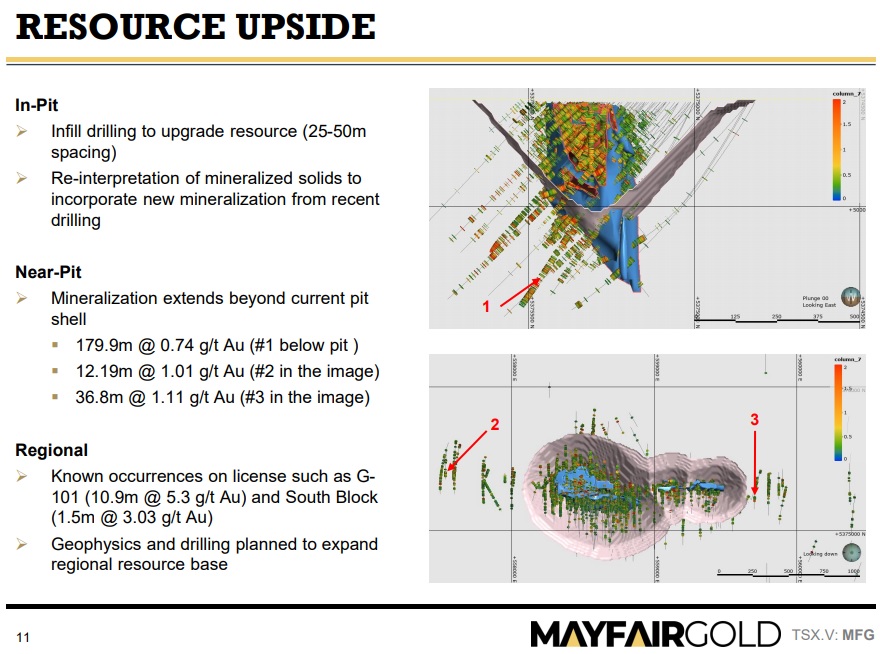 … There is some very obvious potential in terms of expanding the resource. And all of this is close to the existing deposit. Who knows, maybe it will become a "super pit" at the end of the day. As I said earlier I know that some of the larger shareholders believe 3-4 Moz is quite doable in the not too distant future.
#4. Regional potential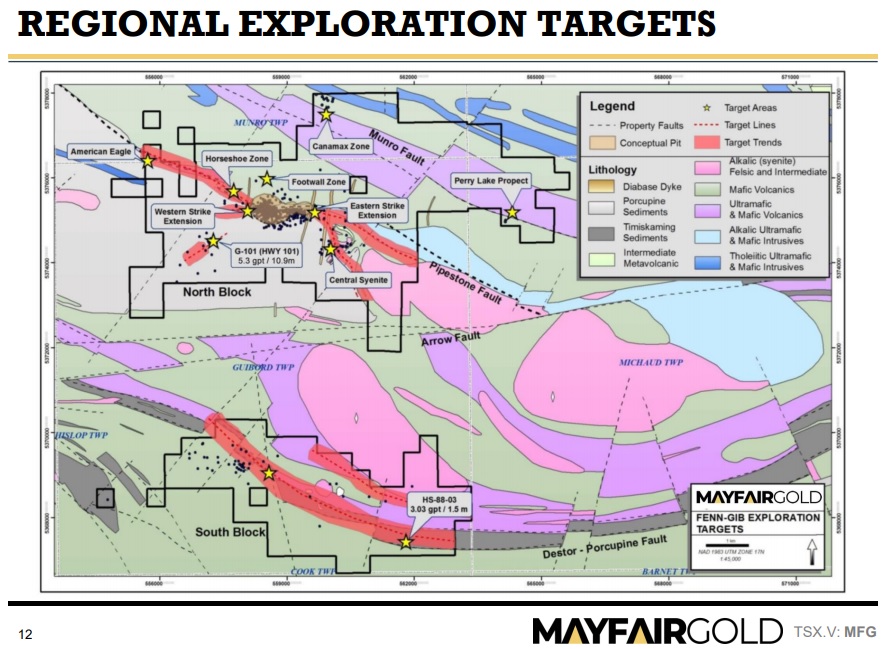 There are a numbers of areas of interest for Mayfair within the greater land package. The company recently completed the first MAG survey that has ever been done on the property and it sounds like something very interesting turned up given CEO Patrick Evan's latest comments in the recent news release:
Mr. Evans added: "We are also pleased to have completed the first ever heli-borne high-resolution triaxial MAG survey at 75-metre spaced flight lines over both the North and South blocks at Fenn-Gib. Based on initial results, target selection has commenced and plans are underway to mobilize additional drill rigs to Fenn-Gib to support a regional exploration program."
Coming Catalysts:
50,000 m of drilling

10,000 m already done and we are waiting for assays

Regional Exploration

Testing blue sky potential with another drill rig

MAG survey results
Additional drill rigs being deployed

I think they will go from THREE to FIVE

Resources update later this year
Bottom Line
I see Mayfair Gold as having a) Margin of safety, b) Probable upside, and c) High potential upside. If the company can expand the resource from 2 Moz to 3-4 Moz then I think a big re-rating is coming. Especially as more people become aware that the company even exists (Right now I see no chatter about Mayfair anywhere) and the IPO flippers who have been selling run out of shares.
There simply are not many multimillion ounce deposits in tier #1 jurisdictions around and I see no way in hell that a 2 Moz deposit with a pretty good shot at becoming a 3-4 Moz deposit should have an Enterprise Value of US$89 M in today's environment.
Then there is the signal value of being able to attract the kind of people that are involved with Mayfair coupled with the fact that the company should soon get up to 5 drill rigs doing >50,000 m…
What does that signal about the confidence in the project?
People who have followed me for some time probably knows that I am all about the risk/reward and that I love "probable" returns" and "Margin of Safety" more than I love "high potential upside". Mayfair Gold is probably one of the highest probability cases that I know of at these levels. In other words there are few stocks that I own that I think have a higher probability of giving me a positive return in the order of 50%-100% in the next few months and that's for starters. Margin of Safety and Probable Return cases are my bread and butter when it comes to long term compounding.
Recap of My Case
Margin of Safety:

2 Moz of gold and counting
Tier #1 jurisdiction
Cashed up with close to C$20 M in the bank

Probable Upside

Near deposit potential with already confirmed hits

High Potential Upside

Newly discovered geophysical targets that will soon be tested

Heavy news flow

THREE drill rigs working and 10,000m out of 50,000m have already been drilled
Intention is to shortly get the rig count up to FIVE(!)

Tier #1 People

Excellent management team which includes;

CEO, Patrick Evans. Ex Placer Dome, Dominion Diamond Mines etc
Douglas Cater. Ex Barrick, Placer Dome, Kinross and Kirkland Lake
Etc
Some TA
To me this looks like, as stated earlier, that there are IPO flippers who are shedding shares. This selling looks to be met with open arms by bargain hunters in the 1.60-1.70 regions. The bullish divergence in RSI suggests to me that these flippers are starting to run out of shares and/or that buying is increasing. When this motivated seller is done then the path of least resistance will be up because it looks obvious that we are trading near a pretty firm floor at the moment.
Note: This is not trading or investment advice. I am not a financial adviser. I own shares of Mayfair Gold and the company is a banner sponsor. Therefore consider me biased and do your own due diligence. I may buy or sell shares at any time. I cannot guarantee the accuracy of the information in this article.
Best regards,
The Hedgeless Horseman