Just thoughts I would do a short article with some thoughts on the latest developments from Novo Resources, Cabral Gold and Eskay Mining…
Novo Resources (NVO.V)
As I had expected, Novo has been dropping cluster bombs of news lately, in the wake of the Millennium deal being wrapped up. I take this as a pretty clear signal that most, if not all, ducks are finally in a row…
Between September 9 and September 24 Novo has come out with no less than 7 news releases which can all be accessed HERE.
The two latest news releases had to do with GBM's "Malmsbury Project" and Kalamazoo Resources' "Queens Project". As many already know, Novo had an option on GBM's Malmsbury Project which is located south-west from the Fosterville mine in the Bendigo Zone, Victoria, Australia. I take this new option on the neighboring "Queens Project" as a sign that the Novo team/QH really believes that there might indeed be a Fosterville look alike hiding in that area.
The Malmsbury Project has seen historic (very high grade) mining and the Queen Project surrounds the historic Malmsbury workings: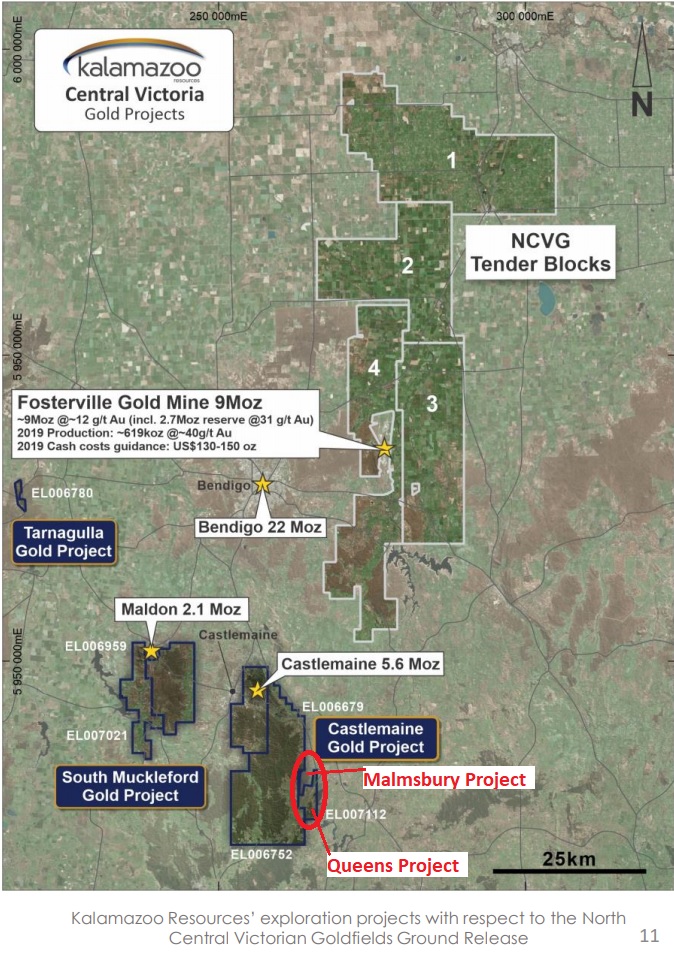 As I have been saying for quite some time: Do not confuse lack of NRs with lack of things getting done. The 70+ people employed by Novo have not been sitting idle for the last couple of months. Thus I believe that this is just the start of a longer "cluster bomb" campaign.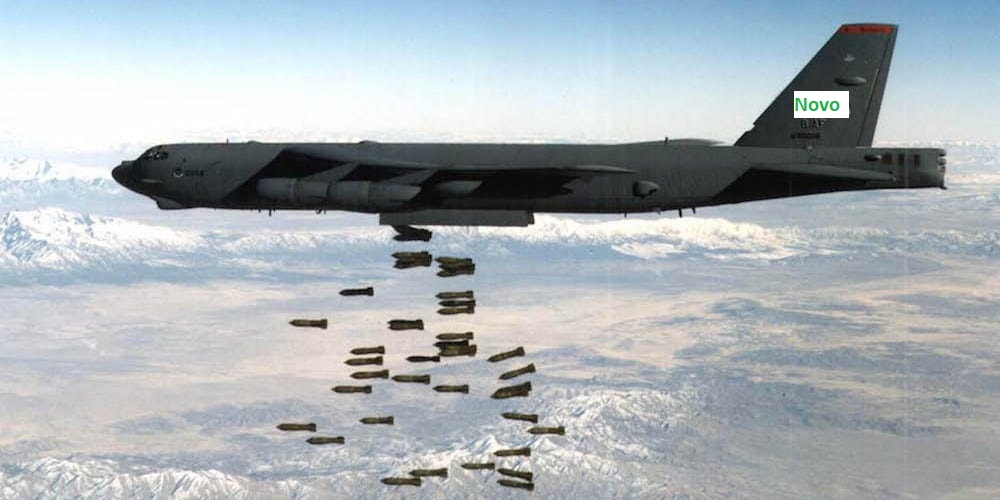 Reading between the lines and seeing what the market is missing is all important. The ones who confused lack of NRs with lack of activity probably sold at the latest bottom and the ones who could see that lack of NRs in the short term means more NRs in the medium term probably bought. In order to do something smart another party has to do something dumb.
I am still expecting more news from Egina, ore sorting, Karratha and a number of different battleships in the Novo convoy (which is much larger than I can fit in the picture below):
The market might only be able to keep one project in mind at any one point in time but it's an investor's job to make a well thought out decision based on all moving parts (even though one can't keep them all in the front of ones head every second). Trust and act on your Due Diligence not your current impulse.
Eskay Mining (ESK.V)
Eskay Mining seems to be on to something quite large up in the Eskay Creek area in BC, Canada…
"Eskay Mining Encounters Massive Sulfide with Assays up to 5.5 gpt Au and 507 gpt Ag in First Drill Hole at the TV Target; Adds Second Drill"
Snippets from the NR:
Additional drill holes completed by Eskay Mining over the past few weeks have encountered further massive sulphide intercepts. Assays are awaited.
Data from a recent Skytem electromagnetic survey conducted over the area, and overseen by Thomas Weis, geophysicist and director of Eskay Mining, suggest numerous near surface conductive targets are present within a two kilometer long N-S corridor centered on TV and the nearby Jeff target. A much more robust mineralizing system appears present in this area than previously perceived.
Eskay Mining is highly encouraged by early indications from drilling that suggest the presence of a significant precious metal-bearing VMS system at TV and Jeff. A second drill has been mobilized to increase the planned 2020 drill program.
I would recommend reading the whole NR because it is packed with interesting information.  My take is that it looks like the TV/Jeff system might be a big one and it's just one of many areas that Eskay Mining plan on testing. The best part is that we only need one good deposit(s) to see Eskay Mining become a real success. In other words I see this as a very encouraging start. Or in the words of Quinton Hennigh:
"Now that we have confirmation of a large, stacked, mudstone-hosted system, we plan to aggressively drill this area to see if we can vector in on the high grade core of the system. Two rigs are now on site. We plan to hit this hard the remainder of the current field season, but also be prepared to return here in 2021 to follow up on what looks to be a discovery in the making"
I was quite surprised to learn that they are actually bringing in a second drill rig THIS field season already because I was personally expecting this field season to be pretty close to being wrapped up already. I take that as a very good sign in terms of the Eskay Mining team's confidence level in regards to TV/Jeff!
Cabral Gold (CBR.V)
Cabral Gold came out with a very encouraging news release yesterday: "Cabral Gold Identifies New High-Grade Veins and Adds Second Drill Rig at Cuiú Cuiú Gold District"
And I think this slide pretty much sums it up:
Snippet 1:
The Machichie SW target area of the Cuiú Cuiú district is located between the E-W trending MG deposit, which currently contains an Initial Inferred Resource of 8.6Mt @ 1.45 g/t gold (400,000oz), and the recently discovered Machichie zone, which is a parallel E-W trending zone located approximately 500m north of the MG deposit.
Prior to 2019, a surface trench in the area cut 5.8m @ 16.0 g/t gold and a single drill hole below the trench intersected 3.0m @ 7.4 g/t gold. This occurrence was never followed up. In early 2019, however, a single hole was drilled 125m to the west of the initial hole and cut 3.4m @ 36.9 g/t gold. At the time, it was not known whether this was the western extent of the Machichie structure, which had been faulted to the south, or a separate structure.
Recent mapping by Cabral Gold's geologists has not only concluded that the two occurrences described above are related to two separate NE trending veins, but four additional NE trending veins have also been recognized further east, none of which have been previously drill tested. These clearly form part of a high-grade vein array and are shown in Figure 1.
Snippet 2:
Details regarding each vein structure from west to east are as follows:
Filão de Amor (undrilled) – mapped on surface, magnetic anomaly, surface samples range from 8.4 to 38.8 g/t gold
Machichie SW (2 holes) – mapped on surface, magnetic anomaly, surface samples include 3.4 and 19.2 g/t gold, one of two drill holes completed in 2019 cut 3.4m @ 36.9 g/t gold (Figure 2)
Zezinho (undrilled) – mapped on surface, magnetic anomaly, surface samples include 1.6 and 20.4 g/t gold
Hamilton Novo (1 hole) – mapped on surface, magnetic anomaly, surface samples range from 1.0 to 225.8 g/t gold, surface trenching returned 5.8m @ 16.0 g/t gold (Figure 3), a single historic drill hole drill intersected 3.0m @ 7.4 g/t gold, estimated true width of 2.3 – 5.8m
Maranhão W (undrilled) – mapped on surface, magnetic anomaly, surface sample of 21.4 g/t gold
Maranhão E (undrilled) – mapped on surface, magnetic anomaly, surface sample of 15.3 g/t gold
In Short:
As I had thought/hoped there just seems to be a truckload of gold bearing structures in the Cuiú Cuiú district. And remember that this area is just a small part of Cabral Gold's total land package. Cabral is already up over 200% since I made the comment that I thought the company would be one of the best performing juniors this year. So far so good. The key thing is that this NR just enforces my belief that Cabral should have a LOT of growth ahead. Said growth should be even faster now given that the company also announced that they are bringing in a second drill rig…
Or in the words of Alan Carter:
"These new veins are significant because they occur between the MG deposit and the new Machichie zone (which we drilled in 2019) and they appear to have very high grades. Adding a second rig will allow us to double the news flow and drill 2 targets simultaneously."
… Simple enough! Steady as she goes!
Note: This is not investment advice. Always do your own due diligence. I own shares of all companies mentioned and all are banner sponsors of The Hedgeless Horseman. Thus, assume I am biased.
Best regards,
Erik Wetterling aka "The Hedgeless Horseman"
Follow me on twitter: https://twitter.com/Comm_Invest
Follow me on CEO.ca: https://ceo.ca/@hhorseman
Follow me on Youtube: My channel