I went the way of Macro -> Micro  and then rate Micro higher than Macro.
Once I was quite sure that gold and silver were the most attractive assets going forward I switched to figuring out what the best leverage would be to said theme.
Enter miners.
I used to look at the price of gold and silver multiple times per day but thankfully I have stopped chasing those ambulances and instead am spending 99% of the time trying to figure out what gold and silver companies have the best risk/reward.
If gold/silver do well, my holdings should do well on average.
If gold/silver do poorly, my holdings will hopefully do OK at least.
I don't expect to have the best performing portfolio in a raging bull market "spurt" but my aim is to have very good results over the long term and NOT give it back during the intermediate lulls.
There are plenty of cheap juniors our there still, especially given that gold is trading around $1,950/oz.
Many many projects are quite valuable at these gold prices but not at $1,000/oz.
I try to buy companies which have quality assets or a shot at quality assets.
Assets that are valuable at a much lower gold price than the current price.
I have no idea where the price of gold/silver is gonna go in the short or even medium term but I am quite sure that the long term trend will be up for some years to come.
Picking companies that are cheap and "should" be revalued higher even if gold was say $1,350/oz is investing with a large margin of safety.
In other words I like to own companies where I don't feel any single catalyst MUST materialize for a higher valuation to be warranted.
"Betting" on a single catalyst is not investing in my book.
Sure, I own a bunch of exploration stock which will need success with the drill bit in order to produce great returns but most of them are de-risked in some way shape or form;
* Eskay Mining has several targets with proven mineralization which means that there are multiple shots at success
* District Metals has historic resources and pretty much all zones are wide open
* Lion One has a fully permitted project, loads of cash and loads of exploration potential
* Novo should soon be a high margin producer and has more exploration upside than any company
* White Rock Minerals is so cheap that one could throw away one or two out of the three projects and it would still not be expensive.
I do have some true High Risk/High Reward plays though, such as;
* Labrador Gold, which is grassroot exploration, but thankfully located directly on strike from what might be a tier 1 orogenic system (New Found Gold's Queensway Project)
* NuLegacy Gold, which is semi grassroot exploration, but the target is orders of magnitude larger than almost any other junior.
… These can easily be cut in half or go up ten times or more even with gold at $1,950. I would not have these as a core position but I do like to have a few potential "fire crackers".
Bottom Line: Focus on what you can control. The risk/reward in individual cases and you won't need to lose too much sleep on where the price of gold/silver might be going in the short term. Look for the heads I win/Tails I don't lose much cases. With that said, if you can get into Private Placements and get warrants then some high risk/high reward cases gets materially better because it opens up more upside but not downside. 
I see plenty of companies out there which I would consider to be very cheap, especially at today's gold price. We are far away from a broad based mania in the juniors in my opinion.
Happy Hunting.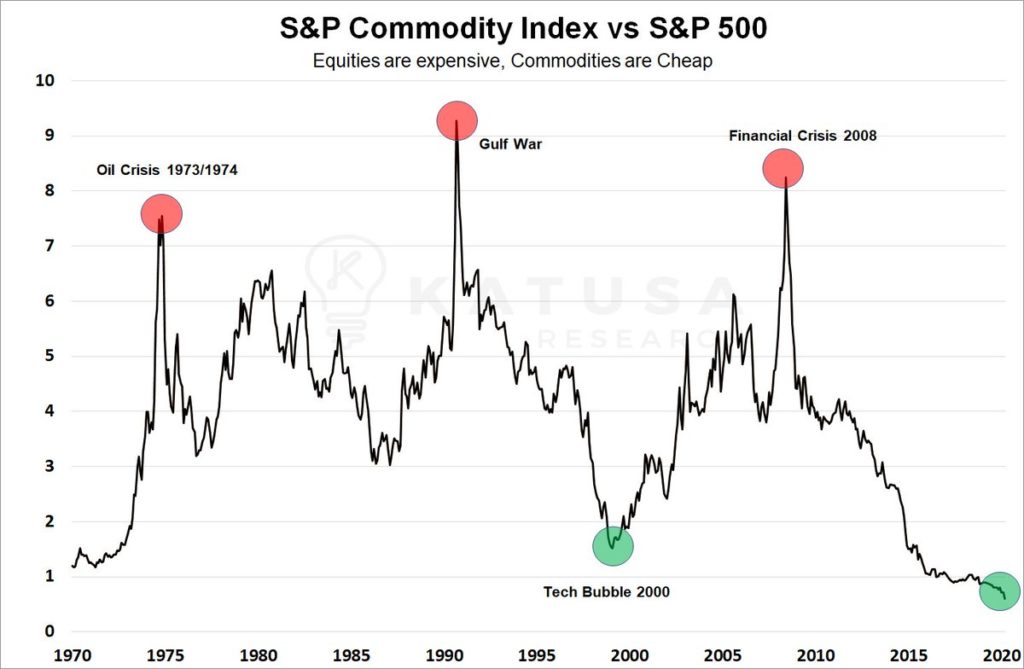 Note: This is not investment advice. Always do your own due diligence. Some of the companies are banners sponsors of my site and I own shares of all companies mentioned. Thus, assume I am biased.
Best regards,
Erik Wetterling aka "The Hedgeless Horseman"
Follow me on twitter: https://twitter.com/Comm_Invest
Follow me on CEO.ca: https://ceo.ca/@hhorseman
Follow me on Youtube: My channel