FireFox Gold (FFOX)
B2 Gold/Aurion Resources announced a new (potential) gold discovery from three holes drilled, within their JV with Aurion,  where hole IKK21003 ran 1.84 gpt over 52.4 m and ole IKK21002 ran 1.42 gpt over 30.6. These numbers are in line with the first discovery holes out of Ikkari for what it's worth.
This new potential discovery is located just west of Ikkari and south-west of FireFox Gold's Sarvi Project:
New potential discovery by B2 Gold circled in

red

Ikkari outlined in

green

FireFox Gold's Sarvi project outlined in black to the north
Note the blue lines which are designated as "Interpreted Later Structures" that are mapped as running through both Ikkari and the B2 Gold discovery as well going north into FireFox Gold's Sarvi Project. Also note that some high gold readings there seems to line up with these interpreted structures.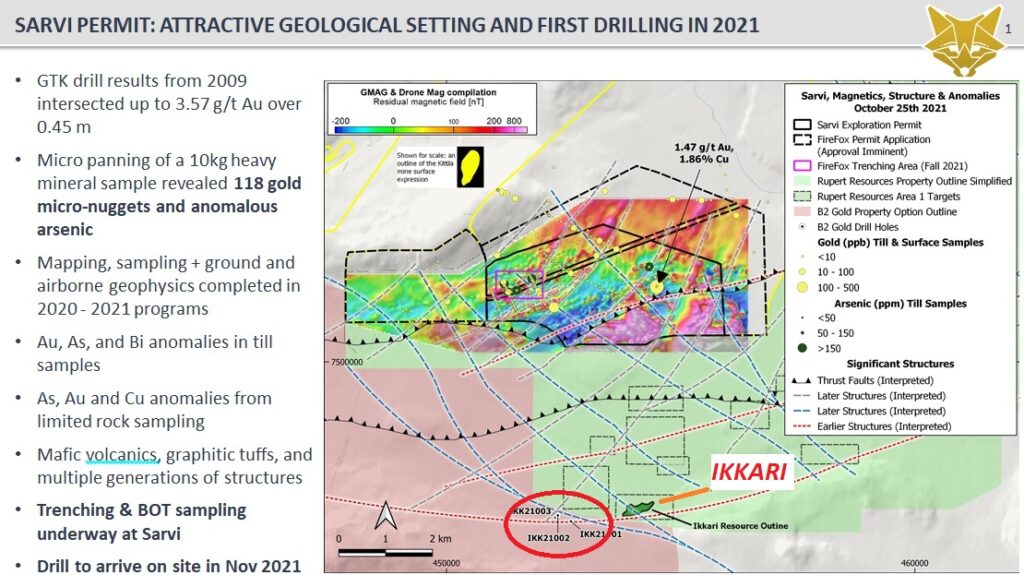 I think this news highlights just how prospective this underexplored Greenstone belt might be and I would guess that FireFox Gold's massive, 100% owned land position in said belt has gone up in value on the back of this news. Whereas Aurion has JV'd out a lot of their land position (B2 Gold is currently earning into 70% ownership of this potential discovery) FireFox has elected to keep 100% ownership. Right now this strategy is obviously working out well.
Ps. Mustajärvi shares similarities to Ikkari as well already.
Labrador Gold (LAB.V)
Oct 25 – "New Found Announces Doubling of Drill Program to 400,000m and Increase to 14 Drill Rigs"
… I think this is a very positive signal value for both NFG and LAB and I would be surprised if it didn't rub off on LAB.
Note: I own shares of both companies and both are banner sponsors of mine. Assume I am biased. This is not investing advice.
Best regards,
The Hedgeless Horseman