Every correction is followed by a rally…
The current correction in GDXJ (miners) has lasted 244 market days…
Sentiment has been brutal and apparently gold newsletter sentiment index has been at multi year lows…
The GDXJ chart basically looks like a buzz saw, with endless false starts and false break downs, having formed what could be considered a bull flag:
The old saying is that the bigger and more brutal the correction the stronger the ensuing rally…
Every day gets us closer to the next rally…
Again, it has been 245 days since the last rally topped…
I will never understand people who talk about getting out at times like this given the above…
While some are giving up on juniors I am seeing continuation patterns and bottoming formations all over the place…
If all the above weren't enough the valuations are simply absurd across the board…
So in essence I see extremely favorable Risk/Reward from a Price/Value stand point and then you have all the apparently bullish chart patterns on top of it…
Personally I don't think I have seen a better Risk/Reward picture in the last six years and therefore I am at peak greed right now.
Macro
Even though I don't put much energy in trying to predict the short term movements of gold or silver I do pay some attention to what is happening in the commodity space…
So first of all we are watching a generational opportunity in commodities overall:
(Oh and consider the crypto craze in light of this chart, wink wink)
I don't think most people grasp the significance of the chart above…
I mean we are literally seeing the best "lay up" anyone has ever seen in commodities in at least 91 years…
On that note it should almost be a crime to be whining about miners right now…
Why?
It is offensive to be whining about the greatest GIFT seen in almost a hundred years…
So what if it theoretically would end up taking a year or two for the rally to really get started?
The end game will be the greatest reversion to the mean ever…
Lets imagine we KNEW that the average miner would be up at least 500% within 2 years…
That means that every dollar invested today will be worth at least $6 within 2 years…
Why on earth would anyone be in a rush to see said opportunity go away in a hurry?
With today's savings rates the opportunity cost is pretty much zero and it would be a no brainer investment even if the guaranteed return was 10% within 2 years (although one will have to endure volatility as well)…
Anyway the the real mistake you can make is overpaying for something and in the current market environment one could be diversified as hell in miners and still the 30th best idea will probably be a cheap one…
When all this starts to sink in you should hopefully stop being so stressed about the current correction and the daily swings…
We are not investing in miners for a 10% return right?
We are invested because the reversion to the mean in real assets will be the mother of all reversions…
Get a hobby, get a second job and/or get in shape and realize the gift of opportunity that is staring you right in the face…
I hope these valuations stay in place for at least a few months yet since I don't mind sowing as many seeds as I can that will eventually turn into +500% flowers in the future…
Personally I am a bit bored right now because it's a bit too easy…
Just look at the gold mining sector's valuation compared to everything else: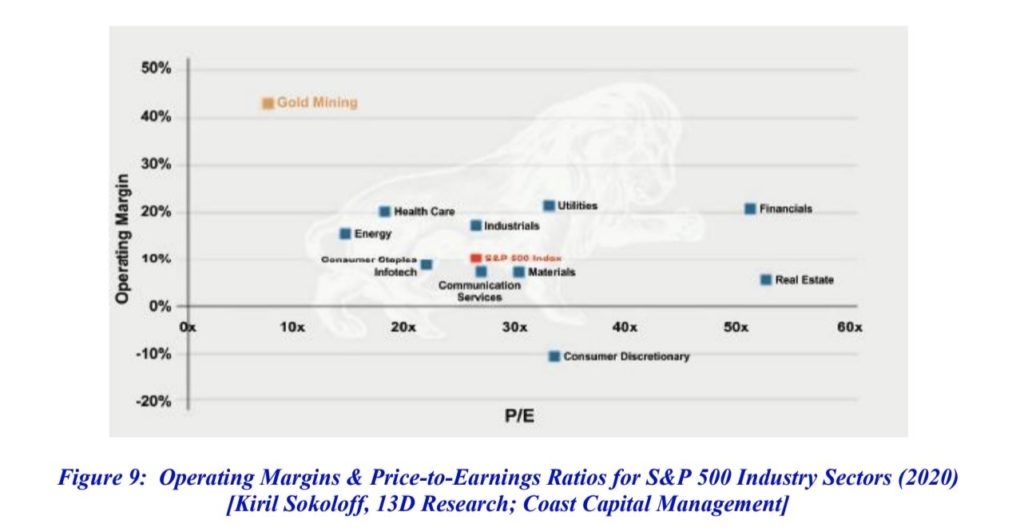 I find myself thinking: "It was not supposed to be this easy!"
Investing was supposed to be hard…
It was supposed to be hard to beat the market…
Yet in the most artificial world of finance ever seen one might almost have expected to see "investors" favor extremely speculative, digital tokens over buying something real, like gold miners, even when said miners are so cheap one can barely believe it…
We are pretty much seeing the very opposite of "a bird in the hand is better than two birds in the bush". Yes, right now people many people are literally favoring two birds in the bush over two birds in the hand…
It is almost a bit boring when you pretty much know that you will have great future returns. The market is so inefficient and clueless that anyone with a bit of common sense can outperform it granted one is aware of the opportunity in real assets like the miners…
Just consider the implications of a scenario where we see the mother of all mean reversions if one is able to pick up the relevant assets at absurd valuations to begin with…
Oh and how the gold newsletter writers can be max bearish is of course also beyond me…
What is this?… Amateur hour?…
Thank god I have always done my own research and trusted my own conclusions above all else.
Poker was hard…
This sector is a joke…
In Other News
Gold futures have been in backwardation a lot during the last several weeks which signals physical shortages and deliveries out of COMEX are at record high levels (far above any previous period):
I think it's also worth noting that the planned deadline for the Basel III "Net Stable Funding Ratio" (NSFR) is coming up in June. CLICK HERE to read a very interesting article on this very subject and what it MIGHT mean for gold. Lastly I would point out that gold demand in India has exploded and that a lot of mints have been overwhelmed with physical silver demand.
Bottom Line
Real assets are at generational lows compared to financials

(Generational opportunity)

The "artificial hype" is so strong that people buy things such as cryptos over real assets with unbelievable valuations (miners)
People are willing to pay more for two birds in the bush than two birds in the hand
Sentiment is at rock bottom for both gold and miners
I have never seen better risk/reward in especially junior miners than what I am seeing now
I am at peak greed when majority is at peak fear
If you get the above you will realize that the market can be offensively easy to beat just as long as you stay calm/rational and have patience. Also realize that we are after the BIG move. I am not talking about 30% or even 100% returns. I am talking about the powerful, multi-year reversion to the man move which should take many miners hundreds of percent higher. I am not in this sector to make a double and even if miners go up 100% tomorrow that would likely just be the first leg up out of many to come. I do think many will  unfortunately sell out way too early since they have such trauma from the last few years.
"It Was Not Supposed be This Easy"
Note: This is not investment advice.
Best regards,
Erik Wetterling aka "The Hedgeless Horseman"
Follow me on twitter: https://twitter.com/Comm_Invest
Follow me on CEO.ca: https://ceo.ca/@hhorseman
Follow me on Youtube: My channel