Setting the scene
Bonterra is a stock I assume some people have heard about. It's a canadian based gold explorer that has had great success at their Gladiotor Project in the Urban-Barry Camp (or Windfall Camp depending on how you look at it), in Quebec.  Their success with the drill bit led to Kinross Gold, Kirkland Lake Gold and Eric Sprott making strategic investments in the company. As of this moment, Kirkland Lake and Eric Sprott are the largest shareholders. Recently a deal was finalized that meant that Metanor Resources (who also had Kirkland Lake and Eric Sprott as largest shareholders) would merge with Bonterra and create the second biggest land owner in the district, right after Osisko Mining, and the new consolidated company would also own the district's only permitted mill… Synergies!
Now, here is where it gets interesting…
Immediately before the merger was completed, Bonterra spun out their Larder-Lake project located in Ontario Canada, that had been acquired near the bear market bottom in March 17, 2016 from Kerr Mines Inc. This new company is called Gatling Exploration (GTR), and it just started to trade 7 trading days ago (Oct 11).
Bonterra were already working on their first Gladiator project and thus the Larder-Lake project was kept on the back burner. Given that Kirkland Lake and Eric Sprott would become the largest shareholders in both Metanor and Bonterra, which would then merge as stated earlier, it comes as no surprise that Bonterra kept focusing on their Quebec asset.
Not only did they think this Larder-Lake project was worthy of spinning out before the merger but they also decided to spin out approximately $7,000,000 in cash to the new company as well. This took me a bit by surprise given the fact that we are at extremely bearish sentiment levels for the juniors and $7 million dollars is "worth a lot" at this point in time for most juniors. Not many juniors are able to say that they have $7 million dollars in the bank, because there is simply too little capital around and many would be blowing out their capital structure. Don't take my word for it, look around and see what little cash, if any, the juniors are able to raise during this lull (even the few very successful ones).
I absolutely love spin outs because they can sometimes lead to EXTREME opportunities when they start trading because 1.) The market often haven't realized the value, which makes a spin out attractive in the first place, 2.) Few people know about and/or follows it since it's a brand new company with often underappreciated or misunderstood assets and 3.) There is often a big chance that investors who now suddenly find themselves being owners of a new company (and projects), which they might not be familiar with at all, simply decide to sell their share without doing any Due Diligence. Needless to say, all these factors did really pique my interest and I had to take a look at this Larder-Lake project and try to understand what Bonterra (including Kirkland Lake, Eric Sprott & Kinross Gold) saw that led them to want to fund this new venture with $7 million in cash from the get go…
Lets start with a macro view of the project's location:
As you can see, the Larder-Lake project is located along the HIGHLY prospective Cadillac-Larder Lake Fault Zone in Ontario, Canada. It's actually located between the 24M oz Kirkland Lake area and the 12 Moz historic Kerr Addison mine. Having two gold giants nearby, on either side, is a very good sign in terms of prospectivity and potential. As the old saying goes; The best place to look for a new gold mine is near a gold mine. Furthermore, Ontario is as many know one of the best jurisdictions in the world and hosts multiple world class gold deposits. Great Bear Resources for example is just the latest example showing that there is probably much more gold yet to be found in the Canadian greenstone belts.
A closer look at the project:
As you can see above, this project has seen gold production in the past and sports a shaft and underground workings on site. Furthermore, it's located right next to a high way and not far away from the nearest town. This is of course very favorable on the whole since the projected can be considered de-risked from multiple angles.
lets take a closer look at a long section that captures the currently known gold mineralisation:
As you can see above, there are some very interesting intercepts which includes 22.5 g/t over 7.9m and 13.6 g/t over 15.1m and all three zones are open at depth. You can also see the historic Cheminis mine and its underground workings. I think this is the first time that all three deposits will be systematically worked on and treated as a single deposit under one 100% owner.
…. With that said, there has been interest before as per this snippet from the Bonterra News Release that covered the purchase in 2016:
… So none other than the major gold miner Gold Fields entered an option in 2012 to earn 60% in the "Bear Lake properties" by spending $40 M, and then dropping it when they shut down all exploration activities world wide in 2015, at the depths of one of the most brutal bear markets in the industry. Going by that option agreement, the implied back of the envelope valuation for the project was $67 million dollars according to Gold Fields. Ok, good… Now we have a reference point in terms of a ball park valuation estimate for the project and confirmation that it had enough inferred potential for a major like Gold Fields to get involved.
This following slide is a from a page I found on Gold Fields website:
… The Chiminis mine (central deposit in the Larder-Lake project) apparently produced 7.6 Moz of gold and was only mined to little over 300m at depth!? I can't 100% guarantee that this slide from Gold Fields is true in terms of the production number for Chiminis because I haven't been able to validate it from another source. Well anyway, that's pretty impressive IF true, given that it was "only" 3.7 g/t, and would only further high-light the prospectivity of this part of the Cadillac-Larder Break (Kirkland Lake 24 Moz – Cheminis 7.6 Moz – Kerr Addison 11 Moz). This project is thus surrounded by elephants and even potentially included one.
This following slide from a 2016 Bonterra presentation is a bit amusing since it signals what a steal Bonterra thought the Larder-Lake acqusition was already back then, during the depths of the bear market:
As you can see, Bonterra seemed very pleased to have picked up a somewhat advanced/de-risked Ontario gold asset for as low as $4/Oz during those depressing times on top of Goldfields previous work (while earning into the option) that was valued at $7 M. Keep the $4/Oz and $7 M of additional work numbers in mind when we go over what Gatling and thus the project is currently valued at a bit later.
In 2016, Bonterra saw the three previously "independent" deposits, but now consolidated under one owner, as a single "4 km deposit with structurally controlled zones". This of course brings with it a lot of synergies relative to when this stretch of the Larder-Lake Break had fractured ownership:
Furthermore, I'm not sure the drilling done by Gold Fields is included, because I don't see that Fernland intercept in the long section depicted earlier and Gatling's current resource estimate for the project looks pretty much the same, give or take (and both dated 2011):
So there you have the current resource for the project that is now owned by Gatling Exploration alongside $7 M in cash. Close to 1 Moz and I don't think the Gold Fields somewhat limited drilling is included. Furthermore, Gatling are starting a 10,000 m drill program right off the bat in Q4, and are already targeting a new resource next year (which I guess would include Gold Fields drilling on top of the 10,000 m drill campaign). In my eyes, this kind of aggressive approach signals that management/backers really believe in the project and are expecting the drill campaign to be successful enough to warrant an updated resource right after… Maybe they see what Gold Fields saw?
Bottom Line
What you get:
A micro cap gold explorer with its flagship project located in Ontario, Canada.

Tier 1 jurisdiction that has seen some of the highest take over premiums ($/Oz).

Project is located between the Kirkland Lake (24Moz) and Kerr Addison (11Moz) behemoths and captures 10 km of the very prospective "Cadillac-Larder Break".
~1 Moz of inferred/indicated resources already.
Project has a history of gold production and mine development to 340m, with a shaft and underground workings on site.
Project has very good infrastructure and is right next to a high way.
Option agreement in 2012 by Gold Fields valued the project's discounted potential at $67 million.
Shareholders include Kirkland Lake Gold, Eric Sprott and Kinross Gold.
A 10,000 m drill program is scheduled to start at any time (Q4).
An updated resource estimate is scheduled to be released next year already.
Gatling Exploration has only seen 7 days of trading (Listed on Oct 11).
What you pay for it: (Spoiler: ~C$1 M)
… Yes you read that right(!)
So what is Gatling Exploration (GTR) and its Larder-Lake project valued today, a few days after it started trading?
Well, with only 33,426,512 million shares outstanding and the stock's last close being at C$0.25, Gatling is currently valued at C$8 M with approximately C$7 M in cash. Thus you can buy a de-risked project (historic production), with ~1 Moz ounces in the ground, excellent infrastructure (including a shaft and underground working and is next to a high way), 10 km of the famous "Cadillac-Larder Break" that sits between Kirkland Lake (24 Moz) to the west and Kerr Addison (11 Moz) just 7 km to the east and was valued at $67 M by the major gold producer Gold Fields for a WHOPPING…. C$1 M (net of cash)!… Which of course is beyond absurd (The cash alone makes up C$0.21/share).
Bonterra thought they were extremely fortunate to steal this pretty advanced/de-risked project that came with a resource that they paid $4 per ounce for. Today, with Gatling, you can pick it up for 75% less than during that bear market "robbery". I mean in my dreams I can theoretically get something completely for free, but paying $1 M for all this is probably as close as I can get in real life.
Oh, and your fellow shareholders consists of management, Kirkland Lake Gold, Eric Sprott and Kinross Gold among others.
Even if it goes up 3X in price from here ($0.75/share), it would still only put the company valuation at ~C$24 M and the Enterprise Value (net of cash) at C$17 M, and I would argue it would still be one of the cheapest juniors around with an EV/Oz ratio of ~C$17… Especially given the players and backers involved coupled with the jurisdiction and how de-risked it is. If the Bonterra guys who are now shareholders in Gatling Resources, were willing to create a company solely for the Larder-Lake project and part with C$7 M in cash, I take it as a sign that the project is probably worth closer to $67 M than $1 M (as it currently stands). I'm chalking this one up to my "most likely to be a multi bagger and soon" list. There are no risk free stocks. There is only the Risk/Reward that differentiates them, and when you're not even paying for what is already known (like 1Moz of gold), then the Risk/Reward gets ridiculous. I personally think this one is going to "moon" as soon as people actually know it exists, and that's the first time I have ever used that expression in an article. It has already traded up to $0.38, but has since been slammed down again by what I assume to be Bonterra shareholders who have no idea what they actually own…
Case in point in terms of people not having had the time to realize what they now own (and I bet he is not alone):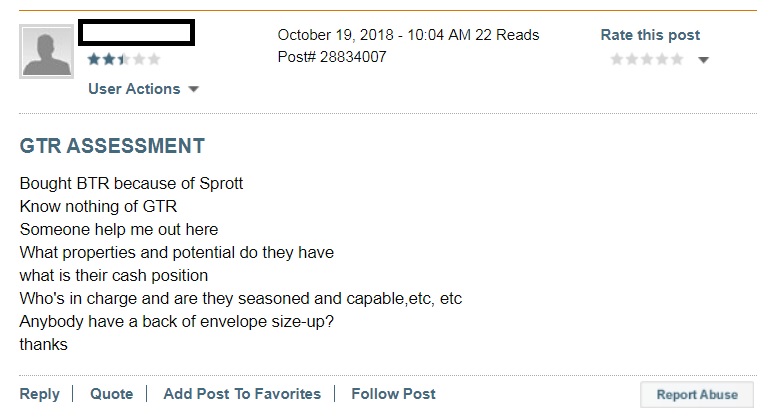 I myself have been buying from $0.25 up to $0.38, and just been praying for "rash" Bonterra shareholders to dump it in my lap due to not taking/having the time and energy to figure out what their newfound shareholding might be worth. Again, his is why I love spin outs, because they can offer some EXTREME opportunities, such as Gatling Exploration.
Closing comments
It's only been trading for less than 10 trading days and there is no one talking about it at CEO.CA for example. There are a few posters at Stockhouse, but no one seems to be aware of what they actually own, or how ridiculous the valuation is. Yet.
Given the very tight share structure, I think some select people who had done their DD and had an idea of what the Larder-Lake project might be worth, were buying a lot of Bonterra stock before the spin out deadline (due to Bonterra being much more liquid on a relative basis). You can actually see the rise in volume and ascending share price of Bonterra up until around the "cut off" date.
This is probably the most ridiculous valuation I have seen over the last couple of years, and an example of why I love spin outs simply because the higher chances of finding these absurd opportunities. You are basically getting the whole sha-bang for free, or paying $1/ounce at these levels. Even the shittiest of gold projects, located in the shittiest of jurisdictions, with the shittiest of management teams, with the shittiest of backers and who are almost dead broke usually has a $10-$15/ounce (EV/Oz) price tag at least… Keep in mind that, if this would ever turn out to become an economic deposit, which management/KL/Sprott/Kinross probably think is within the realms of possibility, then that future resource might fetch a value up to $300/ounce in a take over scenario (versus the current valuation of $1/Oz). Furthermore, if that time comes, I would argue the resource would be larger than 1 Moz. Given the fact that they are going full steam ahead with 10,000 m of drilling already scheduled to start in Q4 and a planned resource update already next year, management is signalling that they believe this project to be 1) "The real deal", and 2) That they expect it to have grown materially via the (soon to start) drill campaign and possibly the Gold Fields drilling.
My investing strategy mainly comes down to one thing, namely what I believe the Risk/Reward proposition to be. If I can buy a company like this for $1 M net, which means just $1 M above free, one quickly realizes that this is an anomaly that should never really exist in the first place. I can't stress this point enough. I would argue that there is no micro cap gold explorer on the canadian exchange that is cheaper and has a better Risk/Reward profile than this. Again, if this would (god forbid) ever grow beyond the 1 Moz resources that is already on the books and become a multi million ounce mine, then anyone surely realizes that there is insane multi-bagger potential in Gatling Exploration. As a matter of fact, it should theoretically only have about a 12% downside risk as it stands now before you can actually buy the company's cash for pennies on the dollar. It's basically as close to a "free lunch" as it gets, and I would argue that you might not see such a favorable Risk/Reward proposition more than a few times in your life, all things considered. I for one can't find a single junior of this calibre trading anywhere near $1 M in Enterprise Value. Look at it this way: If Gatling would have been a grass root gold explorer and drilled one of those better intercepts seen on the long section, they would probably be 3X-4X higher than where it is trading today. Especially given the jurisdiction and players involved already.
This valuation anomaly should not exist. It will not last, and it was only possible due to the fact that it is a (so far) unknown/off the radar spin out that took place during extremely bad sentiment levels for the sector as a whole. I have basically been looking over my shoulder while I have been buying Gatling, since I'm just waiting for someone, anyone, to actually discover it and do even the slightest of DD efforts… and see what I am seeing, lol. I think one can expect extreme swings going forward since there will most likely be bargain/value hunters rushing in and also newfound shareholders of Gatling who might just sell without thinking twice about it. I don't think everyone has even gotten their spin out shares yet. That's how fresh this investment is.
Note!!! This is NOT investment advice. Junior mining stocks are risky and can be very volatile. I have a relatively big position in Gatling Exploration (Novo is still my largest holding by a big margin) and might buy and sell stock at any time. I can't guarantee 100% accuracy in terms of what is contained in this post and thus would encourage everyone to do their own Due Diligence.
Best regards,
The Hedgeless Horseman
Follow me on twitter: https://twitter.com/Comm_Invest
Follow me on CEO.ca: https://ceo.ca/@hhorseman
Don't forget to sign up for my Newsletter (top right on front page) in order to get notification when a new post is up!
If you want to learn more about Novo Resources and the Pilbara Gold Rush you can purchase all my premium content HERE.
If you find my work valuable and want to help me keep publishing most of my research for free then please consider making a donation.