When sentiment is bad one can steal a lot of value without taking catalyst risks. The following are all news releases from Eskay Mining that have been announced after February 05 of this year:
September 16, 2021
Eskay Mining Discovers Two New Large VMS Systems at Its Consolidated Eskay Project
September 3, 2021
Eskay Mining to Trade on OTCQX
August 23, 2021
Eskay Mining Provides Update on Drilling; Discusses Property Wide SkyTEM Data
July 20, 2021
Eskay Mining Announces Completion of NI 43-101 Technical Report On Its 100% Owned Consolidated Precious Metal-Rich VMS Project in the Golden Triangle, British Columbia
July 13, 2021
Eskay Mining Encounters Extensive Stockwork Feeder Mineralization at the Jeff Target; Extensive New Targets Identified by New SkyTEM Data; Webinar Details
July 5, 2021
Seabridge Gold and Eskay Mining Enter into Cost Sharing Agreement and Financing on Coulter Creek Access Road
June 28, 2021
Eskay Mining Commences its 2021 Drill Campaign on Its 100% Owned Consolidated Eskay Precious Metal-Rich VMS Project
April 22, 2021
Eskay Mining Commences its 2021 Exploration Program with a Property Wide SkyTEM Survey Across Its 100% Owned Consolidated Eskay Precious Metal-Rich VMS Project
April 13, 2021
Eskay Mining Defines Multiple Mineralized Horizons Across Its 100% Owned Consolidated Eskay Precious Metal-Rich VMS Project
March 26, 2021
Eskay Clarifies that It Has Acquired a 100% Interest in all of Its Former JV Property
March 25, 2021
Eskay Acquires 100% Interest in SIB Property
March 8, 2021
Eskay Closes Acquisition of 19.5% of Garibaldi Resources Corp
February 25, 2021
Numerous New Precious Metal-Rich VMS Targets Emerge Across Eskay Mining's District Land Holdings
Eskay Mining has been much more successful than your average junior but it is not alone in terms of having created significant value this year. It might not look like it however given that sentiment is king in the short term. In other words Eskay Mining, like many other juniors, have created value while gotten cheaper at the same time. When sentiment finally swings and value creation starts to be reflected it is going to be one helluva reversion to the mean. Especially since value has gone up, while price has gone down, which means that the Price-to-Value gap has been widening…
If I had to make an artistic rendition of how the Expected Value of Eskay Mining has been trending it would go something like this: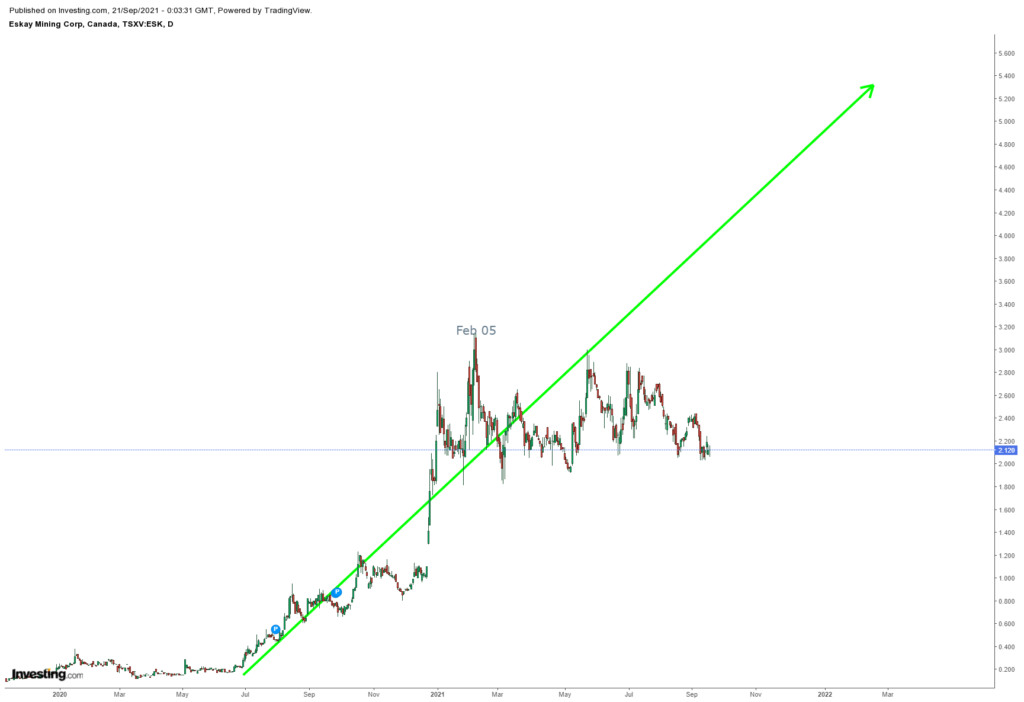 A typical investor might be selling juniors such as Eskay Mining because he/she typically is afraid that price might go down farther. In contrast, I as a value investor, am licking my chops since I see a big Price-to-Value gap that is probably the widest ever… And I think that is going to be closed one day.
Note: This is not investing advice. I own shares of Eskay Mining and the company is a banner sponsor. Therefore assume I am biased and do your own due diligence. Junior mining stocks can be very volatile and risky etc.
Best regards,
The Hedgeless Horseman