As many will know Eskay Mining (ESK.V) is currently drilling the TV/Jeff target(s) and plans to drill the Spearhead target as well before the winter break. This will be the very first nibble on just two of the many targets that are found within Eskay's 52,600 Hectares land package. Some very interesting turn of events that have happened recently is that Skeen Resources, who own the "remnants" of the legendary bonanza grade Eskay Creek mine, has hit additional targets outside the main "contact mudstone" sequence. Anyway, lets start with Quinton/Crescat Capital's latest thoughts on the opportunity in Eskay Mining…
(Prior recommended reading: My Case For Eskay Mining)
Quinton Hennigh re-iterated his case for Eskay Mining in the "Crescat Gets Activist on Gold #8" episode which aired today:
Now, lets look at what Skeena Resources ($547 M in Market Cap) has been doing…
First of all here is a recent presentation from Skeena Resources which was hosted by Cory Fleck of Kereport.com:
Again, as some will know the legendary Eskay Creek deposit was found in the "contact mudstone" sequence. What is interesting is that Skeena has been able to hit mineralization in two addional sequences, aptly called "Lower Mudstone Zone" and "Even Lower Mudstone Zone", which are located lower in the stratigraphy than the Eskay Creek deposit and the corresponding "contact mudstone":
(Drawings added by me)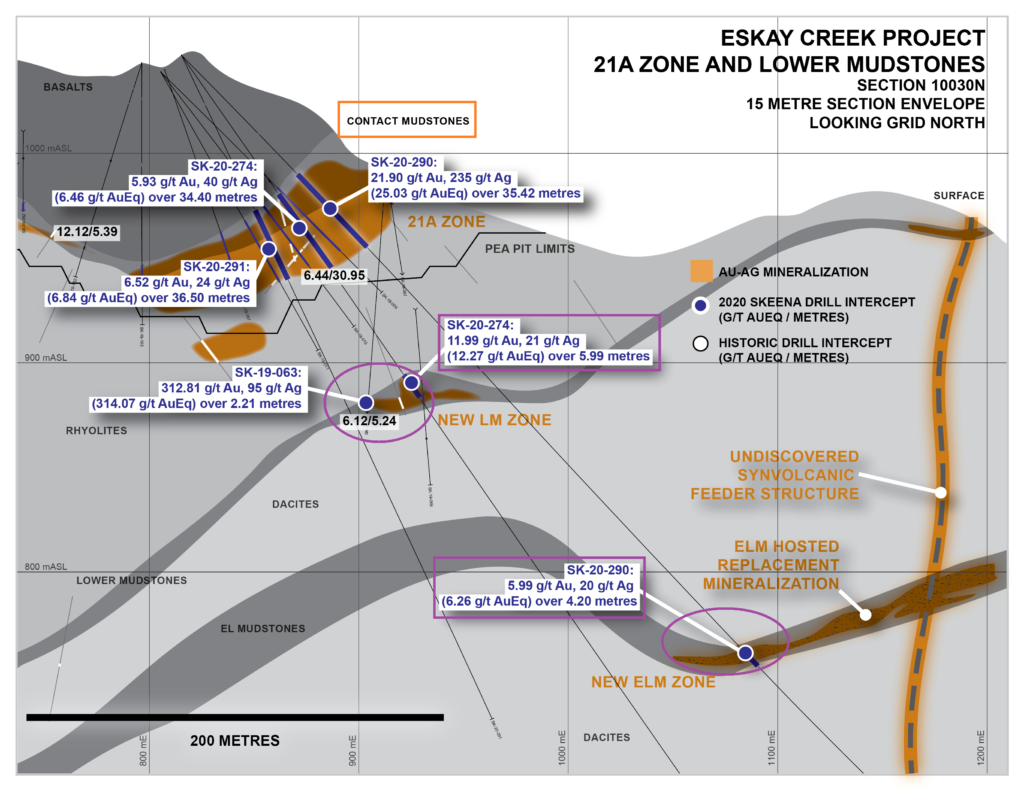 Skeena believes that synvolcanic feeder structures (visualized on the right in the slide above) have intersected these two additional horizons and created replacement mineralization in the Lower and Even Lower mudstone zones. This is of course very interesting since it means that there might be even more targets in the Eskay Creek district than previously thought. Do these lower mudstones with replacement mineralization have as much potential as the Eskay Creek type mineralization in the contact mudstones? I have no idea, but one can look at intercepts such as 312.81 g/t over 2.21 m and realize that one or two of these new sequences might become important to the overall district story… More potential deposits is never a bad thing.
Another interesting thing to note from the Skeena presentation is that the target the company is mostly excited about in the slide below are the "Mackay Targets". Why is that interesting? Because there have been some very good chip and soil samples that have never really been followed up and those anomalies head straight into Eskay Mining's SIB area. To quote Paul Geddes in the presentation: "We know there is something there. It's just a matter of going in drilling it and figuring out how much is there":
(Drawings added by me)
… The potential benefit to Eskay Mining should be obvious. Skeena is aiming to reach a 5 Moz resource in this area and if they find something good at the Mackat Targets then said targets will likely extent across Eskay Mining's claims in the area. Basically Skeena will be helping to unlock the potential of Eskay Mining via their exploration in the vicinity. Note that Eskay Mining owns the land to the east and south, directly along strike from the arrows which represent different target horizons.
What Eskay is currently doing
As mentioned earlier Eskay Mining is currently drilling the Jeff/TV target(s) which will be the first drilling there in the last 25 years. Dr. Thomas Monecke and Dr. John DeDecker (who are VMS experts), coupled with ex Chief Geophysicist at Newmont Tom Weiss, have done a lot of modelling and in the presentation Quinton states: "We can see clear evidence of sulphide bodies that need to be tested". Furthermore Quinton explains that the two areas that will be tested this field season are just the start and that they will be agressive and test a lot of targets once the snow melts. And to say they have a lot of targets within the district scale land package is an understatement:
The second target to be drilled during this field season is the Spearhead target which is located in the southern parts of Eskay's land package and interestingly enough quite far from the Eskay Creek deposit. Even though it is tens of kilometers farther south in the Eskay Creek belt the target has remarkably been confirmed to also be a VMS system:
"Recent field examination of the Spearhead VMS prospect has defined a zone of carbonaceous mudstone and massive sulfide mineralization striking northwest, steeply overturned and outcropping over at least 150 m on the surface."
A legacy photo of the outcropping mineralization at Spearhead: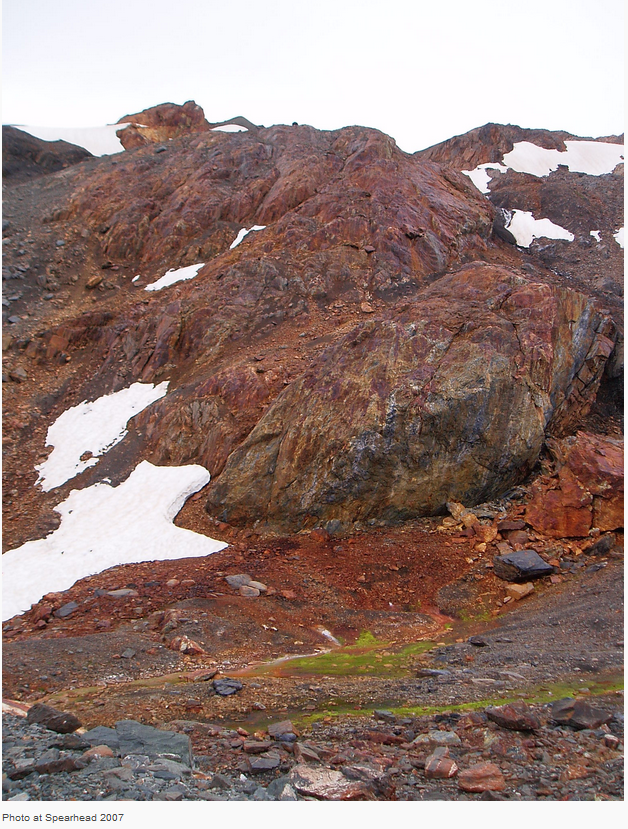 This is fantastic news since it means that the whole area between Spearhead in the south and the Eskay Creek deposit in the north might actually be prospective for Eskay Creek type VMS deposits. This is what I really like about the Eskay Mining story. The sheer scale of prospective ground and number of targets. We need one material discovery for Eskay Mining to be a real success and there is a obviously a smorgasbord of targets to test. Furthermore there is nothing stopping Eskay Mining from potentially finding more than one deposit obviously. Anyway, it sounds like has really impressed the team because the news that this would be the second target to be drilled came out of the blue… A good sign me thinks.
Main Take Aways
Skeena has proven that there are more targets in addition to the classic "contact mudstone" within the district
Skeena's most exciting targets directly borders ground owned by Eskay Mining
Skeena's exploration could help de-risk and revaluate Eskay Mining's northern ground and vice versa
TV/Jeff target(s) s currently being drilled
Spearhead target is confirmed to be a VMS system and will also be drilled this field season
Eskay Minining will be very aggressive when the snow melts next spring
September Company Presentation: LINK
Note: This is not investment advice. I am not a geologist nor am I a mining engineer. This article is speculative and I can not guarantee 100% accuracy. Junior miners can be very volatile and risky. I have bought a lot of shares of Eskay Resources in the open market and I participated in the Private Placement. Therefore you should assume I am biased so always do your own due diligence and make up your own mind. I can buy or sell shares at any point in time. I was not paid by any entity to write this article but the company is a banner sponsor on my site.
Best regards,
Erik Wetterling aka "The Hedgeless Horseman"
Follow me on twitter: https://twitter.com/Comm_Invest
Follow me on CEO.ca: https://ceo.ca/@hhorseman
Follow me on Youtube: My channel