Some might be aware that Dolly Varden has consolidated its land package around its flagship project with the addition of the Homestake Ridge Project from Fury Gold Mines. The new, consolidated project, is now called the Kitsault Valley Project: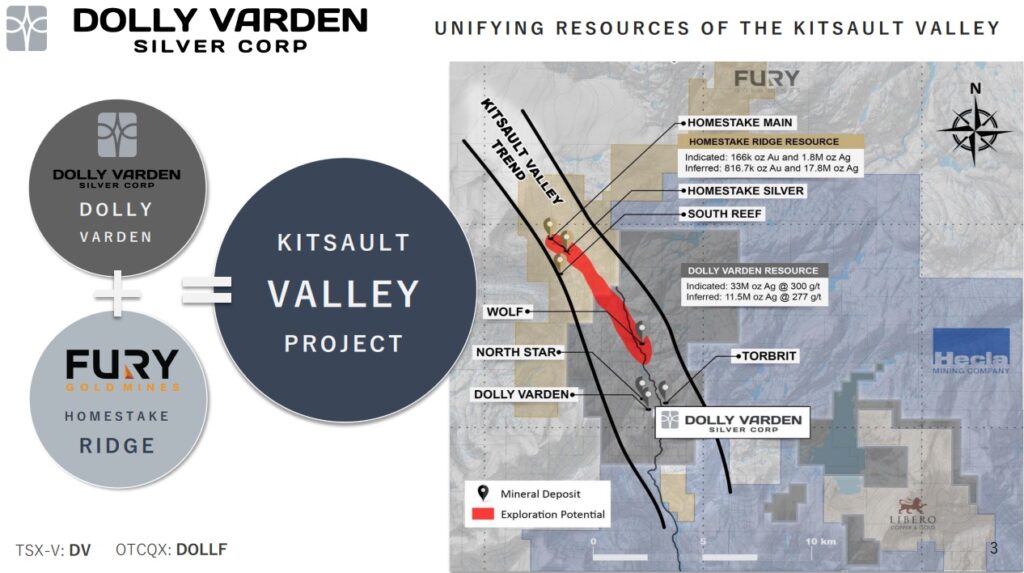 This consolidation makes a lot of sense in my book. For starters it creates a larger pie and said pie increases in value through synergies. More importantly I think it makes it sets the table for a larger company (like Hecla) to acquire said (larger) pie in the future since it is now contained in one entity: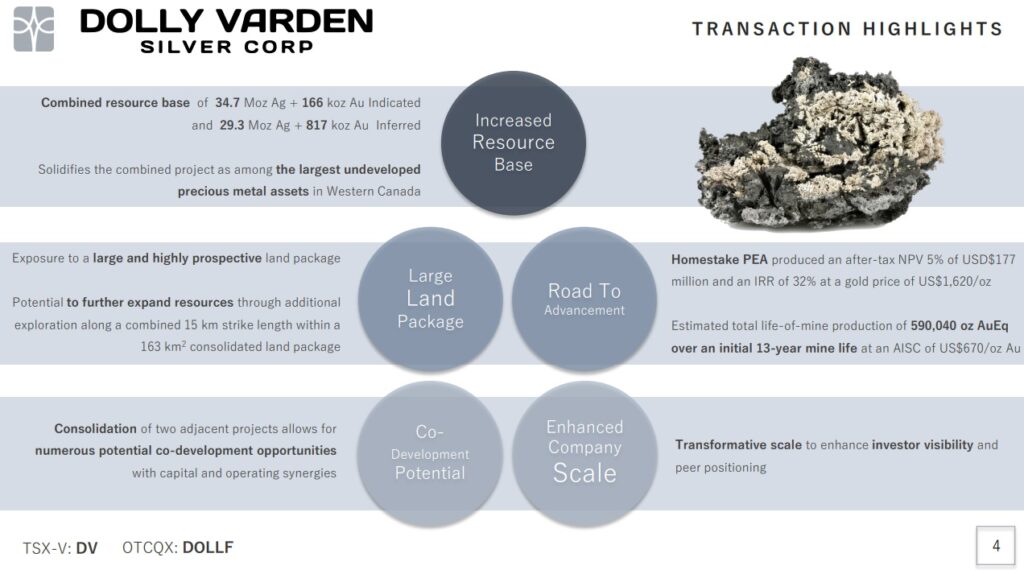 We know British Columbia is a go-to area for miners with the recent moves by Newcrest and Newmont. To bolt on more banked success and more potential when valuations in the junior sector are low is something I have grown to expect from CEO Shawn Khunkhun. Shawn had already made sure that Dolly Varden was one of the most cashed up juniors in the sector and using both cash and shares at this time in order to leap frog the scale of the company is a brilliant move I think. With it comes added diversification with the addition of almost 1 Moz of gold. Sure, it makes Dolly Varden less of a pure play on silver but for better or for worse the gold sector tends to have better economics. With that said, Dolly Varden still has one of the highest-grade silver resources around… And in a jurisdiction where large miners seem desperate to expand their operations in.
God does not create more land so if BC is hot in a poor market environment then imagine what prime real estate will be valued in a gold, silver and mining bubble. One better be early or one is inevitably too late.
The Homestake Ridge addition came with a PEA-stage project. It's certainly not the largest project around yet but it looks to be highly economic even at very low metals prices. The AISC per ounce of gold is an impressive US$670/oz according to the study: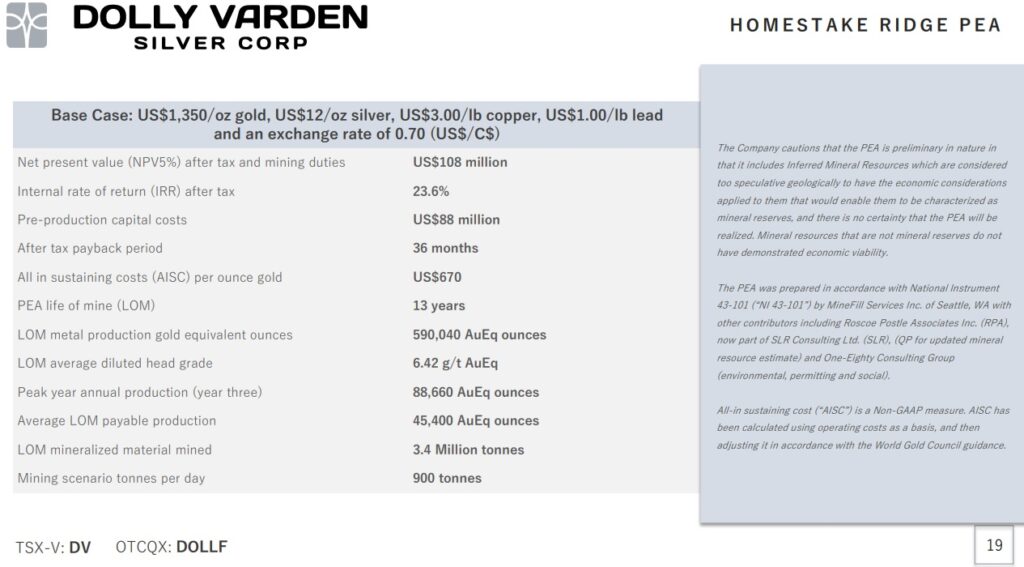 The company's vision is for a Hub and Spoke model of development, with centralized processing fed by multiple high-grade Ag and Au deposits. This would of course hike up the economic value of all ounces already confirmed as well as potential future ounces. And I dare say there will be more ounces found here: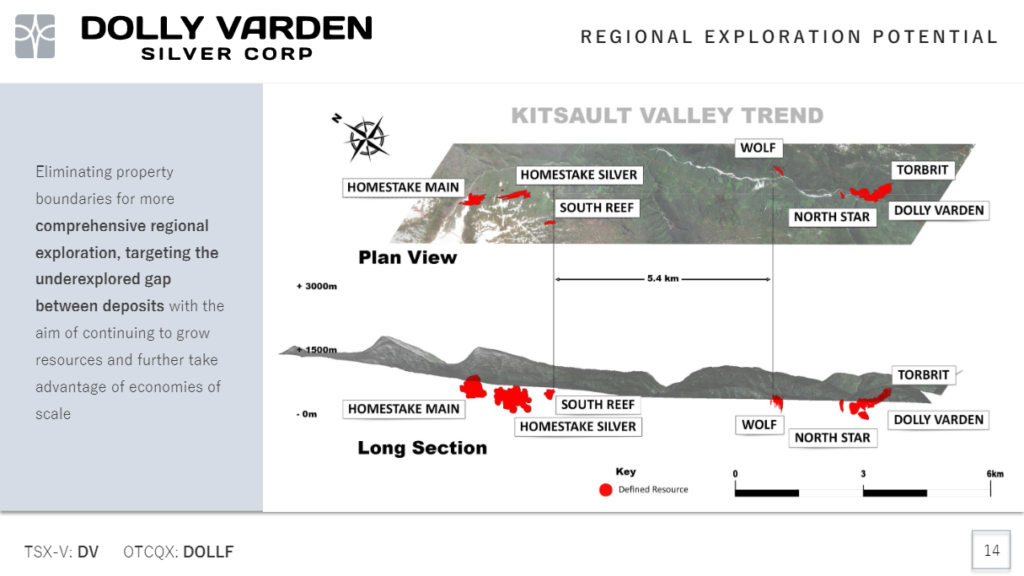 Summing Up
All in all I like this move because it;
Adds on margin of safety

More ounces
PEA stage project with solid economics

Increase blue sky potential
Quicker puts the total project towards critical threshold for development
Increased allure to larger miners
Diversification of metals by adding gold which tends to be more economic over a full cycle
Puts Dolly Varden in a better position with more prime real estate before the mining bull kicks off for real

Front running a time when prime real estate in tier #1 jurisdictions becomes a lot more expensive
One wants to be the seller and not the buyer in a bull
Dolly Varden remains a long term HODL for me and increasingly so with this transformation.
You can read more about Dolly Varden and the transaction on their website: LINK
Note: I own shares of Dolly Varden and the company is a banner sponsor. Therefore assume I am biased, do your own due diligence, and make up your own mind. This is not investing advice. Junior miners are risky and can be very volatile.
Best regards,
The Hedgeless Horseman