I am happy to welcome a new banner sponsor which is Contact Gold (C.v).
My case in short
$10.5 M in MCAP
Two projects with >1 Moz oxide gold potential in Nevada
Partnered with mid-tier Centerra Gold on one of them
The company just announced the drill start at the Green Springs project
= … Well, cheap.
Negatives: The share structure
Cliff notes;
Contact Gold is a Nevada focused junior explorer with a Market Cap of $10.6 M. It has two projects which I would consider are almost equally interesting. One is "Green Springs" which is not far away from ground held by Calibre Mining (with the acquisition of Fiore Gold) and Nevada King:
This project is actually being earned into by non other than the mid-tier gold company Centerra Gold. Centerra can earn a 70% interest by spending USD$10 M. After talking to Matthew, who is CEO, I think there is multiple areas with probable growth and I think there is a relatively high probability that Green Springs will show reach >1 Moz given enough time (and drilling):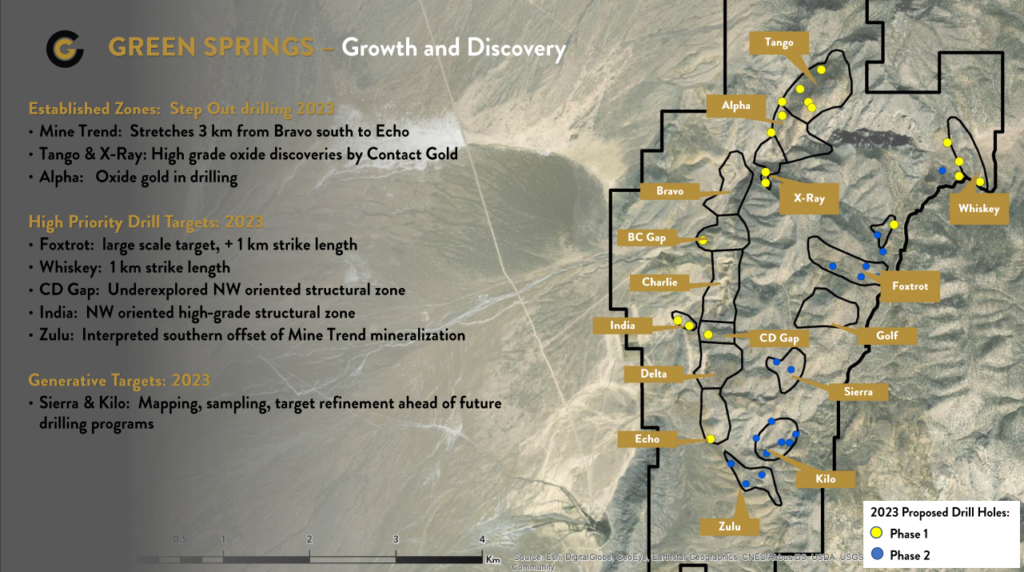 The immediate targets are near surface, oxide gold that could be mined in open pits. You can check out the encouraging, early stage drill results that were able to attract Centerra Gold: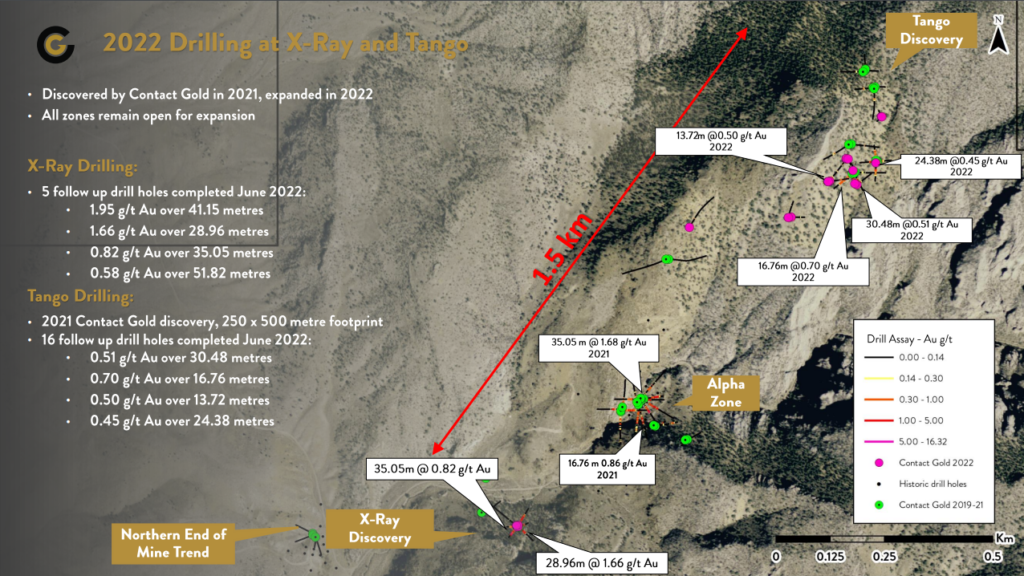 Note that the nearby Pan Mine, which got acquired not too long ago, has been mining with grades around 0.6 gpt if I remember correctly. Nevada has multiple open-pit oxide mines that work with very low grades.
The second project is "Pony Creek"
Pony Creek neighbors the land package that used to belong to Gold Standard Ventures (GSV). However the company was acquired by Orla Mining not long ago so the neighbor is nowadays a >$1 B company with Pierre Lassonde as the primary shareholder:
At Pony Creek the company already has an inferred resource of 433,000 ounces albeit at low grades. But again, if there is one place low grade oxides can be mined (and mined profitably) it is in Nevada. The project has a lot of barely-tested to un-tested targets and I have no doubt growth is just a matter of drilling: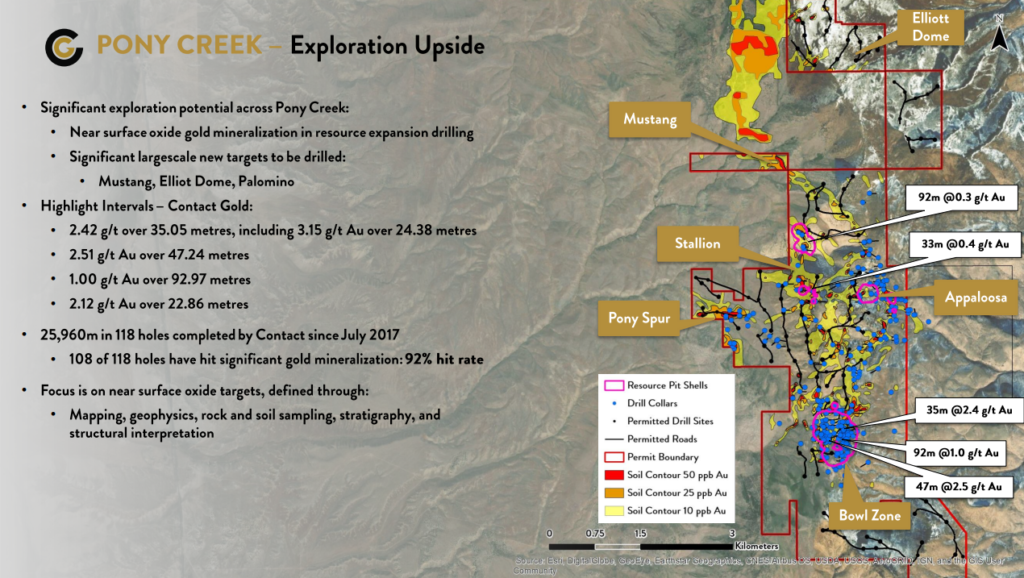 Insiders own 11% of the company and from talking to Matthew and other people in the industry I find the team to be very legit. On that note George Salamis is on the board which I assume some people might recognize.
Closing Thoughts
We are in a deep "sowing period" in the junior miner space. Historically they do not get much cheaper than this and more importantly they never stay this cheap. At least the serious ones that do not go belly up before the inevitable turn. As for Contact Gold I see it as a cheap play with both Alpha and Beta. The company already has ounces in the ground which will naturally go up in value with the price of gold and both their projects have legit shots at becoming deposits that could be mined in Nevada of all places. The fact that both projects are in Nevada might also prove to be a boon given that the riskier jurisdictions seem to get riskier on almost a month by month basis lately.
Does Contact Gold have tier 1 mine potential? Not that I can see.
Does Contact Gold have significant upside potential? Yes, I mean the MCAP is currently $10.5 M and if either project seriously starts to look like a pretty decent mine then $10.5 M will obviously look very very cheap. Oh and just a turn in junior sentiment can easily see stories like this go u a few hundred % without much help in terms of improving fundamentals so there is that. I don't know when an exact bottom is in the juniors but I know 100% that there will be one and I think we are certainly in "chronic risk to the upside" territory already. When this sector goes from dead cold (like now), to red hot, you'll not be able to buy juniors like this for $10 M. With that said this is not a "bet the farm" case and I prefer to spread bet across many micro cappers to ensure that will be very much along for the inevitable ride higher whenever it starts.
Note: I own shares of Contact Gold and the company is now a banner sponsor of my site. Due your own due diligence and consider me biased. Never invest money you cannot afford to lose. This is not investing advice and I am no investing adviser. I share neither your profits or your losses. Junior miners can be very risky etc etc.
All the best,
The Hedgless Horseman