GFG Resources Inc
Website: www.gfgresources.com
Stock ticker: GFG
Flagship project: Rattlesnake Hills Gold Project (33.5K acres)
Location: Wyoming, USA
Shares outstanding (basic): 50.3M
Shares outstanding (fully diluted): 53.0M
Market Cap (fully diluted @ CAD$0.52):  USD$22M
Cash (March 31): USD$4.5M
Enterprise Value: USD$17.5M
Management ownership: ~15%
Since the first (but important) part may potentially bore some people, I will start by setting the scene with a few drill highlights from this project (80,000 m drilled in total):
405.4 m @ 1.31 g/t Au (from surface!)
56 m @ 9.73 g/t Au
236.16 m @ 1.85 g/t Au
29.0 m @ 3.58 g/t Au
1.52 m @ 82.90 g/t Au
[… How in the world has this stock been able to fly under the radar?]
History and Geology
I will just start off by saying that Wyoming has not had an operating commercial scale gold mine for over a hundred years as far as I can tell. That is kind of weird since the more I researched GRG Resources, the more I have come to understand that there has actually been quite a lot of gold found in the state and that there is actually fragments of greenstone belts present aka "gold belts", which as probably many know have been responsible for holding vast amounts of gold around the world (Abitibi in Canada, Lapland Greenstone Belt in Finland and West Africa).
The "Rattlesnake Hills gold district" was first discovered by W. Dan Hausel in 1982:
"As I mapped this metamorphic belt, it became clear that the metamorphic rocks represented a fragment of an Archean greenstone belt similar to South Pass, the Seminoe Mountains, Elmers Rock and to rich greenstone belt associated gold districts in Australia, Africa and Canada (Hausel, 1994, 1995). It is also important to realize that a very large part of this belt is not exposed! The RSH greenstone belt continues under Tertiary sediments to the south, east & west. And it is likely that a large part of the greenstone belt sits under Tertiary & Paleozoic cover to the north. How much of the belt remains hidden is unknown, but the geology supports that what is hidden is larger than that exposed. Thus it is likely there are several hidden gold deposits!"
W. Dan Hausel is a really interesting fellow. This is what Wikipedia has to say about him:
"Dan Hausel (born in 1949 in Salt Lake City, Utah, U.S.) a polymath of martial arts, geology, writing, astronomy, art, and public speaking. Hall-of-Fame 10th degree black belt grandmaster of Shorin-Ryu Karate and Kobudo, mineral exploration geologist who made several gold, colored gemstone, and diamond deposit discoveries in Alaska, Colorado, Montana and Wyoming, author of more than 600 publications including books, maps, professional papers and magazine articles, public speaker, artist, former astronomy lecturer for the Hansen Planetarium in Utah, and former rock musician."
Additionally the following can be found on his Linkedin profile:
"A prospector at heart who loves mineral exploration. Part of the discovery team of the >43 million ounce "Monster Gold Deposit" at Donlin Creek, Alaska in 1988. Seven were awarded 2009 Thayer Lindsey Award for International Mineral Discovery by the PDAC in Toronto (can I have the gold instead of the award?)"

"Discovered the Rattlesnake Hills gold district in Wyoming (Cripple Creek-type gold deposit in greenstone belt)* and found dozens of other gold, diamond & colored gemstone deposits"

[* Horseman's note: The Cripple Creek and the today adjacent Victor mine is owned and operated by Newmont and is the largest producing mine in the state of Colorado.  Production for 2017 is projected to be an astounding 420,000-470,000 ounces with a projected AISC of $670-$730. Since its discovery in 1891 the Cripple Creek district produced about 23.5Moz up until 2005. As of 2016 Cripple Creek reportedly contained 3.39Moz of P&P Reserves and an additional 2.18Moz in the Measured and Indicated category]
Recent History
The earliest info in "modern times" of the Rattlesnake Hills project that I could find was this piece of news dated July 09, 2010, announcing Goldcorp's completion of a private placement in a company called Evolving Gold Corp. This particular company included none other than the today red hot geologist Quinton Hennigh. The following snippets of information can be found in the news release:
"VANCOUVER, BRITISH COLUMBIA — (MARKET WIRE) — 07/09/10 — GOLDCORP INC. (TSX: G)(NYSE: GG) announced today that it has completed the acquisition of 19,047,721 common shares of Evolving Gold Corp. (TSX VENTURE: EVG)(FRANKFURT: EV7) by way of a private placement at a price of C$0.82 per share for aggregate gross proceeds to Evolving Gold of C$15,619,131…"

"After giving effect to the transaction, Goldcorp beneficially owns and controls approximately 15% of the outstanding common shares of Evolving Gold."

"Evolving Gold is focused on exploring its significant discovery at Rattlesnake Hills, Wyoming, an alkalic gold system, similar to the Cripple Creek gold district in Colorado, and on gold properties in and adjacent to the productive Carlindistrict of northern Nevada."
Going by the information above, we understand that a 15% stake in Evolving Gold Corp was valued at C$15.62M. That means that the company as a whole was indirectly valued at C$104M as a whole. One thing to note is that the company also had some land holdings in Nevada as well at the time.
In May of 2011, when gold was trading at around $1,500, another major entered the picture in the form of Agnico-Eagle. A join venture deal with Evolving Gold Corp and its Rattlesnake Hills project was announced. That deal ascribed a value of $108M to Evolving Gold. Agnico-Eagle reportedly spent somewhere between $5M-$8M on the project and saw some solid drill results: 282.9 m @ 1.08 g/t Au, 115.8 m @ 0.50 g/t Au. After that first year, both parties ran into financial constraints as the gold price went over the proverbial cliff and the project went into hibernation. Now one interesting thing that happened during this joint venture period is that Quinton Hennigh resigned as Director and Chief Geologist (keep this in mind until the next paragraph) no more than two and a half months after the JV was finalized and Agnico-Eagle stepped in.
Now we fast forward to 2014 and this piece from Bob Moriarty over at 321gold. Apparently Evolving Gold had ran in to financial troubles at the depth of the gold bear market that led to the company selling off the project to a company called NV Gold. NV Gold included none other than… Drumrolls please… Quinton Hennigh! NV Gold started an aggressive drill campaign that included the following results: 152 m @0.56 g/t Au, 33.5 m @ 1.33 g/t Au. Unfortunately NV Gold's stint with Rattlesnake Hills ended up being as short lived as its predecessors due to financial problems (A cash amount of US3.5M was required to fulfill the option) this time around as well, with the company having to "Sell Properties And Repay Debt" citing "market conditions as the reason for its decision". After NV Gold released the project it appears it lay pretty much dormant, including being owned by a company called Crest Petroleum(!?).
Then finally things started to happen again in 2016 as GFG Resources Inc acquired the project and followed it up by increasing the land position by close to 50%.
A quick recap of events
2010 – Goldcorp acquires a 15% stake in Evolving Gold Corp (which includes Quinton Hennigh as chief geologist)
2011 – In comes Agnico-Eagle with A JV valued at US$108M (Quinton resigns from Evolving Gold 2.5 months after deal is inked)
2014 – Evolving Gold Corp options the project to NV Gold (A company with Quinton as a director)
2015 – NV Gold runs out of money and sells off projects including Rattlesnake Hills (gold is trading between $1150 and $1050 during this time)
2016 – GFG Resources Inc acquires the project and increases land position by close to 50%
So what has changed since the Rattlesnake Hills project was valued at US$108M in the Agnico-Eagle JV deal?
Gold price is lower
Land position has increased by close to 50% and is now sitting at 33,500 acres / 13,557 hectares (district scale)
More drilling including highlights of:

282.9 m @ 1.08 g/t Au
115.8 m @ 0.50 g/t Au
152 m @0.56 g/t Au
33.5 m @ 1.33 g/t Au
The Three P's: (Place, Project & People)
1. Place
The "Rattlesnake Hills District" is a 33,500 acres / 13,557 hectares land package located in Wyoming, USA.
Wyoming has an "Investment Attractiveness Index" score of 75.26 and is ranked #23 in the world (#6 in the US) and actually ranked #6 in the world in the "Policy Perception Index" according to the Fraser Institute's 2016 annual survey of mining and exploration companies.
As can be seen in the picture below, the project is located smack in the middle of a "mining belt" in pretty close proximity to the interstate highway with NO state nor national park nearby. This is then topped off with water access and having a power line extending onto the southern part of the property.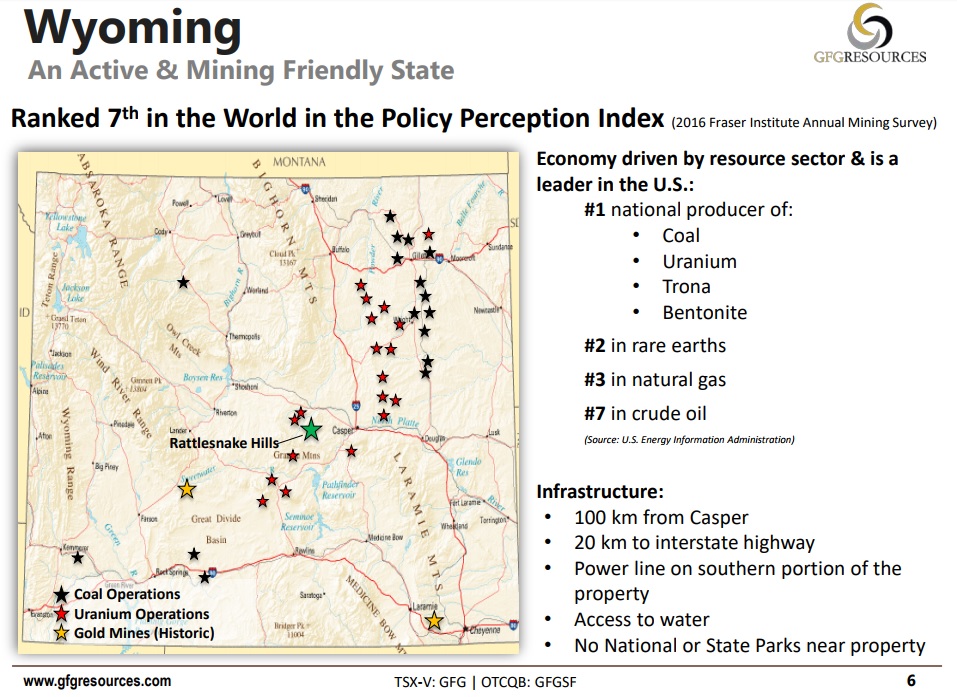 2. People
Current management team of GFG Resources Inc:
President & CEO, Director: Brian Skanderbeg

 Mr. Skanderbeg was most recently President and CEO of Claude Resources Inc. since November 2014 – which was acquired by Silver Standard Resources Inc. for $337 million. He previously worked for Goldcorp, Inco Ltd. and Helio Resources, holding positions in both exploration and operations. He holds a B.Sc. from the University of Manitoba and an M.Sc. from Rhodes University, South Africa. He brings extensive experience in the exploration and evaluation of gold systems, operational management, cost and asset optimization and strategic analysis.

CFO & Corporate Secretary: Rick Johnson

Mr. Johnson has over 25 years of experience in accounting, audit, tax and corporate governance. Most recently, Mr. Johnson was the CFO, Vice President of Finance and Corporate Secretary with Claude Resources Inc., which was acquired by Silver Standard Resources Inc. in 2016. Mr. Johnson holds a Bachelor of Commerce degree from the University of Saskatchewan and is a member of CPA Canada.

Vice President, Exploration: Timothy R. Brown

Prior to joining GFG Resources, Mr. Brown enjoyed a 21-year career at Cripple Creek and Victor Gold Mining Company. During this time he spent 9 years as Exploration Manager, during which time 6.4 million ounces of gold were added to the resource, including 4.1 million added to reserves. He also held positions as Chief Geologist, Sr. Geologist, Ore Control Geologist and Exploration Geologist. Prior to his time at Cripple Creek, he has 10 years of additional experience as an exploration geologist. Mr. Brown holds a B.Sc degree in Geology from Southern Methodist University, a M.Sc in Geology from the University of Minnesota and a MBA from the University of Colorado.

Vice President, Business Development: Marc Lepage

Prior to joining GFG Resources, Mr. Lepage spent nearly eight years with Claude Resources Inc. as Manager, Investor Relations which was acquired by Silver Standard Inc. in 2016. Prior to his position with Claude, Mr. Lepage held marketing and business development positions in the consumer products and financial sectors. Mr. Lepage holds a Bachelor of Commerce degree from the University of Saskatchewan and a Certified Professional Investor Relations designation from the Richard Ivey School of Business.
One of the biggest positives for this company (in my humble opinion) is the top quality management team. 75% of the GFG Resources management team is in fact the ex management of Claude Resources, which was a magnificent turn around story that finally ended when Silver Standard acquired the company for a sum of C$337. If that wasn't enough, they added perhaps the best possible choice in the world as head of exploration in the form of a 21-year Cripple Creek (yes, Newmont's behemoth) veteran explorer/geologist.
The graph below depicts the share price of Claude Resources before and after Brian Skanderbeg (Who is now the CEO of GFG Resources) took over as CEO:
The cherry on top for me as a shareholder is the fact that management also own as much as 15% of the company. This is a big plus because it means that managements interests are very much aligned with shareholders. If that wasn't enough, I would like to point out the fact that there seems to be pretty much NO overhang in the form of warrants and/or options with basic outstanding share count at 50.3M and fully diluted at 53M… No quick and easy pump money for management to be found here. This means management should be more prone to making good solid long term decisions for the company.
Now lets move on to the SEDI Insider Filings. This is what the most recent data looks like:
Looks pretty solid to me. One fairly large sale amidst a continuous stream of buying. If you look further back, it's been a sea of green all the way. In fact the sale you see in the picture above is the only insider sale since the company was registered. There has basically been a steady stream of purchases by management in a price range of C$1.2 to C$0.60 (At the time of writing, the last close was done at C$0.52. Basically at an all time low and well below management AVG).
As if the top notch management team wasn't enough, check out the absolutely stacked board of directors:
The company's board of directors is full of heavy hitters from the gold mining space. Every single one have experience from some of the biggest successes this sector has seen during the last couple of years. These are veteran explorers, developers, producers and deal makers.  Suffice to say, a roster of this caliber is way beyond what one could even hope to find in your average gold junior.
Now let's move on to the juicy bits…
3. Project
The following description is from the GFG Resources Inc website:
GFG's Rattlesnake Hills Gold Project is located in Central Wyoming approximately 100 kilometres southwest of Casper on the western side of Natrona County. The Property encompasses the Rattlesnake Hills Gold District nearly in its entirety and is considered a district scale exploration play comprising of 1,281 unpatented lode mining claims as well as 7 Wyoming State mining leases covering an area of approximately 33,500 acres. The Property is owned, or beneficially owned, 100% by GFG, although certain portions of the property are subject various royalty agreements.

Within the Rattlesnake Hills Gold Project (the "Project" or the "Property"), four significant zones of alteration and precious metal (gold and silver) mineralization have been identified that are associated with Eocene age alkalic intrusions at North Stock, Antelope Basin, South Stock and Black Jack. All four zones have been drilled and broad zones of low grade gold mineralization, as well as narrow discrete zones of high grade gold mineralization have been intersected, as indicated by the following highlights:
GFG Resources own "Key Highlights" slide:
Closing thoughts
The Rattlesnake Hills District seems to be kind of a "forgotten" project. First of all, it is located in Wyoming that has not really had any gold hype despite it seemingly being well endowed with gold (what greenstone belt Isn't?). Second of all, this project has been in hibernation since NV Gold with its apparent "Rattlesnake Hills veteran" Quinton Hennigh ran out of cash in 2015, at the very depths of the bear market. On top of that,  GFG Resources Inc has only been listed on the TXSV for less than a year. No wonder most people have missed this story. I just recently stumbled upon it by accident and couldn't believe what I saw. I had to check my eyesight when I read up on it and then checked where the stock was trading…
A US$17.5M  EV / US$22 market cap for a company/project that:
Is lead by the high quality ex Claude resources management team, including the CEO that turned the company around and did a deal with Silver Standard?
Show strong similarities with the giant 23Moz+ Cripple Creek mine (according to the original finder Hausel, Goldcorp and Quinton Hennigh etc?)
Exploration headed by a 21-year Cripple Creek veteran?
Has consolidated a district scale land package which is an increase of almost 50% from the original?
Had former investors/partners the likes of Goldcorp, Agnico-Eagle and Quinton Hennigh?
Has seen 80 km of historic drilling? (That is a looot of time and money invested)
Had drill hits including 56 m of 9.73 g/t and 405 m of 1.31 g/t starting at surface? – (This alone would see most companies shoot up to 60+ MUSD)
Has found gold mineralization starting at surface and as deep down as 730 m?
Is located in a tier 1 jurisdiction away from state and/or national parks?
Has top notch management owning ~15% of the company?
Has management accumulating shares at an avg price of at least 50% higher, all year?
Has a tight share structure of 53M shares fully diluted?
Has almost no overhang in the form of options/warrants?
Has one analyst with a price target of C$2.10? (yesterday the stock closed at C$0.52)
… I mean what tiny fraction of all those value points is even reflected in the stock price AT ALL?
I guess you might now understand why my jaw literally dropped and I dedicated the next days reading up as much as I could on this stock? This has to be the most absurd value play I have ever seen in this sector. We see plenty of stocks trading at higher (even much higher in some cases) valuations with only a fraction of the work done that has been plowed into this Rattlesnake Hills. I mean you can even find juniors out there with the same valuation (or more) that hasn't even done ANY drilling. Not only that, but the potential is still wide open for more discoveries which may really turn this into a full blown district play.
The first thought is of course; "Have I missed something?". I can't be sure of course, but given the high insider ownership coupled with insider buying activity  as recently as a month ago I it doesn't really look that way. This project would have to have one hell of a fatal flaw to have an Enterprise Value of US$17.5, but at the same time must have slipped under the noses of Goldcorp, Agnico-Eagle, Quinton Hennigh and this kind of quality management team (including a friggin expert on this kind of deposit).
The Rattlesnake Hills Gold Project contains a  lot of gold and has multi million ounce potential for sure. I mean there's a reason why this project has found its way into the hands of such a successful management team with a Cripple Creek expert leading the exploration, all with serious skin in the game.
Honestly, if I had looked at the stock price after going through all the material on this project and found the company valued at US$80M+, I wouldn't have been surprised in the slightest. Unsurprisingly I have been a steady buyer of shares for some time now. Enough to make it one of my top 2 largest positions.  I would personally consider anything less than at least a triple from these levels a joke. Lets hope that Quinton "magic" that rewarded me in Novo Resources has rubbed off on this one too!
(Part 2 in this series covering GFG Resources can be found HERE.)
[Full disclosure: I am a shareholder. I am biased. This should not be considered investment advice. Junior miners are highly risky and at times very volatile]