Abstrakt: Då flera av de största ekonomierna byggt upp enorma skuldberg så gör samtidigt centralbankerna allt för att få upp inflationen, med syftet att lätta den reala skuldbördan som nationerna byggt upp i och med med att lånefesten fortsätter, oavbrutet. I en värld av negativa räntor så har kontanter kommit att bli en käpp i hjulet vad gäller denna kamp…
Centralbankernas vapen mot deflationstrycket som uppkommer tack vare att den globala ekonomiska aktiviteten avstannar (vilket har beskrivits i tidigare inlägg) innefattar främst artificiellt låga räntor och sedan finanskrisen 2008-2009 även monetära lättnader. Då detta inte fått den effekt beslutsfattarna hade hoppats på så tog de en tid tillbaka det sanslösa beslutet att införa NEGATIVA räntor.
Det obekväma problemet som uppstått tack vare denna monetära extremåtgärd är det faktum att för första gången i historien så får nu berörda sparare bokstavligen talat BETALA för att ha pengar insatta hos centralbanker samt vissa banker. För att undkomma denna oönskade kostnad så är den uppenbara lösningen att helt enkelt ta ut pengar från banken. Detta är faktiskt något som skett i Japan efter det att Bank of Japan nyligen införde negativ ränta. Japanerna började helt enkelt ta ut sedlar, främst med så högt nominellt belopp som möjligt, samtidigt som försäljningen av kassaskåp gick i taket. De valde helt enkelt att skapa sin egen bank…. En bank som ej straffar besparingar.
Detta leder i sin tur att bankernas reserver urholkas (vilket påverkar utlåningskapaciteten negativt) och att valuta lämnar systemet och förblir mer orörligt (vilket påverkar den aggregerade omsättningshastigheten av pengar negativt, eng "Velocity of Money"). Båda dessa faktorer är deflationistiska, det vill säga tvärt om vad centralbankerna hoppas att uppnå med negativa räntor.
Inte nog med att de negativa räntorna lett till ökad efterfrågan vad gäller sedlar, det har även skruvat upp aptiten på guld.
Bank of Japan är dock inte ensamma vad gäller denna sortens problematik. ECB (European Central Bank) vilket införde negativa räntor tidigare än Bank of Japan, kom idag ut med följande:
*

ECB ENDS PRODUCTION AND ISSUANCE OF €500 BANKNOTE

*ECB SAYS ISSUANCE OF EU500 NOTE TO STOP AROUND THE END OF 2018
*ECB SAYS OTHER EURO BANKNOTES WILL STAY IN PLACE
*ECB: EU500 CAN BE EXCHANGED AT CEN BANKS FOR UNLIMITED TIME
ECB har alltså valt att helt enkelt sluta producera €500-sedlar år 2018. Centralbanken kommer säkerligen att ge flertalet luddiga anledningar till detta beslut (ett populärt argument är att det ska motverka pengatvätt), men med stor sannolikhet kommer den riktiga aldrig att officiellt luftas.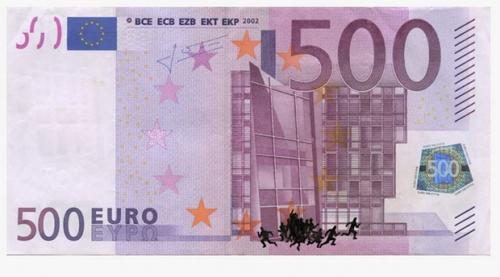 … Snart i ett musem nära dig?