I will be participating in Kingfisher Metal's current Private Placement and the company should be listed within a few weeks/months. I think there is a bit of room left for anyone who would be interested in participating by the way. I recently had a zoom meeting with the CEO & Founder ,Dustin Perry, and was very impressed by their three projects.
Anyway, this is one of the juiciest early stage exploration stories I have seen, and when it starts trading it should be well cashed up (C$7-$9 M in cash) and have an enterprise value of only around ~C$10 M (~US$8 M). The company has three district scale exploration stories, and the project that will get hit first is the very good looking Goldrange project, located in British Columbia…
#1 Goldrange Project
More specifically it is located along a 300 km regional fault network and it captures the "Most anomulous gold in streams geochemical signature along entire (~300km) regional fault network":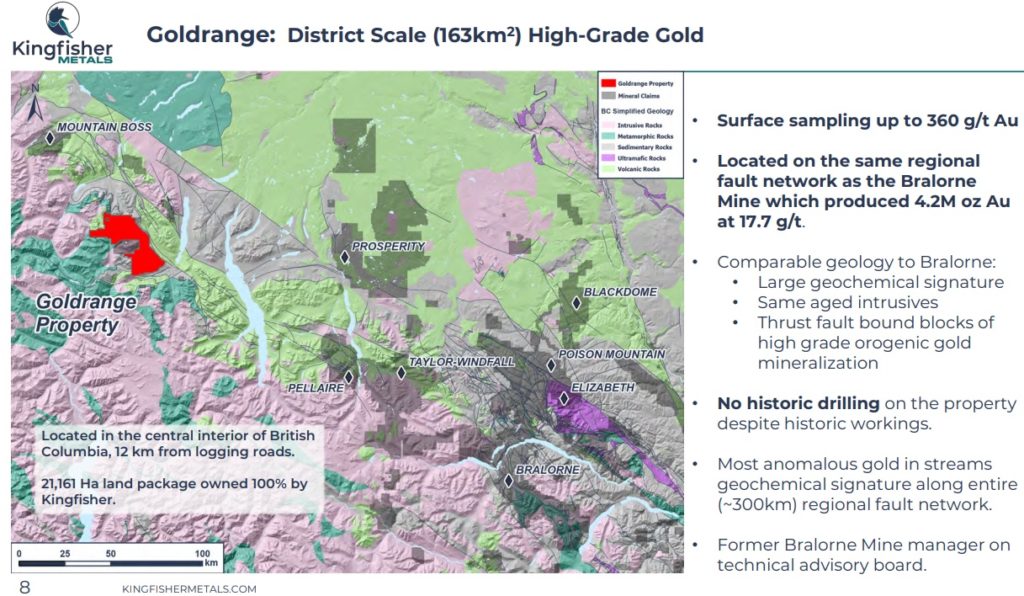 Incredibly this project has seen no historic drilling despite the amount of historic workings. And I dare say there is a lot of smoke in many areas:
But the main thing from a risk/reward stand point is that there is already an incredible gold in soil anomaly outlined within the "Cloud Drifter Trend" and it's still wide open: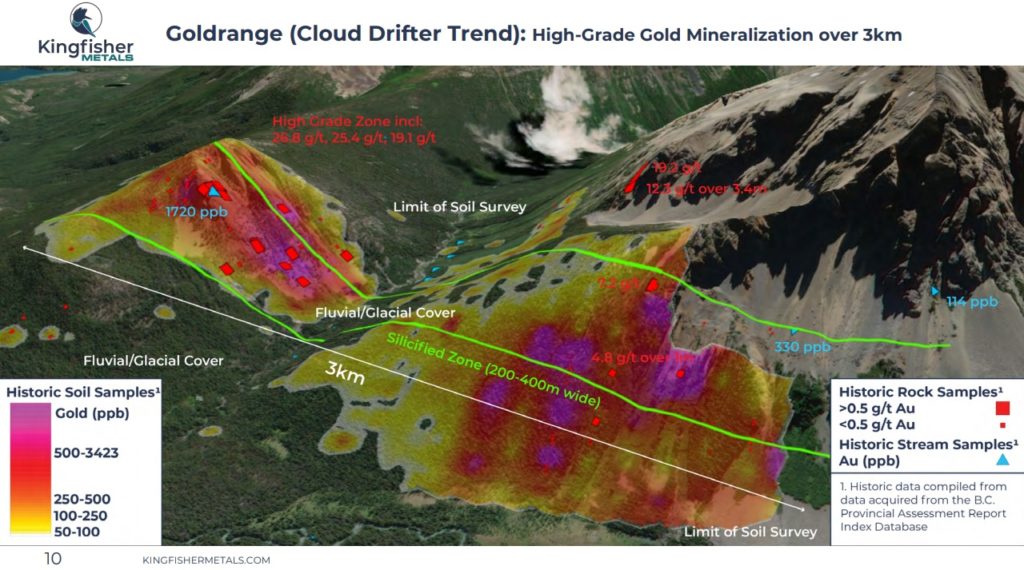 Here is a comparison to the circa 4.2 Moz Coffee Deposit (which was bought by Goldcorp for around C$500 M in 2016) using the same cut off grades in terms of heat map: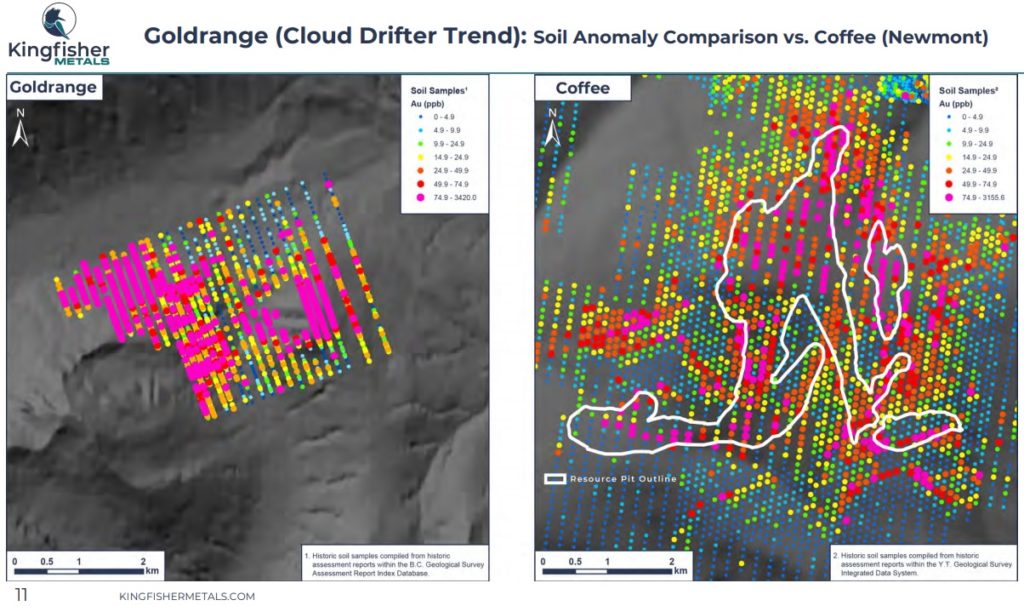 … Those are some obscene gold in soil grades and if we zoom out a bit there are signs that the system might be even bigger:
(Green circles added by me)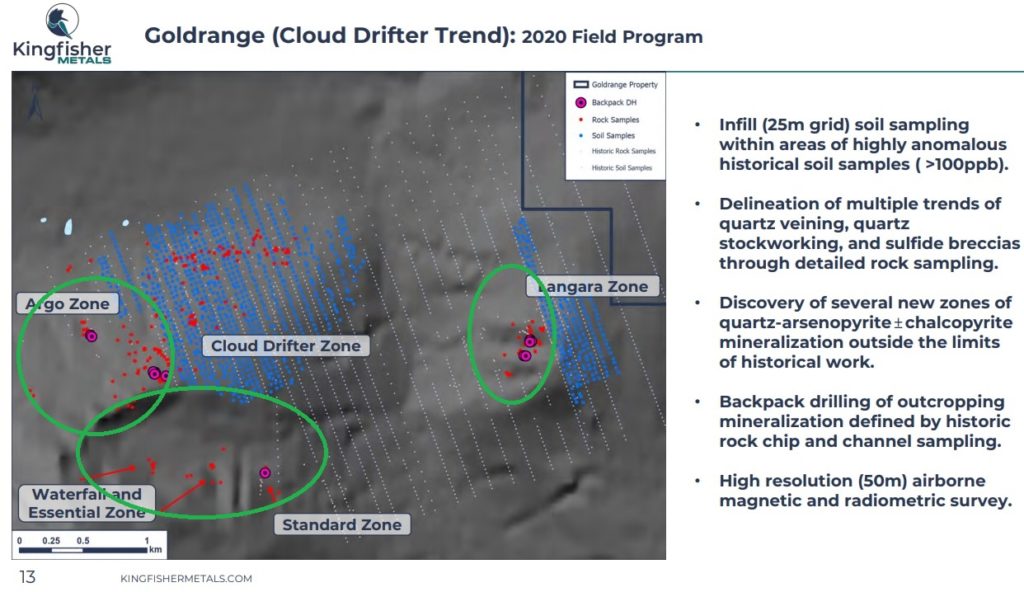 There has been historic mining within the Standard Zone (South of the largest anomaly) and a historic trench sample was done that shoved high grade gold (and is currently being drill tested by Kingfisher):
Furthermore, the Kingfisher team has been able to locate "several zones of quartz-arsenopyrite veining similar to known mineralization at Cloud Drifter", including the Day Trip Zone which is about 5km to the south-east from the Cloud Drifter Trend:
… Potentially some Epizonal gold mineralization…?
This is the description of Mineralization from the Goldrange Project page:
Mineralization within the Goldrange property belongs to the orogenic gold deposit family. Gold is restricted to quartz veins and vein-proximal alteration envelopes. The veins on the property are commonly parallel to shear zones and to thrust faults. Gold mineralization in veins can also be associated with elevated Ag, Cu, Pb and Zn, and vein trends are commonly west-northwest to northwest. Quartz veins can be > 1 m wide, >150 m long and are associated with both subhorizontal and subvertical geometries. 

The Goldrange property includes numerous early-stage showings with > 1 oz/t gold as well as multi-ounce float where the source outcrop has not yet been discovered. The largest alteration and mineralized body on the property is the Cloud Drifter Trend (Standard-Argo-Langara), with a strike length of > 3 km and a width of between 250-500 m.  The Cloud Drifter Trend is an area of sedimentary and intrusive hosted veining and replacement style mineralization with an associated Au-As-Ag-Sb soil geochemical anomaly that remains untested by drilling.
… Hmm that sounds interesting. Not only the Au-As-Ag-Sb correlation but also that the different types of mineralization and host rocks. Sounds like a lot of mineralizing events might have happened which would be great.
#2 Ecstall VMS district
Oh, Kingfisher also controls the lion's share of an entire VMS district which is called the Ecstall Property (250 km2):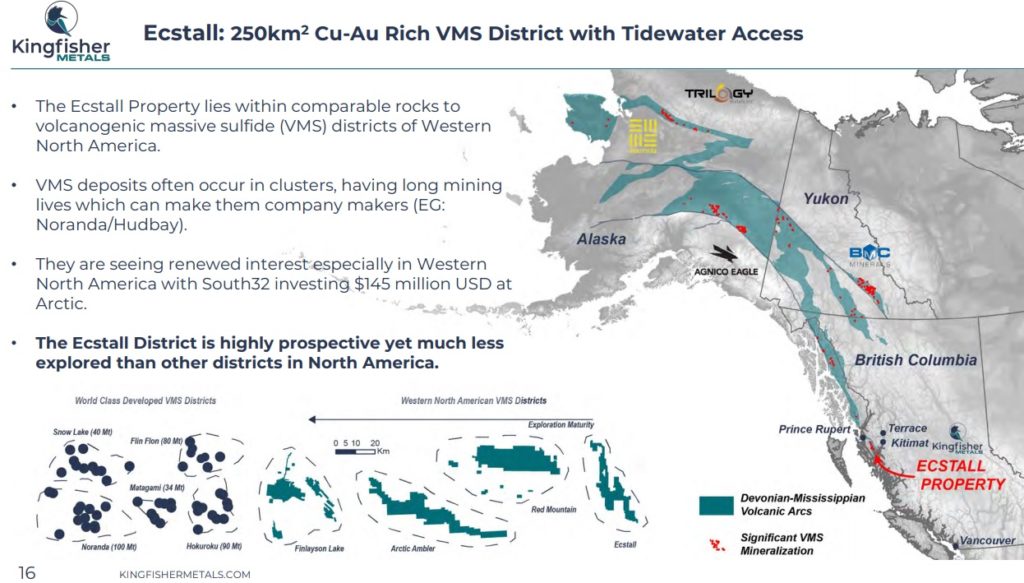 It's of similar size to some other company making VMS districts and furthermore it is located a) Near tidewater, b) Near hydroelectric facilities, c) Transmission lines, d) Historic service roads, and e) Near resource based population centers. To top it off Shell is set to invest $40 B in the area: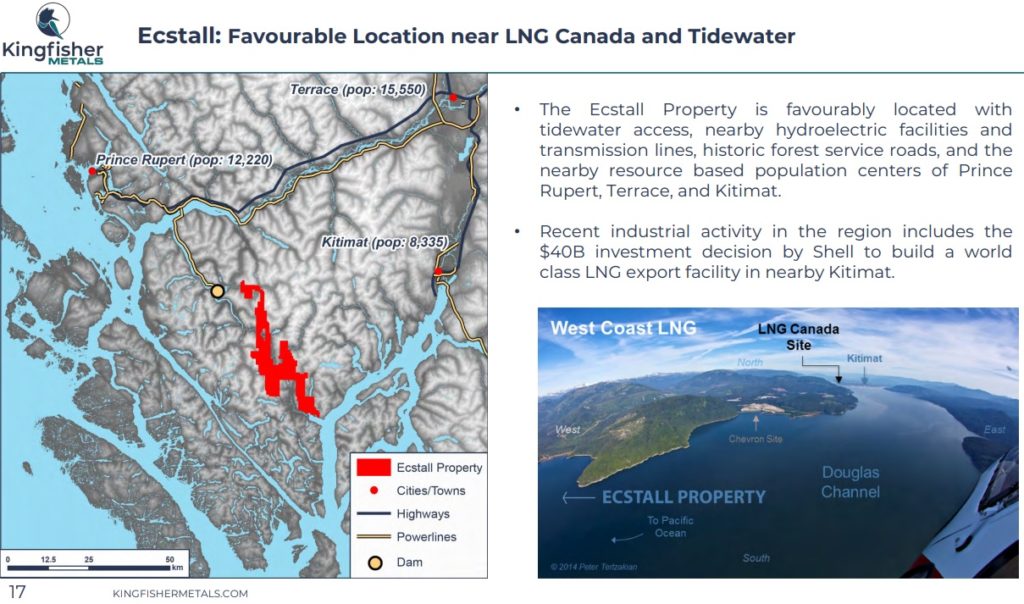 There are plenty of targets already identified based on favorable geology, Mag- and EM geophysics:
One such target is the "Thirteen Creek Zone" which is a brownfield target and has an impressive 3km long Cu-Au in soil anomaly coupled with rock sampling up to 8.05% Cu, 9.84 g/t Au, 350 g/t Ag and 7.05 Zn:
… And again this is near tidewater, infrastructure and population centers which should hike up the value and lower the threshold to reach critical mass for development. There are more slides on Ecstall in the presentation just FYI.
#3 Thibert
The last district scale (125 km2) project is called Thibert. It has seen spectacular grades in historic sampling to the tune of 1,323 oz/t  Au (41,145 g/t Au) from a 100lbs angular boulder. Furthermore this is both a historic and currently operating placer gold camp:
You can read up more on the company and the projects on the company's WEBSITE.
Given the low valuation this looks like a no brainer risk/reward case to me. Thus I will be participating in the private placement. One thing to note is that there are quite a few very cheap shares that may or may not come on to the market once the stock is trading. This would be a good/bad scenario given that it might allow a very low entry for people who were not able to participate in the private placement but could potentially weigh on the stock. In the medium/long term the value should prevail however. It just looks very cheap.
Note: This is not investment advice. Always do your own due diligence and make up your own mind. I plan to participate in the private placement so assume I am biased.