March 1, 2023
Headwater Gold has been a favorite early stage exploration story of mine for quite some time and I first wrote about the company in October of 2021. Since then the story has gotten a lot better and I thought it was time to do an update since some much has happened just in the last six months. Very recently major miner Newcrest Mining, as well as insiders, have been increasing their exposure and the same goes for me. This is as good as it gets when it comes to undervalued discovery stories with significant upside potential in my opinion. It is an exploration story so it is high risk/high reward by default. With that said I think Headwater Gold has less risk and more upside than most.
Note: Headwater Gold is a banner sponsor of mine and I have a meaningful position in the company since I think it is hands down one of the best early stage discovery stories in the space. Thus consider me biased, do your own due diligence, and form your own opinion.
Ticker: CSE: HWG │ OTCQB: HWAUF
Company website: LINK
Company presentations/interviews:
Case in Short
#11 project strong portfolio
Aggressive earn in deals with Newcrest Mining (A$20 B MCAP) across four projects which totals US$145 M (C$195 M)

+ Carried to PFS
+ Royalties
+ 10% in management fees to Headwater

Two high/bonanza grade discoveries already
Newcrest (and insiders) recently increased their exposure which makes sense because…
Headwater Gold effectively has an Enterprise Value of C$11 M (at $0.34/share)….

One could say that each of the eleven projects are currently valued at ~C$1 M

= Are you kidding me?
Investing highlights in the words of the company: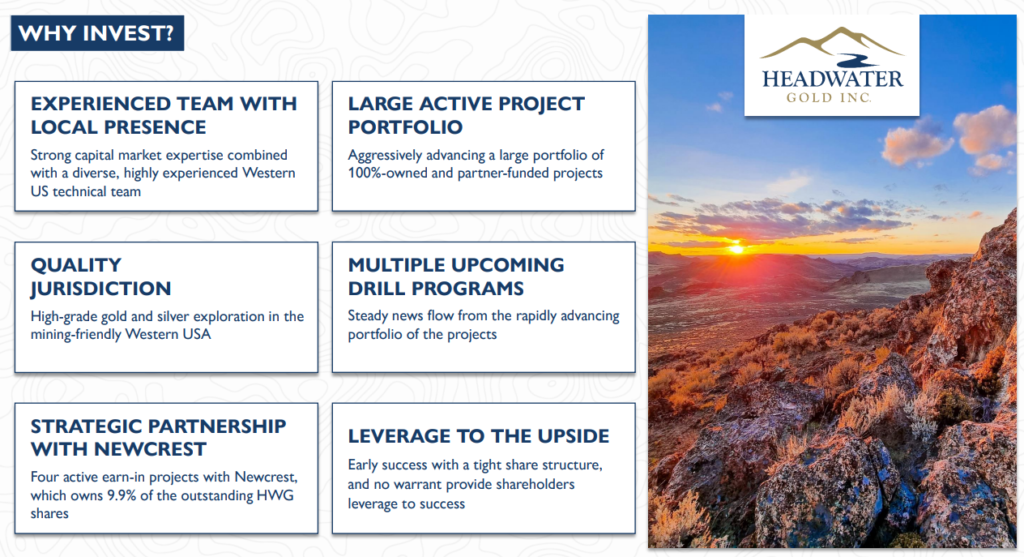 Setting the scene
Headwater Gold was started with the goal of discovering high-grade, underground, lower tonnage (lower CAPEX), Low Sulphidation Epithermal ("LSE") systems in Western USA (Tier one jurisdictions) that major miners would want (Especially in this day and age of rampant inflation).
What is the reasoning behind this goal?
Lower tonnage & underground -> ESG & permitting benefits
Lower CAPEX -> Lower risk in a high inflation and higher rate environment
High-grade -> Potential for good margins (value) even in a high inflation environment
Western USA -> Well not hard to explain
Headwater Gold is a junior company that started out picking projects with a clear end game in mind. I remember speaking with Chairman Alistair Waddell (Ex VP – Greenfields Exploration for Kinross Gold ), before the company listed, and he explained how they have strictly focused on projects that they think could be of interest to majors (Case in point: Newcrest). On that note many of the people involved in Headwater Gold are also involved with Inflection Resources, which has the same modus operandi, but which is looking for copper and gold in Australia. Well Inflection just announced that it has signed a non-binding Heads of Agreement ("HOA") with none other than AngloGold Ashanti which is another major mining company…
Talk about proof(s) of concept. Suffice it to say these guys are total pros and they know it given insiders own around 30% in both Headwater Gold and Inflection Resources.
Gold ounces in the ground are only as valuable as the their economic value
High grade ounces with a margin of say $600/oz are three times as valuable as a lower quality mine which produces gold with a margin of $200/oz and infinitely more valuable than a mine that has no margin at all. In other words a higher grade and therefore potentially higher margin mine, that is producing 80,000 ounces of gold per year can be worth as much as a mine that is producing 240,000 ounces per year, if the margins are three times as high. It would also cost more, both in terms of initial CAPEX, OPEX and TIME, to build and run a much larger mine. Never forget that there are 5 Moz deposits out there that are pretty much worthless today while there are 1.5 Moz deposits that could be worth a lot. Again, it all comes down to what money you can make mining the ounces. Some recent examples of this would be the Fosterville (Agnico Eagle) and the Island Gold (Alamos Gold) mines which were not monster mines in terms of endowment but were incredibly valuable.
One thing I find absolutely fascinating is that if you look around today for comparables there aren't really any. This point came up when I talked to the CEO Caleb Stroup who simply explained that the simple reason for there being no high/bonanza-grade epithermal deposits laying around today is because they have such great economics that they get put into production ASAP. And there is a long list of historic low sulfidation epithermal gold mines in Nevada:
(Source)
The picture above is the Walker Lane trend in Nevada but there are other famous Nevada mines such as the Sleeper and Midas mines (and probably a few others that are not on the list above) in the basin range. As a matter of fact these deposits can be so significant that even the remnants are valuable in today's day and age. On that note Hecla Mining is actively exploring around the Aurora and Midas mines today (Two of Headwaters projects border these but more on that later).  Another example would be Tonopah where Blackrock Silver has been active for the last couple of years. Then we have Integra Resources, who have been drilling out the lower grade remnants around the historic DeLamar mine in Idaho, and been able to show there are millions of ounces of precious metals left (Headwater has a project nearby as well). Lastly, the areas around the historic Bullfrog and Sleeper mines also have juniors working there even today.
Tonopah Early 1901
(2 Moz Au & 175 Moz Ag)
Map of the Comstock Lode and the Washoe Mining Claims (1873)
(8.4 Moz Au & 193 Moz Ag)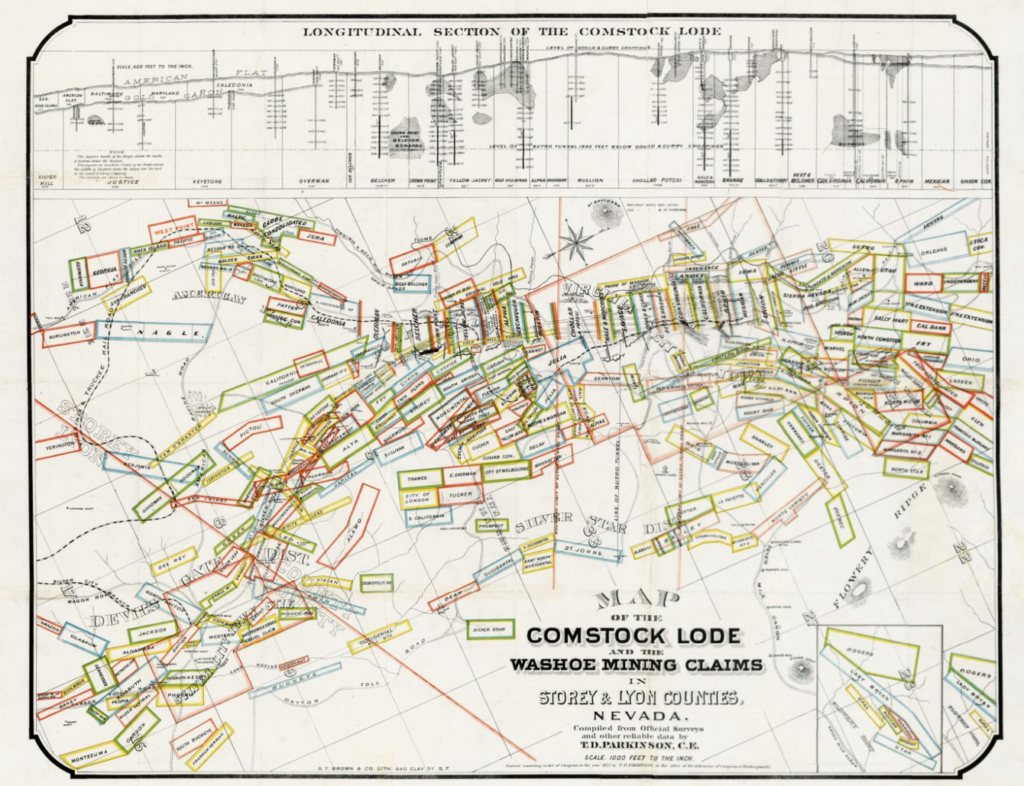 Fortunes that were made from the Comstock Lode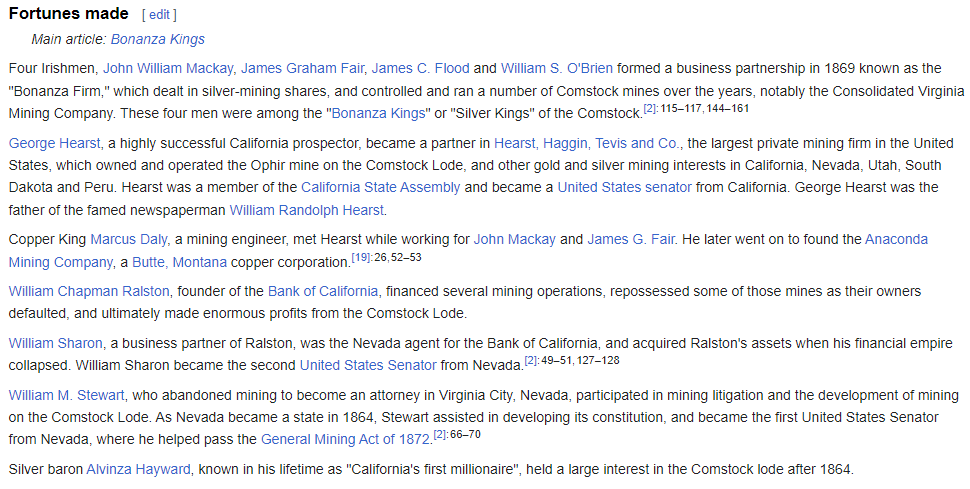 Sleeper Gold Deposit
(from 1986 until 1996, producing 1.66 million ounces of gold and 2.3 million ounces of silver.)
Bottom line is that historically speaking whenever a high/bonanza grade epithermal deposit was found in this region it got mined and that is the simple explanation why there are no real comparables today. Even the lower grade halos of such systems can host enough gold to warrant developing additional mines today. Which might be decades or centuries after their high-grade eyes were plucked out. Headwater Gold is after the intact eyes…
As mentioned earlier Headwater Gold's strict focus from the start has been to find one or more brand new deposits of this highly sought after type that are intact, unmined and unspoiled. The high/bonanza grade portions of these systems might not typically contain more than 1-2 Moz AuEq but all the evidence you need of how valuable they are is the fact that there are not really any such intact deposits left today. I see them as "mini Fostervilles" (Well except Comstock which was >8 Moz). Again the very nature on these deposits, in terms of them being so valuable that they all got mined regardless of the gold price, is why the only real way to find one today is to do grassroot exploration.
Interest to Major Miners
Majority of today's junior mining investors might not appreciate the value of finding one of these highly sought after systems intact…
But the insiders of Headwater Gold knows.
And Majors like Newcrest Mining, Newmont Mining,  and Sumitomo knows…
I would highlight Irving Resources as another example of how major miners show real interest in trying to find more of these high/bonanza grade type deposits. Irving, like Headwater Gold, also has a very large portfolio of early stage Low Sulfidation Epithermal targets. And who are backing their hunt you ask? None other than Newmont Mining and Sumitomo Corporation. Japan is actually where you find one of the best mines in the world, the "Hishikari" mine, which is still mining very high-grade gold at very low costs today. Again, I think retail investors do not fully appreciate how valuable some of these low sulfidation epithermal deposits can be. (I know I didn't until I really read up on them).
The people that are running Headwater Gold have a lot of experience from major miners and would thus know what majors would want:
(You can check their full resumes on the website)
Furthermore these guys REALLY eat their own cooking. The CEO Caleb Stroup is a former senior geologist with Kinross and he owns around 5% of the company himself. In total Management and Insiders owning a whopping 32.9% of the company and some even upped their exposure further in the most recent financing. Thus Management and Insiders have more than 20 million reasons to increase the share price of Headwater Gold as much as possible (Which I am all for):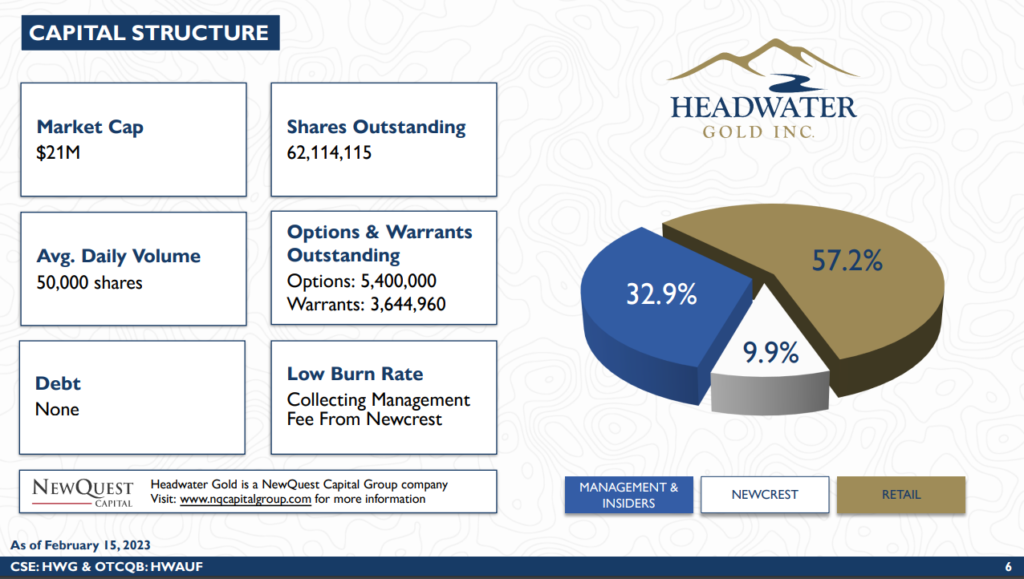 I have also noted that insiders have recently been averaging up, in not only the recent placement, but in the open market as well: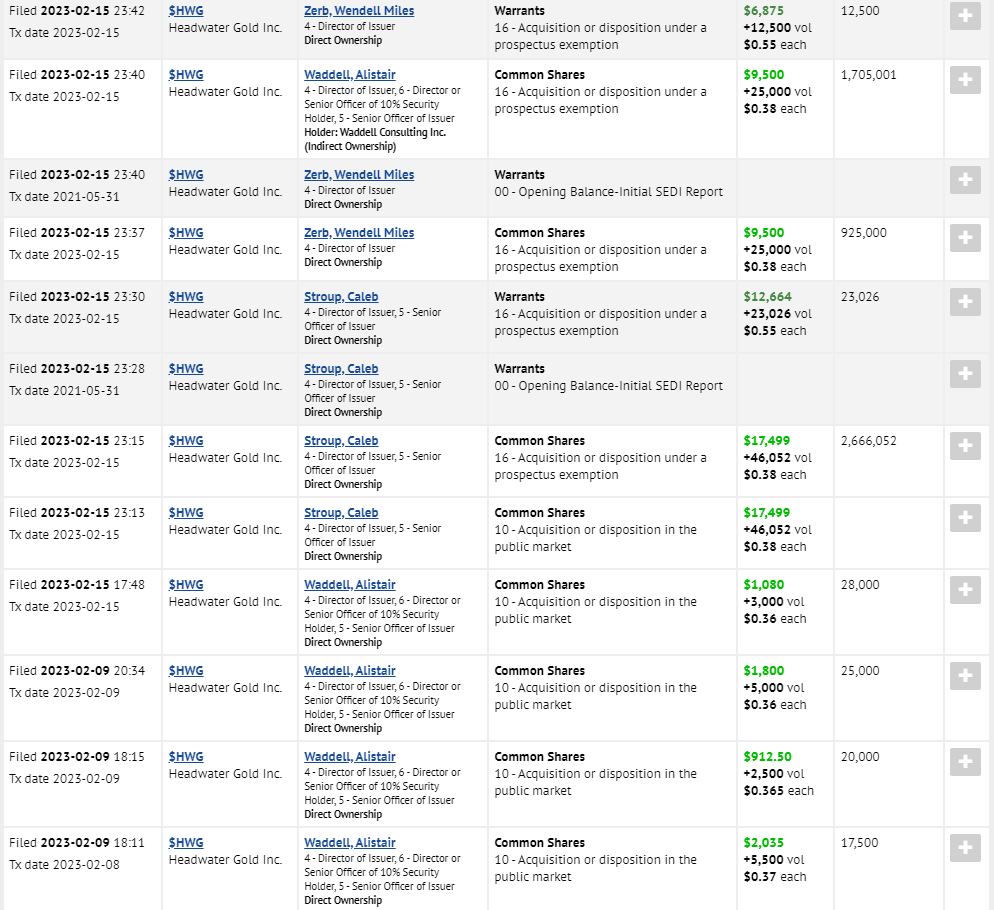 A receipt for the team's competence and legitimacy of their goals did not take too long as the company has already made two new high-grade low sulfidation epithermal discoveries. One being the 100% owned "Katey" project where the company hit 30.73 gpt Au over 1.95 m (within 14.54 m at 6.34 gpt) on their first hole, as well as the "Spring Peak" project, where the company has hit 15.92 gpt Au over 2.38 m and 10.43 gpt Au over 2.01 m all within a broader interval running 2.73 gpt Au over 34.72 m. It is safe to say that the company has hit the ground running and that there now tangible potential for a couple or more discoveries of these highly coveted deposit types.
And the biggest receipt of them all would be that Newcrest Mining, the A$21 B major Australian miner, recently signed an earn in deal with Headwater Gold on no less than FOUR of the company's projects:
Interestingly it was Newcrest who approached Headwater Gold after having been watching the company's progress for a while. Furthermore Newcrest was content in having the Headwater team run all exploration efforts across the four earn ins and the company will also collect a 10% management fee on all the work (Which has so far been enough to have the company at pretty much unchanged cash levels).  – Source
As you can read above Newcrest can earn up to a 75% interest in four different project if Newcrest:
Spends US$145,000,000 (~C$195,000,000) on exploration
Completes Pre-Feasibility Studies (Headwater is free carried)

Each PFS must include a minimum of 1.5 Moz AuEq.

Gives Headwater Gold royalties on all projects
Gives Headwater Gold 10% in management during the earn in
If/when all is said and done Headwater Gold will keep 25% interest and also get royalties on up to four projects. The initial US$8.5 M (C$11.5) is guaranteed spending and after that Newcrest may decide if it wants to keep earning into any one of the four earn in projects. Right now I think there is some C$6 M left that Newcrest MUST spend on the four Headwater owned projects.
I think Headwater Gold is one of the best examples ever of how a depressed Mr Market can present incredible opportunities. I think the valuation of the company was around $7-$8 M at the time of the announcement. One could simply argue that the "all knowing" Mr Market was pricing in say a 8/4 = $2 M intrinsic value per project. Now given that Newcrest would probably want to see potential in the range of at least $500-$1,000 B for any project to be of interest, one could say that Mr Market was pricing in $2/$500 = 0.4% chance of success at each target, at face value. Even if we up that by 10X to 4% I still don't think it would reach Newcrest's internal estimate when it comes to chance of success…
Now if we believe there is an average 20% chance that any one of the projects will amount to something worth at least $500 M then we get a risk-adjusted value of 0.2 * $500 = $100 M per project (excluding dilution etc). If we account for Headwater's ending interest of 25% then each target could be said to be worth $25 M to Headwater Gold on a risk-adjusted basis. This is a very crude estimation but Headwater is at least free carried to the PFS stage in case of "Newcrest type success" so there will not be any dilution up to that. Headwater would also get a royalties which would certainly be worth something in that case to boot. If one
Anyway this is a quick and dirty Expected Value calculation which would have the four projects be worth $100 M to Headwater Gold on a risk-adjusted basis if the chance of success is 20% to find a $500 M deposit. If we cut the chance of success in half, to 10% per project, then the Newcrest projects would still have a cumulative Expected Value of $50 M…
Note that this is only factoring in the four earn in projects and not the total portfolio of projects. It doesn't even include the 100% owned "Katey" project which Headwater managed to keep out of the deal. On that note one has to wonder how good the average quality of the seven wholly owned projects might be given that it is already remarkable that a junior company has been able to generate at least four Newcrest worthy projects. Thus one can ponder what implied value the seven wholly owned projects have.
In light of the above I think the risk-adjusted fair value for Headwater Gold is at least around C$100 M.
Headwater Gold currently has a Market Cap of $21 M
AND the company has some ~$4 M in cash (after the recent financing which Newcrest & insiders also participated in) AND an additional #7 wholly owned projects AND some ~C$6 M in guaranteed spending by Newcrest left.
To say I find the current valuation absurdly low would be an understatement. No wonder insiders and Newcrest have been adding.
To sum up what you are buying for C$21 M
~C$4 M in cash (Thus an EV of C$17 / US$12.5 M)
An earn in deal with Newcrest worth up to 75% for US$145 M (~C$195 M) + PFS + Royalties in:

"Spring Peak", Nevada – (

Discovery

: 2.73 gpt over 34.72 m inc; 15.92 gpt over 2.38 m & 10.43 gpt over 2.01 m)
"Midas North", Nevada – (Soon to be drilled)
"Agate Point", Nevada – (First pass assays pending)
"Mahogany", Oregon – (First pass drilling produced 1.47 gpt over 12.25 m, inc 9.37 gpt over 0.73 m)

"Katey", Oregon (100% owned

Discovery

: 14.54 m at 6.34 gpt)
"Crane Creek", Idaho (Limited historic drilling produced 1.21 gpt over 62.5 m ABOVE the boiling zone)
+5 additional wholly owned projects:
"Eleven shots of finding new high/bonanza grade Low Sulfidation Epithermal systems"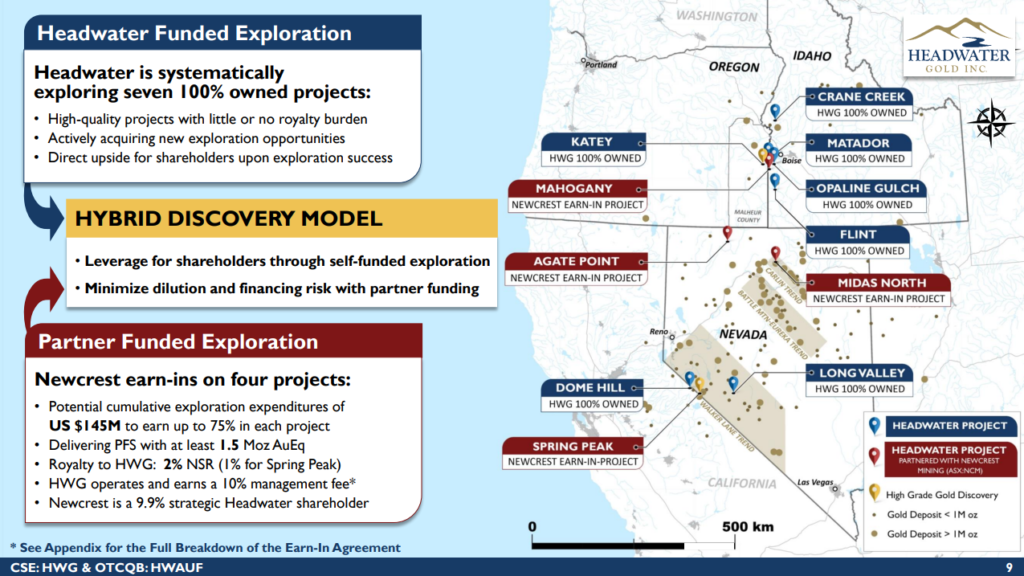 When you think about it you have C$21 M Market Cap company that comes with; ~C$4 M in cash, around ~C$6 M in forced spending from Newcrest left, 10% in management fees back to Headwater and two high-grade discoveries (and counting) within a total portfolio of #11 projects.
At face value one could therefore say that Headwater Gold has an Enterprise Value of C$11 M that is supposed to reflect the intrinsic value of the entire 11 project strong portfolio, which includes at least four "Major miner worthy" projects, and two discoveries…
In other words there is around C$1 M of potential priced in per project… Are you kidding me? I have seen many pricing mistakes by an emotional Mr Market but this is one for the history books. You will only see brain dead stuff like this in periods of great fear in this sector. If this was August 2016 Headwater would probably be trading at around C$75-C$100 M already. No one can say that this sector is hard right now for anyone with common sense and a ton of patience.
Headwater Gold will probably be one of the least boring juniors around given it will be working four Newcrest projects, which are funded by Newcrest, and do follow up drilling on the "Katey" discovery which is 100% owned…
Upcoming Catalysts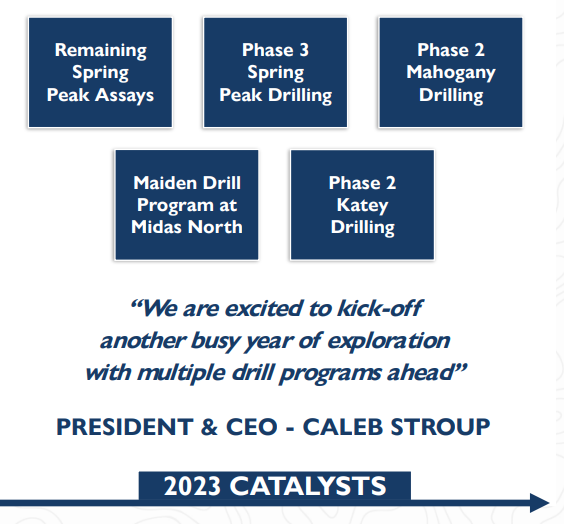 Expectations
Since Newcrest participated in the recently closed private placement, and thus upped its investment in Headwater Gold, we have a fresh receipt that the major miner likes where the company is heading. I would also note that this was a private placement, and is not part of but rather in addition, to the previous earn in deal. In other words Newcrest just upped their exposure to Headwater Gold's projects even more. Thus Newcrest made sure it gets even more direct exposure to the projects in the earn in deal as well as direct interest in the projects that are still 100% owned by Headwater Gold (Such as the the high-grade discovery at "Katey" which Headwater kept out of the earn in deal).
Anyway, my hopes is that Headwater Gold will follow up its discovery success at their 100% owned "Katey" project and "Spring Peak" project this year and really confirm these are two significant high-grade discoveries in the making which could be worth several hundred million dollars. I would also like the company to maybe even make additional discoveries at "Mahogany", where they hit 9.73 gpt over 0.73 m in first pass drilling, and "Midas North" where the company have done a lot of geophysical surveys to help targeting. "Crane Creek" is also a project that I hope the company has time to drill below the historic 8.14 gpt over 3.0 m hit and into where the boiling zone is believed to be located.
All in all there are a lot of horses that are at different, beginning stages of the most violent part of the Lassonde Curve: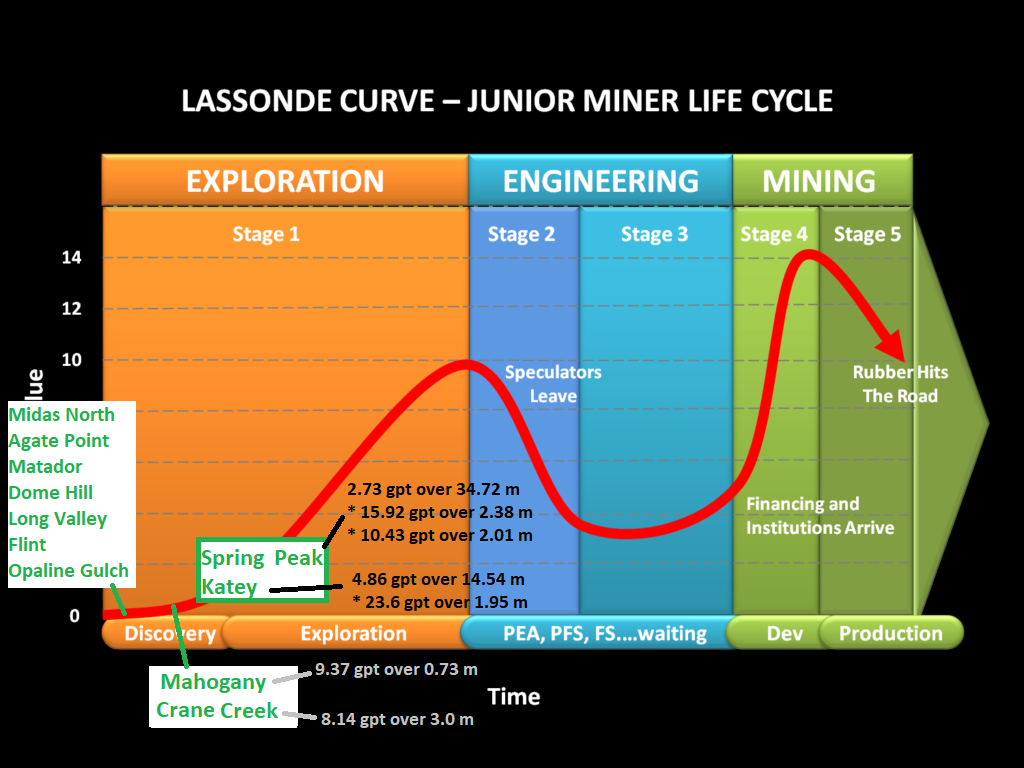 Bottom Line
Headwater Gold could very well be growing in value for many years to come across multiple projects. Four of the 11 projects obviously have Newcrest Mining scale potential and the best discovery hole yet has come out of the "Katey" project which shareholders currently have 100% exposure to.
I have personally averaged up alongside Newcrest and insiders recently, and have high expectations for the coming months and years, as I hope shares of Headwater Gold will climb higher alongside value created across the vast portfolio of projects.
With a Price of a mere C$24.5 M for the entire portfolio of Low Sulfidation Epithermal projects I think the upside potential should be blatantly obvious. You will only really see such extreme Price-to-Value dislocations when sentiment is extremely bad for the time being. Buy low, sell high, as the saying goes.
The Bet
Headwater Gold finds absolutely nothing of significant value in any project
Headwater Gold makes significant discoveries at one or more projects
One significant LSE discovery could see Headwater Gold turn into a 5-20 bagger or more depending on size, quality and ownership percentage. The company currently has #11 LSE projects in the portfolio and two could be seen as being incipient discoveries as they have already proven to host bonanza grade gold. Since all the potential in the portfolio cannot be killed anytime soon I believe that the base case downside risk is limited from this valuation while the upside risk is substantial and multi-pronged.
In short: I think Mr Market's current pricing error is providing an opportunity that should not be available in an "efficient market".
Now lets look on some of the more high profile projects in Headwater Gold's vast portfolio of projects…
"Katey" project, Oregon – (100% owned)
Headwater Gold's maiden drill program at "Katey" in 2021 consisted of two scout diamond core drill holes totaling 537 meters. The only other drilling at this project were two limited campaigns in 1989-1990 by Asarco which consisted of a total of 2,046.8 meters:

Asarco's drilling was able to produce long intercepts of lower grade mineralization such as 59.22 m at 0.60 gpt. Fast forward up until almost exactly a year ago and the first hole drilled by Headwater Gold intersected 14.54 m at 4.86 g/t gold; including 23.6 g/t gold over 1.95 m (hole KT21-01):
I was already finished with my section on the Katey Project but alas there is recent news out which includes some positive surpries…
News Flash Feb 21, 2023: 
"Headwater Gold Announces Drill Plan to Offset High-Grade Gold Discovery at Its 100% Owned Katey Project"
Firstly we can read the following:
"Metallic-screen assays from the previously reported high-grade intercept in drill hole KT21-01 returned 6.34 grams per tonne gold ("g/t Au") over 14.54 metres, including 30.73 g/t Au over 1.95 metres. Metallic-screen assays show approximately 30% higher grade than original values and indicate the presence of coarse free gold"
So apparently there might be a nuggety gold component in this system as Metallic-screen assays produced considerably higher grades than the originally reported assay results. The "nugget effect" phenomena can understate a deposit's grade via drilling relative to what the actual grades would be in a mining scenario. If you recall from earlier an extreme version of this was seen in the famous Sleeper deposit, where the actual mined grade (25.7 gpt) was more than 100% higher than the expected grade, during the first nine months of production.
The news release also states the following:
(Bold added by me)
Metallic-screen assays are often used to test for the presence of coarse gold and better represent true gold grade by using a much larger sample which also incorporates coarse size fractions from a pulp. A 1-kilogram sample is split from the original sample material, crushed, and sieved to create a coarse (+150) and fine (-150) fraction which are then assayed.

Nearly all samples from KT21-01 returned metallic-screen gold values greater than the original assays, indicating the presence of coarse gold that was not accurately measured by the original assays. A sample from 103.6–104.4 metres depth in KT21-01 returned 229.37 g/t Au in the coarse (+150) fraction indicating the presence of a large amount of coarse gold. Metallic-screen assays of the highest-grade sample from KT21-01 returned 40.59 g/t Au over 1.04 metres, a 44% increase from the original assay value.

Moving forward, metallic-screen assays will be routinely utilized as a standard practice on the project whenever the presence of coarse gold is suspected.
Now this metallic-screen assaying is obviously not the same as a full blown mining scenario but it might indicate that drilling, which is a very small sample size, might underestimate the "true" grade at Katey for better or for worse. Nuggety systems might be richer in reality than they appear to be but it also means that they might be more challenging when it comes to figuring out the average grade etc.
To sum up the change in assay results for hole TK21-01:
Bulk intercept:

4.86 gpt over 14.54 m

–>

6.34 gpt over 14.54 m

Bonanza interval:

23.6 gpt over 1.95

–>

30.73 gpt over 1.95 m
The Gram-Meter result for this first hole went from 4.86 * 14.54 = 70.7 to 6.34 * 14.54 = 92.2
The updated cross section with the new assay results: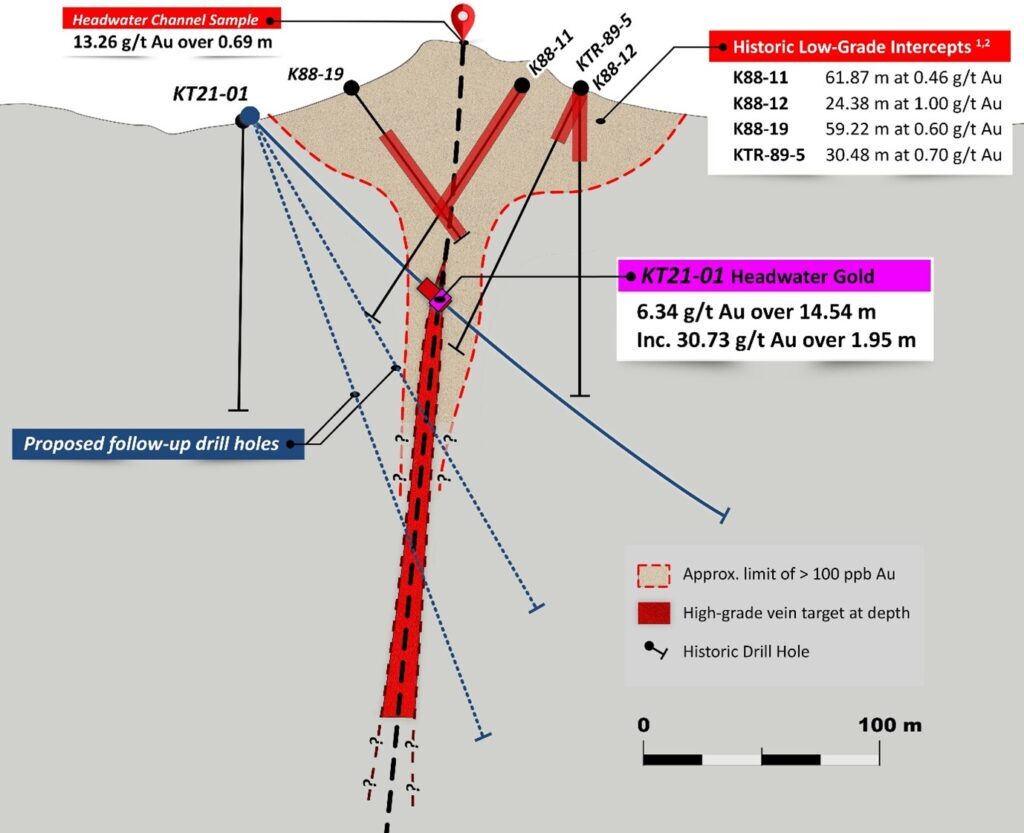 Putting these results into context
"Katey" has seen a total of 752.9 + 1,293.9 + 537 = 2,583.8 meters of drilling and has produced an intercept grading 6.34 gpt over 14.54 m (includes 30.73 gpt over 1.95 m) which results in a Grade x Thickness (aka gram-meters) intercept of  92.2.
These results are highly encouraging according to the Kenorland Discovery Study: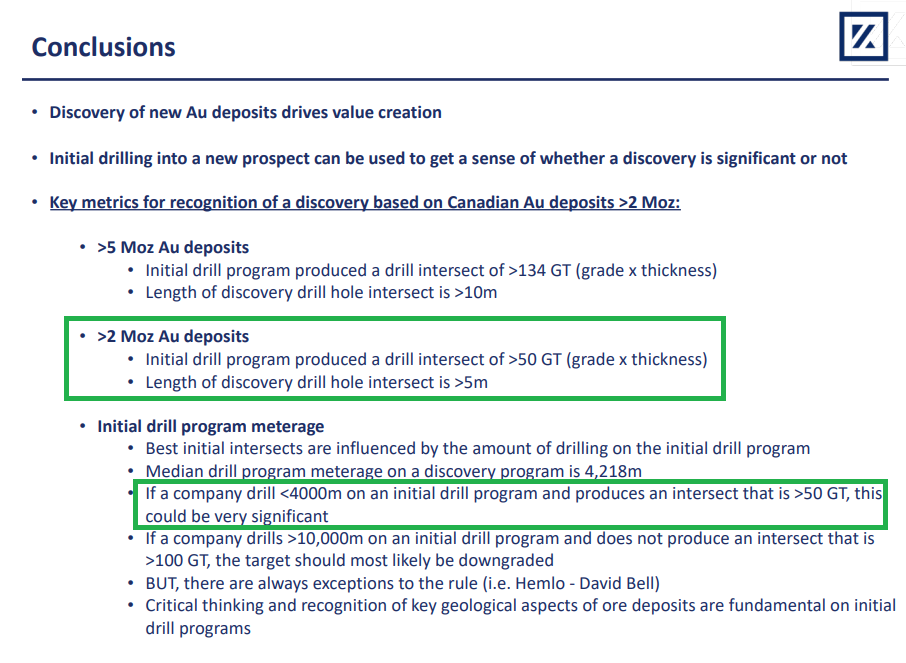 The "Katey" project has the best early stage results out of the targets that have been tested so far and Headwater Gold has 100% interest in this project. The plan now is to simply do 30-60 meter step outs from the high-grade discovery hole and grow the "deposit" in all directions. Given the superb hit on the first try one would assume that it is a sign of a very fertile epithermal system and not that Headwater was just extremely lucky to hit a "one off" headline intercept.
Boling Zones in Low Sulphidation Epithermal Systems
It should be noted that low sulphidation epithermal systems can have a varied high-grade vertical strike, in regards to the boiling zone, as the ground conditions might fluctuate over time: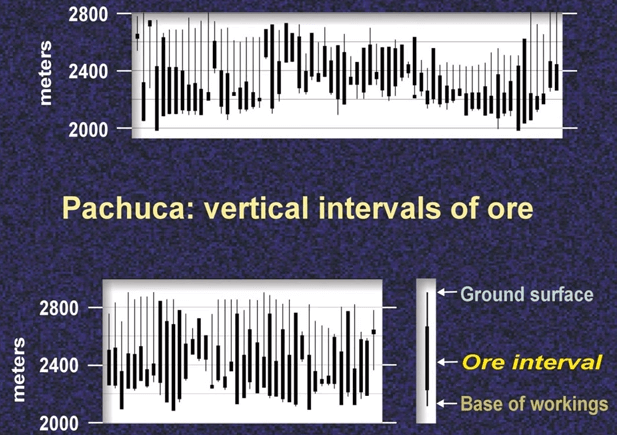 Below is a long section from a world class, high/bonanza-grade, multi-million ounce epithermal system which shows very high-grade pockets surrounded by lower grade halos:
The point I am trying to make is that a) With high enough grades you don't need a lot of tonnage/footprint in order to have a valuable mine and b) one should not expect to see barn burner hits in every drill hole even in a great low sulphidation system.
Anyway, now back to the Katey project…
Recent soil sampling has highlighted three immediate targets along strike, both to the north and south from the first bonanza hit, in the area known as the "West zone":
Note that the soil anomalies are only limited by amount of sampling as they are still open both to the north and south along strike. Furthermore this "West Zone" is still only one part of the overall epithermal footprint within Katey:
Bottom line is that the Katey project shows a lot of promise given an impressive 92 gram-meter hit has been produced with such limited drilling as per the Kenorland Discovery Study. If this is a discovery of a future significant high/bonanza-grade LSE system, worth several hundred millions or even a billion dollars, then all the other 10 projects could end up being duds and one would still be over the moon.
"Spring Peak" project, Nevada – (Newcrest Earn In)
2021: Headwater's initial program consisted of five reverse circulation ("RC") drill holes totaling 1,350 metres

New blind gold discovery made with drill hole SP21-03 which intersected 38.1 metres ("m") grading 1.00 grams per tonne ("g/t") gold including 9.2 m grading 2.49 g/t gold;

2022: Headwater's 2022 drill program at Spring Peak consisted of ten drill holes totaling 3,173 metres, all of which encountered significant epithermal veining and alteration zones.

Drill hole SP22-13 intersected two individual veins which assayed 15.92 grams per tonne gold ("g/t Au") over 2.38 metres ("m") and 10.43 g/t Au over 2.01 m respectively.
Only one hole has been reported from the 2022 drilling so far but it showed encouraging results as it assayed 15.92 grams per tonne gold ("g/t Au") over 2.38 metres ("m") and 10.43 g/t Au over 2.01 m respectively. The highest individual assay returned 69.6 g/t Au over 0.34 m. These intervals are part of a broader zone which assayed 2.73 g/t Au over 34.72 m: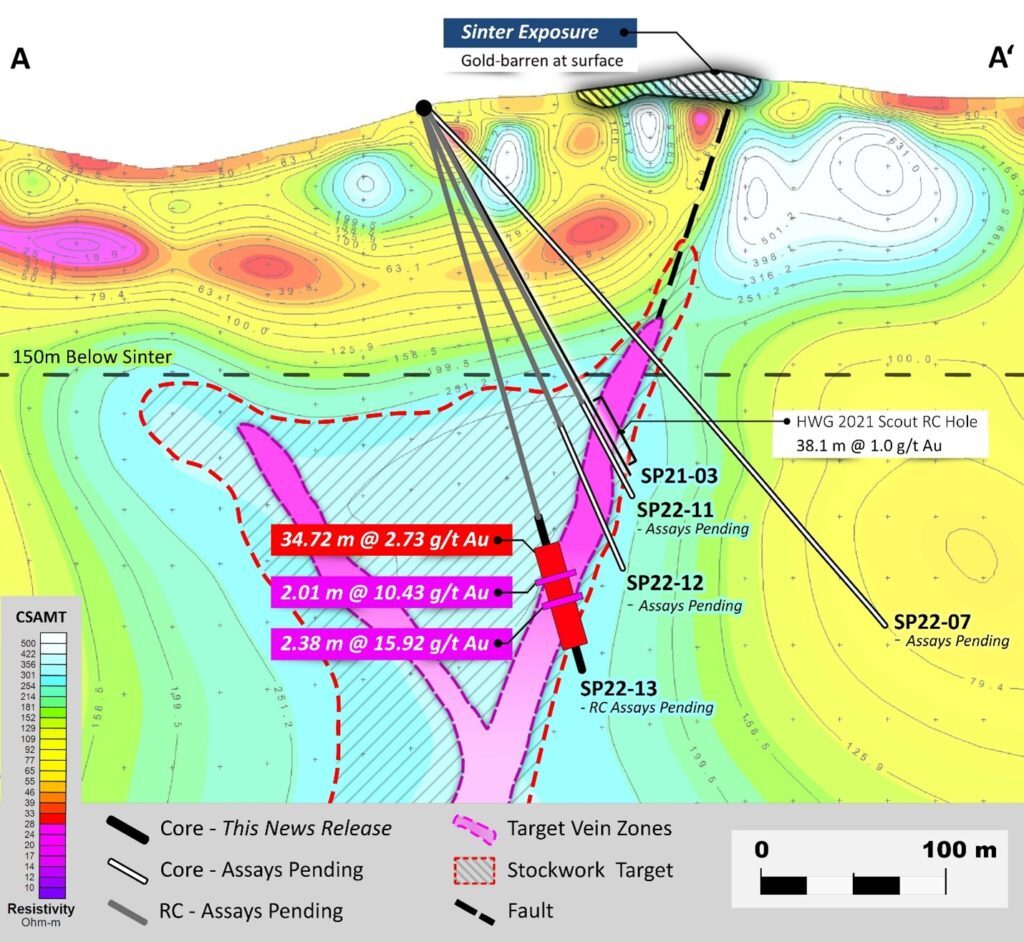 If we take the bulk intercept of hole SP22-13 the gram-meter result is an impressive 2.73 x 34.72 = 94.8. This would be the first hole assayed since the maiden 1,350 m drill campaign and is thus highly encouraging in light of the Kenorland Discovery Study. It's also worth noting that assay for silver are still awaited to the grade, and gram-meter score, can only get better.
Caleb Stroup, the President and CEO of the Company, states: "We are very pleased to announce these initial high-grade assays from the 2022 Spring Peak drill campaign.  Proving the presence of high-grade banded epithermal veins below a barren sinter cap is a significant milestone for the Spring Peak project and for Headwater.  These high-grade intercepts further support the geologic similarity of Spring Peak to Hecla's nearby past producing Aurora mine complex and highlight the exploration potential of the Project.  We are eagerly awaiting the remainder of the assays, including final silver assays, but the initial SP22-13 results are particularly exciting because they demonstrate the high-grade potential of the Disco Zone.  A more extensive follow-up drilling program to define the lateral and down dip extents of the vein system is currently being planned.  The remaining pending assays, including assays from the RC pre-collar of SP22-13 (surface to 231.65 m), will shed further light on the character and grade of the vein zone up dip, where we only have a single RC intercept from 2021.  Also pending are assays from multiple new target zones which were tested in 2022 throughout the Spring Peak property where we believe there is good potential for additional high-grade veins."
Spring Peak has multiple vein targets with several kilometers of cumulative strike and is located right next to Hecla Mining's Aurora mine: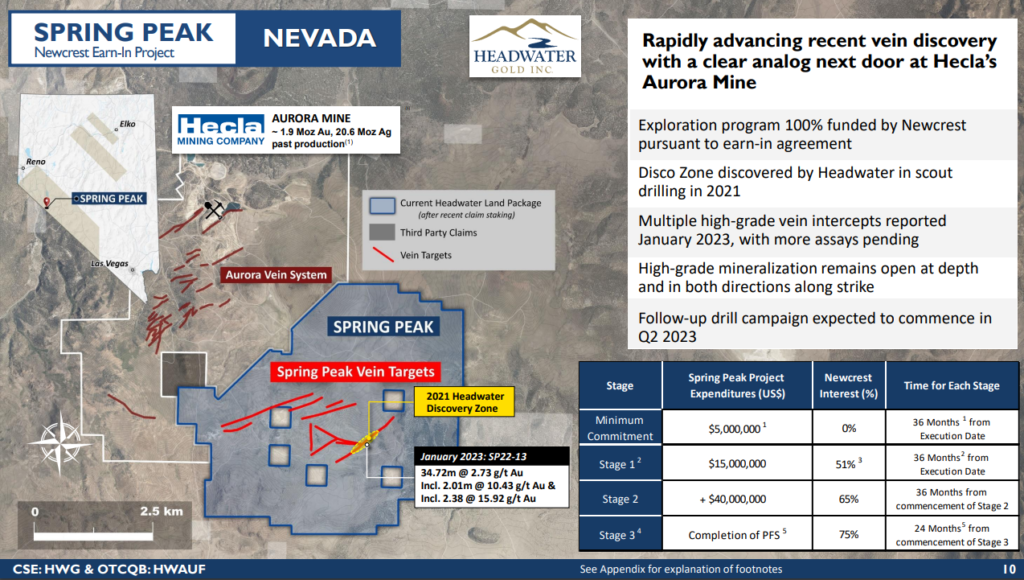 So what is Hecla Mining doing right next door?
This following screenshot is taken directly off the company's website: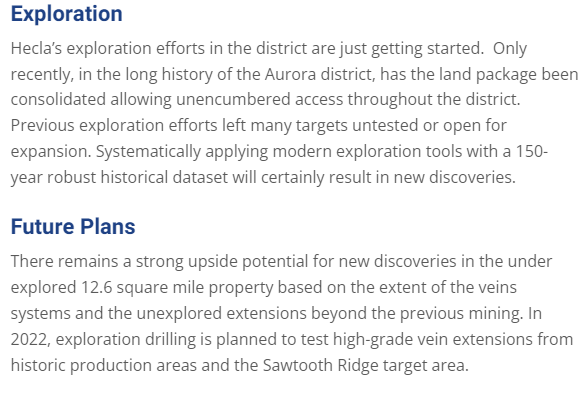 It is safe to say that a high grade deposit located in Nevada, next to a past producing mine ought to be quite valuable and the threshold for success to be relatively low. 1.5 Moz of high grade gold here might be worth several hundred millions of dollars while the same success could be almost worthless in a very remote area. If things go well Newcrest Mining is set to foot the bill and free carry Headwater all the way to a PFS study in order to earn a 75% interest. Headwater will also retain a royalty on the project in addition to the 25% stake. In other words there could be a lot of drill results for years to come without Headwater needing to raise a penny to produce it.
We only have received one assay from the 2022 drill campaign so far but as outlined earlier the company has stated that:
Headwater's 2022 drill program at Spring Peak consisted of ten drill holes totaling 3,173 metres, all of which encountered significant epithermal veining and alteration zones.  All assays are pending and expected in early 2023;
I wouldn't bet that all holes will be barn burners but I think the important take away is that they have basically proved that their theory of there being multiple epithermal vein targets appears to be true. Thus one could really say the Spring Peak project appears to have serious scale potential on top of it already being confirmed to be able to produce high grades: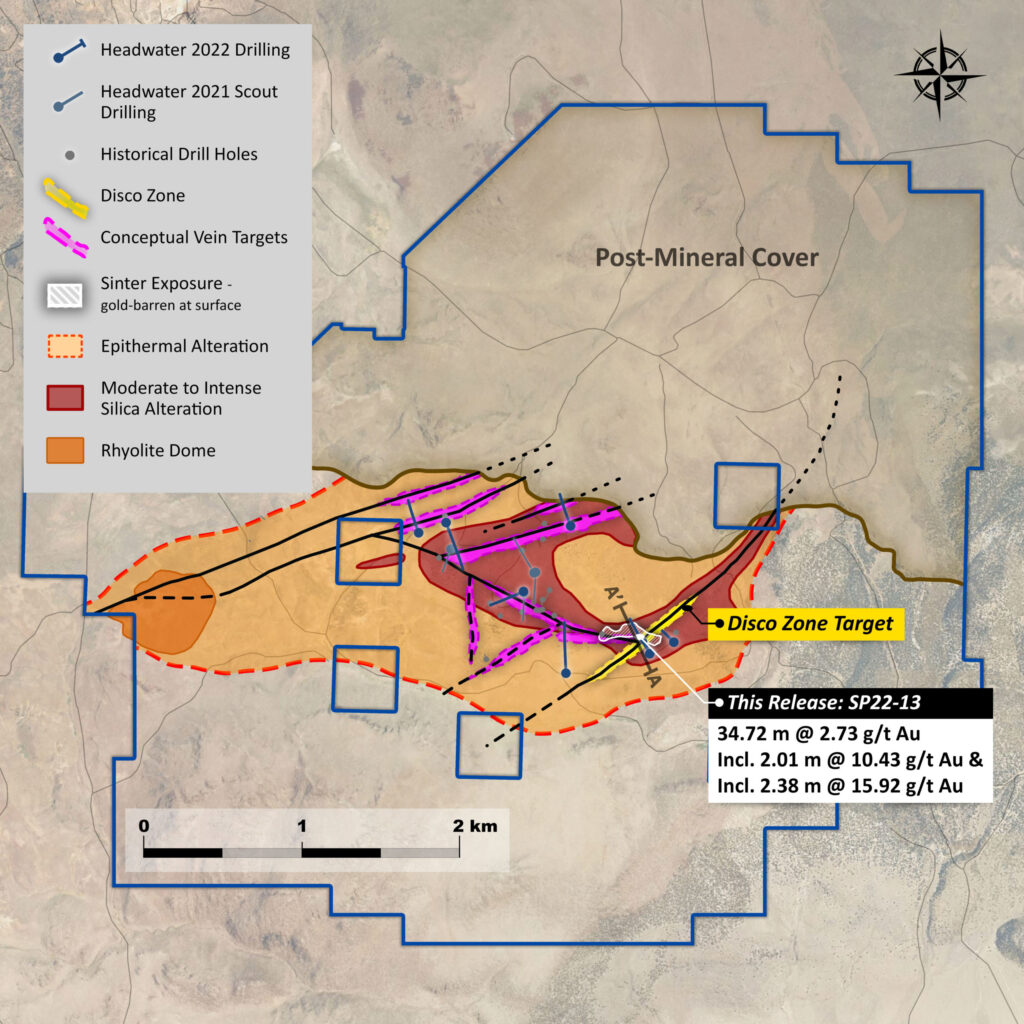 It is worth keeping in mind that high-grade epithermal deposits in Nevada do not even need to be big in order to be worth a lot in the first place. But to have scale potential is certainly welcome.
"Midas North" project, Nevada – (Newcrest earn in)
Midas north is totally grassroot exploration project which lies along strike from Hecla Mining's Midas mine complex. It is worth pointing out that Hecla is very active here (as is the case for the Aurora Mine area) in the wake of their new discovery at a target called "Green Racer Sinter":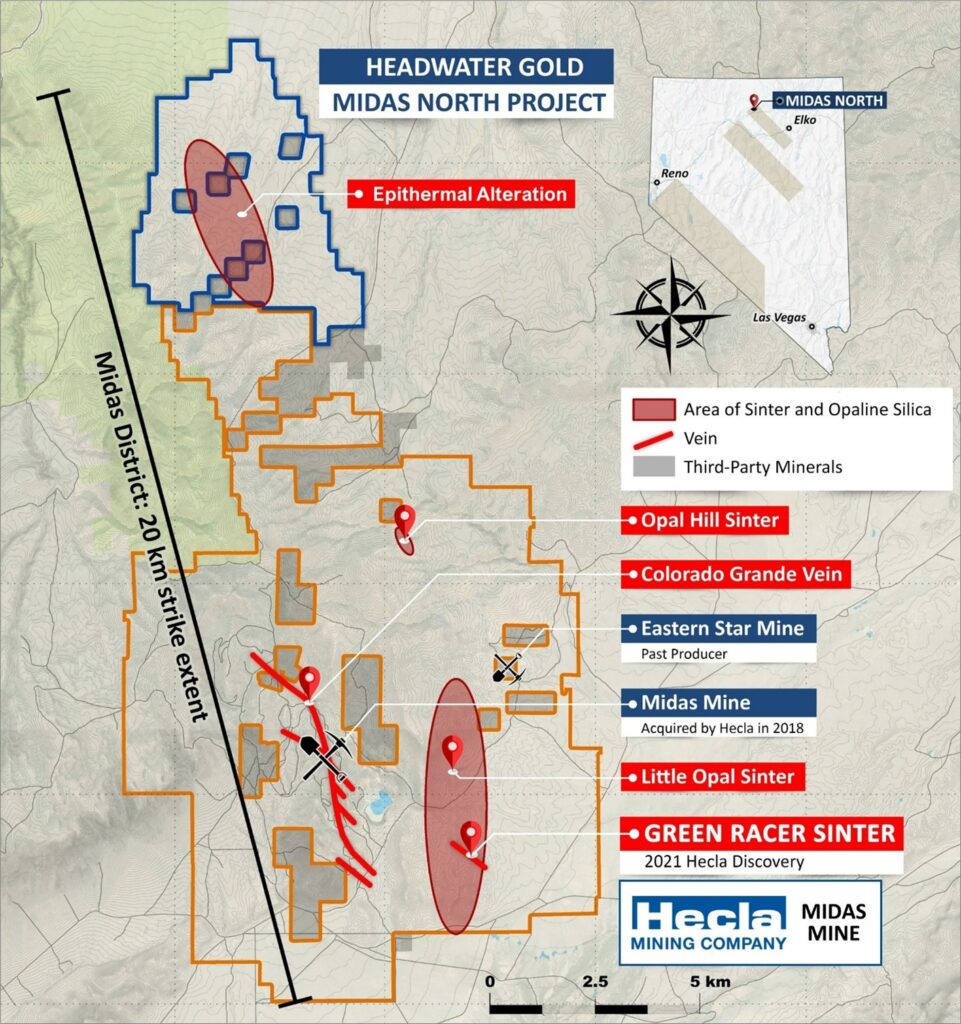 So what is Hecla Mining doing right next door?
This following screenshot is taken directly off the company's website: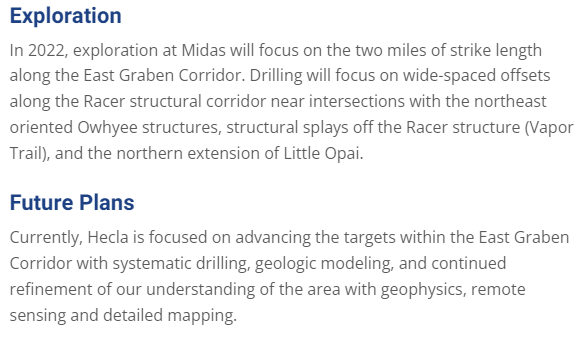 Continuing on…
Geochemistry and different geophysical surveys have already been done and two major target zones have been generated that run parallel for over 2 km of strike:
The CSAMT survey results coupled with the team's knowledge of the geology in the area has really come together and painted a picture that really "fits". It just happens to be that the Elko Prince Formation is the rock unit that hosts mineralization to the south around the Midas mine complex:
A final drill plan is currently being developed for a multi-rig maiden drill program scheduled to commence in Q2. I would not be surprised to see yet another discovery at Midas North this year.
Caleb Stroup, the President and CEO of the Company, states: "Since signing the earn-in agreement with Newcrest in August 2022, we have been building an extensive geological and geophysical dataset at Midas North.  The goal has been to apply the very best geoscientific tools available to identify feeder structures which have the potential to host high-grade epithermal gold-silver mineralization at depth below the extensive zone of alteration observed at surface.  In aggregate, the geophysical studies have done a phenomenal job of helping the Company understand the subsurface geology and have been instrumental in identifying several high-priority target areas for drill testing in the upcoming field season.  The Midas mine complex located immediately to the south serves as a clear geologic analog, with over two million ounces of gold and over 25 million ounces of silver historically produced from high-grade epithermal veins at Midas between 1998 and 2019(1 2) by operators such as Franco-Nevada, Newmont and Hecla."
Discussion on "Spring Peak" and "Midas North"
What I really like about these two projects is that both are located near two past producing mines where Hecla is actively exploring as well. This opens up some interesting scenarios. If one or both prove to host Newcrest sized deposits then Headwater will be free carried to a PFS and will keep 25% direct interest and get royalties on top. If any of the projects fail to become large enough to be standalone Newcrest mines then Headwater could retain most or all of the interest in these projects…
What if Headwater Gold finds say 500,000 ounces of high grade gold? Maybe Newcrest would decide not to complete the earn in up to 75% because its not large enough for them to warrant stand alone development…
But 500,000 ounces, or even less, might be very attractive for Hecla Mining to include in their plan for either of their Midas and Aurora mining complexes.
Thus I believe that both "Spring Peak" and "Midas North" have the potential to be significant low sulphidation epithermal systems, while possibly having the lowest thresholds for critical success, given their strategic locations coupled with Hecla Mining's activities.
"Crane Creek" project, Idaho (Newcrest earn in)
I don't know how many meters have been drilled at Crane Creek but the system is believed to be preserved (which means the boiling zone should probably be a few hundred meters down below the surface) and the historic drilling was shallow.
Shallow historic drilling points to high-grade potential (71m average historic drillhole depth)1
With that said the historic drilling was able to produce intercepts up to 1.21 gpt over 62.5 meters (75.6 gram-meters) which included 8.14 gpt over 3.0 m:
Again, the previous drilling was shallow and Headwater Gold believes that the boiling zone horizon potentially starts some 50 to 100 meters below where the 75.6 gram-meter hole hit 8.14 gpt over 3.0 m:
As you can see the company plans to drill below that intercept into the boiling zone (main pay zone) is believed to be located. There is thankfully a considerable amount of golden smoke as well as pathfinder elements over more than 2 kilometers of strike in this claim block:
"Agate Point" project, Nevada (Newcrest earn in)
Agate Point is one of the four projects in the Newcrest earn in and this is the short description from the website: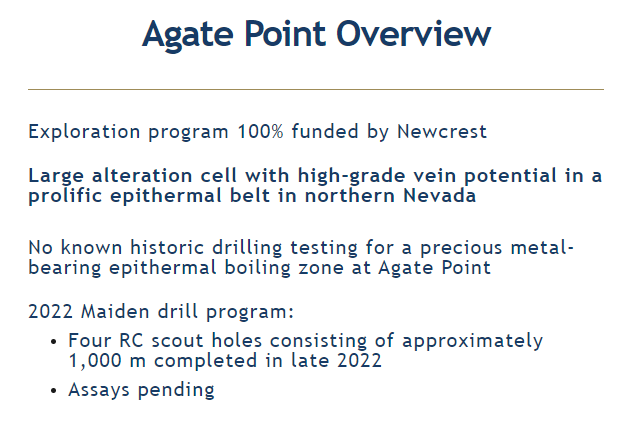 As it says above Headwater has delineated a very large (>2 km long) alteration cell that also shows the presence of LSE (Low Sulphidation Epithermal) pathfinder elements at surface:
The company has drilled a few first pass holes into this large target and the description from the December 7 news release is as follows:
The first-pass drill program completed at Agate Point consisted of an initial four RC holes, totaling 1,027 meters.  The Company tested four separate structural targets beneath an alteration cap characterized by anomalous mercury, arsenic, and antimony.  The geological targets tested by Headwater consist of high-angle structures with the potential to host epithermal feeder veins beneath silicified breccias mapped at surface.  The breccias at surface above the vein targets contain textures characteristic of high-level epithermal alteration, including banded chalcedonic vein fill.  Two of the four holes encountered significant epithermal alteration at depth.  Headwater believes this is the first ever drill test for structurally controlled vein mineralization at depth at Agate Point.  All samples have been submitted for laboratory analysis with assays pending.
I don't expect a miracle out of these first holes as it can be tricky to find an ore zone (boiling zone) right off the bat. However it appears the geology encountered in drilling  has confirmed that it is indeed a low sulphidation epithermal system. I assume more testing will be done here after the team has digested and interpreted the new information together with Newcrest. Perhaps a CSAMT survey will be done before any more drilling takes place to help targeting.
"Mahogany" project, Idaho/Oregon (Newcrest earn in)
You can see the alteration footprint and the first pass result of 9.37 gpt over 0.73 m in the slide below. Also note that a CSAMT survey is currently in progress which will be followed up by Newcrest funded drilling.
"Flint" project, Idaho – (100% owned)
Highlights:
The Flint project is located in a historic high-grade silver mining district with potential for new precious metal discoveries;
The Project occurs in an analogous geologic setting to the adjacent to Integra Resources DeLamar project1; and,
The Project is 100% owned and royalty-free.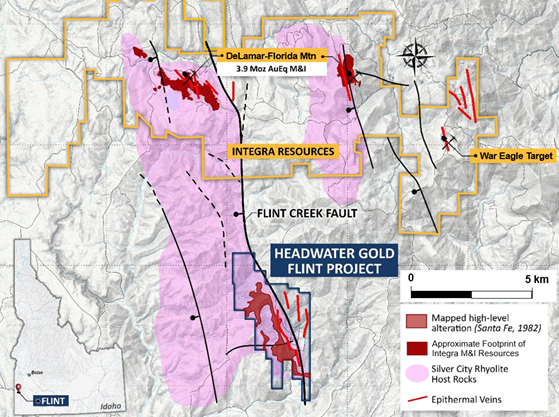 This piece is long enough so I won't cover all the projects in Headwater Gold's portfolio. You can look up the rest on the company's website.
Closing Thoughts
I think there is simply no way that Mr Market is making a terrible pricing mistake right now with Headwater Gold. If you have 11 projects, including earn ins with a $21 B company on four different projects, and two high-grade discoveries, there is no way Headwater Gold should trade anywhere near the current level. As I see it Mr Market is leaving an absurd amount of risk-adjusted money on the table thanks to a) Headwater being a relatively new story, b) Retail underestimate the value of high/bonanza grade low sulfidation epithermal systems, and c) the current total disinterest in junior miners overall. Pretty much every junior explorer on the planet dreams of getting such an earn in deal with a major company and yet Headwater Gold is trading like it's a run of the mill moose pasture explorer given the miniscule C$11 M in Enterprise Value. C$11 M for a portfolio that could be the exploration arm of a major is just silly.
The reason I love this sector is because you can now and then stumble on egregiously mispriced companies during sentiment lows. Don't get me wrong, I think a lot of junior explorers are cheap, but you won't always find best in class juniors trading like all they have is moose pasture while being backed by a major company.
If any of the two discoveries, and/or the other 9 projects turn into significant discoveries, then I think Headwater will become a 5-10 bagger from these levels within 24 months. If they make more then one significant discovery then… Well you get the idea. For Headwater Gold to fail the company must not be able to find anything of value, after working 11 projects in total, including two which are already confirmed to host bonanza grade gold.
Note: I own shares of Headwater Gold and the company is a banner sponsor. Thus consider me biased and do your own due diligence. I cannot guarantee the accuracy of the information in this article. This is not investing advice and I am not a financial advisor. Assume I may buy or sell shares at any time. I don't share your profits or your losses. Don't risk money you cannot afford to lose. Junior mining stocks can be very risky etc.
Best regards,
The Hedgeless Horseman