Some personal, quick thoughts and charts on some holdings of mine. Not trading or investing advice…
Cabral Gold (CBR.V)
I have gotten a few questions about Cabral since it is lagging (Weirdly I never hear anything about a stock when it is going up hehe).  Anyway, I have no idea why Cabral happens to be underperforming a bit lately and when I asked Alan the CEO about it he had no idea either. Could be a large motivated seller or two or a thousand different reasons. Given that the results have been quite positive over the last few months I doubt it would have anything to do with fundamentals anyway. I think the oxide blankets alone slapped on at least several millions in inferred value for example.
New flash: G Mining Ventures (Includes Lundin & Sprott etc) Completes Acquisition of the Tocantinzinho Gold Project. This means that a Lundin and Sprott backed developer will be Cabral's new neighbor!
If I zoom out a bit it simply looks like Cabral is forming a major, multi-year consolidation pattern and we are currently forming a bull wedge as part of the ending pattern of maybe a C&H or H&S pattern:
Grande Portage (GPG.V)
Grande Portage has seen extreme boredom thanks to the incredibly slow assay labs and it is not the only stock that has been suffering. But as the saying goes, "Buy when it is boring, sell when it is exciting". The >1 Moz abnormally high-grade resource is still there and the company just wrapped up the 2021 drill program today with 8,000 m. I would be shocked if said resource did not grow… Potentially by a lot.
The NR stated: "Final sample results are expected throughout November, December and into 2022 due to continued delays at the assay labs principally due to protocols of the ongoing COVID-19 pandemic."
Grande Portage, like Cabral, looks to be in the ending phase of a very large consolidation pattern. A H&S formation? A complex C&H pattern? Ascending triangle? I don't know but many signs point to a potentially big break higher in the not too distant future IMO:
GMG (GMG.V)
GMG has put out two major news releases in two days and the stock has reacted on very heavy volume. Given the magnitude of the news and the clean RSI trend which was broken I am personally expecting a multi week/month climb higher:
FireFox Gold (FFOX.V)
Things are heating up in Finland and so have have FireFox with an aggressive plan to test four different targets in the coming months. Similarly to perhaps both Cabral Gold and Grande Portage it looks to me like FireFox is in the ending phase of a pretty major Cup & Handle Pattern:
Altamira Gold (ALTA:V)
Altamira has a resource and has been busy drilling the very exciting Mutum target but have yet to release any assays. A poster on CEO.CA stated he was in contact with the company recently and got this response:
"continuing to drill-test number of different targets within Apiacas permit drill results are pending – unfortunately labs in Brazil are backed up, expecting 1st sample to arrive in Nov also advancing exploration in other Apiacas block as well as Santa Helena"
By the sound of it they have been drilling more than I expected and in my eyes the chart looks interestingly similar to its Brazilian brother Cabral (Which might mean the sell off in both stocks could be due to jurisdiction):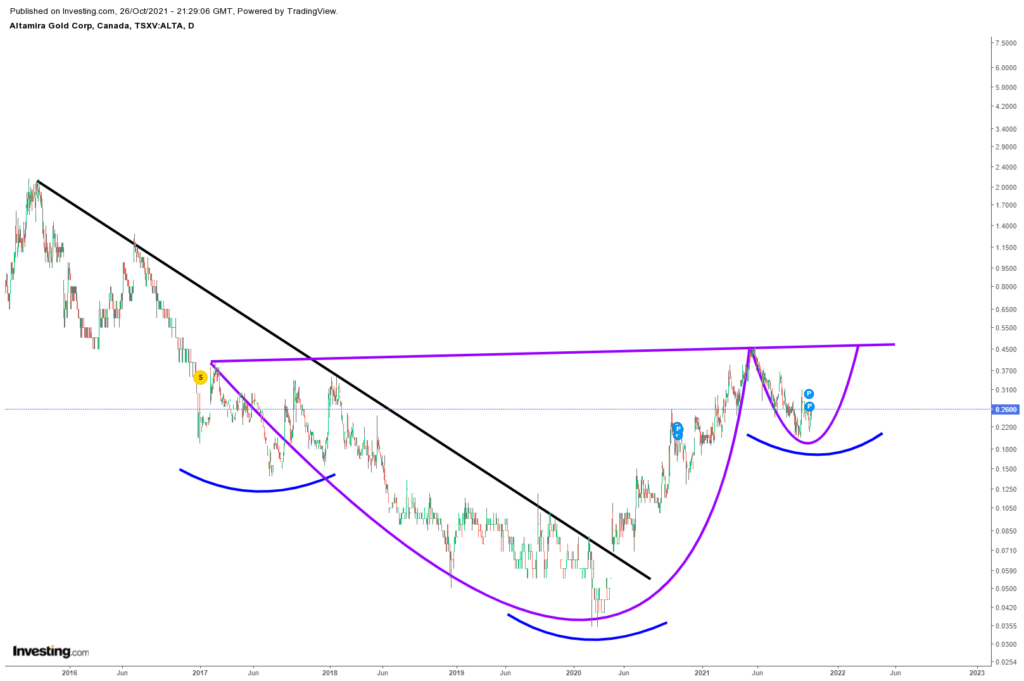 Eloro Resources (ELO.V)
Well I simply think the stock is simply forming a large bull flag consolidation: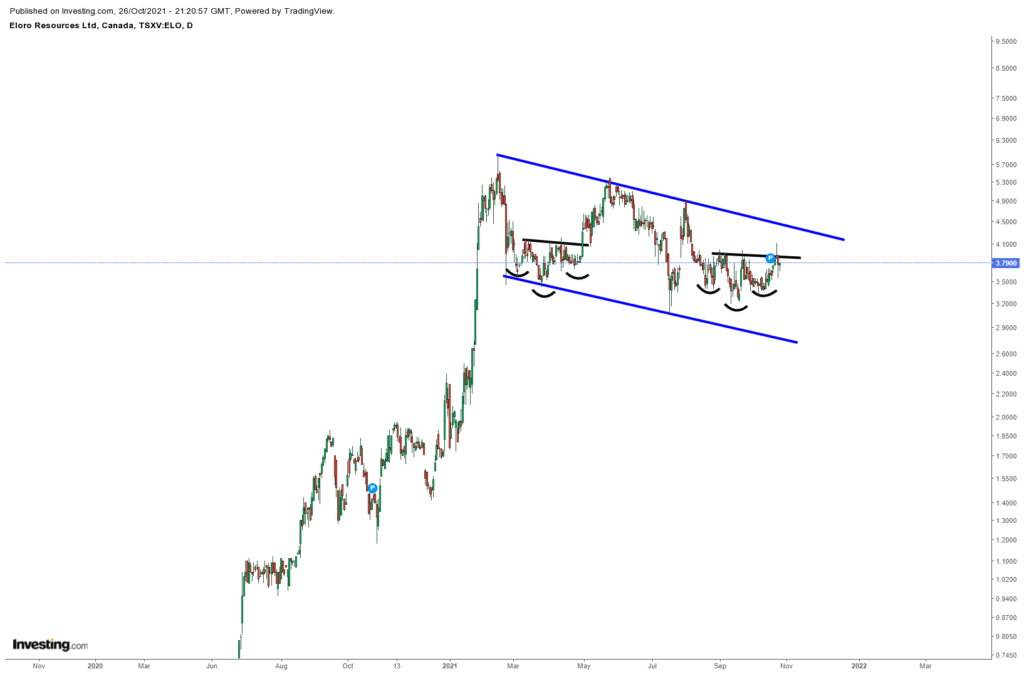 Enduro Metals (ENDR.V)
Enduro recently announced a new discovery (very early stage still). Anyway, the stock looks to have potentially made a break out from an almost 4-year long trend line and with a successful -retest: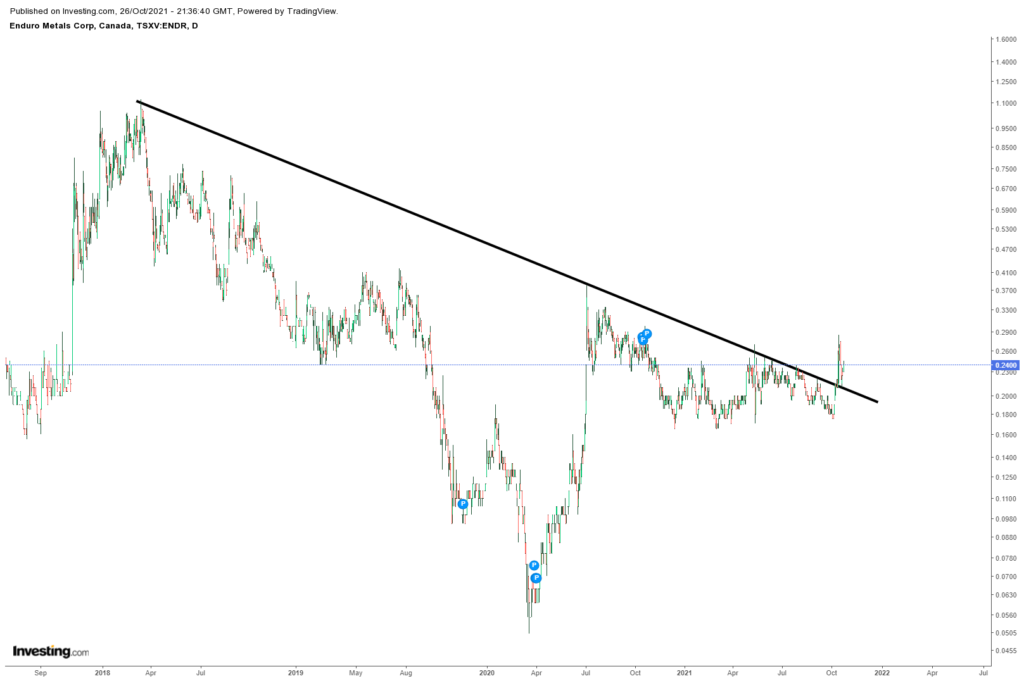 New Found Gold (NFG.V)
Doubling of the drill program to a whopping 400,000 m and an increase in drill rigs to 14…. Well New Found Gold just keeps on trucking with some corrections along the way:
Magna Gold (MGR.V):
This producer looks like it is waking up from its slumber…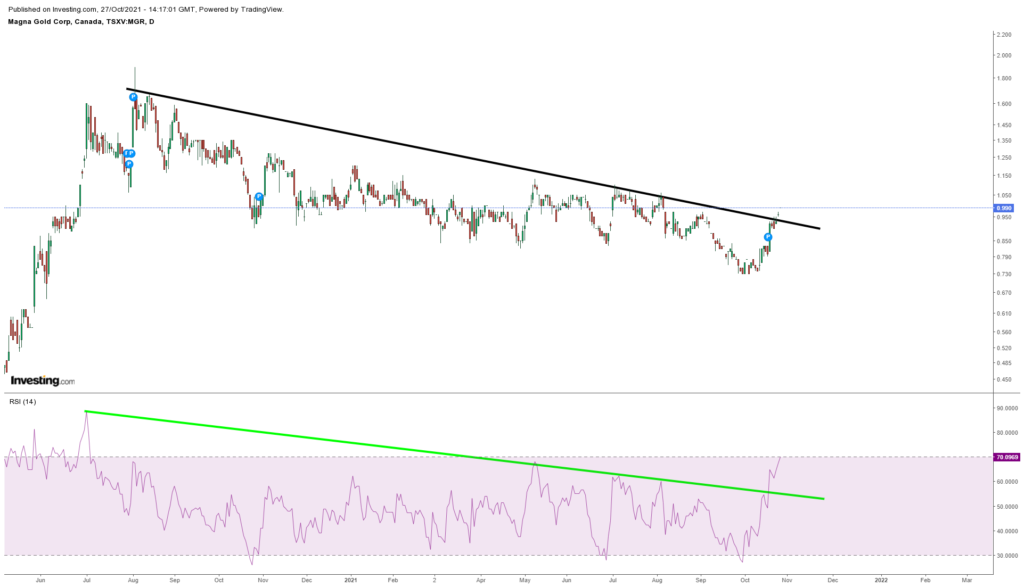 Note: This is not investing or trading advice. I own shares of all companies mentioned and all are banners sponsors of mine. Assume I am biased and do your own due diligence. Junior miners are risky and can be very volatile. Never invest money you cannot afford to lose etc.
Best regards,
The Hedgeless Horseman