In this piece I will try to explain why I own shares of Dolly Varden Silver and brought the company on as a banner sponsor to help get the story out there.
Flash News February 16:
"Dolly Varden Silver Intersects 45.82 Meters Averaging 304 g/t Silver at Torbrit Deposit; Expands and Upgrades Mineralization"
Dolly Varden Silver in Short
Ticker: DV.V
Website: LINK
Presentation: LINK
Market Cap (@ $0.69/share): C$87 M (US$71 M)
Cash: C$20 M
Enterprise Value: C$67 M (US$55 M)
Flagship Project: Dolly Varden Project, BC, Canada.

Resource: ~44 Moz of silver

Shareholders:

Hecla Canada: 11%
Eric Sprott: 19.9%
Management & Consultants: 5%
Insitutional: 50%
My Simple Case For Dolly Varden Silver
Dolly is part of my silver portfolio because it a) Has a high grade silver resource so I get leverage to silver and margin of safety, b) Is located in the Golden Triangle, British Columbia, which is a tier #1 jurisdiction, c) It is cashed up with around C$20 M in the bank, d) Crescat Capital (Quinton Hennigh) is a believer in the exploration potential e) Hecla Mining has continued to support Dolly Varden which I take as a big sign.
In Other Words:
Margin of Safety:

~44 Moz of high-grade silver

C$20 M in cash

Tier #1 jurisdiction

Additional Upside Potential:

C$20 M to spend on expansion and exploration drilling

Multiple targets

Natural buyer in the form of Hecla Mining

= Beta AND Alpha potential
The Golden Triangle in British Columbia is seeing a lot of activity today and I think that further success at any and all projects will benefit the rest. On that note while talking about Goliath Resources Quinton Hennigh stated that he believes that the region around Dolly Varden is a  "Mega district scale geologic play". I take that as a sign that a lot more ounces will probably be found by Dolly Varden and its neighbors which will result in a picture that could really interest large companies (Hecla's stake in Dolly is obviously a sign of that already). Once this area in the southern tip of the "Golden Triangle" reaches the critical mass, in terms of attracting a large mining company, every junior there will get a hike in implied value. In other words I see myself front running that potential change by getting into some of these juniors today:
On a personal note I own Dolly Varden Silver (DV.V), Goliath Resources (GOT.V) and StrikePoint Gold (SKP.V) whos land positions can be seen the in the slide above. Again, it should be obvious that progress at any and all of these projects would make it more and more attractive for a big company to come in for real because once a mill would be built there would be a lot of future, potential, mill feed sources in close proximity. If we look at the immediate area around Dolly Varden one should realize why the company would be a very natural (first) target for Hecla Mining: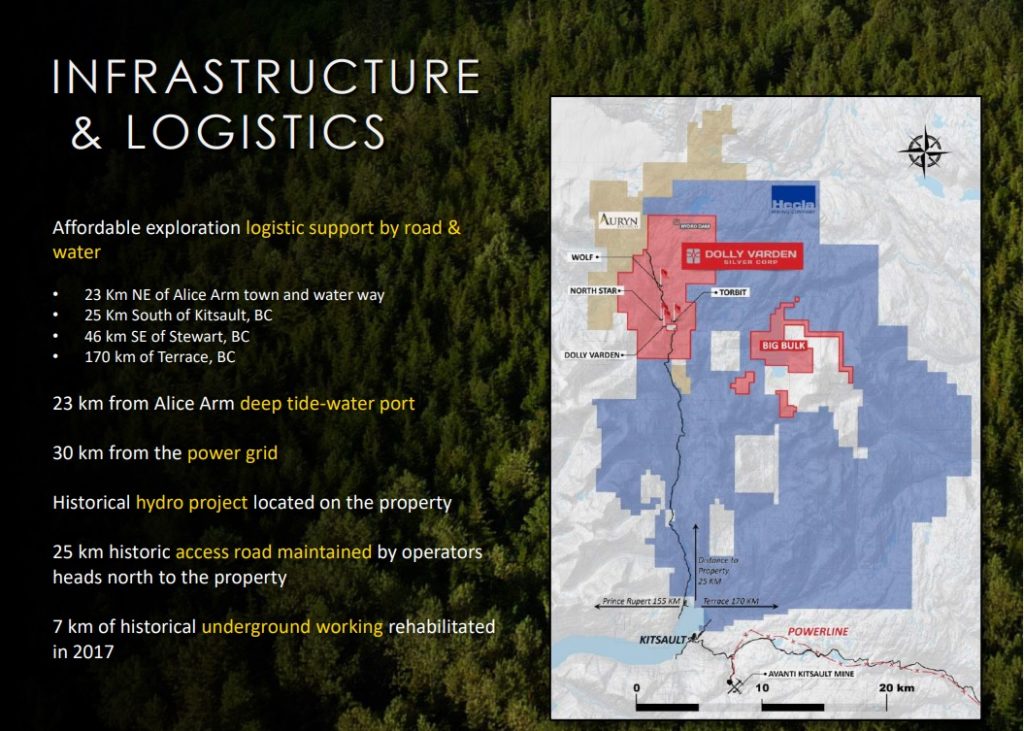 Honestly, I think it's just a matter of time before Hecla swallows Dolly Varden and that should not sound like a stretch given that a) Hecla already surrounds Dolly Varden and b) Hecla already is a significant shareholder of Dolly Varden.
My Even Shorter Case For Dolly Varden Silver:
One of the most advanced silver focused juniors in the Golden Triangle
Very cashed up with numerous exploration targets
Dolly Varden is the natural, first stepping stone for Hecla Mining
Dolly Varden – The Area's Most Advanced Silver Play
Dolly Varden Silver is the go to silver play in this area since it has a high-grade silver resource banked already:
The company has multiple zones/deposits that are included in the resource. Both the Dolly Varden and the Torbrit Mine saw historic production and were some of the richest mines around at the time:
Like with any junior silver company I want to see more than leverage to the price of silver. I want a case where there is ample room for a good management team to be able to create internal value. Thankfully, there should be plenty of exploration upside within the Dolly Varden project: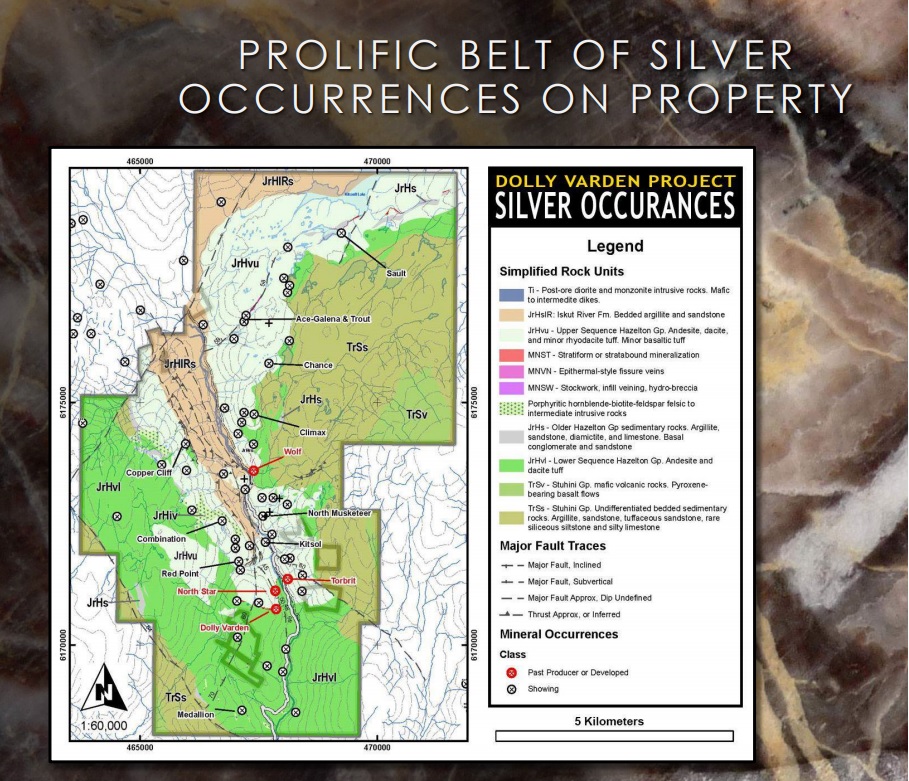 Do I think Dolly Varden will find more high-grade silver on this property with an impressive C$20 M in the bank? Yes. I would also point out that Crescat Capital (Quinton Hennigh) is an investor and Quinton prefers cases with significant exploration potential. If it's good enough for one of the best exploration geologists in the world then it is sure as hell good enough for me.
On that note Quinton said the following in a recent Crescat presentation:
They are testing some new targets which is what's needed at Dolly Varden… So I am excited to see that.
He then went on to talk about the overall area which Dolly Varden is active in and stated the following:
There are big companies kicking around… Hecla's in the area… But I know that a lot of majors are looking at what is happening in this area and I think it will be very dynamic over the next few years…
… I would just add that Quinton is very well connected and one of the most stand up guys I know so when he says this I believe it 100%.
Recent Discoveries
Quinton's belief that there is more silver to discover at the Dolly Varden project makes a lot of sense since the company has in fact made discoveries in the last couple of years already. The Torbrit North and Torbrit East discoveries showed some very good high-grade hits (mostly pure silver):
Another recent discovery is the "Change Zone" where the company has drilled both thick and high-grade intercepts:
I don't know many silver juniors that have a resource, multiple de-risked targets targets and deposits in a tier #1 jurisdiction (especially not with hits like this). A thing to note about Dolly Varden's silver resource is that it ONLY includes the (pure) silver portion because there was a lack of assay data for lead and zinc from the historic drilling. In other words the current resource is conservative and the AgEQ grade and total AgEQ ounces might be quite a bit higher.
Bottom Line
If you like silver then Dolly Varden is really something to consider given that the company has a significant high-grade silver resource in a tier #1 jurisdiction. With C$20 M in the bank and thumbs up from Quinton Hennigh I think that there is a relatively good chance that shareholders will see some serious value creation in the future. The fact that the company has a resource (plus  a lot of cash) gives shareholders that critically important margin of safety because even with little exploration success the banked resource isn't going anywhere. With Shawn Khunkhun steering the wheel I also think it is a well run company because Shawn is frugal and strategically minded (the substantial treasury is an obvious sign of that). The final kicker is that there is already a potential buyer lined up in the form of Hecla Mining which is also a significant shareholder in the company and has ground that literally surrounds Dolly Varden.
Some TA
To me it looks like Dolly Varden has broken out of a huge wedge, back-tested it and is currently consolidating in the form of a Bull Flag Continuation Pattern. The favorable fundamentals (cheap) coupled with a favorable chart that suggests that there is a revaluation higher in the cards is what I always hope to see in a case…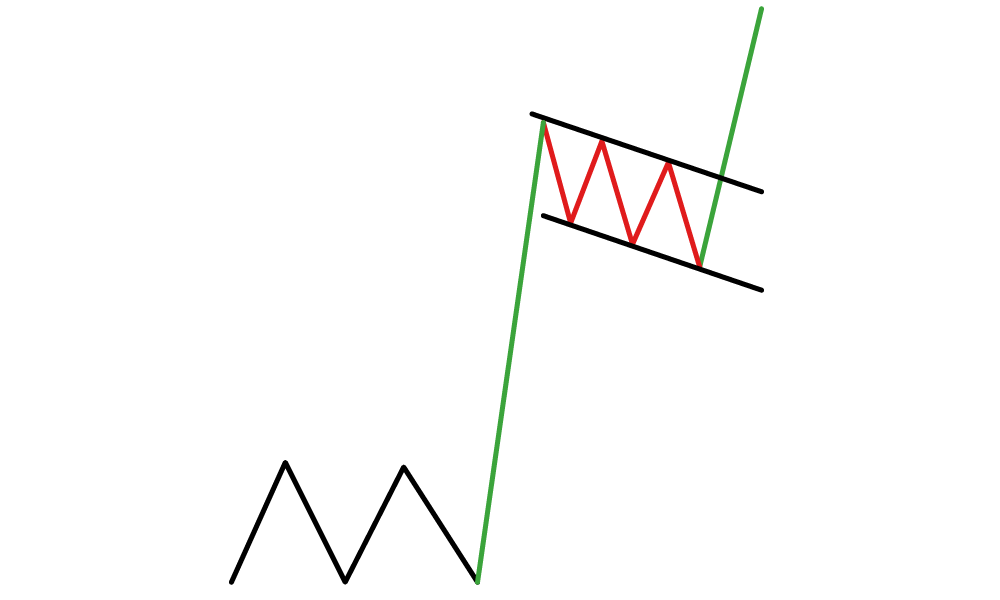 Note: This is not investment advice. I am not a geologist nor am I a mining engineer. This article is speculative and I can not guarantee 100% accuracy. Junior miners can be very volatile and risky. I have bought shares Dolly Varden Silver in the open market. I can buy or sell shares at any point in time. I was not paid by any entity to write this article but the company is a passive banner sponsor of The Hedgeless Horseman. Therefore you should assume I am biased so always do your own due diligence and make up your own mind as always!
Best regards,
Erik Wetterling aka "The Hedgeless Horseman"
Follow me on twitter: https://twitter.com/Comm_Invest
Follow me on CEO.ca: https://ceo.ca/@hhorseman
Follow me on Youtube: My channel