There are several companies out there that have not had material news out in months thanks to the remarkable backlog in the assay labs. Today I will do a short recap on one of these, which is Dolly Varden Silver, that I consider to be a sleeper currently. Oh and by sleeper I mean a stock that has gotten undervalued because the stock has been "boring" and therefore forgotten.  
(Original case on Dolly varden – LINK)
Dolly Varden Silver (DV.V) is one of few companies that actually has a pure, high-grade silver resource in a tier 1 jurisdiction (BC, Canada). Dolly Varden is a favorite of mine when it comes to silver juniors due to the previously mentioned factors as well as the potential for growth and that it is headed by Shawn Khunkhun whom I have great respect for. My original case for Dolly Varden has not changed (except for the company getting cheaper) and can be read here.
What attracts me the most to Dolly Varden is the unusually large Margin of Safety…
Margin of Safety:
~44 Moz of high-grade silver
C$20 M in cash
Tier #1 jurisdiction
Directly backed by and surrounded by a major (Hecla)
With Dolly Varden I'm not taking the speculation risk of grassroot exploration. The company already has an impressive, very high-grade, and pure silver resource in hand. The company is also more cashed up than almost any other junior so I have no worries of being diluted any time soon. This is especially valuable since the sector is in the doldrums currently. Overall I think the robust balance sheet speaks to Shawn's capital markets abilities and discipline (The CEO is the steward of shareholders money after all). As far as junior explorers goes Dolly Varden is probably one of the lowest risk options that I am aware of. It is why it is included in most of the family portfolios I help manage where I emphasis on "buy and hold" juniors that I don't feel the need to check up on very often…
Again, the bankable resource, the cash, the jurisdiction and the high-grade nature makes Dolly Varden stand out. The fact that the resource only includes pure silver makes it even more unique. With the company currently doing a 10,000 m drill campaign I also expect the silver resource to increase and who knows maybe there will be an additional discovery or two. All in all, I think Dolly Varden ticks more boxes than majority of juniors and I also think the quality is underappreciated by the market right now. The slow assay labs have probably helped bargain hunters further since the market seems to have forgotten that this jewel is quite active despite the lack of news… So far.
Some slides of interest from the presentation…
The opportunity in the words of the company:
Prime Location in The Golden Triangle:
Dolly Varden got Fury Gold Mines to the left and is surrounded by Hecla Mining. Furthermore it might not look like a big land package relative to Hecla's but the Dolly Varden Silver Project is 88 km2(!). Needless to say I think Hecla will be acquiring Dolly Varden in the future: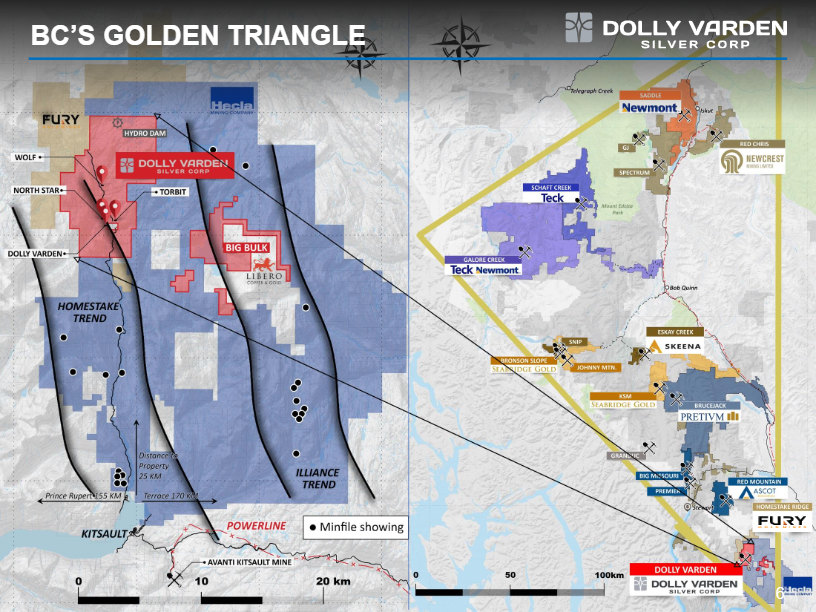 The banked success so far (note the grades and that is PURE silver):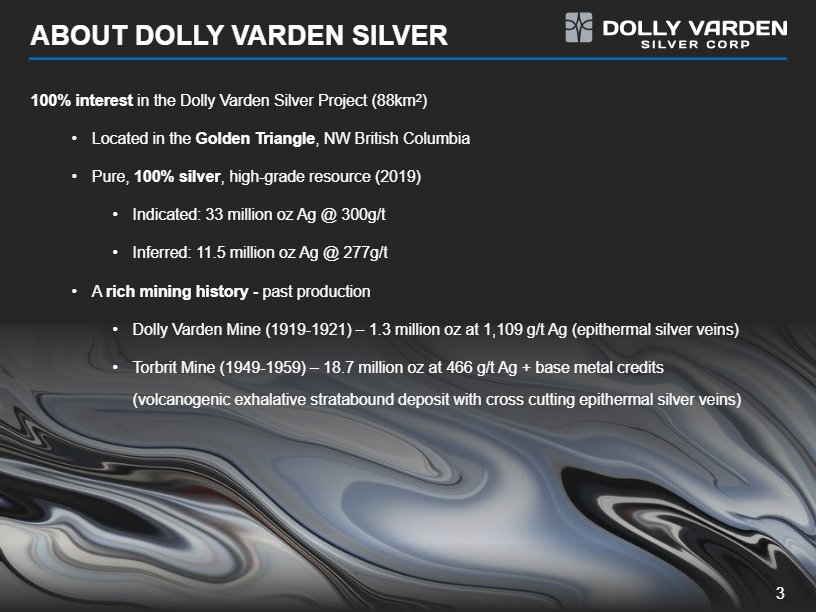 And given that assays from the ongoing 10,000 m drill campaign will be coming out in the coming weeks and months it's worth revisiting what kind of intercepts have materialized on this property:
… Those are some thick, high-grade intercepts. And again, these intercepts only include pure silver.
Nov 5 interview with Shawn Khunkhun:
Some Amateur TA
In my view Dolly Varden already broke out of a multi-year long wedge last year and has recently back-tested this major break out. If I had to guess I think there risks are to the upside which jives with the very robust fundamentals. Regardless, this is a HODL case for me and I would not be surprised to see it being acquired by Hecla sometime in the future, which would be a natural exit at hopefully all time highs (fingers crossed).
(Not trading advice)
Note: I own shares of Dolly Varden Silver and the company is a banner sponsor. Therefore assume I am biased, do your own due diligence and make up your own mind. This is not investing or trading advice. Junior mining stocks are risky and can be very volatine.
Best regards,
The Hedgeless Horseman