Tombill Mines (TBLL.V) is a company which has only been publicly listed since December of last year. It's a junior explorer that is currently exploring the natural extension of the huge >11.5 Moz Hardrock Project which Equinox Gold Corp recently acquired 60% of. I own shares of the company and agreed to have the company come on as a banner sponsor for reasons that will be outlined in this article…
Things that stand out with Tombill:
Family & Insiders own a whopping 61% of the company (latest data)
Exploring the natural extension to a 11.5 Moz system

With the closest drill hole to Tombill's ground assaying 18.49 gpt Au over 20.5 meters
The particular type of gold system is known to just go "on and on"

Three senior geologists/executives who were deeply involved with the creation of the 11.5 Moz Hardrock Project
Very low public float and a lot of well known institutional backers: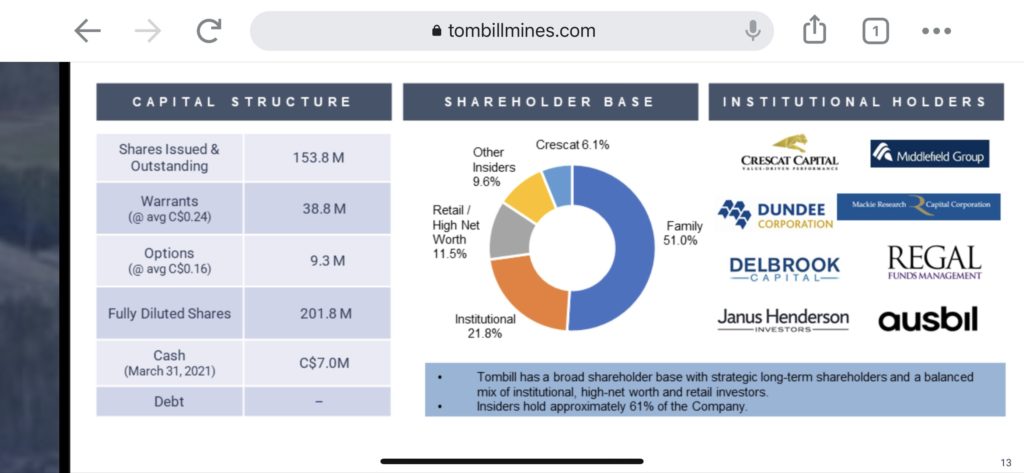 Then I would also add:
Tier #1 jurisdiction in "mining country"
Shovel-Ready neighbor in the form of the Hardrock Project

Main owner is the $3.2 B entity known as Equinox Gold
Build start scheduled for the second half of this year
Obviously a favorable environment for Tombill (synergies and natural buyer literally next door)
My Case For Tombill in Short
The people box is more than checked given all the experience several team members have from the Hardrock Project. Tim Twomey especially stands out since he was VP Exploration for Premier Gold when the company started on Hardrock. This means that the Tombill team fully understands the characteristics of this gold system which of course means that chance of success should be relatively high. With the most western hole at Hardrock having returned a whopping 18.49 gpt Au over 20.5 meters, and this hole being extremely close to Tombill's ground, it tells me that exploration success ought to be probable. I think this probable success is further highlighted by the fact that these types of system tend to just keep going.
Then we have the fact that as much as 61% of the company is owned by Family & Insiders. This tells me that management has all the reasons in the world to be efficient and effective when it comes to spending money and creating value. As a shareholder this is a big plus in my book.
Furthermore the project is located in a tier #1 jurisdiction and the main neighbour is a $3.2 B company that is highly motivated to get the Hardrock Project into production as soon as possible. This would further hike up the implied value of any success for Tombill.
Lastly there are several near surface targets spread across Tombill's greater land package and the company plans to test a total of 8 near surface targets. That's a lot of potential upside surprises on top of the deep drilling which will be targeting the extension of a 11.5 Moz gold system. In other words there are a lot of bullets in the chamber.
This is exploration so it's a high risk/high reward case even though I think the risks here are lower than in your average early stage explorer.
To Sum Up
Tier #1 People
Tier #1 Jurisdiction
"Probable" Upside

Extension of a "predictable" multimillion ounce gold system that is expected to go on and on

High Potential Upside

The extension of the Hardrock System + 8 near surface targets

Extreme skin in the game
Natural buyer in the $3.2 B Equinox Gold

Implied value of any success is higher all else equal

No Margin of Safety but diversification through probability of "extension" success + Amount of near surface targets
C$7.0 M in cash
Enterprise Value (@0.2/share): C$23.8 M (US$19.6 M)
Investment Highlights in The Words of The Company: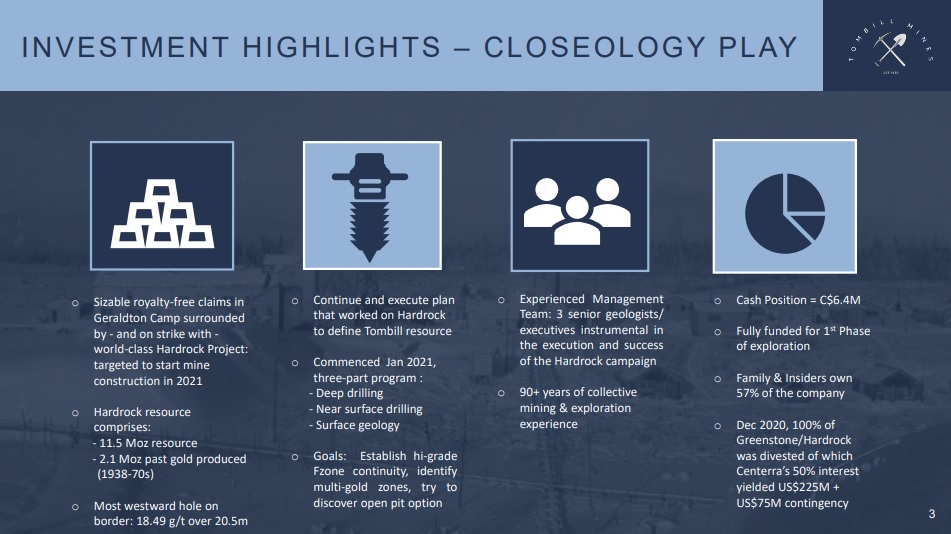 Upcoming Catalysts:
Drilling, drilling and more drilling from the deep drilling campaign.

A second rig was recently brought in to speed things up further

Geophysics, mapping and boots on the ground exploration
The Meat and Potatoes
#1. Place
Tombill's project is located in the very prolific Geraldton Gold Camp. The main evidence of just how prospective this area is comes in the form of the Hardrock Project which currently has a resource of 11.5 Moz on top of the 2.1 Moz of gold that was mined in 1938-70's: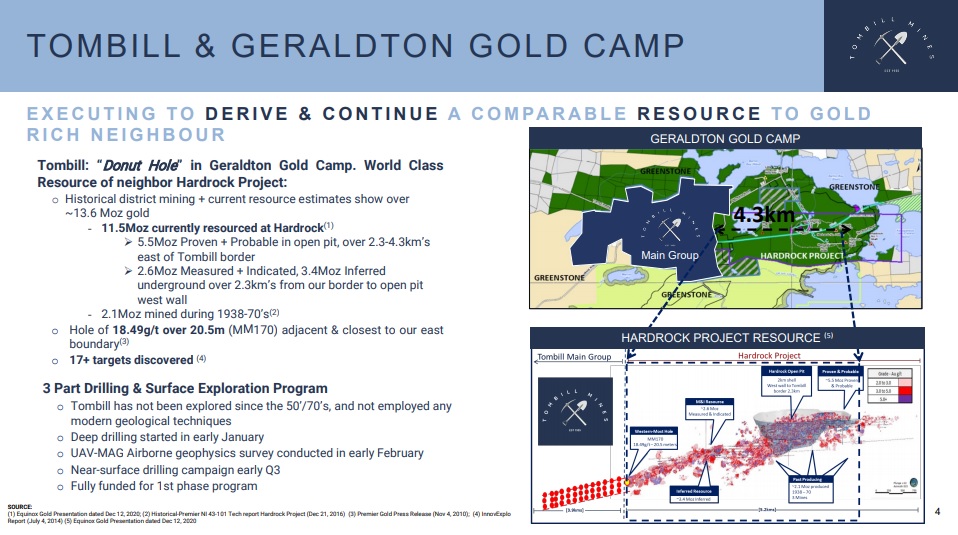 As you can see in the right side of the slide above Tombill's ground is IMMEDIATELY west of the hole that hit 18.39 gpt Au over 20.5 m. It's also worth noting that the Hardrock Project is shovel ready which means that this is one of those precious areas where a company can actually get a mine permitted and in a tier #1 jurisdiction at that. This is a very big deal since gold that can't get pulled from the ground is in essence worthless and an acquirer will only buy a junior like Tombill if it believes that the gold can actually be monetized. In other words Tombill has a lot more going for it relative to most junior explorers and it even has a multibillion mining company right next door.
#2. The "Probable" Upside
I love a junior that has "probable" upside and not just high potential upside. In a gold bull market my biggest nightmare is to own a lot of juniors that end up having no gold to speak of. This is why I rank Margin of Safety and Probable Upside higher than High Potential Upside (all else equal). Tombill does not have Margin of Safety because it does not have a resource but when it comes to Probable Upside I think it ranks higher than most other juniors. Why? Simply due to the slide below: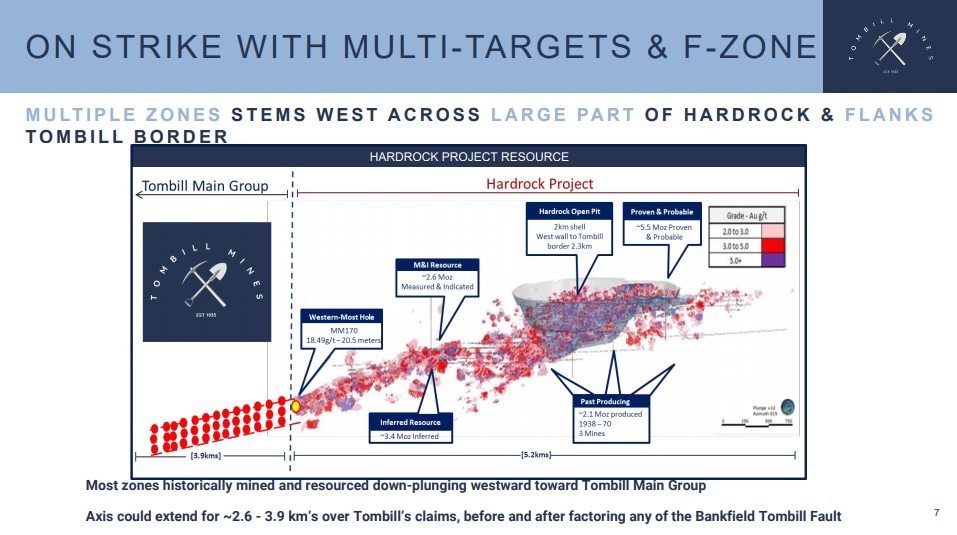 Whereas a typical grassroot explorer might have a 3% chance of actually finding a high quality gold system we already know that there is one immediately next door to Tombill. What is perhaps even more important is that these types of gold systems tend to NOT die out but rather go on for a long way. On that note, this is how Dr. Quinton Hennigh described it in his Crescat Capital presentation for Tombill:
"…I guarantee you, this deposit will be one of these things that keeps on going and going and going…"
So why is this such a big deal? I mean there are no shortage of "nearology plays" out there. The thing is that many systems are localized in some way shape or form. A porphyry is a "blob" and just because another company has ground that surrounds said blob doesn't mean there will be more blobs. A VMS deposit is relatively localized but tend to form in clusters . A typical orogenic system might have tens of kilometers of vertical strike but might have limited lateral strike etc. The type of system Tombill is dealing with however seems to be relatively HOMOGENOUS (unlike a LSE system for example which has a localized "boiling zone") and can just "keep on going". In other words there is no reason to believe that this system will not just keep on going onto Tombill's ground and perhaps even past it (but at much deeper levels I guess). This is a type of gold system where nearology is more valuable than most cases simply because it's actually an extension of the SAME system next door and it can go on for kilometers more.
This all translates to one of the most straightforward exploration strategies around. Tombill will simply drill past the 18.49 gpt Au over 20.5 m hole and beyond:
(screenshot from Crescat Capital's presentation)
… On surface it's pretty much as simple as it gets. I like simple. I like (relatively) probable exploration success. An interesting thing about the Hardrock Project is that there are multiple zones/targets. I think 17 have been identified so far. The main attraction however seems to be the F-Zone where Premier Gold (previous owner) hit some obscene intervals:
Highlighted Results from the slide above:
7.92 g/t over 114.5 m
5.49 g/t over 53.0 m
9.28 g/t over 28.6 m
4.36 g/t over 17.8 m (close to Tombill)
18.49 g/t over 20.5 m (close to Tombill)
I can only imagine what would happen to shares of Tombill if they snag something similar in a hole or two. Not that I expect them to simply hit barn burners like this from the get go. It is also worth to remember that several Tombill team members used to work for Premier and were the ones who helped delineate the deposit. In other words they know this system very well(!). Right now the company believes there is potential for 2.6-3.9 km of strike of this system to be present on Tombill's ground. 
#3. Additional Potential Upside
Even though the continuation of the F-zone is a no brainer target the company is even more ambitious than that. Tombill also plans on doing property wide exploration and has identified 8 near surface targets that will be tested. All in all there is a very aggressive exploration program outlined so if anything this stock should be far from boring:
On April 1 the company released an exploration update which included the following comments on the "Near-Surface Program":
Near-Surface Program

Past producers and explorers at Tombill did not emphasize the search for open-pittable low grade gold resources. This strategy was successful at the adjacent Hardrock property, resulting in the delineation of 5.5 million ounces of Proven and Probable reserves, 2.6 million ounces of Measured and Indicated resources, and 3.4 million ounces Inferred resources1, associated with past-producing mines and the identification of 17 separate gold zones. Tombill geologists are presently:

Conducting 3D modelling and interpretation of historical geologic data coupled with detailed drone magnetic data,
Putting in bulldozer trails to open access to near-surface targets in preparation for stripping of overburden.

Upon opening surface exposures at these targets, the focus will be on:

Conducting detailed mapping and sampling of stripped areas, and reconciling magnetics interpretation with observations of zone extensions and plunges,
Continual ranking of targets using a Bayesian system for the selection of future drill targets.
It's worth noting that the Hardrock Project will start as a lower grade open pit and then the higher grade zones will be mined from underground. This lower grade, "open pittable" mineralization is what Tombill will also be exploring for. Thankfully we know that the Hardrock Project is fully permitted which means that this is one area in a tier #1 jurisdiction where an open pit deposit can actually become a mine. In other words the implied value of any near surface, open pittable success is higher here than many other regions:
Bottom Line
As far as (relatively) high risk/high reward plays go I consider Tombill to be one of the better options in the space for all the reasons outlined in my investment case above.  Are there any guarantees of success? No, as there never are. I simply think that a) Chance of success here is higher than a typical early stage exploration story, b) Any success here should be worth a lot given the jurisdiction and how mining friendly the area is, c) Insider's huge amount of skin in the game means that they should be making decisions based on maximum Expected Value to shareholders, d) Said insiders have a lot of experience from the nearby Hardrock Project, and e) There is some obvious blue sky potential in light of the >11.5 Moz neighbor.
With the company being cashed up and having multiple drill rigs working I expect news flow to be rather juicy going forward. I am not betting the farm on Tombill but to me it is a story I want in my higher risk/higher reward part of my portfolio. For the more risk averse people it can be good to simply have the company on your radar and perhaps get in once a discovery hole has been confirmed.
Upcoming Catalysts
A lot of drilling (Ongoing deep drill campaign)
Geophysics, mapping and boots on the ground exploration
Further Due Diligence
Some TA
Not much to say except that it should get fun if/when the trendline which is being tested falls…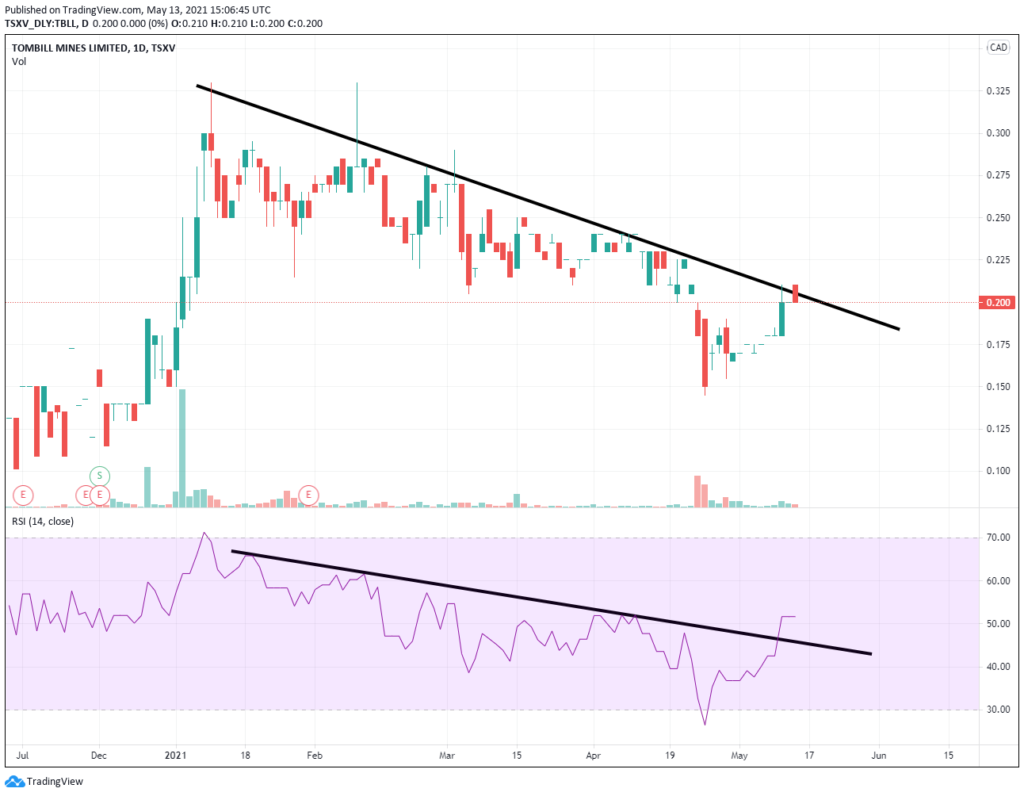 Note: This is not investing or trading advice. I own shares of Tombill Mines and the company is a banner sponsor. Therefore assume I am biased, do your own due diligence, and make up your own mind. Junior mining stocks can be very risky etc. I cannot guarantee the accuracy of the information in this article.
Best regards,
Erik – The Hedgeless Horseman