Oct 14, 2021
Tombill Mines is one of those rare exploration stories that almost immediately saw success and confirmation of the overall investment/geological case.
The case was/is simple: The experienced team believed that the high-grade "F-zone" which is part of the gold system which hosts >6 Moz right next door would continue on to Tombill's ground.
So what happened next?
Well Tombill immediately proved the model with a hit of 6.24 gpt gold over 13.3m as the company was indeed able to hit the F-zone. However the company has also been fortunate enough to hit an additional zone which the company calls the F2-Zone which was hit some 50m below the F-Zone. Highlighted intercepts of 13.88 g/t over 2.0m and 9.17 gpt over 3.0 m have been reported.
Some highlights from the so far limited drilling of the F-Zone includes:
6.24 GPT Gold Over 13.3M

5.29 GPT Over 8.0M

8.15 GPT Over 4.1M

6.08 GPT Over 2.0M
The case for Tombill, as I see it, is not simply these high-grade results but rather the context of these results…
If these hits came from a project in some remote area far from good infrastructure and larger mining companies then I would be less interested. The thing about Tombill is that these results came from a location which directly neighbors a large mining company called Equinox Gold who is busy developing the Hardrock mine: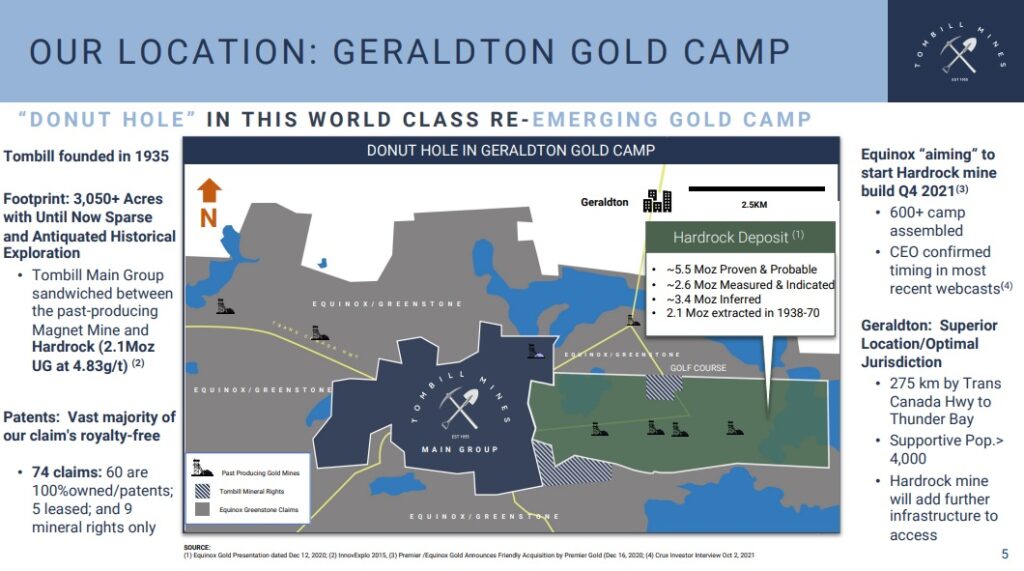 This mine will be mining the F-Zone a few hundreds of meters to the east of where Tombill hit the F-zone: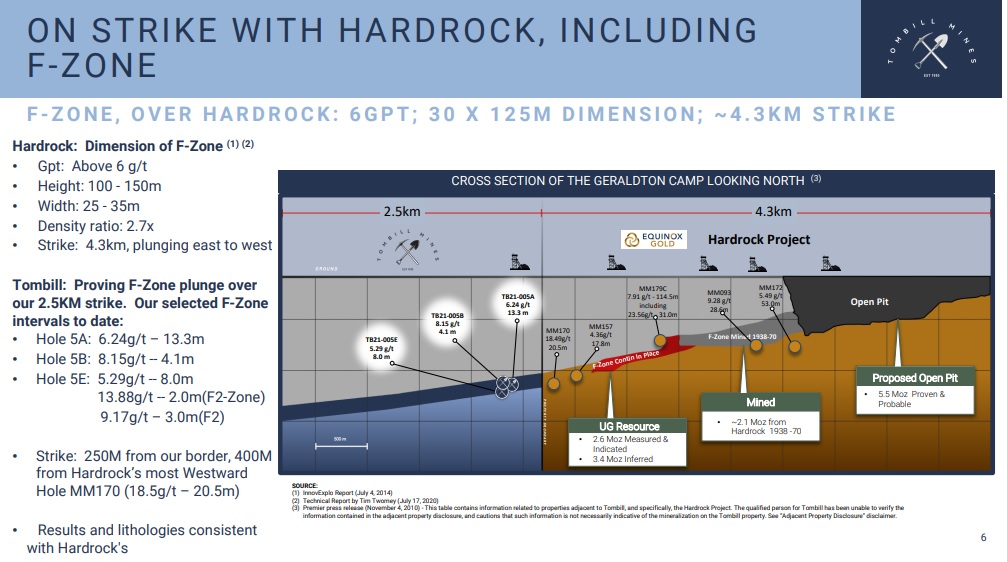 Tombill is basically drilling up future resources for its much larger neighbor in my view. With soon to be a lot of sunk costs in place right next door the implied economic value of any ounces found by Tombill will shoot right up. 1 Moz of gold here might be worth >3X the sector average if I had to guess. Thus, drilling here should have abnormally high ROI aka "bang for the buck". This is very helpful since it mitigates the added costs of Tombill drilling relatively deep holes: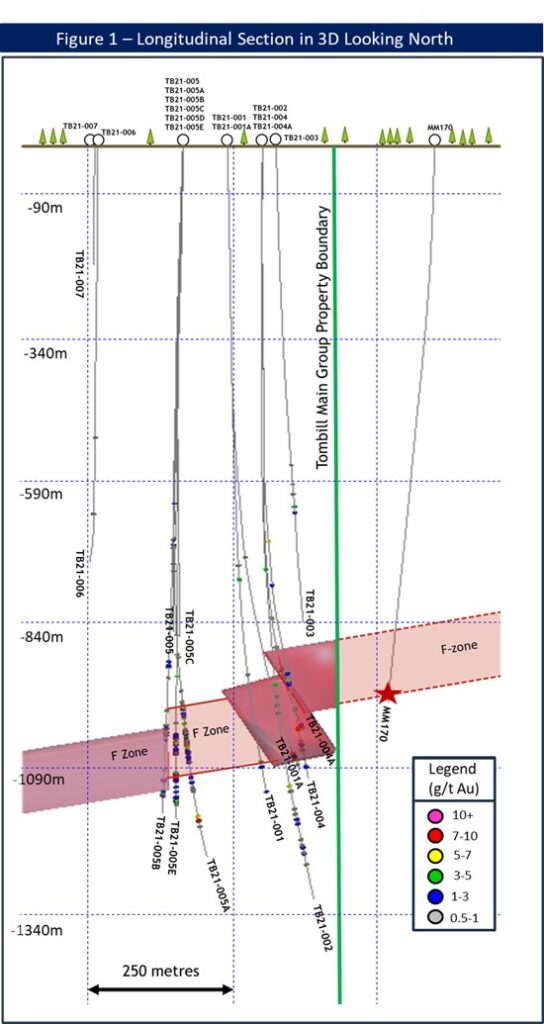 The company had this to say in the most recent news release:
Tombill are encouraged by the number of other multiple subsidiary zones that the drilling has intersected both above and below the main F-Zone target. These subsidiary zones are relatively narrow where they have been intersected due to their different plunge orientation when compared to the F-Zone. It is anticipated that these zones will be the focus of additional work after the F-Zone has been more fully delineated.
The F-Zone and the newly discovered F2-Zone are not the only arrows in Tombill's quiver however. The company is now also actively exploring surface and near surface targets.:
First up is the Talmora Target (top right in the slide above) according to the most recent NR:
"In tandem with Tombill's deep F-Zone drill campaign, the Company is also undertaking aggressive surface exploration. A near-surface drill program started some two weeks ago on Tombill Main Group's Talmora target located in the northeast corner of the property in areas surrounding a past producing Talmora gold mine. To date, two holes have been completed in the 300 to 450 metre range, and a third hole is currently in progress. The target is a broad zone believed to have potential for disseminated mineralization."
Quinton Hennigh, Geological Director for Crescat Capital, wrapped it up nicely:
"It is great to see Tombill advance both deep and shallow exploration on this underexplored gold project in what is proving to be one of the most prolific gold camps in Ontario. Recent drill results continue to support the thesis that the prolific F-Zone persists unabated onto Tombill's property. And as for shallow gold mineralization, it is logical that strong potential exists at Tombill given that adjoining properties host a number of such gold deposits. Talmora is the first of several shallow targets the Company plans on testing over coming months. This story is just beginning."
Closing Thoughts
In short order Tombill Mines has gone from having theoretical potential, based on the logical hypothesis that the high-grade F-Zone would continue on to the company's ground, to having confirmed it with multiple high-grade hits and discoveries of additional veins. I would expect Tombill to have further drill success and therefore continuously hiking up the "margin of safety". I am also happy to see the company not stopping there but also being ambitious in regards to try and find additional deposits at shallower levels as well. The company is well cashed up with around C$7 M  (~C$20 M  MCAP) if I am not mistaken so a lot of tools for value creation are in hand. With insiders owning around 61% I better believe that the money will be put to good use as well.
In light of the above the case from a Risk/Reward perspective has changed a lot for the better and the limited response by the market so far prompted Bob Moriarty to write an article titled "Tombill Hits but Gets no Respect".
I would say that the company is already cheap based on the early success in the high-grade F-Zone (and related zones) and I am getting all the shallow targets for free.
Note: I own shares of Tombill Mines and the company is a banner sponsor. Therefore assume I am biased, do your own due diligence and make up your own mind. This is not investing advice. Junior miners can be very volatile and risky. Never invest money you cannot afford to lose. Assume I may buy or sell shares anytime. I cannot guarantee the accuracy of the content in this article.
Best regards,
The Hedgeless Horseman