First of all I would like to thank Invest Yukon and Snowline Gold for inviting me.
Snowline Gold
Obviously the Yukon junior I know best is Snowline Gold which has been a large, to a very large, position for quite some time. I already knew the story well but I was very excited to actually see the historic Valley discovery first hand. In other words I saw the visit as a chance to confirm the case as well as get the satisfaction of actually seeing what I have only seen pictures of.
There were a few things that surprised me in a positive way however. First of all the company plans to be very aggressive in terms of testing new targets. I think this is a great move given that investors will need increasingly bigger and/or more carrots as the Valley discovery matures with time (And the Market Cap with it). On that note one of the company's philosophies is thankfully "going big":
And big(ger) will be needed, the higher the Market Cap gets, in order to move the needle for obvious reasons. If I remember correctly the company believes it has up to 30 RIRGS (Valley/Fort Knox type) targets within their enormous land package. Then there are of course other types of large scale targets, such as the Tosh and Cliff trends which will be tested this year, and of course Ursa etc etc. Snowline is pretty much a junior explorer with one world class deposit and the exploration potential of a Major mining company in my eyes. What is interesting, and perhaps typical of a high profile success story, is that people seem very polarized when it comes to Snowline. I spoke to some who believed that the company is overvalued and other people (actual shareholders) argued that the Valley deposit alone could easily fetch a $2 B price tag alone. Personally I think that people who just see Snowline as having Valley will see it very differently to people who can appreciate the unconventionally large exploration potential that comes on top of Valley.
Another surprise was that after seeing the actual valley, which gave the "Valley target" its name, I am rather  positive on the topography. Just looking at satellite images and/or slides does not give it justice. The valley is wide and the ground is thankfully quite flat:
Another beauty is that the Valley deposit is very homogenous with gold bearing rocks as boring as can that covers a huge area. Below you can see some outcrops (and I of course took some samples from this historic discovery home with me):
Below is a picture of a bunch of core… And it all kind of looks the same. Just "boring" rocks cut by numerous small veins:
The fully functioning Forks camp:
Other Thoughts
I did not visit Snowline expecting to be converted since I was already a believer. It was however incredibly rewarding to see the project with my own eyes. Furthermore it seems Scott (the CEO) has put together a superb team of people and his overall strategy/vision for Snowline makes perfect sense to me. Examples of this would be, as mentioned earlier, that exploration focus is put on (big) targets that can move the needle even for one of the larger juniors in the space Market Cap wise. There is also work already being done in the background which will be needed if/when Valley is to become a producing mine. This is to already be ready for the next step in development when the time comes and thus shorten the time frame (increase the NPV). Scott and the company has also put a big emphasis on involving the first nations from the get go and the motto for the company is to to things "right".
From an investor's perspective
I don't think the overall case has changed that much since I wrote this article a year ago or this video I did in Dec of 2021 when it was trading at 60 cents.
The idea was that the Valley target had a good chance of ending up being worth more than the Market Cap while getting one of the largest portfolios of any junior for free. What has happened since is that the Valley target is pretty much confirmed to be a world class deposit and as mentioned earlier I know a few large shareholders who argue that Valley alone could very well be worth a couple of billions. But lets say that Valley is worth $1 B and you still end up with a Margin of Safety and thus getting the truly enormous exploration portfolio for free: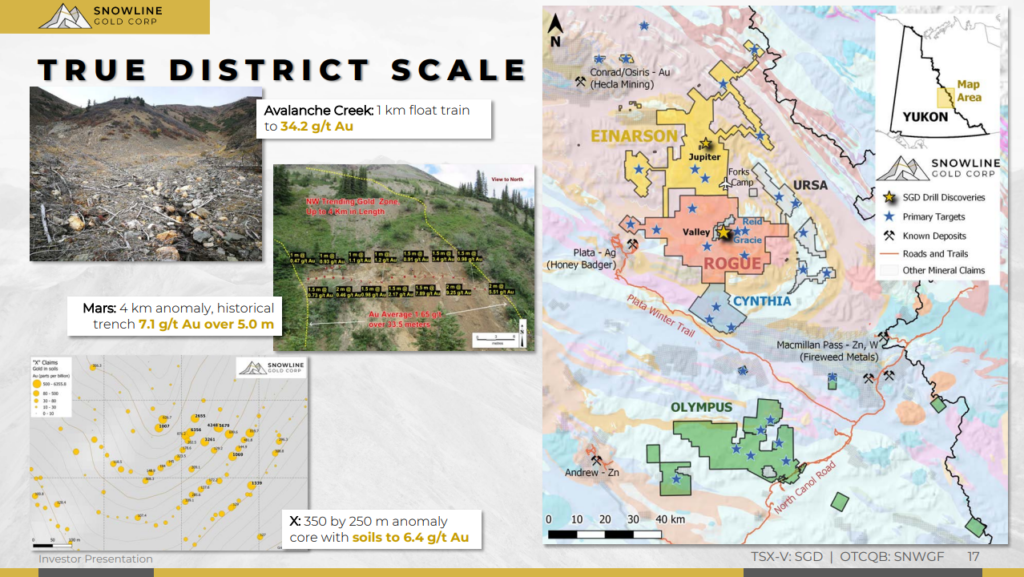 I mean just think about it. Snowline has tested three targets with drilling and that would be Jupiter, Valley and Gracie. That is just three out of >>30 targets with an abnormal hit rate so far to boot. Would it be shocking to see Snowline make a couple or even several more discoveries in the coming years? I don't think so. And if we assume Valley covers the current Market Cap at face value then all potential (and upside) of the portfolio costs a buyer nothing. Don't get me wrong, there are other juniors out there with Margin of Safety and free exploration pipe lines but said pipe lines are typically a fraction of Snowline's. This is the simple rationale why I am keeping Snowline as a fairly large position in pretty much all long term (HODL) portfolios I manage.
The price has gone up lately but it has gone up with more confirming evidence of Valley being the real deal. And as the confidence in Valley increases it also decreases the critical threshold for success, and increases the implied value,  for all other targets in the area at the same time. For example lets say there are 6 deposits to be found within a 30 km radius from the Valley deposit and the deposit sizes are 2 Moz, 2 Moz, 3 Moz, 3 Moz, 4 Moz and Valley (~10 Moz). If 8 Moz is required to warrant development in this area then none of the other five deposits would reach critical success on their own and thus be considered "worthless". With Valley being large enough to warrant development (infrastructure) maybe all the other deposits could then be mined some time in the future thanks to the sunk costs that would be present at Valley. All of a sudden all those deposits could go from being worthless in isolation to being mine worthy all thanks to the pre-existent Valley discovery. No doubt this is something that Clive Johnson of B2Gold is keenly aware of.
In short I think Snowline is still one of the best HODL cases due to:
World class discovery in hand
Immense pipeline of exploration targets
Highly competent management with a lot of skin in the game
Cashed up

Enough for 1-2 years if I had to guess

Third party validation

B2Gold
I simply believe that Snowline could still be growing several years from now and that the overall trend in the chart below will continue: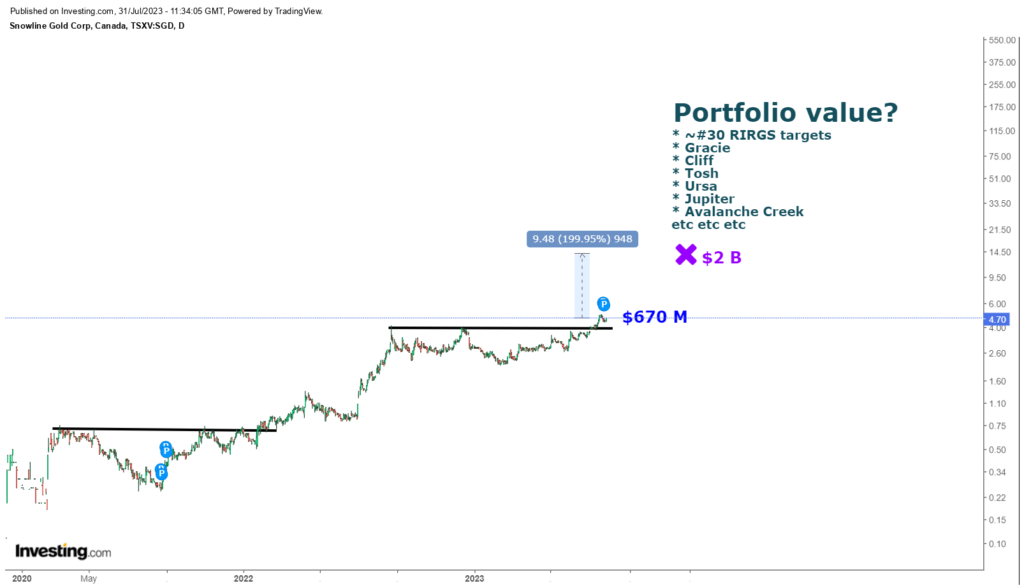 Additional pictures from the site visit…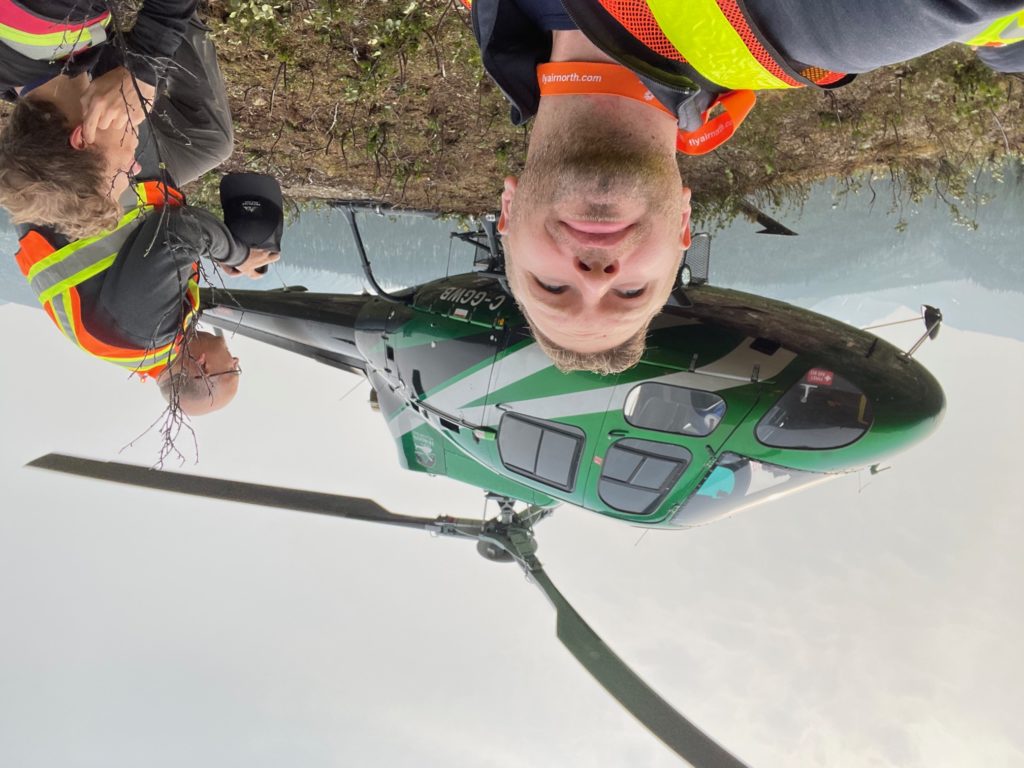 And the best for last… This view was surreal:
A tear fell down my cheek. $SGD pic.twitter.com/gfqqMGRffQ

— TheHedgelessHorseman 🏇 (@Comm_Invest) July 19, 2023
Note: This is not investment advice. I am a shareholder of Snowline and am thus biased. I cannot guarantee the accuracy of the information in this article. Do your own due diligence. Juniors are risky.
Best regards,
THH