News from NuLegacy GOld (NUG.V) dropped today: "NuLegacy Discovers Thick Package Of Favourable Wenban5"
A few snippets to note (highlights by me):
"A comprehensive geologic review and geophysical studies of the project over the past eighteen months resulted in the hypothesis that a thicker package of possibly gold-bearing Wenban5 underlay the covered Rift Anticline target 2,500 meters west of the Serena and Iceberg deposits. Importantly, this hypothesis is further supported by the fact that the high-grade gold bearing Wenban5 at Nevada Gold Mines' Goldrush deposit 11 km to the northwest is at least 70 meters thick. Initial logging of the core from the two just completed holes (detailed below) has identified favourable hydrothermal alteration consistent with a Carlin-type gold system being hosted in the Wenban5 of the Rift Anticline target."
"Geological model confirmed: The first two holes completed into the Rift Anticline target validate our exploration team's expertise and geo-modeling capability in having correctly projected and targeted the favourable Wenban5 horizon, and the presence of a Carlin-type gold system which was intercepted at a depth of approximately 350 meters with a thickness of ~ 175 meters."
… In other words it sounds like the thickness of the most favorable host rock for Carlin style gold deposits in the area seems to have surprised to the upside and looks to be a lot thicker than at Barrick's 10 Moz Goldrush deposit next door:
If any of these five holes run in terms of grades then we might be in for something truly epic. First assay results are expected in late December and given how the chart looks I would not be surprised to see a nice rally going into them: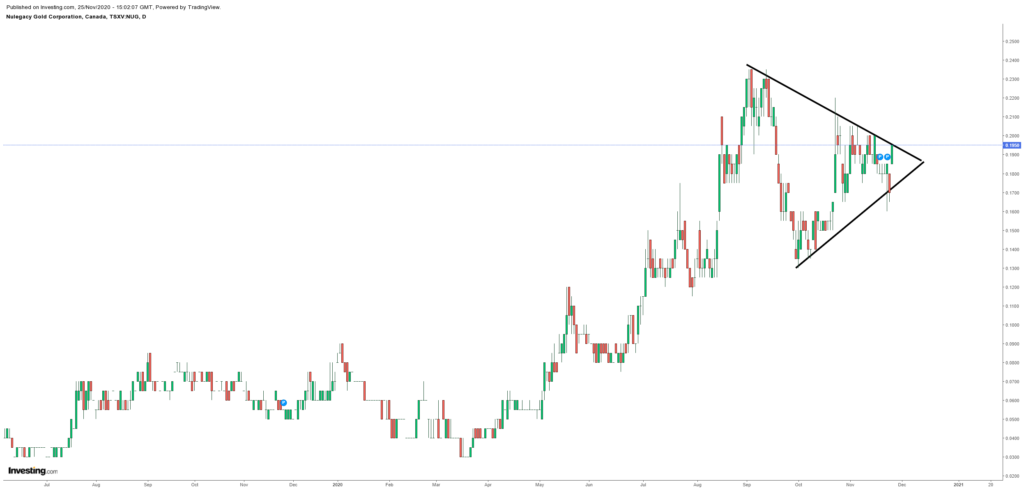 Note: This is not investment advice. I own shares of NuLegacy Gold so consider me biased and make up your own mind.