On July 20 we got a news release titled: "Lion One Discovers Tuvatu Style Lodes at Banana Creek; Accelerates Drilling"
I urge people to read the news release because it contains a lot of information. Anyway, we learned that they have sampled high grade gold in numerous prospects within the Navilawa Caldera but outside of the Tuvatu area which has been the only area of focus up until now.
Some results from the rock chip Bench sampling:
0.25 m of 11.69 gpt at Kingston
0.60 m of 39.74 gpt at Bananda Creek
0.46 m of 15.37 gpt at ObaRidge/Banana Creek Access
0.70 m of 10.82 gpt at ObaRidge/Banana Creek Access
0.8 m of 31.22 gpt at Vunilolo
… Classic narrow high grade mineralization in other words spread across prospects a few kilometres away from the current Tuvatu resource:
We also got assays from two drill holes:
… Again, narrow but quite high grade hits, but note just how many hits they got from just two drill holes. There are numerous narrow gold bearing intercepts. Most of these intercepts might not be economic on a stand alone basis but the thing to remember is that the MAIN prize that Quinton has talked about are the potentially very high grade feeder zones at depth. This thesis is why Lion One has gone very aggressive and will soon have a third drill rig working in Navilawa. As Quinton points out, during the Lion One Presentaiton in January during MIF, Porgera (another giant alkaline gold system) was drilled for years and years before they hit a root feeder… And that was what made Porgera into a world class mine:
(Ps. I recommend watching the whole presentation a few times) 
Anyway, Quinton pushed Lion One to swing big and spend money on trying to show that the current Tuvatu deposit is just the tip of a one iceberg among a cluster of icebergs. I say this because the company has done CSAMT which suggests that there might be several feeder zones within the 7 km in diameter Navilawa caldera. A feeder zone is basically where a "vein swarm" like what the shallow parts of the Tuvatu deposit looks like will come together at depth. Quinton also states that he expects the grades to go up on top of the mineralized veins coming closer together. A double whammy if you will.
Anyway, as I stated earlier while talking about the two most recent holes, most of those intercepts might not be economic on a stand alone basis. But, what will happen if they come closer and closer together as Lion One follows these veins at depth? 0.3 m of 8.94 gpt might not be economic in itself but if there are several of similar type veins coming together then the gold concentration in a given section will go up a lot in terms of gold/m3. If grades increases at the same time then it would be a perfect storm obviously.
Here are some of the many potential feeder zones according to the CSAMT results:
Here are some slides showing how the high level expression of the Tuvatu lodes opens up "like pages of a book", to quote Quinton, as they get closer to surface:
… You should be able to discern that the top edge of the lodes are farther apart than the bottom edges (that is only limited by drilling).
These alkaline systems are known to reach depths of well over a kilometer and the current Tuvatu deposit, which has only been limited by drilling, is only down to around 350 m. The holes that have been drilled deeper have obviously confirmed that the gold mineralization continues at depth and the goal has been to see if the concept of high grade feeder zones at depth is valid and to see if the CSAMT surveys can accurately predict where they would be located: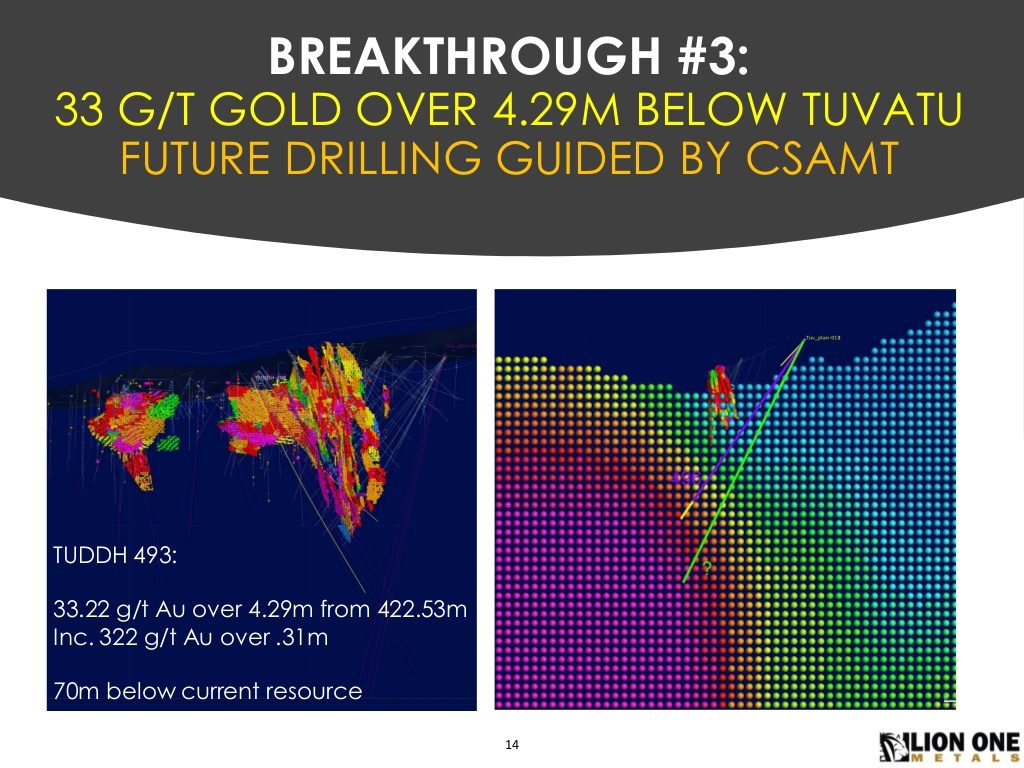 So in essence the bold blue sky vision Quinton had for the seemingly enormous alkaline gold system within the Navilawa Caldera was that there would be these high grade feeder zones at depth, akin to what was ultimately discovered within the giant Porgera (25 Moz) and Lihir (40 Moz), which are also alkaline gold systems.
Since it for example took over 100 drill holes to find the Romane vein feeder at Lihir, coupled with this being the very first attempts at finding a feeder zone below Tuvatu (if there even was a high quality feeder zone), I expected it might take the company months and many drill holes before any potential success…
But lo and behold, only a friggin day later, we got this NR: "Lion One Feeder Drill Hole Encounters Significant Gold Mineralization in Diamond Drill Hole TUDDH500"
"North Vancouver, B.C., July 21, 2020 –  Lion One Metals Limited (TSX-V: LIO) (OTCQX: LOMLF) (ASX: LLO) ("Lion One" or the "Company") is pleased to announce it has encountered visible gold in approximately 1 cm wide veins  at a down hole depth of approximately 583 m in diamond drill hole TUDDH500 at its 100% controlled Tuvatu alkaline gold project, Fiji. Hole TUDDH500 is west oriented hole at an inclination of approximately 65 degrees and is designed to undercut the Tuvatu lode network in a position where these lodes are postulated to connect to form a possible feeder structure. A profound, deep-rooted, controlled source audio-magnetotelluric gradient is evident in this area providing technical support for this hypothesis.
A network of veins, each measuring a few mm up to two cm wide, has been intercepted, some displaying coarse clots of visible gold particularly those at a depth of approximately 583 m (Figure 1). Drilling of this hole will continue to it is planned termination at 1,000 m once it has passed across the entire feeder target. Core drilled to date is currently being logged and will soon be sawed, sampled, and assayed. Lion One will release more information on this important hole as it becomes available."
… Note the "network of veins" which are located "approximately 583 m" down hole. That sure sounds like a zone where these "pages of a book" are coming together at depth. So that's step 1) but how about the theory that grade might improve also?
Well take a look at this core picture that was included in the news release: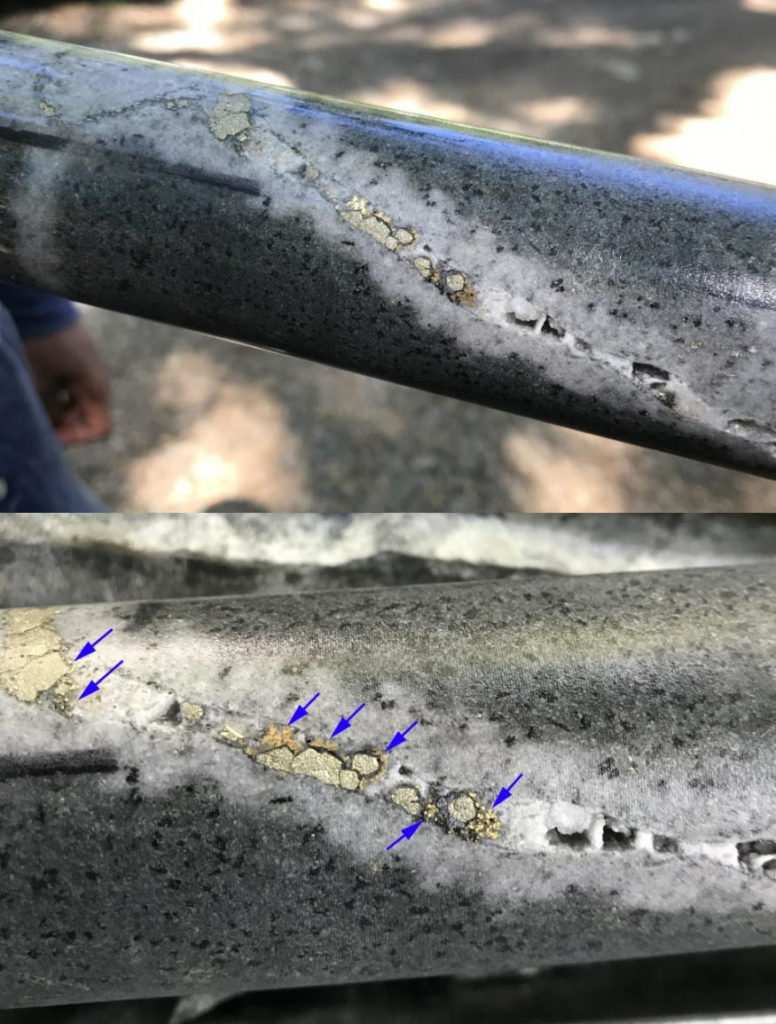 … That vein is peppered with (really) visible gold. Is it a thick vein? No. Does it look like it contains a lot of gold? Yes. It almost looks akin to a carbon leader if you know what I mean. Anyway, the thing to note is that these veins might obviously be even richer on top of the veins coming together. Now I don't know what the grade will be but lets say you have some narrow bonanza coupled with some high grade veins within a span of a couple of meters. That sounds like a possible bulls eye. Also keep in mind that this is the first bloody hit and we have no idea if this is a) above or below average for this feeder zone, b) if they will hit even more veins as the hole continues, and c) if it gets even better at depth (thicker, higher grade?). I mean if this was hit 583 m down hole then the true depth might be 450 m or something (I haven't done the calculation) and these systems can extend to 1.5 km. In other words it's not this narrow, high grade looking vein that is the big deal in my opinion, but that the concept of higher quality root feeder zones looks to be materializing.
Thing to keep in mind: The Romane vein At Porgera is only 3-4 cm wide and it turned Porgera into a world class mine that is operated by Barrick.
In essence we might get proof of concept of Quinton's vision a lot sooner than I would have expected. Not only for the feeder zone concept but also that the CSAMT surveys can INDEED quite accurately predict where these feeder zones would be located… And there is no shortage of feeder zones to test if THIS IS IT:
Oh and combine all those potential feeder structures with gold being found on surface along 7 km and then top it off with the BLEG sample results which suggests this might be one whopper of an alkaline gold system:
(current Tuvatu resouce which only goes down to 350 m is circled in black)
Ps. The BLEG samples suggest there is even gold being shed in areas past the limits of the Caldera as well(!).
For C$222 M you currently get:
2015 PEA the economics at $1,680 gold for the Tuvatu starter project was an IRR of ~117% and a NPV of ~$245 M

This is a fully permitted and shovel ready project with some earth works done already. 
It does not include any of the drill hits over the last few years.
(The starter project is being redesigned with guidance from David Tretbar but you get a hint of what kind of value is "banked" already)

Any and all upside within the entire Navilawa caldera including every single potential feeder zone
An iron ore royalty on Olary Creek
C$15 M in cash
Is one even paying full price for what value the company has already created and got banked? If not, then this might be a "head I lose little to nothing, tails I win" situation. Food for thought.
To say that I think Lion One is undervalued and one of the absolutely best risk/reward cases that I know should not come as a surprise.
This is why I think the risk is to the upside and the chart looks like a god damn pressure cooker that should let off a lot of steam as soon as say $2.05 is broken for real: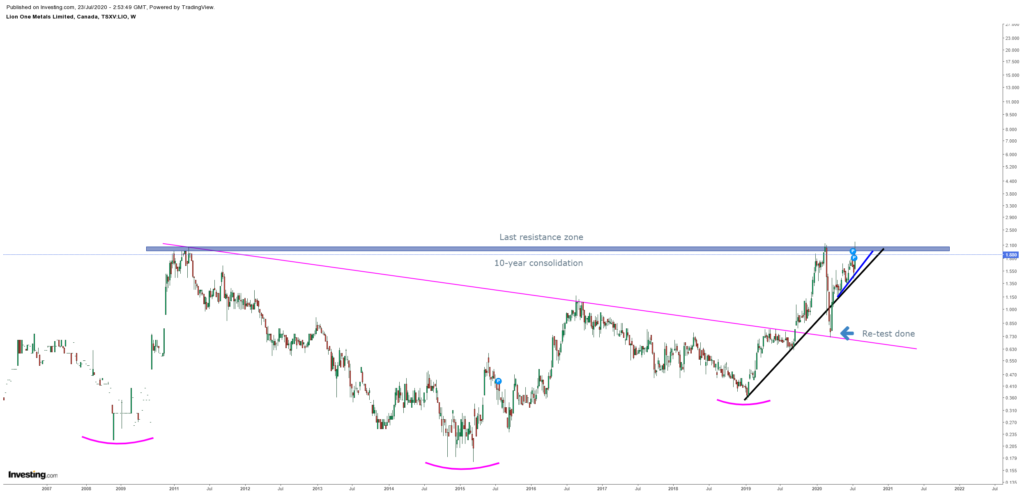 … So not only do I think upside is probable due to the fundamental reasons listed in this article, and if/when when we get it, I think we should get it in spades given that it will be a break out from a 10-year long consolidation. No guarantees though!
… Someone obviusly understood the implications of yesterday's NR 🙂
(Note: This is not a buy or sell recommendation. This is not investment advice and I am not a geologist. This article is highly speculative, forward looking and I can't guarantee accuracy. Always do your own due diligence. I own shares of Lion One Metals which I have bought in the open market and am thus biased.  Lion One Metals is a passive banner sponsor on my site and the company paid for my trip to see the project!)
Best regards,
The Hedgeless Horseman / Erik Wetterling
Follow me on twitter: https://twitter.com/Comm_Invest
Follow me on CEO.ca: https://ceo.ca/@hhorseman
Follow me on Youtube: HERE