Lion One had to buy new drill rigs in order to drill the deeper parts of Tuvatu = Delays
Wet season = Delays
Strict COVID restrictions = Delays
Lion One's share priced peaked in August of last year and has since then been drifting lower. I think a big reason for this is simply because the story has been "boring" in the last couple of months due to delays. However, there has been some assay results recently which extended the vertical strike, from the existing resource, by around 200m. If one listened to Quinton's recent interview with Cory Fleck of Kereport one would have heard that the endowment per vertical meter at Tuvatu is around 2,500 ounces give or take. So in other words one can envision that Lion One has potentially added around 500,000 ounces of "inferred" gold with a rather limited drill campaign so far…
Food For Thought:
The latest Economic Study on the Tuvatu "starter project" showed a NPV of US$243 M and IRR of 85% at a gold price of US$2,000.

… From 331,386 ounces of recovered gold

Lion One has around C$63 M in cash
Lion One current has an Enterprise Value of around US$132 M
Now one might wonder what "just" 500,000 ounces of inferred gold endowment would add in value at the end of the day(?).
Now one might also wonder what Lion One could be worth at the end of the day if the mineralization goes a lot deeper at Tuvatu (Alkaline systems tend to go very deep):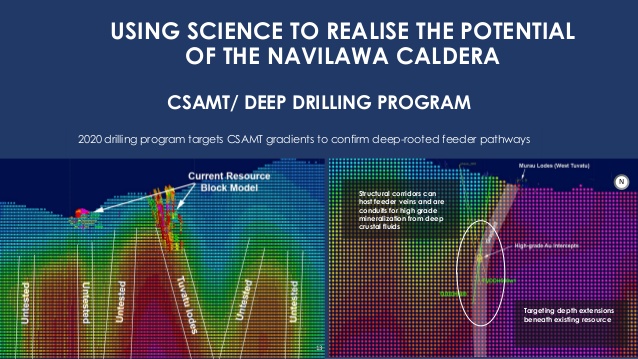 … And one might wonder what Lion One could be worth at the end of the day if one or more of those inferred targets in the slide above have economic mineralization as well. One might also wonder what Lion One could be worth at the end of the day if there are more lodes within the 7km in diameter caldera where there is "golden smoke" everywhere:
Discounts due to investors simply being bored are the best form of discounts because nothing has changed in terms of current value or future potential. One day Lion One is going to be "hot" again and then the market will "re-discover" what has been there all along and suddenly give the company credit for how good the project looks (There is nothing like price to change sentiment). Taking advantage of people selling an undervalued stock because they are bored is a boring way to make an easy living. Don't get me wrong, I think Lion One has been very boring recently but I have not forgotten that it's one of few juniors out there with an actual tier 1 gold exploration project. This has been, and still, is a monster system in my book and one day I think it will be in the hands of a major. Personally I the market will be in "Boring Mode" a while longer because I don't know many permitted tier 1 projects selling for US$132 M and I prefer to have at least one no brainer to put money into at any point in time.
Note: This is not investment advice. I am not a geologist nor am I a mining engineer. This article is speculative and I can not guarantee 100% accuracy. Junior miners can be very volatile and risky. I have bought shares of Lion One Metals is in the open market and have participated in one private placement. I can buy or sell shares at any point in time. I was not paid by any entity to write this article but the company is a passive banner sponsor of The Hedgeless Horseman. Therefore you should assume I am biased so always do your own due diligence and make up your own mind as always.
Best regards,
Erik Wetterling aka "The Hedgeless Horseman"
Follow me on twitter: https://twitter.com/Comm_Invest
Follow me on CEO.ca: https://ceo.ca/@hhorseman
Follow me on Youtube: My channel