Both companies came out with parts of the drill results from their current programs. None had barn burner assays and both stocks sold off.
It still fascinates me that juniors price in say a 5%-10% chance of hitting something significant, which might be even over-optimistic, on the first tries and yet many are totally shocked every time these blind drill campaigns fail to come up with barn burners. Success is the exception and not the norm in this business. Especially when drilling blind.
NuLegacy
NuLegacy's results were called dusters and people are once again up in arms. I mean when you think about the company trading for C$30 M and they are after an elephant sized price one should realize that the chance of success priced in was say 3%. So if one could know the chance of success was actually say 5% then NuLegacy would be quite cheap BUT the risk of failure would still be 95%. In other words one should expect failure even though one might have favorable enough odds to take on drill risk.
Anyway, the assays looked like "dusters" but this is what I wrote in the forum:
The sniff in RA21-13 jives with QH's comments after the Aug 26 NR since it seems to be the northern hole between the Serena hits and the western fringe which saw the most drilling in this campaign: https://youtu.be/Y4WI0fyx1xo?t=3508
The best intercept from hole 13 was 5.0 meters of 2.21 gpt. It might not look like much but this kind of mineralization does not fall from the sky and I believe that this hit was quite a bit deeper than the nearby drilling done at Serena. All in all I am open to the possibility that NuLegacy still has a shot of finding some sort of "source" for the shallower mineralization to the East. I already own shares of NUG but will probably pick some more shares if it goes lower from here.
Prosper Gold
Prosper's drill campaign was completely blind and again I think people over-estimate how easy it is to hit gold bearing lodes with economic or very economic mineralization. Take this slide form Radisson Mining as an example: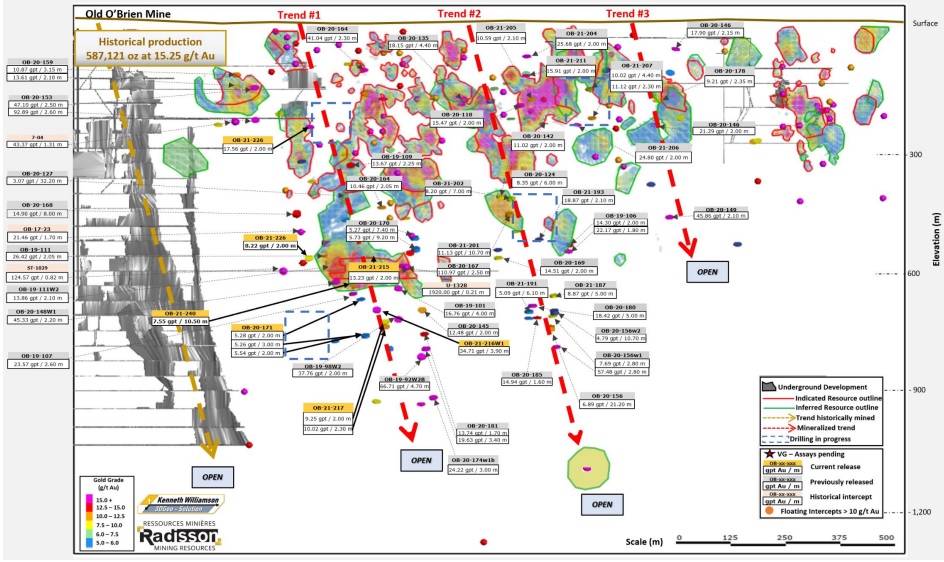 There is a lot of mineralization in the picture above but there is a lot more "empty space". Granted many areas have probably no been adequately drill-tested but the point remains. Lode gold systems are not homogenously mineralized but will have shoots of potential high-grade gold. Furthermore Prosper Gold did BLIND drilling so one should expect most if not all holes to pretty much come up empty. Why? First you actually have to find the right structure (mostly blind) and then you have to be lucky to hit a high-grade shoot in the structure.
There is a reason why the company dives straight into Phase 2 drilling as per the NR:
"Phase 1 reconnaissance drilling has identified a gold bearing system which will be the focus of Phase 2," commented Peter Bernier, CEO. "The newly identified zone has quickly become a high priority target to systematically test. Although we have received less than 50% of the assays, we are excited by the alteration, arsenopyrite, and specks of visible gold seen in the core."
Closing Thoughts
Both stories are still alive in my book. The only difference is that I think NuLegacy is higher risk but it also comes with higher potential. Anyway, these are not stories to put your life's savings into but I still own both as part of my diversified high risk/high reward side of my portfolio and I might add in one, both or none depending on what Price Mr Market will give me going forward (I obviously would be more keen to add if Price goes down, all else equal).
Never forge that exploration is a process
Note: This is not investing advice. I own shares of both companies and Prosper Gold is a banner sponsor of mine. Therefore assume I am biased, do your own due diligence and make up your own mind. Junior miners are very risky and can be very volatile. Never invest money you cannot afford to lose.
Best regards,
The Hedgeless Horseman