Many juniors are already back down to levels that are pricing in lets say $1,300 gold.
This is probably the best investment environment I have seen in at least the last four years and I got stink bids in all over the place.
Sure there might be more volatility and sure they can get cheaper…
But I'm not going to NOT pick up a $500 bill just because there might be a $1,000 bill down the street…
It might end being a $100 bill down the street and not picking up $500 feels extremely greedy.
I think it's worth remembering that the more chaos and disruption etc the more inevitable the gold bull becomes and I see nothing that suggests things are getting better in the world's financial system.
GDXJ is barely off the ground and is lagging gold big time: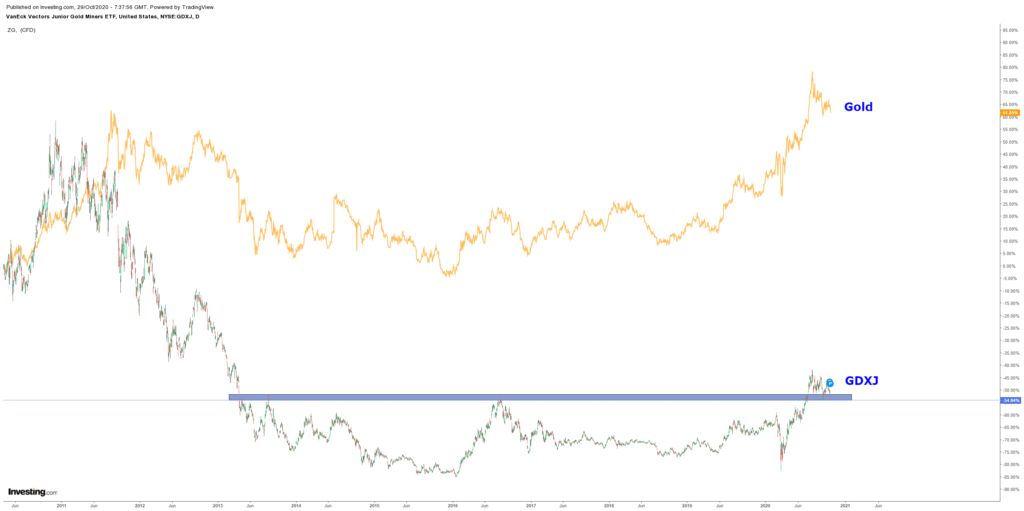 Then I saw the following quote a few days ago:
"The oldest available gold mining index, the Barron's Gold Mining Index (BGMI),305 is currently at its lowest level relative to gold in 78 years."
And commodities overall are record cheap relative to the regular US stock market: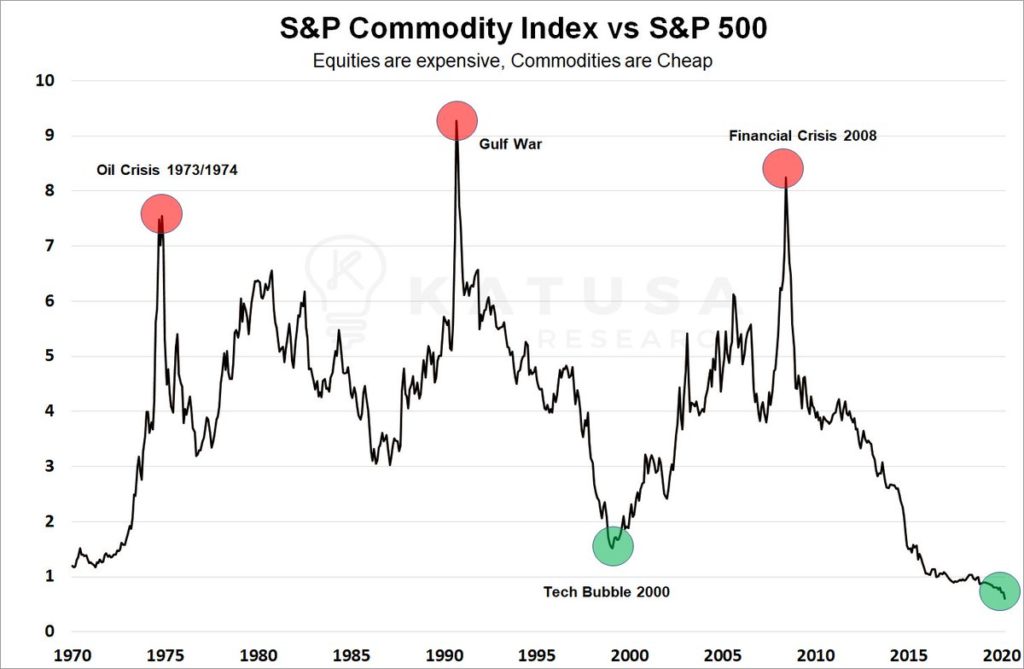 In short:
There is no sector I rather be in than one that is extremely cheap and where reversion to the mean, from record low levels, would result in one of the most epic bull markets in history. The fact that it's "hard" in terms of having patience during this grind along the bottom is something I think one should expect to see before the real rally begins. It goes without saying that the biggest returns will have the fewest people along for the ride.
The margin of safety and risk/reward in many miners is probably at an all time high. Why? Because many are pricing in gold and silver prices that are well below the current market prices. Especially the junior gold stocks look undervalued pretty much across the board. Just go look at some of the economic studies out there with gold at $1,900. Even with heavy discounting they tend to look very cheap relative to the economics.
Note: This is not investing advice,
Best regards,
Erik Wetterling aka "The Hedgeless Horseman"
Follow me on twitter: https://twitter.com/Comm_Invest
Follow me on CEO.ca: https://ceo.ca/@hhorseman
Follow me on Youtube: My channel